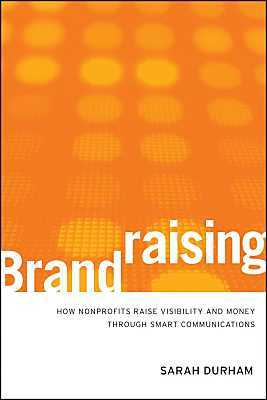 Branding is a term that sends nonprofit communicators and leaders running for the hills. This art of creating and conveying a consistent, recognizable, and clear unified brand that conveys your organization's unique focus and impact seems almost impossible to master, at least without a million dollar budget and a fancy ad agency. But it's not.
So don't run for the hills. Branding has evolved from its humble beginnings in consumer product packaging to its current status as a key component of organizational strategy. And the organizations you're competing against for attention, dollars, board members, volunteers and more are shaping brands that are helping them to form or reinforce enduring relationships with their bases.
Now Sarah Durham, author of Brandraising: How Nonprofits Raise Visibility and Money Through Smart Communications and founder and principal of the Big Duck agency, guides your organization to do the same, on a limited budget.
Durham recently spoke with GettingAttention.org about the concept of brandraising and the value it has for increasing the impact of communications and fundraising for nonprofits of every size and budget level.
Nancy:  What is brandraising, and how does it relate to fundraising, program outreach and advocacy campaigns?
Sarah: The Brandraising® process is, at its core, an approach to communicating that helps nonprofits get the most from limited resources. (Brandraising is also the title of my book, but you already knew that.) It shows how day-to-day communications are connected to your brand, and how all of that is vision and mission driven.  For example, how that newsletter you're writing is directly related to your mission, where social media fits in and more.
Nancy: Branding is so intangible that it makes many nonprofit communicators and leadership want to bury their heads in the sand and ignore it. How can brandraising help?
Sarah: A brand is really just the sum of your audiences' perceptions of your organization, so like it or not, you have a brand. If you've ignored the process of creating one, you've got an 'accidental brand.' If you're lucky, it's a happy accident, but those are rare.
Note from Nancy: I have a somewhat definition of branding—as the intersection of your organization's wants and needs (e.g. to motivate your base to sign a petition or give to a dollar-for-dollar match campaign right now) and those of your target audiences. Sarah and I will discuss our distinct perspectives with you very soon. I'll keep you posted!

Branding feels intangible (and tends to fail) when the reasons for doing it or the expected outcomes are murky. These elements tend to be poorly defined when in-house expertise in marketing and communications is limited. Poor timing (such as right before or during strategic planning) can also lead to brand failure.
The book helps the nonprofit or volunteer who is not a marketing specialist understand basic marketing concepts to demystify branding via its case studies, exercises and other tools designed to streamline the branding process.
Nancy: You advise that a brand must begin with a clear and agreed-on mission, vision, values, objectives and strategies. But isn't that strategic planning, not marketing?
Sarah: Great communications grow from a clear organizational strategy. The first step is to agree what the organization is all about: that work happens in strategic planning. When it's time to address how your organization expresses what it's all about—beginning with mission, vision, values, objectives and strategies—you're entering marketing territory.
Lots of organizations spend time wordsmithing during strategic planning. It's really easy to become distracted by language and get mired in semantics, instead of focusing on the ideas and concepts that drive the organization. Once the concepts are clear, good communicators (in-house or consultants, strategist and/or writer) have what they need to translate those ideas into clear, compelling language.
Nancy: Let's say my organization wants to develop more effective branding, and we've never done it before. The brandraising process seems overwhelming, especially if organizational issues such as objectives have to be clarified first. How can I build the understanding, interest and support to make it happen?
Sarah:  Ah, yes… Buy-in. I love that you're raising this issue, because it's so tough but so critical in the nonprofit sector. Before you undertake any significant shift (programmatic, communications, etc) your staff and board leadership need to agree on the value of investing time, energy, and perhaps even money. There are a few ways to get everyone on the same page.
First, take a look at how your communications materials compare with peer organizations. Are you doing a better or worse job getting your messages out there? Are their programs, fundraising or advocacy efforts more or less successful at reaching the right people and driving action? Discussing your competitor's websites, and those of other organizations similar to yours, in staff or board meetings is a good place to start.
Secondly, share best practices. The nonprofit sector is full of useful resources, many available at no cost, that can be shared and discussed. Share some articles, webinar recordings or podcasts with your colleagues and discuss them freely, without any agenda. What works? What doesn't?
Lastly, don't push it. Like strategic planning, brandraising takes real effort and the timing has to be right. Keep the conversation alive and it'll happen.
Nancy: Your concept of an organizational personality (rather than the dry and abstract "tone" or "image") is great. But how does that help a nonprofit strengthen its communications?
Sarah:  Personality is an easy-to-use concept that can be very helpful in day-to-day communications. Let's say your organization defines its personality as playful, smart, edgy, youth-oriented and agile and is producing a new newsletter. If a writer submits an article full of $5 words and dense paragraphs or the design submitted is very traditional, you have the defined personality to guide your clear feedback to the writer or designer about next steps. (Far better to share all key guidelines with writers and designers up front). It's easy to see how your newsletter will benefit more from short, well-written copy sprinkled with colloquial terms and a fresh design treatment, such as using images cropped in unexpected ways. And you can see how an email or social media-based newsletter makes more sense than a printed one.
Nancy: You feature so many rich stories in the book that illustrate brandraising at work. Which case study best shows how brandraising is a life-saver for nonprofit marketing?
Sarah: The book features lots of case studies, and it's hard to pick just one because success can mean such different things to different organizations. I've consistently seen these three benefits from organizations that brandraise:
We're much more productive and effective, spending more time actually doing the work (fundraising, for instance) now that we aren't constantly noodling over communications.
It's a relief to know that we don't have to start with a blank sheet of paper every time we sit down to create something.
When a new person starts, we're able to bring them up to speed fast so they can be effectively communicating in their first week on the job.
Nancy: What are the three most valuable takeaways from Brandraising?
Sarah:
Brandraising means spending less time creating and more time reinforcing, which will make your fundraising, programs, advocacy and executive leadership more productive and consistent.
When everything and everyone from the organization sends the same messages, you're more likely to be perceived consistently and accurately.
Being strategic about communications inspires confidence in donors, partners, and other key audiences.
Thanks, Sarah, for sharing such a clear system. Readers, get your copy of Brandraising now so you enter the path to effective branding. You don't want to do without it (the book or the branding)!
More Branding Guidance
https://gettingattention.org/wp-content/uploads/2021/08/brandraising_book.jpg
400
267
Getting Attention
https://gettingattention.org/wp-content/uploads/2021/08/getting-attention-logo.svg
Getting Attention
2021-08-23 16:05:19
2021-09-01 02:05:09
Build Your Brand Without Breaking the Bank