We all have an incredible marketing resource right in front of us—our board member, colleague, and loyal volunteer ambassadors. But most of us look right past them, much less make it appealing or easy for them to participate and succeed!
You still have time to launch your team of messengers to spur right now campaigns, registration, and giving. They're already fans, so many of them will be eager and effective fundraisers. Here's how to ask for participation, train and support your messengers, and thank them.
Your ambassadors' reach, engagement, and donation impact is directly related to saying the right thing at the right time. The trick is.. it can't be a script, repeated from everyone to everyone. That's just not genuine or relevant.
Provide these three message tools to your ambassadors, and you're golden. They'll ensure your team's comfort and confidence, which means they're more likely to talk with more donors and prospects. These tools also increase the odds prospects hear the kind of consistent yet personal messages necessary to spur engagement and the actions you want!
1) Your #1 tool! Ready-to-use email signatures are powerful and easy to implement. Imagine the reach you'll get if your ambassadors end their emails with something like this:

2) Graphic badges ready to cut-and-paste into your ambassadors' emails, tweets, and Facebook posts.
Who can resist a face like this?

Or a laugh like this one?
3) Cut-and-paste templates like this email ask for teachers who fundraise via DonorsChoose.org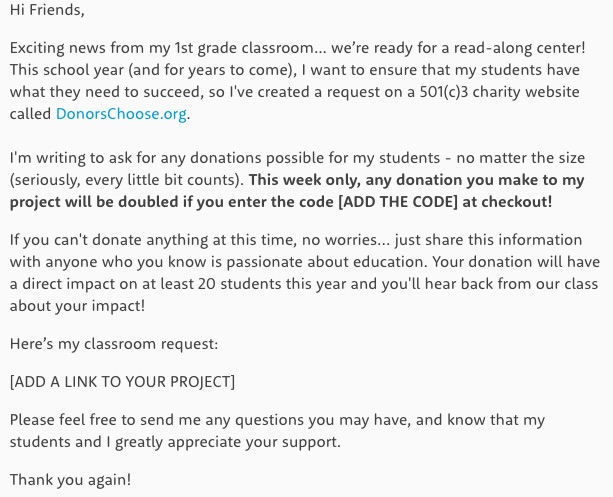 Create the templates you anticipate your ambassadors will need and use most frequently. Have no idea? Ask them!
Get these three tools in your ambassadors' hands a.s.a.p. so they generate the greatest engagement and action possible. I can't wait to hear how it goes.
P.S. Get more nonprofit marketing tools, templates, case studies & tips delivered right to your inbox!
Subscribe to Getting Attention email updates.