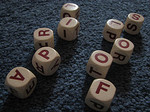 Update/March 27: Just a few seats left for this next-Tuesday workshop in NYC. I'd love to have you join us. Inexpensive but a great investment of time and focus. Promise. Register now.
Join me Tuesday morning, April 1st (no fooling) in NYC to learn how to write and format high-impact Web content.
You'll learn why some nonprofit Web sites capture attention, motivating visitors to really dig in, while others don't engage users for more than a moment. Learn to unleash the power of your pen (or keyboard) to craft content that really works. You'll have the opportunity to put what you learn into practice and get input on making your web content even stronger. We'll cover a variety of topics, including:
Defining and attracting audiences
How online readers digest content
Writing to meet these patterns and achieve your communications goals
Using site architecture, navigation and design to make your content shine
Optimizing your content with keywords so users can find your site via search engines.
Register today. Only a couple of slots still available.
See you there.