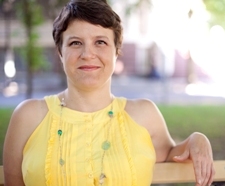 Welcome back to guest blogger Holly Ross who leads the  Nonprofit Technology Network (NTEN), working with community members to identify technology trends that are reshaping the nonprofit sector. Brett Meyer, NTEN Communications Director, co-authored this post.

We write all those email messages for one reason: we want people to read them. To that end, we test subject lines, obsess over which images to use, and wordsmith the text down to the very last letter. All that work, just to increase our open- and click through-rates, one percentage point at a time.
I hate to break it to you, but it's not enough.

You've got a new frontier to confront in the search for more effective emails: mobile. ComScore reports that nearly 90 million Americans use their phone to read email—and that number grew by 28% over the past year. Mobile is now; no longer something we need to worry about at some point in the future.
Here at NTEN, we decided it was time to start practicing what we preach so we developed our own mobile-friendly emails and sent them out alongside the regular emails to over 45,000 email addresses over a wo-week period. The messages went out at the same time, with the same subject line and the same content; the only difference was the template – our new mobile-enhanced code against our old version.
The results couldn't be more clear. 13 of the 14 messages with the mobile template performed better, by an average of 2% increase in open rate, e.g. if the regular template achieved a 20% open rate, the mobile version was 22%. The spread was from 0.6% to 7%; the median improvement was 1.92%.
Luckily, preparing your email to go mobile isn't as difficult as you might assume. You'll need to address two main issues: the content and the template. As marketers, you can tackle the content. As for the preview and the email template, anyone comfortable with HTML and a little CSS can tackle the changes you'll require. Here's what you'll need to focus on.
First: Content
Remember when you learned to write for the web? Jakob Nielson taught us to write in short paragraphs, with even shorter sentences, and as many bullet points as possible. Just when you thought you had brevity down to a haiku-inspired art form, mobile challenges us to bring it down again. Take a look at this screen shot of an email I recently received as I see it in my email client:
It looks like a pretty typical message, doesn't it? Now compare that to the version I see on my mobile phone:
Not so readable! Look at those giant paragraphs with teensy tiny text! It's certainly possible to read this message on a phone, but you have to work really hard at it, and we all know that our audiences don't want to work hard at reading an email.
Second: Template
If you've read email on your mobile – and I'm pretty confident you have – you know it can be a cramped experience. NTEN's messages on an iPhone pretty much required zooming in:
To make it easier to read, we applied some style information, as suggested by Cameron LeFevre of M+R Strategic Services. Essentially, we just hid the (non-critical) information in the righthand sidebar:
Ah, that's better: no distractions. (As a bonus, you can see how the extra table information that's generating the preview text looks in the actual message, right up at the top.)
Cameron's already written up the step-by-step for that, so I suggest you follow his advice.
So, are you ready to start improving your open rates by 2%? Of course, your mileage may vary, but we guarantee that going mobile is an investment worth making.
 More mobile email guidance here:
 P.S. Get more in-depth case studies, templates and tools, and guidance for nonprofit marketing success in the twice-monthly Getting Attention e-update. Subscribe today.