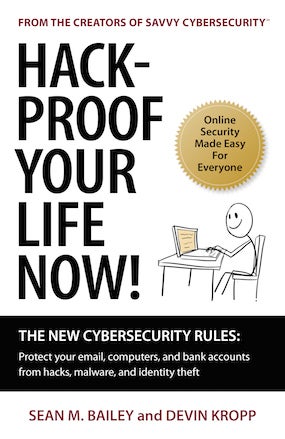 Yes, this has to matter to you. Maybe you dodged the bullet of the most recent global cyber attack.  But the next one or the ones after that could wreck your communications impact and a lot more. If or when your organization gets hacked, it'll bring all activity—including communications and fundraising—to an absolute standstill. Even worse, it will require an enormous investment of time and budget to repair and get back up and going; even with that, critical donor data, program stats, and email lists may be lost or corrupted.
So do something about it, even if your ED or IT staff or consultant is standing still.
My husband, Sean M. Bailey, happens to be an expert on cybersecurity and the recent author of Hack-Proof Your Life Now. What's great about Sean's advice is that it's efficient and doable. He advises you take three steps asap to protect yourself and your organization:

1) Update all your software, especially any Microsoft Windows programs.
Microsoft has event made emergency updates available Windows XP and other programs it had previously stopped supporting.
2) Backup ALL of your files.
Take advantage of the free cloud backup services such as Dropbox, OneDrive, Google Drive, and iCloud, among many others. These are easy to use and can save you a lot of money if you get his with a ransomware attack. I back up all my work and personal files to the cloud. It's fantastic because you have access to them from any place or device.
3) Don't open attachments or click on links that seem even the slightest bit fishy or unusual.
Follow the 10-Second EMAIL Rule if you want to confirm that an email is dangerous: EMAIL stands for "examine message and inspect links:" 
Triple check the from line to unmask the email's actual sender

Question the validity of the subject line, whether it's trying to hijack your emotions with fear (i.e. "Your Account Will Be Closed") or entice you through curiosity (any subject line about payments, invoices, or some topic that grabs your attention)

Look for questionable greetings in the email with spelling, grammar, or awkward salutations

Look for the same in the body of the email and the signature

Hover your mouse over every link in the email to see its real destination, which you'll see is not the place the email says it will be.
If in doubt, it's safest just to delete any suspicious email. Anyone with serious business to conduct with you will persist to get in touch via social, phone, or snail mail. Just do it, now!
Learn more about staying safe from cyber attacks in this recent interview with Sean, published in The Huffington Post.
Sean M. Bailey is the co-creator of the Savvy Cybersecurity training program, an interactive workshop to teach people to boost their online security. He is the co-author, along with Devin Kropp, of Hack- Proof Your Life Now!: The New Cybersecurity Rules.
P.S. Get more nonprofit marketing tools, templates, case studies & tips delivered right to your inbox!
Subscribe to Getting Attention email updates.