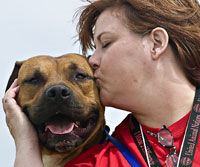 Q: What was the process of decision making on how the new name would be developed?
A: We researched communications firms, digested two strong proposals and selected a firm.
The firm conducted a competitive analysis and research to determine our current brand attributes (interviewed donors, etc.) and presented possible new name and brand options. We had two names we liked—we came up ourselves with one that felt "safer," and the firm recommended another option.
We put together a focus group to help us understand the kinds of response that each name would generate, and ultimately decided to go with the name that would really make us stand out, as opposed to the "safer" name.
Q: What was the budget and amount of time you allocated to the project?
A: The CEO, Director of Communications and other program staff and board directors worked as a team to complete the project. At times, this project required more than half of our time.
As for budget, we spent $12,000 for the research and $32,000 for the branding and marketing. The consultants we hired helped us through the selection of a new name and the launch of the new name. We also paid for additional legal support to register the RedRover trademark, and other costs associated with the design of our final logo.
Q: What else was revised on the org and program levels— talking points, graphic identity, etc? Note from Nancy: I've seen the extension of Red Rover's organizational branding to its programs, which is brilliant.
A: Once we had the final name and final program names: RedRover Responders, RedRover Readers, RedRover Relief and RedRover Reporters, we finalized our brand platform as follows:
Brand Attributes
Caring
Respected—national, professional
Unwavering—hands-on
Inspirational—causing people to be alert, to care
Vigilant—always on the lookout
Brand Positioning
As a pivotal animal organization on the national stage, RedRover strengthens the emotional bond between people and pets through generous donors and active volunteers who protect, shelter and reunite suffering animals with the loving embrace of people who care.
Through our national programs, we battle indifference and take the lead in humane education resulting in greater empathy for animals. Our approach is straightforward and pragmatic, and we document our success through research and analysis.
Brand Promise
When you support and volunteer with RedRover, you are strengthening the bond between people and animals with a commitment to help, shelter and connect suffering animals with people who care.
Once the brand platform was final, we had our graphic design company develop our logo and our graphic style guide. Then everything had to be redesigned—website, printed material, etc.
Q: Who was involved in each step and how?
A: We put together a Marketing Committee—comprised of board directors and staff members—who recommended marketing firms and reviewed initial concepts.
The Director of Communications at the time, Alexis Raymond, and RedRover CEO Nicole Forsyth were most heavily involved in the project. The entire staff of 14 was involved in brainstorming name concepts and providing feedback on concepts. The full board was responsible for approving the final decision to change our name.
Q: What was the re-naming process?
A: Even before the final name was approved, the Committee began work on the Brand Launch Strategic Plan. Additional staff time, particularly that of our Director of Programs, Karen Brown, was needed to complete a lot of the plan.
We organized House Parties across the country and communicated heavily to our constituents that a big change was coming, that UAN (our previous name) was evolving, but we didn't say what the evolution was. Victoria Stilwel—star of Animal Planet's hit show, "It's Me or the Dog"—helped us with the promotion and she was featured in our brand launch video which was shown at the house parties.
Q: What else was changed—talking points, graphic identity, etc? And did you make any branding or message changes on the programmatic level?
A: EVERYTHING was changed to reflect the new brand.
Our mission and programs remained the same, although we restructured our cruelty rewards and My Dog Is Cool campaign within the general RedRover Reporters program name. Note: The Reporters program has been discontinued.
Q: What was most challenging about the process? Most satisfying? Most surprising?
A: The greatest challenge was getting everyone on board with the new name, particularly our nearly 3,000 dedicated volunteers. Some of them, whom we value dearly, thought we wouldn't be taken seriously or that the name sounded too much like a kid's game or a dog-only organization.
We were persistent, staying consistent in our talking points around the name change. And, in a short time, most of our volunteers, donors and other constituents (even those who originally didn't like the name) understood the reasoning behind the change and came to like the new name. We wanted a name that was:
memorable
conversational
easy to say and remember
warm, friendly and personal
linked to our varied programs
able to stand out amid other nonprofits
built on the powerful "red shirt" identity derived from the Emergency Animal Rescue Service (EARS) emergency response program.
Most importantly, we want to make our organization a household name, and RedRover will move us in that direction:
Red represents strength, determination, passion, urgency, emergency
Rover represents on the move, on the lookout, ready to respond
Here's how it's working: Post-name change, we've found it incredibly satisfying to have conversations with businesses who were initially attracted to our name and then wanted to work with us. One prospective sponsor told us they wouldn't even be having a conversation with us if we were still United Animal Nations. Overall, we've developed new supporters and partnerships that would never have come to us before.
Q: How, if at all, are you asking, training and supporting your staff and leadership as effective messengers?
A: We asked staff and board members to help us deliver the message, and trained them to do so with skill and ease. At this point, we make the brand platform part of all new staff and board training. In fact, this year we're centering our organizational culture and professional development upon our brand attributes so that RedRover truly becomes part of who we are.
Q: What was the roll out approach?
A: We celebrated with a local event, plus house parties across the country featuring a video announcement of the new name.
Then, we called every single major donor we could get a hold of. We featured the change in our website, email and print content; and we talked about the change on social media sites, responding with excitement and eagerness to all questions and concerns.
Finally, we used language like "formerly United Animal Nations" for a long time until we felt people were ready to let our former name go.
Q: How did your network respond, if at all?
A: There was a lot of confusion at first. And frankly, many people didn't like the name.
We stuck with our talking points on the rebranding, focusing on why we loved the name, and our CEO, Nicole, maintained (and conveyed) a high level of confidence in the name being the right decision.
We also held three conference calls to discuss the change with our volunteers. After these calls, we heard very few complaints about the change. People just want to be included in the process!
Q: At this point, what are the results of the name change?
A: We never hear anyone talking about how they don't like it, and it is helping our organization think about new and innovative ways to generate revenue and expand our programs so we can help more animals and the people who love them. The name helped us head in exactly the direction we hoped it would.
Now, with consistent naming across all of our programs (RedRover Responders, RedRover Readers and RedRover Relief), we are able to generate greater name recognition for the organization. We can also better articulate our focus and what separates us from other similar or overlapping nonprofit organizations. We believe both of these will help us generate the donations we need to fund our work for the animals and grow our organization.
Q: Did the change generate any other unexpected wins?
A: We're continually pleased to see the effect of the re-brand. Now, we're better able to engage the right communities of people around our mission. Individuals and potential partners get it more quickly, so are more apt to connect with us.
In addition, our internal focus on our brand has helped us to make better decisions around programs and marketing. Our hiring decisions and training programs now integrate our brand attributes.
Q: Is there anything else we should know?
A: People can connect with us by signing up for email updates at www.RedRover.org/email, on Facebook at www.facebook.com/RedRoverOrg and on Twitter at www.twitter.com/RedRoverOrg.
What worked – and what didn't – last time you branded your nonprofit? Or what are your questions if you're considering it? Please share your experiences and/or questions here.
https://gettingattention.org/wp-content/uploads/2021/08/getting-attention-logo.svg
0
0
Getting Attention
https://gettingattention.org/wp-content/uploads/2021/08/getting-attention-logo.svg
Getting Attention
2021-08-23 16:04:09
2021-09-01 03:13:44
Connect Quickly & Strongly on a Budget (Nonprofit Branding Case Study: Part Two)