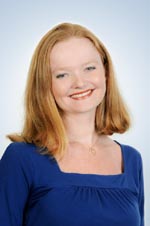 Please join me in welcoming back guest blogger Susie Bowie. As communications manager at the Community Foundation of Sarasota, Susie is a passionate and talented force helping organizations in the region develop their nonprofit marketing finesse…
In the quest for the spiciest marketing and public relations recipe, we spend so much time focused on external communications that we often neglect our internal audiences.
I've always been impressed with the efforts of Maran Hilgendorf, who has worked as communications manager at the Charlotte Harbor National Estuary Program (CHNEP) for over 10 years and is a master of effective internal communication.
Honoring and expecting different perspectives, communicating frequently, and having a process in place to manage communications are three ways I've observed her succeeding over the years.
I recently asked Maran about her work managing the Citizens Advisory Committee of the CHNEP. The Committee's function is to represent the interest of the public and to work closely with staff to reinforce and maintain public support, develop public participation strategies and provide input on public education programs. It's integral to the overall effectiveness of the organization.
This Committee embraces the challenge of including everyone who is interested in helping implement the Estuary Program's plan to protect the natural environment.
Maran serves as the link between the committee and staff, but often members work directly with other staff on issues and tasks. Good communication is essential so that all the staff – and committee members – can accurately represent the organization in the community, she says.
Between the many members and perspectives, she has a difficult task in making sure everyone is heard and consensus is reached. I'd like to share her answers to a few basic internal communication questions:
Susie: What are 3 critical aspects of facilitating good internal communication?

Maran: 1) Remembering the mission. For us, all things tie back to our plan that was developed to help protect the natural environment of southwest Florida. 2) Attend to details in a timely manner so people can make the best use of the time they are donating. 3) Value the strength of the partnership.
Susie: How has digital communication changed/ enhanced the way you communicate? Has there ever been a time when it led to misunderstanding or disruption of peaceful relationships between committee members?
Maran: E-mail has increased the frequency of communication and reduced the cost but it has also made some people feel as though they aren't "in the loop" or current on projects and issues because not everyone uses email. For several reasons, the email updates I send don't show addresses. This makes it impossible with one key stroke to immediately "reply all" with a comment that might be negative or not tactful.
Susie: Does consensus get in the way of making decisions and acting quickly?
Maran: Consensus is important to our process because it takes into account and validates each person. It does take time but it doesn't get in the way.We also recognize that consensus isn't always unanimous. Staff can respond to an issue if it has already been addressed by our Management Conference through its plan (we call it our Comprehensive Conservation and Management Plan) or during meetings. If it's a new issue and time doesn't allow for consideration at regularly scheduled meetings we invoke procedures adopted by the Management Conference in our Advocacy and Review Procedures.
For me, Maran's emphasis on consensus is a true indicator of good communications health. It's difficult, right? But possible. And it only serves to strengthen her team.
What are your essential ingredients to good internal communications?  Do you have a structured process that works well in your agency? It's good food for thought, and I'd love for you to share your practices.
P.S. Get more in-depth articles, case studies and guides to nonprofit marketing  success — all featured in the twice-monthly Getting Attention e-update. Subscribe today.