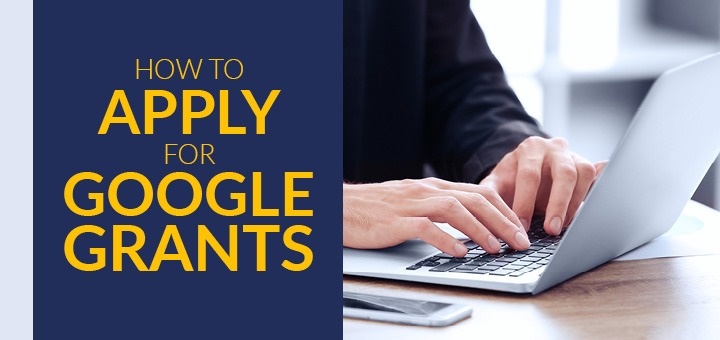 Are you looking to drive traffic to your nonprofit's landing page without breaking the bank? We understand. Luckily, initiatives like Google Ad Grants exist— helping nonprofits broaden their reach, increase visibility and drive conversions at exponential rates. 
Through awarding organizations $10,000 per month in AdWords funding, Google Ad Grants pose enormous potential for growth in your business. If this seems of interest to you, come along as we dive into the steps of how to apply for Google Grants.
Let's start our journey by uncovering an overview of what exactly a Google Ad Grant is.
Overview of Google Ad Grants
Google Ad Grants allow your organization to acquire valuable search engine ad space at no cost. This opportunity presents a wide array of benefits for your nonprofit, including:
Increasing conversion rates

Attracting new donors

Marketing multiple ad campaigns simultaneously

Analyzing and tracking campaign performance
However, these nonprofit marketing grants are not a free-for-all. In fact, there are several specific guidelines organizations must review to determine their eligibility before applying.
How do you qualify for Google Ad Grants?
In order to qualify for a Google Ad Grant, there are several criteria that organizations must meet. Given that the program is available in over 50 countries, be sure to locate the specific guidelines of your current location. In the United States, the following is required to be eligible: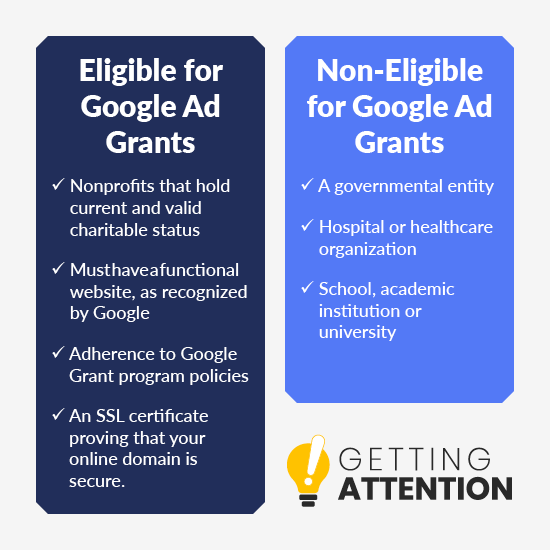 Nonprofits must hold current and valid charitable status, which in the United States means registering as a 501(c)(3) organization. 

Must have a functional website that contains valuable content that is relevant to the nonprofit's mission.

Adherence to Google Grant program policies, including registration with Google for Nonprofits and TechSoup.

An SSL—secure sockets layer—certificate, proving that your online domain is secure.
Outside of these eligibility requirements, there are specific types of nonprofits that are ineligible, including:
Government entities

Hospital or healthcare organizations

Schools, academic institutions, or universities
If you find your organization is within one of these categories, consider further research into initiatives that do apply to your nonprofit. For example, Google For Education offers separate benefits for educational institutions. Although these benefits may not consist of a $10,000 ad grant, they still help to get the ball rolling.



Requirements for the Google Grants Application
Now that you have evaluated your eligibility, it is time to begin the Google Grants application process. But wait! There are just a few more requirements you must fulfill before finalizing your application. These include:
Having a fully-functional website to which the ads placed on the Google results page will link.

Ensuring your site does not already contain revenue-generating ads.

Having the ability to manage Google Ads campaigns, meaning you're able to evaluate keywords for relevancy, accuracy, and timeliness on a regular basis.

Selecting keywords that have a maximum cost of $1 per click.
The last thing to consider is the optimization of your nonprofit's website. Given the potential spike of traffic that will be directed to your site, it is important that your website is running in optimal condition. After fulfilling these requirements, the Google Ad Grant application process should run smoothly.



How to Apply for Google Grants in 3 Steps
Step 1: Register with TechSoup and acquire a validation token.
The first step to apply for Google Grants requires validating your organization via TechSoup. After this, you will acquire a subsequent Validation Token. Here are the steps to do so: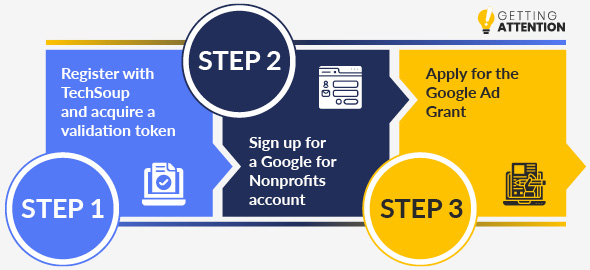 Start by visiting the

TechSoup registration page

.

Select the country in which your organization is based, as well as the preferred language used.

Click new member, register, and agree to the terms and conditions listed. From there, you wait to receive validation. In some cases, this can take up to 30 days. If there are any issues, TechSoup may contact you for further documentation.

After receiving validation, you can log into your account to claim your TechSoup Validation Token which is presented in the form of a code. Include this code in your Google for Nonprofits application and you're good to go!
After completing this process, you are one step closer to successfully applying to Google Grants!
Step 2: Sign up for a Google for Nonprofits account.
Once you are verified, the next step is to register for a Google for Nonprofits account. Beyond Ad Grants, Google for Nonprofits offers an array of advantageous methods for growing awareness of your organization. Examples include:
YouTube Nonprofit Program

, which allows nonprofits to spread the word of their organization through visual storytelling. Using videos as a method for telling your nonprofit's story will help inspire empathy for your cause, form connections within your community, educate mass audiences, and much more. 

Google Earth and Maps

, which helps to share compelling data visualizations which highlight your organization's impact. Additionally, the use of Google Maps helps community members locate your nonprofit's programs and resources nearest to them. 

Google Workspace

, which is a registration under Google for Nonprofits that offers complimentary access to Google's most useful apps, such as Gmail, Docs, Drive, Calendar, and Meet. In allowing you to stay organized and efficient, Google Workspace for Nonprofits helps to keep your team running smoothly.
If this seems like an offer you can't refuse, follow these steps to ensure a proper Google for Nonprofits application:
Visit the Google for Nonprofits registration website.

Agree to Google's non-discrimination statements.

Input the validation token provided through TechSoup.

Fill out the subsequent forms, including contact and organization information. Be sure to agree to be contacted by Google and double-check that you used an email that you check often.

Submit your request and await a response!
The Google for Nonprofits application is fairly straightforward, however the registration approval process may take up to a couple of months. Stay patient, as the wait is worth the reward!
Step 3: Apply for the Google Ads Grant.
Once approved, you can submit your application for the Google Ads Grant. Here is how you do so: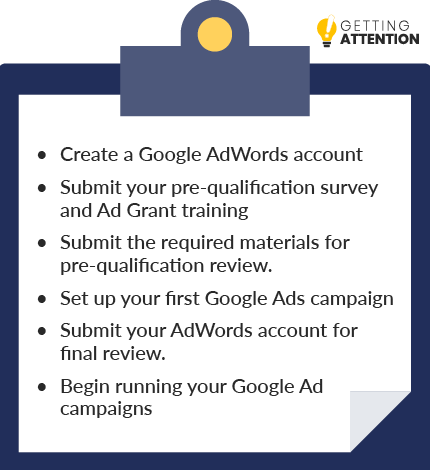 Create a Google AdWords account after receiving approval from Google for Nonprofits. Use

this link

to get started. AdWords will prompt you to select your billing country and timezone. Once submitted, it will take you to your new account! Make note of your customer ID number, found in the top right corner of the browser.

Submit your

pre-qualification survey

—which takes roughly 10 minutes—and complete the Ad Grant training. The training video will cover policy requirements, key guidelines, and best practices for managing your account. A short quiz will follow, so make sure you're paying attention!

Submit the required materials for pre-qualification review. After signing into your account, look for the "Activate" option under Google Ad Grants. Upon finding, select "Enroll." Await a response back from Google in regards to your pre-qualification submission. 

Once approved for pre-qualification, set up your first Google Ads campaign!

Submit your AdWords account for final review. This uses the same process of approval, found above, for the pre-qualification review.

Once approved, the nonprofit can begin running Google Ad campaigns, offering your organization $329 in Google Ads spending per day, for free.
Although receiving grant money is great, it does not guarantee ad campaign success. In order to see meaningful results, consistent upkeep, performance tracking, and compliance with Google's official account requirements are necessary. With the weight of running a nonprofit already on your shoulders, this may seem like a lot to handle. Have no fear— that's why Google Grant agencies exist.
Although there are many marketing professionals willing and able to help oversee your campaign, the Google Ad Grant program is unlike other Google Ad accounts. Therefore, Google offers a certification program dedicated to Google Grants specifically, ensuring that your agency is well-equipped to assist your nonprofit in any capacity. 
From application to account management, Google Grant agencies are there to ensure your success every step of the way. Some valuable areas of assistance include:
Creating, maintaining and optimizing ad campaigns

.

With effective results requiring 3-5 ongoing campaigns, having professionals there to continuously track performance and refine strategies will prove incredibly beneficial to your overall success.

Optimizing website content.

I

n order to best serve the needs of your audience, your website will need refinement to account for the increase in generated traffic. Google Grant agencies can help keep your website in the best shape via constant keyword research, landing page relaunches and more.

Account upkeep

. To avoid grant suspension due to poor account maintenance, agencies can help make sure your organization is in constant

compliance with Google Grant guidelines

. This will help to avoid the headache of ever having to go through the account reactivation process.
The process of selecting an agency may seem daunting, but doing proper research will help make the decision easier. Be sure to look into pricing models, expertise, agency case studies and testimonials before taking concrete action. Starting with the application process, agencies will help you from beginning to end.



Wrapping Up: After the Application
Now that your nonprofit has secured its Google Ad Grant, be sure you're taking the proper precautions in maintaining eligibility. To ensure your account remains in good standing, here are a few key components to key an eye on:
Account activity

:

 

By logging into your account at least once a month and updating its components every 90 days, you will prove to Google that you're still using the help they're providing. After all, Google will not give away money and resources to those who waste them!

Ad relevance and geotargeting

:  Be sure that the ads you are putting out have specific relevance to their audience. A great way to do this is by including geotargeting, so Google knows their users are receiving ads relevant to them. 

Monthly keyword evaluation

: Google requires a Keyword Performance Report once a month to ensure that you are optimizing your keywords for best results. In doing so, Google ensures you're in the best position to remain profitable.

A minimum of 5% click-through rate (CTR)

: Google mandates the maintenance of this CTR, after 90 days, in order to improve user experience and ad relevance. Accounts who fail to meet this requirement will be notified and if not reached after two consecutive months, those accounts will be suspended.
All of this information may feel a bit overwhelming, but the opportunity to utilize $10,000 a month of free Google AdWords spending is worth weathering the confusion. Contact Getting Attention today for a free consultation with our agency to help plan the best Google Ad Grants strategy for your nonprofit. If you are in need of any more help, feel free to explore our additional resources:

https://gettingattention.org/wp-content/uploads/2021/11/How-To-Apply-for-Google-Grants_Feature.jpg
340
720
Getting Attention
https://gettingattention.org/wp-content/uploads/2021/08/getting-attention-logo.svg
Getting Attention
2021-11-04 21:46:38
2021-11-04 21:47:32
How to Apply for Google Grants | 3 Steps for Your Nonprofit