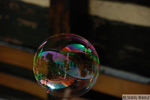 Here are some very interesting tips from folks who do direct mail 24/7 and shared their expertise at a recent session at Fundraising Day in New York (remember, this work is 99% fundraising). But I gotta say, I was shocked by the bubble some of these experts are trapped in; read on for details:
How much you say depends on who you're reaching

Prospects respond better to longer (4pp.) letters
While in-house lists (current donors) prefer a shorter letter (2pp.)

People assume you're customizing the letter to them

So it's not always necessary to explicate that
Members who received mailings for an annual fund campaign responded at a higher rate to the test that didn't address them as members, or refer to their membership at all.

Be as tangible as possible for higher impact

A fundraising mailing that featured a ribbon drew much better when a real cloth ribbon, rather than a ribbon sticker, was used.

Too much nitty-gritty can depress response

When the Special Olympics(SO) integrated testimonials from the families of its atheletes, response rate fell
My guess: Perhaps SO's current direct mail donor base (60+) doesn't want to hear the truth. The rest of us crave it. And so will we when we get older. Look alive, direct mailers.

Companion emails increase response to direct mail by 12%, especially when the ask in is the first two paragraphs of the email

This is no surprise to those of us immersed in integrated marketing, but most of the speakers (and listeners) at FRDNY are all mail, all the time.

Authenticity rules — handwritten cards (real, not printed handwriting) work
All useful to know. But here's what really startled me. When I asked the panel of three direct mail experts why they're focusing only on folks 60+, they stared at me like I was crazy. The universal response was that the other prospects were handled by other parts of the organization (online only), and that they don't give much. What about shepherding folks teens up into supporting nonprofits in all ways? What about people now 60 who've been using the Web for 15 years? What about all those confused audiences who are getting snail mail and email that are completely uncoordinated?
Wake up, direct mailers, and break out of your bubble.
Missing out on the Getting Attention e-newsletter? Subscribe now for in-depth articles and case studies on nonprofit marketing.
https://gettingattention.org/wp-content/uploads/2021/08/Direct-Mail-Reality-Check-Outakes-from-Fundraising-Day-in-New-York.jpg
100
150
Getting Attention
https://gettingattention.org/wp-content/uploads/2021/08/getting-attention-logo.svg
Getting Attention
2021-08-23 16:03:43
2021-08-27 19:50:18
Direct Mail Reality Check: Outakes from Fundraising Day in New York