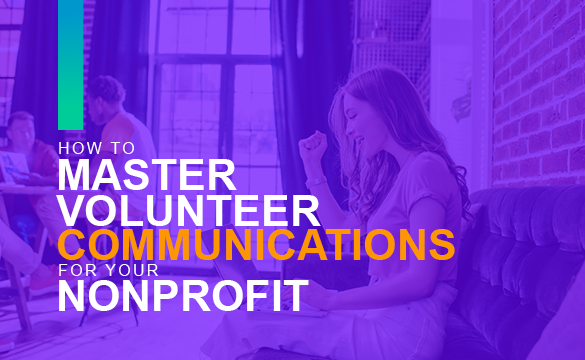 As a nonprofit professional, you have a lot to juggle: administrative tasks, event planning, fundraising asks, and more. But there's an important component of your team that helps you push through these challenges and raise your level of success.
These are your volunteers.
Your volunteers make up the backbone of your organization. Without their help, many smaller (but still important!) tasks would be delayed or go unfinished altogether, which could significantly slow down your team's progress. That's why prioritizing volunteer engagement is essential. So what's the best way to keep your volunteers engaged? Communication.
Effective volunteer communication keeps the wheels of your organization turning and ensures volunteers are up-to-date with what needs to be done. That's why we've outlined our top strategies for mastering volunteer communications at your nonprofit:
Make use of social media and email.
Leverage your website.
Make a good first impression.
Regularly check in.
Keep your volunteers updated.
Segment your communications.
Keep your wheels turning and your volunteers engaged with the right kind of communication strategy. Let's get started.
1. Make use of social media and email.
As you prepare to reach out to both potential and current volunteers, there are two top channels to consider: social media and email. Through social media, you can recruit volunteers, and through email, you can keep them directly updated.
But those are just a few of the benefits of using these channels. Let's dive more specifically into each so you can get the most out of them.
Social Media
Social media can be used to share your recruitment message, but it's essential that you don't just post and walk away. According to the InitLive volunteer management guide, it's helpful to craft a formal social media campaign. This campaign should outline what your message is and include content that is meaningful to your supporters.
Here are some tips as you prepare to engage with your audience:
Be brief. Shorter posts get straight to the point and are easier for readers to digest. This will encourage more engagement from your supporters.
Don't feel the need to post all the time. While regular updates are important, you don't always need to post multiple times a day. In fact, posting too often might turn off some readers.
Post new information. Share content that might not be found on your website or blog, which will add value to the post. For example, offer early access to new opportunities or highlight some of your standout volunteers!
As you share your content, make your recruitment link available on your specific posts and in your page description. Then, you should see more volunteers signing up!
Email
Email is also an important element of volunteer communications. Email not only helps recruit new volunteers, but it also serves as a way to keep your current group of volunteers updated (more on that later!).
Use email outreach to give past volunteers exclusive access to your available volunteer positions. You can even encourage them to share volunteer opportunities with their circle of friends, or offer a referral gift as an additional incentive to get the word out.
There are many ways both social media and email outreach can contribute to a solid volunteer communication strategy. Start by sharing meaningful but relevant content that will boost recruitment numbers, and you'll be on your way to even more engagement.
2. Leverage your website.
Your website is typically the very first place potential volunteers will go to find out about opportunities with your organization. That's why you should always keep this information up-to-date, especially if you want to recruit successful volunteers.
Your website will allow you to:
Post new volunteer opportunities
Offer supporters an easy way to sign up for those opportunities
Promote your overall mission
When your website prominently features your organization's mission and includes clear calls-to-action (CTAs), this will make it easy for supporters to navigate their way to your volunteer opportunities and registration. Even more, a clear and intuitive website will ensure that your volunteers have a basic understanding of your goals and what you need from them.
Once you've optimized your website to communicate what it is you need from your volunteers, you'll be in a better position to communicate with them going forward.
3. Make a good first impression.
Volunteers come to your organization because they believe in your mission. That's why you should take the time to get to know them, to determine the specific appeal that brought them there and help them learn more.
This starts with your registration process. Use volunteer management software that creates an easy sign-up process and helps you sift through each individual's information to assign them the best possible fit.
This applies whether you're organizing an event and need to staff it, or you need people to help with data entry. It's important to find out what skills your volunteers have and what they would enjoy.
When you clearly communicate with your volunteers and understand what is important to them, you'll pave the way for a good first impression, happier volunteers, and more work that gets done.
4. Regularly check in.
Even after you've successfully recruited volunteers and everything seems to be running smoothly, effective communication doesn't end there. It's essential that you regularly check in with your volunteers to keep the engagement going.
For example, you can ask:
About any challenges that might have come up
If they're enjoying their role
If they'd like to try something else to continue or deepen their involvement
Regular check-ins also include recognition. While it's probably true that your volunteers aren't doing this specifically for the glory, it's important to recognize your volunteers to keep them motivated and ensure they feel appreciated.
Look for ways to communicate your appreciation through social media, email blasts, and even through features on your website. Personalize individual outreach as you say thank you and demonstrate the impact your volunteers have made on your overall goals, whether it relates to fundraising, events, or other tasks. If you're looking for examples of emails that say thanks, check out these templates, which can be adapted to suit any type of supporter.
Case in point: Regularly keeping up with and recognizing your volunteers will help push your organization closer to achieving its mission. Be sure to openly communicate with them to recognize them for a job well done and make sure they feel fulfilled in their role.
5. Keep your volunteers updated.
Something that's occasionally overlooked is the idea that volunteers should be treated the same way as your nonprofit's employees. They offer value, just as your staff does. For that reason, volunteers should know about changes in the organization just like employees do.
Keep volunteers informed and let them know about important developments or challenges that have come up at your nonprofit. In turn, this will help raise engagement and make these individuals feel valued.
You can do this by:
Inviting volunteers to certain staff meetings
Including them in staff email correspondence
Communicating key changes that affect their volunteer positions
The more you involve your volunteers in developments at your nonprofit, the more they'll feel valued and like they're a part of your team. This can lead to longer-term engagement and retention, and can also help you build stronger relationships with your volunteers as supporters of your organization.
6. Segment your communications.
We've talked about how it's important to communicate with your volunteers in general and keep them in the loop. However, sometimes certain pieces of information don't apply to all of your volunteers.
Our last crucial tip for communicating with volunteers at your organization is to segment your communications. InitLive's volunteer engagement guide notes that sending out irrelevant communications to volunteers will waste their time and lead to frustration.
Just as you would tailor your communications to donors in order to maintain a high donor retention rate, you should also segment your communications for different volunteers so they receive information that's relevant to them. That way, you won't waste their time with details that don't apply to their role or shifts.
In order to do this, consider using a volunteer management solution that helps keep your volunteers updated with automated notifications that apply specifically to them. This way, you'll be able to keep your volunteers informed, but they won't need to read every single scheduling issue or other memos that have come up from another team.
The more you respect your volunteers' time, the more they'll respect your organization and want to stay involved.
---
Your volunteers help your organization stay on its feet and keep your day-to-day operations running smoothly. That's why they deserve to be treated as an essential part of your team, and why communicating with them is so important. Once you've mastered your communication strategy with your volunteers, they'll keep coming back to help you reach your goals.

Be sure to keep these tactics in mind as you build up your volunteer base and continue serving your mission. Best of luck!
https://gettingattention.org/wp-content/uploads/2021/08/InitLive_Getting-Attention_How-to-Master-Volunteer-Communications-for-Your-Nonprofit_Feature-1-2.png
360
585
Getting Attention
https://gettingattention.org/wp-content/uploads/2021/08/getting-attention-logo.svg
Getting Attention
2021-08-23 16:05:44
2022-04-05 19:10:38
How to Master Volunteer Communications for Your Nonprofit