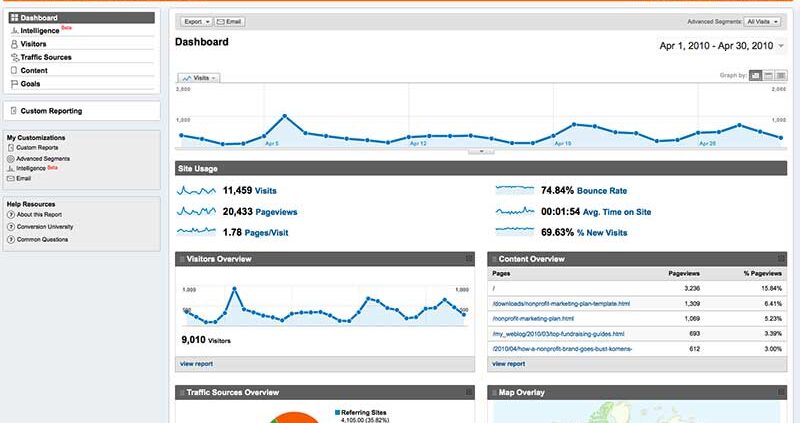 Here's a scenario I hear all the time from nonprofit marketing folks: We know we should be looking at how our website is doing, but we don't even have the time to figure out how to start.
Instead, many of you persist in building out your site or blog based on what you think your base is interested in or what you think is the way they enter your site. But here's the problem with that—it's all about you, and everything you do nonprofit marketing wise has to be about your audience if you want to engage and motivate them to give, volunteer or sign a petition.
The core insights you need to know are how your site users are finding your site (or blog), and how they interact with it. Analytics:
Consistently quantify site performance and usage. Remember though, that comparison of findings among sites doesn't mean a thing, since each site has unique goals and audiences. Focus on tracking metrics on your site over time, from the baseline of right now.
Build your understanding of how or if your site or blog is meeting stated objectives critical to achieving communications goals.
Suggest approaches for course correction if necessary.
So, I urge you to take one to two hours to set up a website analytics (usage measurement) tool. I recommend Google Analytics to our nonprofit clients, and use it myself, because it is reliable, easy to use, and free but there are other strong tools out there as well.
Getting Started with Website Analytics
When you're thinking about measuring the impact of your website, start with your desired outcomes rather than scanning the dozens of metrics every analytics program provides. Your goals for your site will highlight the metrics that matter.
Your first steps are to:
Define site goals.
Pinpoint measurable objectives that will demonstrate your moving towards reaching your goals.
Identify, as specifically as possible, the target audiences you need to engage to meet your objectives.
Who Should be Involved
The individual closest to site content and goals should be in charge of website analytics, analyzing them to understand what's working and what's not, and making decisions on changes. Google Analytics is quite simple to set up but if you need a bit of help, turn to your organization's website developer or IT consultant for a brief consult.
Set Up is Quick and Simple
For Google Analytics, set up is four steps away:
Set up an analytics account (you'll need a Google account, if you don't have one already, you can create one).
Insert the tracking code that's generated into every single page on your site and/or post on your blog. (If you need help with this, ask your website developer or IT consultant.)
To track conversions—the page a user gets to only once they've taken a key action such as making a donation or providing information to get a free research report—set up goals and insert a unique conversion code on the goal (or "end result") page such as your donation thank you page. Also, track where these users came from (a page on another site or yours, a Google ad or a link on a colleague organization's site), at which time of the day, and how long they stayed on your site (this pathway is called the funnel, and can also be tracked by Google Analytics).
Set up a scannable "dashboard" highlighting key stats. I review our dashboards for the Nancy Schwartz & Company and GettingAttention.org sites on a daily basis, and frequently use them to make decisions.

The 7 Website Usage Metrics You Need to Track
When you're thinking about measuring the impact of your website, start with your desired outcomes, not with analytic reports. Your goals for your site will pinpoint the metrics that matter.So rather than opening your analytics tool and getting overwhelmed by all the bells and whistles, focus on factors that will help you understand the whys and whats around your desired outcomes. Here are the key analytics for most organizations:
Top Fixed Metrics
1. Keywords — What top 20 words and phrases (keywords) your users enter into Google or other search engines that drive them to your site?
Reveals: What people want from your site.

For most of the people who come to your site, it's very hard to understand their intent.
But knowing these top search terms is like mind reading.

Action Items:

Develop more content related to these terms for your site, and increase use of terms (within reason, search engines can smell manipulation from a mile away) within the site. Catering to users builds traffic.
Search on Google and Yahoo for your site's ranking on these terms (where your site stands in the list of search results).
If your website doesn't come up on the first page when you search on these terms, do more search engine optimization (SEO) to move up the list. (More on SEO in coming months.)

Alert:

If these terms are not aligned with your organizations focus and/or communications goals, you have a lot of work to do to revise your content to reflect the words and phrases that are central to your organization's agenda and promote your site to drive interested users your way.
2. Top referring web addresses
Reveals: Which websites your users are coming from.
Action Items:

If you have not initiated a relationship with the top 10 referring sites, do it now. These are your friends.
If you see that there are sites that should be sending you traffic but aren't, contact them to form an alliance and discuss linking to your site.

Alert:

Included in the data about referring URLs is an even-more-important data sub-set: Referring websites for all users who reach a certain goal, for example, clicking through to an online petition or to a certain number of pages on the site. Make sure you set up such usage patterns as goals, and track them. These sites are your most valuable partners.
3. Top 10 pages visited (a.k.a. content popularity)
Reveals: Why users are coming to your site.

May validate your goals and expectations, or not!

Action Items:

Milk those top 10 pages, making sure you link out from other pages in your site to what you consider your key content from those pages.
Look at conversion rates on these pages. If they're not good (2% or more), then adjust the graphic and/or narrative elements on the conversion (e.g. subscribing to emails, downloading or contacting you via an email link or form).
Create more content and functionality around what is drawing users' attention.
Evaluate if what you are trying to draw attention to is what users are looking at.

Alert:

If your site users aren't getting to the pages most vital to your nonprofit marketing success, revise the content, SEO elements and/or site architecture for those pages. Also, link to them from your most-visited pages.
4. Percentage of site visitors who visit the home page
Usually Reveals: Why you shouldn't put so much focus, and dependence, onto home page use.

Most users will enter the site via a search engine or another site, directly to an internal page.

Action Items:

Knowing home page usage levels enables you to better calibrate the resources dedicated to your homepage versus most-used internal pages.
In many cases, sites spend far too much effort on their home page and far too little on popular internal pages.
5. Site bounce rate
Reveals: The number of visitors who stay on your site just a few seconds, so weren't engaged.
Action Items:

Before you can put this info to use, you have to figure out how long a user has to be on your site to be considered engaged.
To get a sense of this, ask a few people to run through a typical scenario on your site (making an online donation or finding program information), and time it.
See guidance from web usability guru Jakob Nielsen, Reduce Bounce Rates: Fight for the Second Click.
Dig deeper to identify which referring keywords and inbound links (web addresses linking to your site) generate traffic with high bounce rates. This is traffic you don't want.

De-emphasize these keywords in site content and tags.
Visit these referring sites to ensure you're linked to in a way that accurately reflects your site content. If not, request a correction, providing a more effective blurb to make it easy to change.
6. Conversion Rate (goals and funnel)
Reveals: The percentage of site users who "convert" by subscribing to e-alerts, making a donation or however else you measure conversion. For example, you can track how many users reach your donation page and what percentage of them makes a donation.
Reveals: Which marketing channel (your organization's e-news, links from colleague organizations or the Google Ads you just launched last month) produces the majority of your conversions, enabling you to focus on those and cutting the non-performers.

2% is the standard conversion rate.
The "conversion funnel" report (in Google analytics) reveals what pathways to and through your site are most likely to lead users to conversion.
7. Most Frequently Searched for Keywords (assuming your site has a site search tool)
Reveals: What users are looking for within your organization's site.
Action Item:

Make keywords more prominent in core content elements (home page, headlines, sub-heads and site menu) and title tags.
Top Trending Metrics
Don't forget to note how usage is growing over time—month over month, year over year—in these data points.
Unique visitors.
Repeat visitors.
Pages per visit.
Conversions, including:

File downloads.
Online donations.
E-newsletter sign-ups.
Inquiries (via email/form).

Time visitors spend on the site (although far less relevant now that browsers enable users to keep multiple windows/sites open concurrently.)
How are you using web analytics to strengthen your nonprofit marketing impact?
What are the top website usage metrics your organization focuses on to understand your audience and improve your site? And what's your process for putting those insights to work?
Please leave a comment below today so I can share your expertise with the Getting Attention community.
https://gettingattention.org/wp-content/uploads/2021/08/analytics1.jpg
498
800
Getting Attention
https://gettingattention.org/wp-content/uploads/2021/08/getting-attention-logo.svg
Getting Attention
2021-08-23 16:05:28
2021-09-01 01:58:58
7 Easy Ways to Boost Your Nonprofit Marketing Impact with Google Analytics