Poor Messages Hold You Back from the Change You Seek, but Survey Findings Signal Huge Opportunity to Boost Connection and Action
The overwhelming response to our recent Nonprofit Messages Survey highlights how vital it is for your organization's messages to connect quickly and strongly with the people whose help you want—and how rare that is today.
The way your nonprofit talks about its work, results and ultimate impact is a core competency critical to your success. Relevance is the heart of memorable, motivating messages—Aha! messages. If your messages are irrelevant (more than 7 of 10 nonprofits describe their messages as off target), your organization will fail to motivate the actions you need to move your mission forward—to give, volunteer, join or advocate.
The bad news is that most nonprofits (there's a 76% chance that means you) admittedly are doing a poor job, despite their efforts. Marketers and fundraisers like you say their key messages are not connecting to the people who need to hear them, and generate a 'so what, who cares' rather than an Aha!
The great news is that fixing the problem is highly do-able and promises vastly greater success in advancing your mission than you're experiencing now. It's incumbent upon executive directors, board members and marketing and fundraising leaders like you to lead the charge to make your messages relevant.
Here are the survey findings, and several ways to cut the mess from your messages right now:
Challenge: Most Nonprofit Messages Don't Connect Strongly with Key Audiences—Who Cares?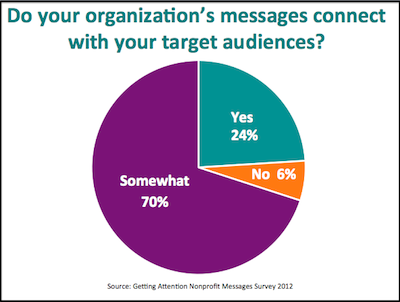 Seventy-six percent of the 1,566 nonprofit leaders who completed the survey said their messages connect with their target audiences only somewhat or not at all. Looking at the flip side, only 24% of nonprofits rate their messages as connecting well; a discouraging success rate.
However, the number of organizations whose messages do connect represents a 12% improvement since the last Nonprofit Messages Survey in 2009. This jump in message relevance suggests that making Aha! messages a priority is making its way onto nonprofit agendas.
Aha! Actions
Relevance rules, but there's no way to be relevant to everyone. Forget trying to reach the general public—you'll waste time and money, and will fail to engage those whom you really want to.
Narrow your target audiences down to a max of three groups; those who can do the most to help you meet your marketing goals and who are most likely to do so.
Challenge: 84% of Nonprofits Characterize Their Messages as Difficult to Remember—What did you say?
Most organizations report that their messages suffer from lack of inspiration (70% generate a 'so what') and poor targeting to audience wants and needs (70% spur a 'who cares'). Twenty-six percent of nonprofits describe their messages as confusing. Ugh!
Few communicators laud their messages for their strengths: Only 16% of organizations characterize their messages as powerful.
Here are some comments from survey participants explaining why their messages are irrelevant to their target audiences:
"Always about us, not about the people we're communicating with."
"Too long and filled with jargon."
"Superficially inspiring. People respond strongly the first time they hear them, but not over time."
"Lack clarity, because we have too many cooks in the message kitchen."
"Good for each program but weak or nonexistent for the org as a whole."
Aha! Actions
Find the sweet spot of relevance that is the overlap of your organization's wants, your audiences' wants and what you do differently from other organizations.
Learn everything you can about your three target audiences, so you can focus messages on the right sweet spot.
Implement tested get-to-know-you techniques doable for every organization starting with personas, a marketing advisory team, a listening strategy and online surveys.
Challenge: Taglines Trail in Effectiveness—71% Not Remembered or Repeated
When asked which of their message cornerstones is least effective, 71% of marketers and fundraisers point to their organizational taglines. That finding marks a huge opportunity for increasing message impact in eight words or less since your organizational tagline is used more than any other (from in conversation and on your website to business cards and email sigs) and is the message most likely to be remembered and repeated. Next to your organization's name, it's the most important message you have.
Note: A strong tagline is the easiest and most effective way to communicate your organization or program brand, the best way to freshen up your messaging, emphasize your commitment to your work and/or revive outdated positioning, and a powerful method of building interest in your fundraising campaign, program or special event.
Aha! Actions
Scan the taglines of colleague and competitive (for the same attention, dollars and/or time) organization to see what makes them work or flop. You'll find nearly 5,000 searchable taglines in the Nonprofit Tagline Database.
Review the have-tos, deadly sins, what makes a winning tagline and more guidance in the Nonprofit Tagline Report.
Assess your final drafts against the 9 Have-tos Tagline Checklist.
Challenge: What's Getting in the Way—Relevance Blocked by Lack of Focus and Expertise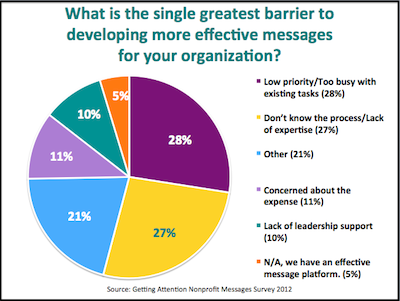 The leading obstacles to messages that connect are 1) messages are a low priority, compared to other marketing and fundraising tasks (28%); and 2) lack of expertise (27%).
The irony here is that while so many of you are putting message massage aside to get marketing and fundraising campaigns out the door, you're undermining those same campaigns by featuring irrelevant messages.
I understand the pressure you face to just do it. And there's no way you can hold everything while you take time out to research and refine stronger messages. But I urge you to take some time to craft Aha! messages, as you continue to get campaigns out the door at a bit slower pace.
Aha! Actions
Make messages a priority.
Build time for message development into all marketing initiatives, from the organizational to the campaign level.
Bring your leadership and colleagues on board at the beginning, harvesting their message ideas and clarifying what it takes to craft messages that connect.
Challenge: Inconsistency Triumphs, Leaving Confusion and Annoyance in Its Path
Here's the rub: Less than half of nonprofits report consistent use of their message platform (organizational tagline, positioning statement, talking points and elevator pitch outline). That means that even though most organizations have taken the effort to craft messages, they are not used consistently across channels (website, email, social media, direct mail), audiences or programs. As a result, fewer prospects and supporters will recognize or repeat those messages.
But the impact is worse than that—inconsistency breeds confusion and annoyance. When your audiences have to decipher what organization is reaching out to them (because the messages are unfamiliar) and what you're trying to say (because it's new to them), you've failed. They just won't do it in our noisy, cluttered message sphere, and will be dissuaded from paying attention the next time you reach out.
Instead, make it easy for your network to recognize that a communication is coming from your organization by being consistent—in language and tone—in your outreach to each segment.
Aha! Actions
Three Steps to Aha! Messages
The potential is huge, the process is doable and tested. Here are my recommendations for your first three steps to Aha! messages:
1. Ensure that your organization's strategy and goals are crystal clear
I can't tell you how many times I've been hired to develop a message platform (tagline, positioning statement, talking points and elevator pitch outline) for a regional nonprofit but can't get to ground zero because there's no agreement on organizational direction and goals.
Without clear organizational goals, you can't define the right marketing goals or target audiences. And there's no way to create Aha! messages if you don't know whom you're talking to. If this is your situation, your problems are bigger than 'so what, who cares' messages. Get on it!
2. Build understanding and support of leadership and colleagues—You need their insights and reach
The two most-cited barriers to Aha! messages (lack of focus and lack of expertise) underscore the 'so what, who cares' message crisis.
Your success in motivating your network to act comes from messages that connect. Refusing to invest the time and money to learn how to craft and test time strongly undermines your marketing and fundraising goals. Aha! messages are an investment your leadership can't afford not to make.
Reach out broadly here: Nonprofit marketers, fundraisers and executive directors are your most message-focused colleagues, with individuals in those roles comprising 78% of survey respondents. Make sure you involve the rest of your colleagues in Aha! message development from the very beginning.
Cross-organizational participation is even more vital once your messages are ready to roll. Your colleagues are your primary on-the-ground messengers via their workday conversation and communications. And they're a valuable ongoing source of insight on audiences' perspectives. Bring them on in, today!
3. Start with your tagline—Less is more
It's always harder to write something shorter than longer, and your tagline is as short as it gets. It is the absolute essence of your messages. Moreover, your tagline development process will build the insights you'll need to craft a potent positioning statement, key messages or talking points, and your elevator pitch outline.
Relevance is the Be All and End All of Aha! Messages
When aiming to increase relevance, it's imperative to go beyond delivering a relevant message here and there. The real challenge is to consistently deliver memorable and motivating messages that pierce the 'so what.' Aha!
What are Your Hopes, Challenges and Strategies for Your Organization's Aha! Messages? Please share your organization's message story here. Thank you!
https://gettingattention.org/wp-content/uploads/2021/08/getting-attention-logo.svg
0
0
Getting Attention
https://gettingattention.org/wp-content/uploads/2021/08/getting-attention-logo.svg
Getting Attention
2021-08-23 16:05:19
2021-09-01 18:46:15
Getting to Aha! The Nonprofit Marketer's Top Challenge