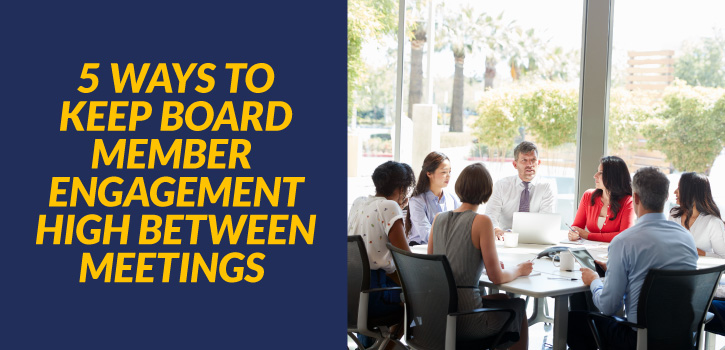 Think about a really great board meeting you've attended. Board members moved efficiently through the agenda, approved discussion items, and acted completely in sync. Tons of new and creative ideas were generated to address and correct certain issues involving your organization's operations.
Then, think about what happened after that meeting. Did board members have a solid understanding of what to work on before your next gathering? Or did they arrive at the subsequent meeting without having made much progress? 
If you're more familiar with the second scenario, you might be facing board member disengagement. Disengagement is a common issue for all types of boards, especially in the era of virtual events and gatherings. Board members are busy people outside of the boardroom, and they may not have the capacity to keep their responsibilities top of mind between meetings. 
However, you must work to retain their engagement between meetings to ensure everyone is working to help your organization thrive. Here are five effective ways to do just that: 
Use agendas to create detailed minutes.

Outline actionable takeaways at the end of each meeting.

Encourage board members to get involved in multiple areas.

Maintain communication between meetings.

Show appreciation for board members. 
A great board meeting doesn't always translate into actually getting stuff done after the fact. But by focusing on maintaining board engagement inside and outside of the boardroom, you can retain a high level of productivity and ensure board members feel motivated to succeed.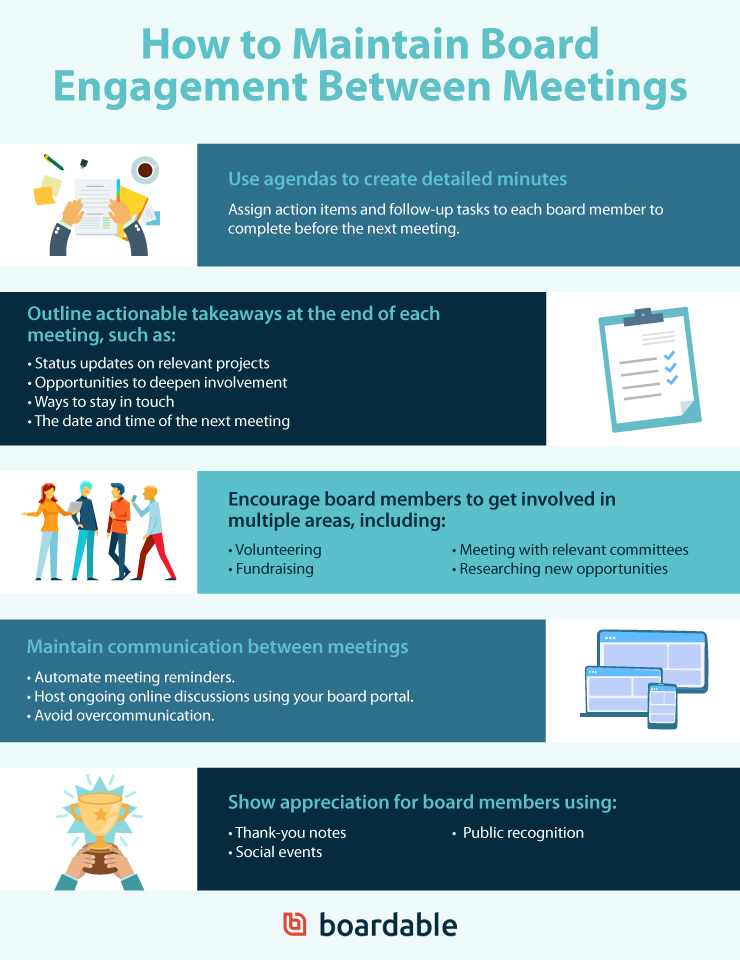 1. Use agendas to create detailed minutes. 
As a board administrator, you know that every great board meeting starts with an organized, dynamic agenda. But did you know that creating detailed board meeting minutes can also act as a guiding resource for retaining board member engagement between meetings? 
Use your meeting minutes to assign action items and follow-up tasks to each board member to complete before the next meeting. This allows them to get into the right mindset and finalize any last-minute tasks before attending your next gathering. 
Plus, according to Boardable's guide to board meeting minutes, "Effective board meeting minutes serve as a reference point for future decision-making." Reviewing clear meeting minutes allows board members to understand discussion items more deeply and make more informed decisions. 
Overall, creating detailed task lists ahead of each meeting shows board members that you value their input and want to continue engaging them, even outside of the boardroom. 
2. Outline actionable takeaways at the end of each meeting.
Make sure board members leave every meeting with a clear understanding of what they'll be responsible for in the interim before your next gathering. 
MemberClicks' roundup of important meeting takeaways highlights the information that every board member should leave your meetings with, including: 
Status updates on relevant projects.

This might include projects that individual board members or committees are engaged in as well as initiatives that involve the entire board. 

Opportunities to get more involved in different areas of your organization's work.

This includes upcoming events, webinars, volunteer opportunities, and any other activities your organization will be hosting. 

Ways to stay in touch.

Let board members know how they can stay in the loop between meetings. Beyond leveraging your board portal to communicate with one another, they should stay connected to the organization itself by signing up for your recurring email newsletter. 

The date and time of the next meeting.

This helps board members plan ahead and start creating a timeline for getting tasks completed. 
Leave time at the end of the meeting for board members to ask any questions and receive clarity on their responsibilities. Make sure all board members have access to any resources they'll need to help complete their assigned tasks. For example, your finance committee might need access to your accounting software, or board members that want to take on a hands-on fundraising role might need guidance from your peer-to-peer fundraising resources.
3. Encourage board members to get involved in multiple areas.
One of the most common causes of board disengagement is board members feeling cut off from the rest of your organization's work. Nonprofits in particular have many projects and programs happening at once, from volunteer programs to fundraising campaigns. But board members might feel isolated from these initiatives if they only interact with your mission in the boardroom.
That's why it's important to encourage board members to get out of the boardroom and into the field to work with your cause in a more hands-on capacity. By involving board members in multiple activities across your organization, they'll also get a better understanding of how their work as board members fits into your overall mission and goals. 
Consider encouraging (or even requiring) board members to get more involved with the following activities: 
Volunteering:

Volunteering allows your board members to see your organization's influence firsthand and interact with community members who are directly involved and impacted by the mission your nonprofit pursues. 

Fundraising:

Plenty of fundraising campaigns, such as peer-to-peer (P2P) fundraisers, put your supporters in the driver's seat when it comes to collecting donations. To take more ownership of their fundraising responsibilities, encourage board members to get involved in your next P2P fundraiser and

share personal stories

of their history with your organization. Also, board members can play a significant role in major donor stewardship, using their community connections to identify and build relationships with potential major donors. 

Meeting with relevant committees:

Working with a smaller group of board members in a committee allows board members to focus on a specific project or area, such as marketing or your upcoming capital campaign. Giving board members a special project can engage them more deeply in a specific area of your nonprofit's work and help them get to know their fellow board members, too. 

Researching new opportunities:

You might be interested in exploring new opportunities for your nonprofit, such as

applying for a Google Ad Grant

or using data marketing strategies like geo-targeting for your next outreach campaign. Board members can take some time between meetings to gather more information about these fundraising avenues to see whether they're worth your nonprofit's time.
These opportunities will not only deepen board members' engagement in other areas of your nonprofit, but they'll also allow them to form stronger relationships with your organization's staff members, donors, and volunteers. Board members will be much more personally invested in your organization's success when they've spent time with others who also want to see your mission thrive. 
4. Maintain communication between meetings.
Your communication strategy keeps board members informed and engaged in your projects and initiatives in between your face-to-face meetings. When you keep the conversation going after board meetings, you help remind board members to work on their assigned tasks and projects. 
These communication strategies will help you strike the right balance and keep board members up to date:
Remind board members of when your next meeting will be.

Use your main communication platform, whether it's email, text, your board software, or a messaging app like Slack. Automating a couple of reminders ensures that your board meetings won't take anyone by surprise.  

Use your board management software to streamline communications.

Board members can share progress updates, ask questions, access meeting materials in one place, or highlight interesting discussion topics that you might not have time to cover in a meeting. 

Don't over-communicate!

Sending too many messages between meetings runs the risk of having board members tune you out. Ensure each message you send has all of the details board members need so you don't have to send multiple messages in a row.
A strong communication strategy is especially important when you're conducting virtual or hybrid board meetings. In the absence of in-person gatherings, your communication strategy is what keeps board members in the loop and connected to your work. 
5. Show appreciation for board members. 
The time between meetings offers a great opportunity to remind board members why they wanted to get more involved with your organization in the first place. Show board members how much your organization values their contributions by expressing gratitude. Say thank you by offering board members: 
Thank-you notes from board leadership, staff members, or community members 

Social events, such as happy hours or dinners at local restaurants

Public recognition on your organization's social media pages or email newsletters
These ideas help board members engage with your local community and each other, building a more tightly knit group. This can lead to better cohesion and collaboration inside and outside of the boardroom.
Many factors outside of your control contribute to board member disengagement. Board members are people with busy personal and professional lives, and you can't expect to hold their complete attention at all times. However, these five strategies will help you focus on the actions and steps you can take that are within your control when it comes to maintaining board members' attention between meetings. 
Remember to use your board meeting agendas, minutes, and discussions to set board members up with everything they need to know before your next meeting. Good luck!
Author: Jeb Banner
Jeb is the founder and CEO of Boardable, a board management software provider for mission-driven boards. He is also the founder of two nonprofits, The Speak Easy and Musical Family Tree, as well as a board member of United Way of Central Indiana and ProAct. Jeb is based in Indianapolis, Indiana.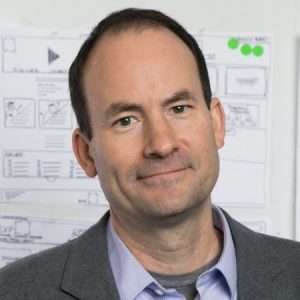 https://gettingattention.org/wp-content/uploads/2022/03/Boardable_Getting-Attention_5-Ways-to-Keep-Board-Member-Engagement-High-Between-Meetings_Feature2.jpg
350
725
Jordan
https://gettingattention.org/wp-content/uploads/2021/08/getting-attention-logo.svg
Jordan
2022-03-03 14:36:21
2022-11-18 15:58:11
5 Ways to Keep Board Member Engagement High Between Meetings