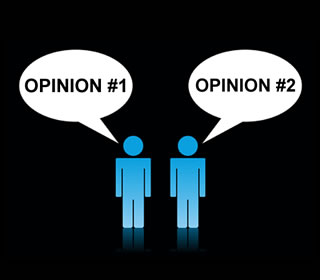 Get ready for a roaring point vs. counterpoint, thanks to Facebook for Nonprofits expert John Haydon, who shares his Yay below.
I'll be following up with mini case studies and links to research supporting my recommendation. Please share your Facebook plan (or plan not to use) and why here, and/or tell us what it does (or doesn't do) for your organization.
NAY, IN MOST CASES
You've probably noticed the raging discussion about the value (or not) of Facebook for all organizations (profiteers too)—it even made the most mainstream ever Time magazine.
There are two main reasons Facebook use is in question:
Long-time ugh: Facebook constantly changes its algorithm (a.k.a. formula) for what's fed to your org page "likers" on their own pages and its page design, without advance notice or how-tos.

That means for those of us with limited resources, it's a

n enormous expenditure of time (and the related ) to learn how to adapt, and to do it.
Most recent ugh: Pay to play with a huge decline in organic reach of your content. Now the frequency with which your posts are placed on "likers'" own pages relates to the level of Facebook ad buy by your organization.

What's clear is that Facebook isn't free— plan to pay to have your messages delivered.

My recommendation: Use Facebook ONLY if
You've selected Facebook as your social media channel of choice because your priority people ARE on Facebook, and you have a good way to drive them to your page and keep them there. Few organizations can effectively utilize more than one social media channel, at least to start.
You use Facebook as a complementary channel to direct marketing (online and offline), your website and the other places where you have a track record of motivating the actions you want (giving, registering, etc.). Content and look and feel are consistent, tone varies depending on channel and the segment of folks you're reaching out to in each channel and/or each campaign.
You set concrete goals for whatever is measurable on your page (much isn't) and try to link actions taken on other channels back to Facebook (and other influences)
You are willing to invest a lot of time, expertise in your Facebook presence, AND a lot of cash for ad buys (your nonprofit will be competing against Zappos and Proctor & Gamble—what are your chances?).
Most organizations I know DON'T FIT THIS PROFILE. So for most of your organizations, Facebook is NOT worth the investment, even if your CEO or board chair is pushing it hard.
Please share your Facebook plan (or plan not to use) and why here, and/or tell us what it does (or doesn't do) for your organization.
Now over to John…
YAY, IF DONE RIGHT (from John Haydon)
Nancy: What is the value in nurturing a brand page/community for orgs on Facebook?
John: Every marketing plan—whether it's for a brand or a nonprofit—should include word of mouth elements. You want to create opportunities for your community to tell their friends about you.
The fact is, people talk with their friends on Facebook about what's important to them—movies, weekend activities, family milestones, and causes.
Nurturing your community on Facebook increases the likelihood that they'll talk about your nonprofit with their friends. In fact, according to one study, Facebook is the most powerful word-of-mouth social media channel.
Nancy: Are there a few criteria a nonprofit can assess to clarify if and/or they should invest (or continue to invest) in its Facebook brand page?
John: It isn't reason enough for you to simply have a Facebook Page. If your nonprofit depends on fundraisers and volunteers to exist, Facebook should be an important communications channel. Most of the people in your database probably use Facebook already.
If you want to see how many people in your community use Facebook, you can upload your email list as a custom audience and see how many Facebook users are in your email list. Just follow the instructions in this video.
Nancy: What should orgs change strategy wise, with this new algorithm?
John: The purpose of the News Feed algorithm is to display the most interesting content to each Facebook. This way, they will continue to to use Facebook as an important way to connect with friends.
Because Facebook is a friend network, using your nonprofit's "brand voice" will not work. For example, if all you talk about is your 50th anniversary fundraiser gala, you will bore people and therefore get zero visibility in the News Feed.
The solution is igniting your nonprofit's "friend" voice (your community sharing your content with their friends).
Nonprofits can start with these questions:
What does out community get passionate about?
What's truly useful and interesting to them?
What needs are not being met by competing organizations?
What are specific ways you can become indispensable in their lives?
– again, getting your current true fans talking about you with their friends on Facebook.
Nancy: How should nonprofit communicators start advertising on Facebook, if they fit the criteria I shared?
John: There are four things to keep in mind when using Facebook ads:
1. Have a plan. As with any type of ad investment, be really clear about why you are using ads in the first place. Do you want more website traffic? Do you want more engaged fans? Do you want more likes?
2. Target wisely. If a breast Cancer foundation targets all women in north America, they will be wasting money on Facebook ads.
For example, it's better to target only women who have expressed an interest in breast cancer (liking breast cancer related Facebook pages). Additionally, use your Facebook page Insights to determine what demographic is most likely to like your page, and engage with your posts. Targeting Facebook adds wisely will not only save you money, it will increase conversion rates for those ads.
3. Only promote awesome. If you are using Facebook ads to promote page posts, make sure you're only selecting posts that have performed well. This way when people do see the post as a result of an ad, they will be more likely to engage with it as others have done before.
4. Avoid smelly fish. Facebook ads are like relatives and fish – they go bad after about 5 days. Always make an effort to push fresh posts with ads, instead of letting an ad run for 30 days.
Nancy: What can we expect next from Facebook?
John: You can expect more competition in the newsfeed from brands, friends, and competing nonprofits. Your only solution is to become likable in the real world, not just on Facebook.
Please share your Facebook plan (or plan not to use) and why here, and/or tell us what it does (or doesn't do) for your organization.
https://gettingattention.org/wp-content/uploads/2021/08/debate.jpg
280
320
Getting Attention
https://gettingattention.org/wp-content/uploads/2021/08/getting-attention-logo.svg
Getting Attention
2021-08-23 16:04:26
2021-09-01 02:47:03
Nonprofit Facebook ROI—Yay or Nay? (w/John Haydon)