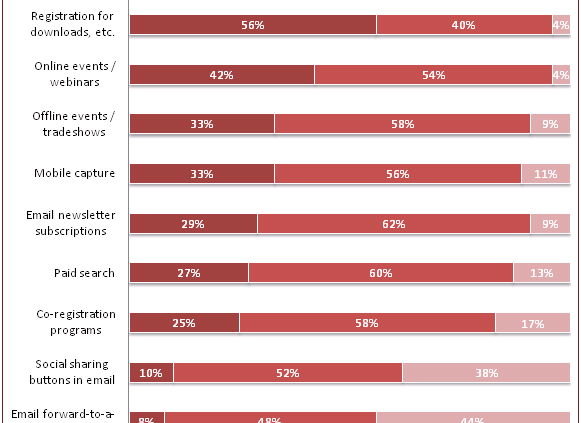 Email marketing strategies have matured and are no longer strictly about increasing the number of subscribers.
Today, the priority lies in building a quality list of names. And the 2011 Email Marketing Benchmark Report is a must-read guide to getting there, highlighting what works best to grow relationships with an engaged base and prospects.
The Report is based on survey findings initially billed as insights on building a stronger email list. But the strategy I'm going to share with you goes much further than that.
Effective marketing is rooted in strong relationships with the right target audiences – those with whom your organization's shares wants and/or needs.  I write about that time and time again.
Assuming that's so (it is!), content marketing — creating and distributing relevant content to your target audiences — is the best way to strengthen those ties and raise the engagement level of your base.
Here are 6 steps to effective nonprofit content marketing:
Build your understanding, and your boss' and colleagues', that relevant content helps your organization develop trusted relationships

which motivate your prospects to share email addresses and contact information.

Review models

: The Environmental Working Group is a wonderful example of an organization that shares most of its practical, unique content at no charge and, in doing so, has built a huge cadre of loyal supporters!

Do do the audience research it takes to find the point of content connection

, based on where your organization's wants meets those of your audiences. That's the he sweet spot.

Inventory your content

. Most nonprofit organizations are rich in useful content, but don't know where or what all of it is so can't use it to build engagement.

Plan and launch your first content marketing campaign

. Make it small and focused so you can get clear and quick results.

Fine-tune and get out there again

!
Is content marketing one of your strategies? If so, how are you implementing it? If not, why not?
https://gettingattention.org/wp-content/uploads/2021/08/email.png
581
581
Getting Attention
https://gettingattention.org/wp-content/uploads/2021/08/getting-attention-logo.svg
Getting Attention
2021-08-23 16:04:09
2021-09-01 18:46:46
6 Steps to Stronger Relationships – Share Your Relevant, Valuable Content