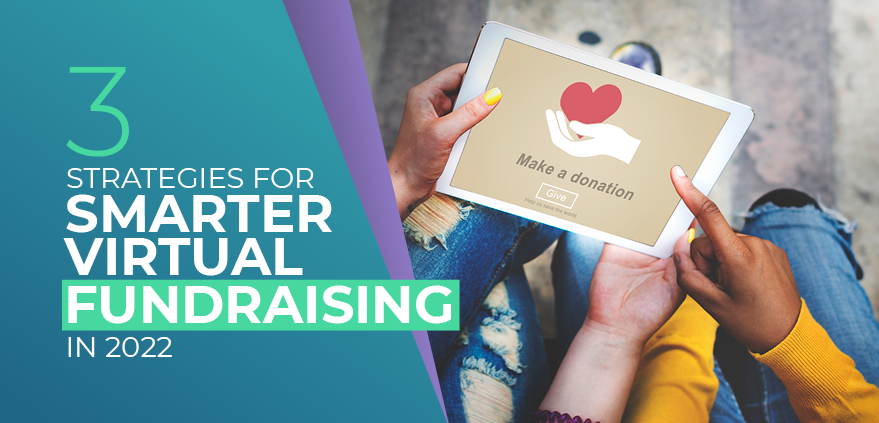 Virtual fundraising is an easy way to grow your nonprofit's reach and revenue. Unlike a traditional, in-person fundraiser, a virtual fundraiser allows you to reach people all over the world. This way, you can pull in support from people outside of your local community and keep donors engaged, even from miles away. Plus, your local supporters will appreciate the convenience of being able to participate in your fundraiser from the comfort of their homes.
For these reasons, virtual fundraising was a staple in the nonprofit community throughout 2020 and 2021. Despite having to be physically apart, people were still able to engage with their community through technology and make an impactful difference. This was seen through countless virtual fundraisers and giving days, including Giving Tuesday 2020, which raised $2.47 billion. It's no wonder that virtual fundraising has continued to be a great option for nonprofits in 2022, but there's always room for improvement.
Virtual fundraising can be very effective with the right strategies and tools on hand. Use these three tips for smarter virtual fundraising in 2022:
By incorporating these strategies, your nonprofit can take its virtual fundraising to the next level. Let's begin.
Market your fundraiser widely.
Your virtual fundraiser needs sufficient marketing in order to maximize support. After all, how can people get involved if they don't know that it's happening? Use the following communication channels to promote your online fundraiser widely so new and existing supporters can join in on the fun:
Email. Leverage your nonprofit's constituent relationship management (CRM) platform to segment donor email lists. Donor segmentation is an easy way to organize donors in your database by gift frequency, recency of support, and gift amount. Tailor your messaging to these different audiences and send specific emails that will resonate with donors and motivate them to give. This is much more effective than generic donation request emails, which feel less personal and are less likely to boost donor retention.
Social media. Capitalize on social media's virality and spread the word far and wide about your virtual fundraiser. Consider your audience's demographic and which platform they are most likely to engage with. For example, an older demographic would be more likely to learn about your fundraiser on Facebook rather than TikTok. Once you've decided on a platform, develop eye-catching content, like videos explaining your fundraiser or a graphic design that explains the significance of your fundraiser, to increase excitement.
Your nonprofit's website. Your website forms the foundation of your organization's digital presence, so this is the perfect place to advertise your upcoming virtual fundraiser. Create an event landing page that explains all the details of your virtual event, including logistical details like the time and streaming platform if applicable, how the funds will be used, and how supporters can get involved.
SMS messaging. Your supporters are already spending more and more time on their phones, so why not send text messages to get the word out about your fundraiser? Sign up with a text-to-give provider to access a unique phone number and keyword that your supporters can text to opt-in to text messages from your nonprofit. You can send updates about your fundraiser and your mobile-optimized donation page link.
Regardless of which platform you choose, make sure to keep your communications engaging and make a strong case for support. You need to encourage supporters to not only read your messages, but take the next action by signing up for your virtual event or giving to your campaign. Add visual elements to drive impact and appeal to people's emotions.
Incorporate peer-to-peer elements.
This creative fundraising style is a tried-and-true option to amp up your virtual fundraising efforts. According to Donately, peer-to-peer fundraising empowers your supporters to take the reins on fundraising by creating their own unique campaign pages. Then, supporters will send the link to people in their personal networks, helping your nonprofit easily expand its reach.
There are several peer-to-peer fundraisers you can host online that will not only engage donors, but also get them excited to give. Host any one of these virtual fundraisers with a peer-to-peer element to maximize support for your organization:
Walk-a-thon. Get your supporters up and moving for a great cause! With a peer-to-peer style walk-a-thon, your supporters will create their own fundraising pages in advance of the big event and can compete to raise the most amount of money. Supporters can even obtain pledges from their friends and friends for every lap they walk or how long they walk. Plus, these walks can take place anywhere—individual participants can simply go on a walk around their neighborhood and still feel connected to your nonprofit's community.
Social media challenge. Come up with a catchy hashtag relevant to your organization and its fundraiser and a challenge that people can easily complete from the comfort of home. For example, if you're an animal welfare organization, you can suggest that people post their best photo of their rescue pet along with why they're supporting your nonprofit in the caption. Supporters can include their fundraising page link on their profile so their followers can quickly give.
Giving days. Inform your supporters at least a month in advance that your nonprofit will be participating in a giving day, such as Giving Tuesday. Then, give them clear instructions on how to make a campaign page so they can spring into action and market their fundraising page widely on the giving day.
To get the ball rolling on your peer-to-peer fundraiser, you can reach out to your most active or connected supporters ahead of time to create fundraising pages. This will help your nonprofit reach as many people as possible, boosting your donor acquisition rate.
Develop a monthly giving program.
A monthly giving program can help establish a reliable revenue stream for your nonprofit. According to 360MatchPro, monthly giving made up 17% of all online revenue last year, meaning that more and more people are interested in recurring giving and eager to donate. With this boost in revenue, your organization can worry less about budgeting and focus more on advancing your nonprofit's mission.
Monthly giving isn't only beneficial to your nonprofit; it also caters to donors' convenience and flexibility. When donors sign up for monthly giving, they'll no longer have to fill out your donation page each time they want to give. Instead, they'll fill it out a single time with their monthly giving amount and billing information, and their gift will automatically be transferred to your nonprofit each month.
Make sure to give donors the option to adjust (and potentially increase!) their monthly giving amount or change their billing information if their card changes or expires. Donors will feel more comfortable giving to your organization when they know they can make changes as needed.
---
Even as we move past physical distancing, it's clear that virtual fundraising is here to stay for its many benefits. Take your next fundraiser online to increase revenue and pull in support from all over the world. Following these strategies can help engage your existing donors, boost your donor acquisition, and create a predictable revenue stream that your nonprofit can access at any time. Good luck!
https://gettingattention.org/wp-content/uploads/2021/08/Donately-Getting-Attention-3-Strategies-for-Smarter-Virtual-Fundraising-in-2022.png
423
879
Getting Attention
https://gettingattention.org/wp-content/uploads/2021/08/getting-attention-logo.svg
Getting Attention
2021-08-23 16:05:44
2022-09-29 19:34:32
3 Strategies for Smarter Virtual Fundraising in 2022