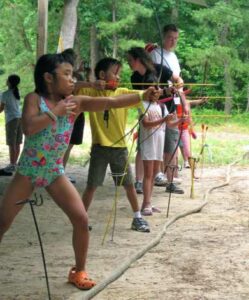 See3 and friends have just released Into Focus, the first-ever benchmark guide to video in the nonprofit sector. It's a good read based on solid research, with these key takeaways:
Video is important and getting more so
Nonprofit orgs want to make more video, but don't have the skills, metrics or budget to do so.
The same can be said of social media, marketing planning and other marketing approaches that generate organizational resistance. BUT the data and models in Into Focus have crucial implications for the right-now actions you should take to:
Understand and articulate that content strategy (including video) is a must-do method of moving your cause forward

Educate and train colleagues to get it, invest in it and participate in it

Bring your content to life across channels and formats.
I recently asked See3 founder Michael Hoffman to share his recommendations for nonprofits that want to flee the common can't-move-forward-due-to-no-resources-or-confidence trap. Here's the 8-step escape route he suggests:
1) The goal (and challenge) is not just to learn how to use video effectively, but to integrate a new approach into your organization's culture and operations.
2) The role of video in the content spectrum has changed. Shift your mindset from videos as one-offs or supporting specific projects or campaigns, to a continuous video story (composed of multiple videos.)

3) The time to do more and  better with video is now. The adoption cycle has speeded up big time. Plus video is a superstar format for mobile delivery.
4) Right now, most nonprofits simply sprinkle video into the communications mix. To be video-strong, take a more deliberate approach to building skills, metrics, comfort level and more.
5) The most reliable approach is to make video a regular practice, finding a way to integrate short, simple video into the work you're already doing.

6) Start with a low-commitment project, focused on building skills, generating productive feedback and building organizational comfort with and understanding of the medium.
Quick-start examples include creating a video issue of your organization's e-newsletter, thank-you videos for specific donors (post on YouTube then email the link to the donor) or interviewing a beneficiary, colleague or a volunteer on how they got to your org and why they care about your cause.
7) Post your videos on social media channels, framing them as experiments to build momentum and action around your cause in a new way. Share where you are with video, and where you hope to get to.
8) Your initial video projects will help you develop a video production habit, build confidence and create feedback and learning that will guide what's next (and be strong fodder for your recommendations to your boss and colleagues).
Practice makes progress. Start your practice now, by reading Into Focus.
How have you helped shift your organization's culture to embrace a new approach?
https://gettingattention.org/wp-content/uploads/2021/08/Practice.jpg
471
391
Getting Attention
https://gettingattention.org/wp-content/uploads/2021/08/getting-attention-logo.svg
Getting Attention
2021-08-23 16:04:26
2021-09-01 03:03:35
Practice Makes Progress—Into Focus Nonprofit Video Guide