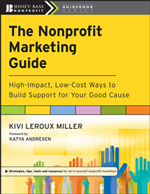 I'm so proud of my friend and colleague Kivi Leroux Miller for crafting the excellent Nonprofit Marketing Guide: High-Impact, Low-Cost Ways to Build Support for Your Good Cause (partner link). And Kivi's been gracious enough to make Getting Attention the first stop on her virtual book tour.
I recommend you purchase the book today. Here's why:  It's a source every time-strapped communicator can count on time and time again – comprehensive, accessible and smart. When you buy the book before midnight tonight (June 1, 2010) and forward your receipt to book@nonprofitmarketingguide.com, you'll be entered to win a free Getting Attention tagline review. You'll also be entered into a drawing on Friday for several All-Access Passes to the Nonprofit Marketing Guide Webinar Series.
Here's a small taste of Kivi's practical nonprofit marketing advice…
"Where do I begin?"
That's hands down the most frequently-asked question that nonprofit communicators ask consultants like Nancy and me.
Like any good consultant (or therapist), I always respond with a question of my own: What is it that you want people to do?
I can usually tell how long – and difficult – the conversation will be based on the answer I get. Responses like these signal a long conversation ahead:
"We want them to support . . ."
"We want them to care about . . . "
"We want them to understand . . . "
The problem with responses like these is that there isn't any specific action involved. No one is doing anything. So I ask the same question again, but using the language from the response.
What does someone do when they are supporting you?
What does someone do to show they care?
What does someone do when they understand?
Now, we start to get to more specific responses, like
"Give us money."
"Call their legislator."
"Talk to their children about it."
With these more specific actions as our goals, we're equipped to shape a nonprofit marketing strategy. The conversation continues by discussing
Who needs to take these actions (helps us define the target audience)
What will motivate them to act (aids in creating a powerful message)
How and where to reach them (guides us in channel selection).
Writing an email newsletter or updating your Facebook page may end up as key elements of your strategy, but tactics aren't the place to start . Instead, take some time – even just five minutes of quiet behind a closed door – to sort through these questions. That's where to begin.
https://gettingattention.org/wp-content/uploads/2021/08/npg.jpg
194
150
Getting Attention
https://gettingattention.org/wp-content/uploads/2021/08/getting-attention-logo.svg
Getting Attention
2021-08-23 16:03:53
2021-09-01 03:18:55
Where to Begin with Nonprofit Marketing