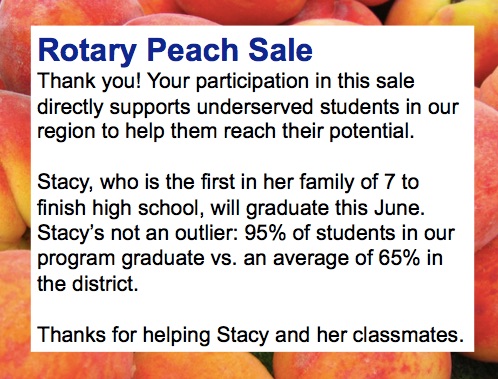 You face an uphill battle to recruit volunteers and retain them at ever higher and more effective levels of engagement. For those of you with small or all-volunteer organizations, there's absolutely nothing more important. And, as time and budgets get tighter, and reliance on volunteers increases, it's harder than ever.
There's a proven yet seldom-used method to boost success in both dimensions AND extend your organization's reach and impact without adding budget or hires: Building your team of passionate volunteer messengers.

The value of launching your volunteer messengers is huge; a real win-win doable with limited time and expense. Take these seven steps to launch your team of passionate volunteer messengers. I'll follow up with posts on each step, starting with the most productive pilot program I know:
1) Assess potential barriers to success
What's likely to be in your volunteers' way? ASK if you don't know
Lack of confidence or skill
Don't see it as part of their role
No or limited access to target audiences
Not interested.
2) Get success factors in place
Staff trust and respect for volunteers
Internal support for program
Active, visible volunteer modelers
3) Recruit your first team of messengers (Pilot)
ASK for help; don't assume!
ID best opportunities: Specific campaign works best, with a clear goal and deadline. Ideal to select a campaign that is related to your messengers' volunteer work.
Select a small team most likely to act or have the greatest influence: Evaluate volunteers' roles, networks, talents, communications skills, personality, and passion level.
Get to know your messengers: What motivates them? What do their days look like?
4) Develop the right systems & tools
Design policies and guidelines: Best practices, do's, don'ts for conversations and social media.
Develop tools and templates to increase your volunteer messengers' ease, participation, and confidence.
5) Provide training & ongoing support
Provide practice-based training: Reinforce value and rewards; introduce scenarios; review messages, policies, templates, and tools; getting help. Practice and more practice.
Support messengers: How can you boost success via ongoing supports—coaches, FAQs, private Facebook group, training the trainers? How will messengers get immediate help?
6) Launch, thank, & reward
Thank your volunteer messengers with verbal appreciation and recognition.
7) Assess, analyze & revise or expand
Assess pilot program impact via anecdotes and messenger feedback
Analyze impact vs. what it takes to deliver the program and ROI of other approaches
Revise program as indicated and/or
Build out your program by adding volunteers to your messenger team or launching a team for another goal.
Keep posted for my recommendation on what to launch with and case studies that show you how it's done!
https://gettingattention.org/wp-content/uploads/2021/08/TCU-Vol-Plenary-Schwartz_pptx.jpg
379
498
Getting Attention
https://gettingattention.org/wp-content/uploads/2021/08/getting-attention-logo.svg
Getting Attention
2021-08-23 16:04:46
2021-09-01 02:36:05
7 Steps to Passionate Volunteer Messengers