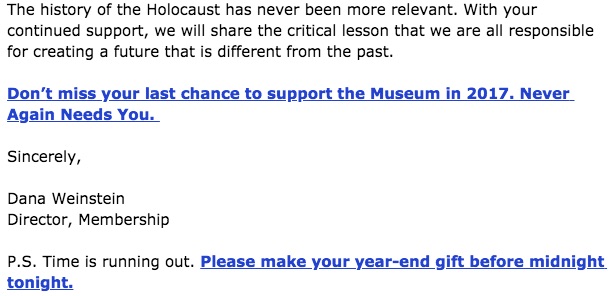 We all have an incredible marketing and fundraising resource right in front of us—our colleague, board member, and loyal volunteer ambassadors. But most of us look right past them!
You STILL HAVE TIME to launch your team of messengers to advance your campaigns. They're already fans, so many of them will be eager and effective fundraisers. So that's all good. However, your ambassadors' reach, engagement, and ultimate impact on donations is directly related to saying the right thing at the right time. And it can't be a script, repeated from everyone to everyone. Spamming robots just don't work. But…
Provide these three message tools to your ambassadors, and you're golden. They'll ensure your ambassadors' comfort and confidence, so they're more likely to reach out to friends and family members (a.k.a. donors and prospects). Plus they'll boost the odds prospects hear the kind of consistent yet personal outreach that generates true engagement and the actions you want!
1) Your #1 tool! Ready-to-use email signatures make it easy for your ambassadors to close their emails in a way that's hard to ignore or forget. That means more recipients will respond and spread the word to family and friends.
Take this memorable email signature from the United States Holocaust Memorial Museum: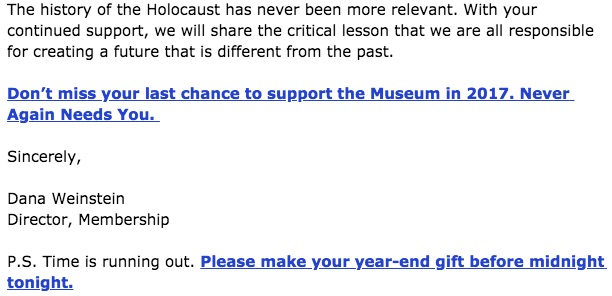 2) Graphic badges ready to cut-and-paste into your ambassadors' emails, tweets, Instagram and Facebook posts.
Who can resist a face like this?

Or a laugh like this one?
3) Cut-and-paste templates like this email for teachers to customize when fundraising via DonorsChoose.org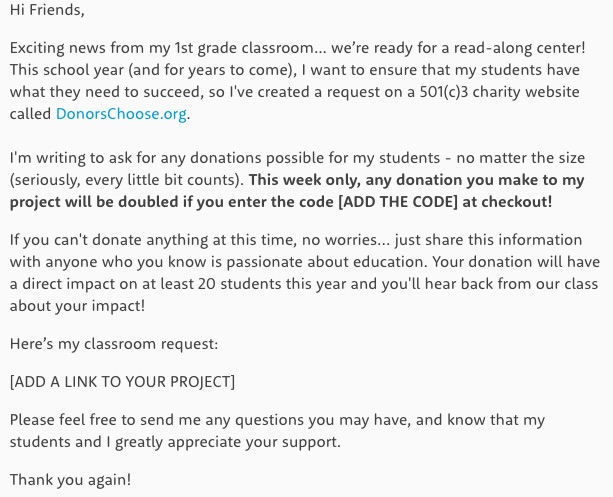 Create the templates you anticipate your ambassadors will need most frequently. Have no idea? Ask them!
Get these three tools in your ambassadors' hands a.s.a.p. so they generate as much engagement and action possible, with the greatest ease and confidence. I can't wait to hear how it goes.
https://gettingattention.org/wp-content/uploads/2021/08/Last_chance__Give_a_tax-deductible_gift_by_midnight_-_nancy_nancyschwartz_com_-_Nancy_Schwartz__amp__Company_Mail.jpg
296
612
Getting Attention
https://gettingattention.org/wp-content/uploads/2021/08/getting-attention-logo.svg
Getting Attention
2021-08-23 16:05:44
2021-09-01 01:47:58
3 Tools Power Ambassadors to Success