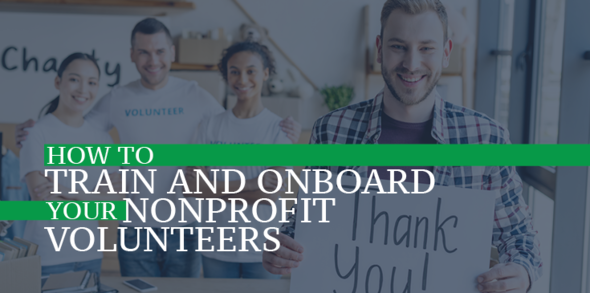 If you have volunteers within your nonprofit organization, consider the following multiple-choice question:
Volunteers exist to: a) save us money or b) make us money.
There isn't a right or wrong answer here. But it does reflect on your attitude toward training your volunteers.
If volunteers are all about saving you money, then you might question why you should invest in their training. After all, training is an expense, and they're about saving, not costing you money. In that case, stop here. You wouldn't want to look at an alternative, right?
On the other hand, if you see volunteers as a way of making your nonprofit money, read on to find out how to train and onboard your dedicated volunteers!
1. Better understand your volunteers' value.
When you're looking to get the most out of your volunteers, keep in mind that "making money" doesn't just mean an increase in revenue. It's providing great mission services so that clients talk up your nonprofit to others. It's keeping your files in order so your staff can make more appointments. It's treating your assets like their own when stewarding your finances. It's attending town council meetings so your local government understands how serious your cause is to the community. And yes, it's selling their share (and more) of tickets to your upcoming fundraising gala.
2. Invest in volunteer management software.
When you look at volunteers like an endowment—a reserve that makes money that you can use to move your mission ahead—that is when you get the most from your volunteers.
If you take this approach, it quickly becomes obvious that just like a typical finance manager, you're going to need some organization to track your assets so you can get the most from them. In today's world, that means investing in software.
In other words, if you're going to manage more than a handful of volunteers, putting a volunteer management software system in place is essential to carry out key functions such as:
Organizing records. This houses your volunteer personnel files, and allows you to send one-to-one and mass communication with volunteers, make notes on conversations, and even record disciplinary actions.
Scheduling and tracking hours. The bane of most volunteer managers' lives is scheduling. Knowing who needs to be someplace and when, how many volunteers are needed in each role, and how much time they contribute gives you a better picture of individual volunteers and your program as a whole. Plus, effective hour tracking is critical for additional funding opportunities—such as volunteer grants!
Tracking training and qualifications. Volunteers progress in training at various rates, and you need to know who is qualified for what when making assignments.
Evaluating volunteer progress. How are they doing? It's a question you need to ask and answer from the board down to the office clerk. A formal evaluation system, recorded so you can refer to it on a regular basis, is a great decision-making tool, even if the decision is whether they remain as a volunteer or not.
Recognizing accomplishments. Do you have a "Volunteer of the Year/Month/Week" award? Being able to systematize the process through your software can take the politics, and headaches, out of the decision. Plus, it'll make sure your volunteers feel appreciated!
Remember, for volunteers to make you money, you need to be as time-efficient as possible with both your time and theirs. Using the right software will be a major step in that direction.
3. Emphasize strategic volunteer onboarding processes.
All this is good, but let's get a little more granular. For instance, what are you tracking?
Perhaps your mother said to you "what starts right ends best." You never knew she had volunteer training in mind when she said this! But she's correct: it's essential to start off right. Since at some point or another, everyone is a newbie, let's start there.
Onboarding is a lot more than introducing your volunteers and telling them where the bathroom is. It starts with some data collection. You need all of the basics—such as name, address, phone number, and these days, even their social media account handles—so they get all of your latest news. Don't forget to get an emergency contact name and number, too!
Getting some professional background information will be very helpful as well. That will give you insight into their skills and interests. Do they already come with some of the mandatory training or clearances that are needed for your work, like child protection and background checks? That's essential information to have.
Have they already interacted with your nonprofit in another capacity—as a donor, a client, or a customer? Knowing this means they already have some familiarity with your mission, or at least how you fund it.
Need a checklist of 25 onboarding ideas? Get it here.
4. Explore low-cost and effective training resources.
After you get the information you need from your volunteers, it's time to get them more intricately connected with your mission. You want to strike a balance between time efficiency and personalization.
You don't need a high production-value training course. In fact, your volunteers may connect with you and your mission better if your content has a bit of homemade quality. However, it's important to remember some best practices like these:
Create short segments that are hyper-focused on one aspect of your work. Single segments of less than five minutes are best. You want the information to be easily digestible. Long segments could mean that your volunteer stops in the middle and never comes back.
Consider a short quiz with a few questions between segments to help increase retention.
Create an outline of topics like history, mission statement, impact, clients, volunteer roles, and more. If you can get clients, community members, or other volunteers to narrate your training, all the better.
Make training resources available online, preferably in a passworded section of your website. That makes them portable so your volunteer can look at them at any time, and exclusive, so your volunteer feels like they're getting on the "inside" of your nonprofit.
If you can automate a connection between your volunteer management software and the completion of the quizzes, great! If not, be sure to record their progress manually—a good job for a volunteer!
As your volunteer progresses through the sequence, ask them about their progress. Do more than say "how are you doing with those videos?" Inquire about their response to certain aspects of what they see. For example, you might ask, "what was your response to our client Betty, when she told the story of why she came to us?"
If your organization requires mandatory training on topics like child protection, and your volunteer hasn't completed the necessary program, your next step is to provide or arrange for external training and clearances.
The information provided in your basic orientation is great for anyone to have, whether they follow through with volunteering or not. But you don't want to waste time if your volunteer doesn't qualify to take part in your mission. Plus, it's important to remember that if these programs are required by governmental authorities or your nonprofit's policies, you cannot have them do any work until they pass.
Now comes the specialty training that's tailored to their specific work with your nonprofit. It may be in accounting, fundraising, board service, marketing, mission services, or a wide variety of other areas. Today, with so much available online (including many of your volunteer opportunities!), you can and should put together a robust program from a variety of sources.
An online education platform like Nonprofit.Courses can be a great help. It aggregates thousands of nonprofit education videos of a variety of lengths and topics, most of which are free and open access. For a fee, they can even set up a specific page for your volunteers and help you curate content.
---
Now, with your volunteers trained and ready, it's time to make some money. Good luck!
Matt Hugg is an author and instructor in nonprofit management in the US and abroad. He is president and founder of Nonprofit.Courses, an on-demand, eLearning educational resource for nonprofit leaders, staff, board members, and volunteers, with thousands of courses in nearly every aspect of nonprofit work.
https://gettingattention.org/wp-content/uploads/2021/08/How-to-Train-and-Onboard-Your-Nonprofit-Volunteers_Feature.png
293
590
Getting Attention
https://gettingattention.org/wp-content/uploads/2021/08/getting-attention-logo.svg
Getting Attention
2021-08-23 16:06:22
2022-04-05 19:10:38
How to Train and Onboard Your Nonprofit Volunteers