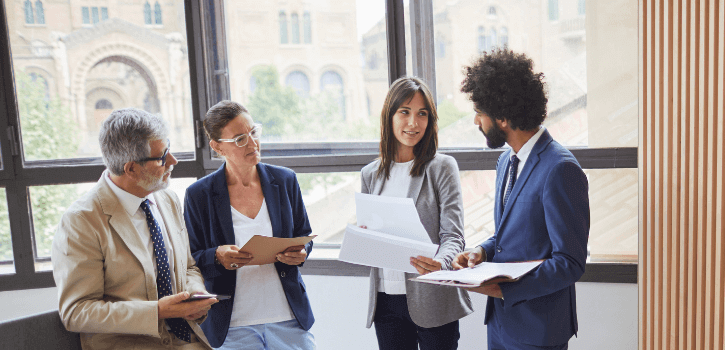 Launching a marketing campaign is hard work. Your nonprofit has to spend significant time thinking of marketing ideas, outlining your goals, researching your target audience, and creating content. After putting in all of this time, effort, and money, it can be discouraging to be met with lackluster results.
While these issues could mean that your nonprofit needs more time to increase brand awareness and recognition, there could be deeper issues at play. The best way to analyze your marketing strategy is to use data analytics. A tool like Google Analytics combined with your marketing tools can help you make data-driven decisions that will help improve your marketing outcomes.
These three tips can help you improve your marketing impact:
To make informed, data-driven decisions you'll need to set up a way to collect data from your supporters. To get started, you'll need to set up a Google Analytics account.
Track your website's analytics
Your website is the most important tool in your digital marketing toolkit. As Feathr's guide to nonprofit digital marketing explains, your entire digital marketing strategy should revolve around referring supporters to your website. After all, your website is where people can get involved by donating, signing up to attend an event, or registering as a volunteer.
Because your website is so important to your overall marketing strategy, it's imperative that you have a way to track the traffic that enters it. Google Analytics, a free web analytics tool that tracks a given website's performance, can help you collect and analyze this data by reporting who visits your site, how they found it, how long they stayed, and what they did (or didn't do) during their visit.
You can begin tracking your website data with Google Analytics by following these steps:
Make a Google Analytics account using

these instructions from Google

. If you don't have one already, you'll need to create a standard Google account before completing this step.

Insert the tracking code generated by Google Analytics into every page of your website so you can track site traffic. You may need help from a web developer or IT consultant to complete this part of the process.

Create engagement goals for your website, such as visitors playing an explainer video about your cause or registering for an event.

Track conversions by inserting a unique code on each goal or "end result" page. If your goal is to attract more volunteers, add this code to the "thank you for completing your volunteer registration form" page. This way, Google Analytics can note whenever anyone reaches this page, which allows it to count how many people have signed up to volunteer.

Set up a dashboard where you can view a quick summary of the statistics Google Analytics has gathered.
Setting up your account can take a few hours and may require a little outside help, but the data you gather as a result will prove invaluable to your marketing campaigns. To make using Google Analytics more streamlined, you can integrate its data reports into the tools in Google's G Suite like Sheets. This way, you'll be able to incorporate data into programs you already use so it's easy for your organization to access, share, and analyze. 
Leverage analytics with your marketing tools
With data analytics, you'll be able to use your marketing tools more effectively to reach their full potential. Tracking your website traffic can give you useful insight into who your audience is, what they like about your organization, and why they might be motivated to get involved. 
Google Analytics provides a variety of metrics, and all of those figures and percentages can be overwhelming at first glance. These are some of the most important metrics you can use to help choose your marketing strategies:
Keywords.

This metric reveals the top keywords users searched that led them to click on your site. These keywords uncover users' search intent, or what they're hoping to gain or find from visiting your website. You can use these keywords to choose the

most relevant marketing ideas

and decide which blog posts to add to your site



Site bounce rate.

Bounce rate is the percentage of visitors who click on your site but navigate away after viewing just one page. An optimal bounce rate falls between

25% and 40%

,  which means that your current marketing campaign aligns closely with user intent and the content already on your site — in other words, keep up the good work and make minor tweaks as needed. If your bounce rate is above 40%, you'll need to take a close look at your site content to correct any technical issues.

Conversion rate.

This metric represents the percentage of visitors who "convert" by making a donation, registering for an event, or taking some other action that helps further your mission. This can help show you which marketing channels are most successful at producing these valuable conversions and help you direct your efforts toward creating content for those channels.

Unique visitors.

A unique visitor is one who has never been to your website before. Tracking this metric gives you an idea of what percentage of your visitors are completely new as well as how they are arriving at your site. If one of your goals for your marketing campaign is to expand your audience, use this metric to shape your strategy by targeting unique visitors' preferred marketing channels, the keywords that will motivate them to visit, and their reason for getting involved.
Without data, your nonprofit's marketing campaigns would be operating on guesswork alone. These metrics give you the insights you need to back up each decision you make in your marketing campaigns.
Pinpoint areas for improvement
The metrics Google Analytics delivers can also help you make improvements to your existing marketing strategies and campaigns. 
Let's say you check Google Analytics and notice that your social media strategy brings in large amounts of traffic to your website, and the majority of these visitors are eager to donate. However, visitors referred by your email campaign aren't as quick to make a conversion. Based on this data, you might decide to adjust the messaging in your email campaign to better motivate those supporters to convert once they reach your site.
You might also decide to add a new strategy to your marketing mix based on this data. If you have a high bounce rate, you should first audit your website to ensure there aren't any technical issues or misaligned content that could be causing the issue. Then, your next step could be to set up a retargeting ad campaign in which supporters who click away from your website will see ads for your nonprofit on other sites, directing them back to your webpage.
As useful as Google Analytics is, remember that it only provides data about your website traffic which can leave out important information about other marketing channels, especially print ones. For example, posting fundraising flyers could be one of the most effective ways to market your fundraisers to your community, but Google Analytics might not reflect their impact. Keeping the limitations of Google Analytics in mind will help you maximize the benefits of this tool.
---
Designing a marketing campaign can cost your nonprofit significant time and money, so you'll want to ensure each campaign reaches its full potential. If you use Google Analytics along with your nonprofit marketing solution, you can commit to data-driven marketing that helps you effectively reach and communicate with current and potential supporters.
https://gettingattention.org/wp-content/uploads/2021/08/Feathr_Getting-Attention_3-Ways-to-Boost-Your-Nonprofits-Marketing-Impact-with-Data.png
350
725
Getting Attention
https://gettingattention.org/wp-content/uploads/2021/08/getting-attention-logo.svg
Getting Attention
2021-08-23 16:05:28
2022-11-02 15:50:04
3 ways to boost your nonprofit's marketing impact with data