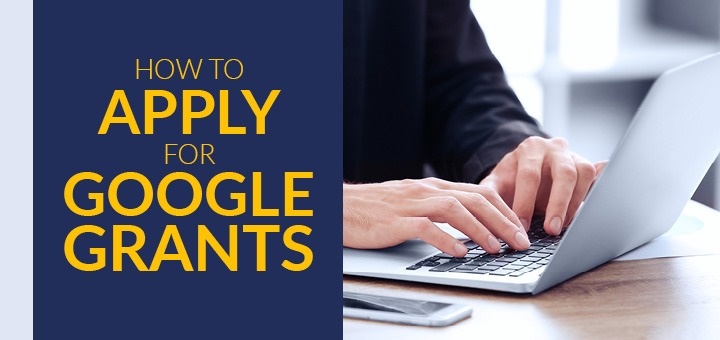 Are you looking to drive traffic to your nonprofit's landing pages without breaking the bank? The Google Ad Grant program will help you do exactly that! After completing the Google Grant application process, you'll receive $10,000 every month to spend on Google Ads.
This free funding poses enormous growth potential for your organization, no matter what your mission or conversion goals are! Whether you're an advocacy organization looking to boost petition signatures or an animal shelter aiming to increase volunteer signups, your nonprofit can broaden its reach, increase its search visibility, and drive conversions at exponential rates.
Unlike most grant applications, applying for Google Grants is relatively straightforward and painless. Plus, there's no competition for funds! As long as you meet all of the Google Ad Grant requirements and follow the right steps, you're a shoo-in for getting your application approved.
If this seems of interest to you, come along as we dive into the steps of how to apply for Google Grants! Here's what we'll cover: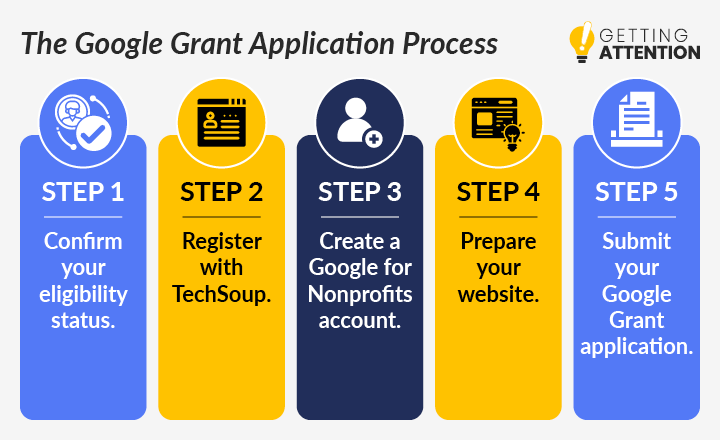 At Getting Attention, we devote our time to helping nonprofits make the most of the Google Ad Grants program. We know exactly how to apply for Google Grants and get approved on the first try, so we're happy to share that knowledge with you!
Let's start our journey by answering some of the most common questions that nonprofits have when it comes to the program.
Common Questions About The Google Grant Application
Before diving into the required steps for applying for Google Grants, it's important to know what to expect from the application process. Let's run through a few of the most common questions that nonprofit professionals have when they first start looking into the program.
What is the Google Grant?
The Google Ad Grants program enables nonprofits to acquire valuable search engine ad space at no cost. Through the program, Google supplies eligible nonprofits with $10,000 in Google Ad credits every month to put toward driving traffic to their websites' most important content. All they have to do is follow the required Google Grant application process and get approved.
From donation pages to educational blog posts regarding its mission, a nonprofit can get experience a wide array of benefits, including:
Increasing conversion rates
Attracting new donors, volunteers, and other prospects
Marketing multiple ad campaigns simultaneously
Analyzing and tracking campaign performance
Learning the needs of its digital supporters and how they prefer to engage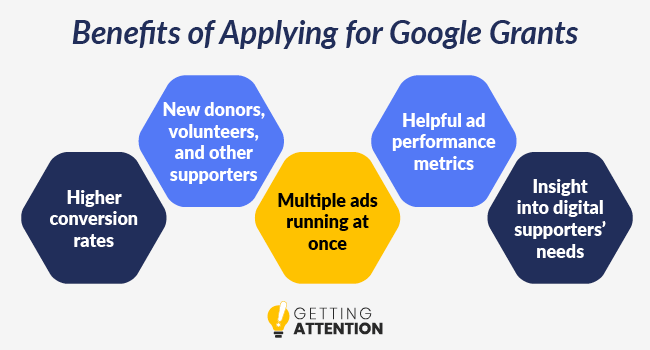 However, these nonprofit marketing grants are not a free-for-all. In fact, there are several specific guidelines organizations must review to determine their eligibility before applying.
How do I get a Google Grant?
With such a valuable opportunity, there is a pretty lengthy Google Grant application process that your nonprofit must follow. Google requires you to go through an eligibility verification process, register with TechSoup, create relevant accounts within their system, and create your first Ad campaign.
The goal is to confirm that you're a trustworthy nonprofit that will benefit from the program and promote content users will find valuable.
While the Google Grant application process seems intimidating at first glance, it's pretty straightforward and you can even outsource the work to a dedicated Google Grant agency to shorten the time it takes and get your application approved. Plus, that makes it more likely for you to be approved the first time around.
How long will it take to apply for Google Grants?
The amount of time it takes to apply for Google Grants depends on your organization's preparation. The actual application itself doesn't take long to fill out or get approved. However, there are some pre-qualifying steps you need to take which may take a bit of time.
For instance, if you're already registered with TechSoup and are a member of Google for Nonprofits, the Google Grant application process will likely take anywhere from 2 to 14 days.
If you're not, it'll take time to get verified by TechSoup, which can also take anywhere from 2 to 14 business days. In some cases, it can even take up to 30 business days. Then, you'll need to take time to activate your Google for Nonprofits account before filling out the Google Grant application.
Also, bear in mind that you'll need to make sure that already meet all other eligibility requirements. The most time-consuming of which is having a well-maintained website that features valuable content. It may take a bit of time to get your website up to code and meet any of the other requirements, so factor that into your timeline as well.

Step 1) Check Your Google Grants Eligibility Status.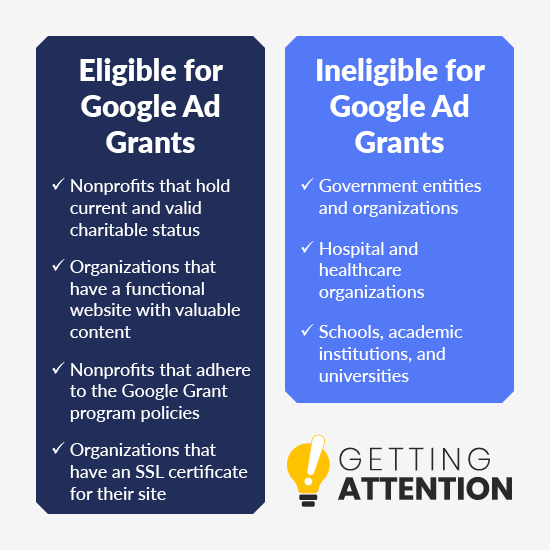 To qualify for a Google Ad Grant, your organization must meet several criteria. Otherwise, your Google Grant application will swiftly get rejected.
Given that the program is available in over 50 countries, be sure to locate the specific guidelines of your current location. In the United States, the following is required to be eligible:
A current and valid charitable status, which in the United States means registering as a 501(c)(3) organization with the IRS.
A functional website that contains valuable content that is relevant to the nonprofit's mission.
Adherence to Google Grant program policies, including registration with Google for Nonprofits and TechSoup.
An SSL—secure sockets layer—certificate, proving that your online domain is secure.
Outside of these eligibility requirements, there are specific types of nonprofits that are ineligible, regardless if they meet the above requirements. The three types of organizations that aren't eligible to apply for Google Grants include:
Government entities and organizations
Hospital and healthcare organizations — nonprofits working in the healthcare space (such as breast cancer research or Alzheimer's awareness organizations) are still eligible
Schools, academic institutions, and universities — philanthropic arms of educational institutions still qualify
If your organization falls within one of these categories, consider conducting further research into similar initiatives that do apply to your nonprofit. For example, Google for Education offers separate benefits for educational institutions. Although these benefits may not consist of a $10,000 ad grant, they still help to get the ball rolling.
Additional Requirements for Your Google Grant Application
Once you've evaluated your initial eligibility, you're almost ready to start moving through the Google Grant application process. However, there are a few more requirements you should fulfill before you officially get started with your verification process.
Some of the most important Google Ad Grant requirements include:
Having a fully-functional website to which the ads placed on the Google results page will link.
Ensuring your site does not already contain revenue-generating ads, such as Google AdSense.
Having the ability to manage Google Ads campaigns, meaning you're able to evaluate keywords for relevancy, accuracy, and timeliness on a regular basis.
We'll share some actionable steps you can take to bring your website up to par and configure your Google Ads account later on, but doing as much as you can upfront will help you move through the actual application much quicker.

Step 2) Register Your Nonprofit With TechSoup.
The next step to apply for Google Grants requires validating your organization via TechSoup. TechSoup is a nonprofit organization that partners with companies to bring mission-driven technology and resources to nonprofits for free or at discounted rates.
Here are the steps to register your nonprofit with TechSoup:
Start by visiting the TechSoup registration page.
Select the country in which your organization is based and choose your preferred language.
Click New Member, select Register, and agree to the terms and conditions listed. From there, you wait to receive validation. In some cases, this can take up to 30 days. If there are any issues, TechSoup may contact you for further documentation or information.
After receiving validation, you can log into your account to claim your TechSoup Validation Token which is presented in the form of a code. It should look something like this: 123c4567@YourOrgName. Include this code in your Google for Nonprofits application, and you're good to go! Be aware that this token expires after 60 days.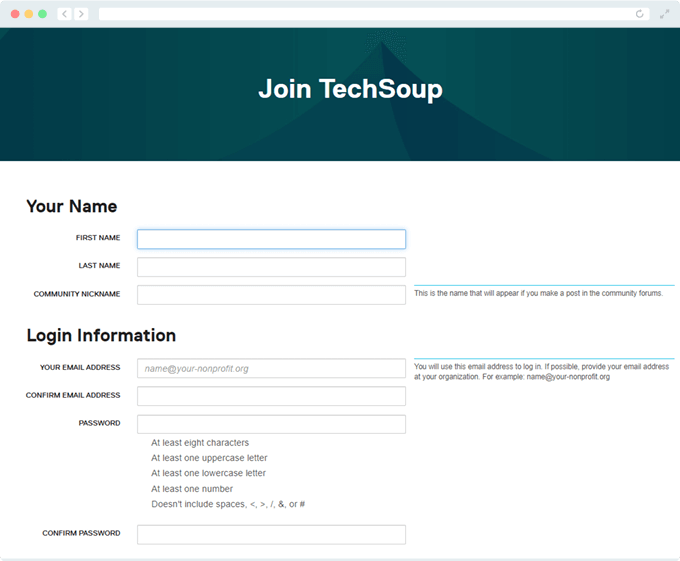 After completing this process, you are one step closer to successfully applying for Google Grants! Beyond being a requirement for your Google Grant application, registering with TechSoup will give you access to donated or discounted software from other philanthropic businesses. Other tech giants who participate in TechSoup's tech marketplace include Microsoft, Adobe, Zoom, HubSpot, and many others!
If you're already registered with TechSoup, you can skip this step entirely and should be able to pull existing information to verify your nonprofit's legitimacy with Google right away. You'll just need to determine who at your organization is the Administrator of your TechSoup account. They'll receive an email that requests the necessary information to verify your nonprofit's status when setting up your Google for Nonprofits account.
If the person who was the Administrator of your TechSoup account has left the organization, the email with the necessary information will reset in 15 days. Then, the Administrator rights will be transferred to you. From here, you should be able to obtain the verification credentials that you need.

Step 3) Create a Google for Nonprofits Account.
Once you're verified by TechSoup, the next step is to register for a Google for Nonprofits account. Beyond Ad Grants, Google for Nonprofits offers an array of advantages for growing awareness for your mission. Some of the most useful perks you'll receive include:
The YouTube Nonprofit Program, which allows nonprofits to spread the word about their organization through visual storytelling. Using videos as a method for telling your nonprofit's story will help inspire empathy for your cause, form connections within your community, educate mass audiences, and much more. You'll be given a donate button and video annotations that link to your site on YouTube as well.
Google Earth and Maps, which helps to share compelling data visualizations and highlight your organization's impact. Additionally, the use of Google Maps helps community members locate your nonprofit's programs and resources nearest to them.
Google Workspace, which offers complimentary access to Google's most useful apps, such as Gmail, Docs, Drive, Calendar, and Meet. By allowing you to stay organized and efficient, Google Workspace for Nonprofits helps to streamline internal operations.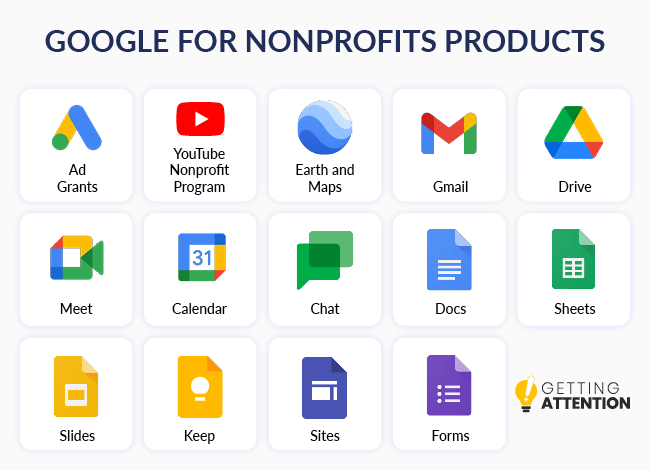 If this seems like an offer you can't refuse, follow these steps to ensure a proper Google for Nonprofits application:
Visit the Google for Nonprofits registration website.
Agree to Google's non-discrimination statements.
Input the validation token provided through TechSoup.
Fill out the subsequent forms, including contact and organization information. Be sure to agree to be contacted by Google and double-check that you used an email that you check often.
Submit your request and await a response!
Important note: Make sure you're signed in with an email address that you check frequently when you create your Google for Nonprofits account. Whatever address you use is where Google will send any announcements about your account, which also include any outreach about your Google Ad Grants account once you get it up and running.
The Google for Nonprofits application is fairly straightforward. However, the registration approval process may take a few days. Stay patient, as the wait is worth the reward! If you're verified with TechSoup, you'll have no problem getting this application approved.
From here, you'll be able to apply for Google Grants! However, there's one last step that we recommend before actually filling out your Google Grant application.

Step 4) Prepare Your Website for Your Google Grant Application.
As we mentioned earlier, having a well-organized nonprofit website that features valuable content is one of the most crucial factors of your success with the Google Ad Grants program. When you apply for Google Grants, they'll require you to submit your website, then they'll evaluate it to ensure you have useful content that users will find trustworthy.
Google will run through a checklist of conditions regarding the quality of your website before approving your application. While meeting the basic requirements is sufficient, your best bet is to go above and beyond those provisions. Beyond getting your Google Grant application approved, this will help you develop much more valuable ads that users will actually interact with.
Let's take a look at a few website optimization tips that will maximize the chance that you'll be approved for the program.
Include your EIN and a statement regarding your mission.
Google requires you to have a clear description of your organization, its mission, and its activities on your site. Although, doing so does more than get your Google Grant application approved. It also improves your credibility with anyone who interacts with your site and helps them determine whether their values align with your work.
While Google doesn't require you to display your EIN (in the case of U.S.-based nonprofits), doing so doesn't pose any security threats. It simply shows that you're a registered 501(c)(3) organization to anyone who might be considering donating, volunteering, registering for event, or sharing any sensitive information with your team.
A simple way of displaying your EIN is by including it in the footer of your website, which makes it so that it will automatically show up on every page of your site without corrupting your website's design.
Implement the proper security measures for your website.
As part of the Google Grant eligibility requirements, your nonprofit's website needs to be secure and trustworthy. The main way to do this is by securing an SSL (secure socket layers) certificate. What this does is encrypt any data that's transferred on your site, so if someone's donating, their payment details, name, address, and any other sensitive information they share will automatically be encrypted.
A quick way you can verify that a website is encrypted is by looking at the URL. If the web address begins with https instead of http, that indicates that it's SSL-certified. Google Chrome will even mark sites that don't have an SSL certificate in the address bar as 'Not Secure'. Not having an SSL certificate is a quick way to turn visitors away from your website, since they'll automatically recognize your site as untrustworthy.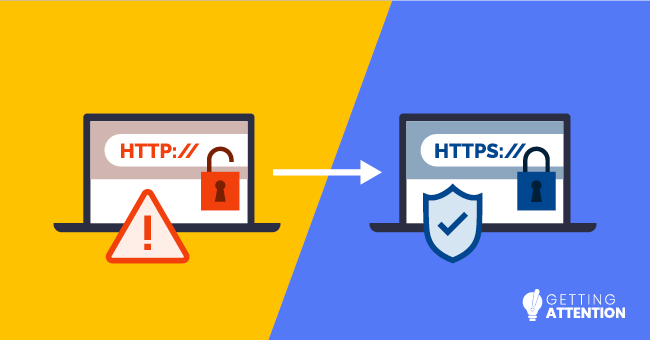 Beyond building trust with visitors and fulfilling one of the Google Grant application requirements, having an SSL certificate is a great way to improve your organic traffic. Google, among other search engines, uses this as a ranking factor. In fact, not having an SSL certificate can actually hurt your rankings!
To obtain an SSL certificate, Hubspot recommends that you verify your website's information through ICANN Lookup, generate the Certificate Signing Request (CSR), validate your domain by submitting your CSR to the Certificate authority, and install the certificate on your website. And voila! One more box is checked off on your Google Grant application.
Optimize your site.
The content on your website is just as important as the ads you'll create to promote it. Overall, your website should be visually attractive, easy to navigate, and filled with valuable content.
Here are a few primary areas you'll want to address to optimize your website and ultimately maximize your Google Ads conversions:
Landing pages. Your landing pages are the most common pages that you'll promote via Google Ads. This might include your donation form, volunteer signup page, event registration page, or an advocacy petition. Considering you'll drive traffic to these pages, you want to optimize them to inspire users to actually fill them out. You'll want to limit the number of fields and brand it to your cause to remind users of what they're supporting.
Load times. Google requires you to have a website that loads quickly to improve the user experience. In fact, 40% of users will abandon your site if it takes more than 3 seconds to load. Some easy ways to quicken your load time are to compress your images, reduce the use of third-party plugins, and minimize the amount of unnecessary code on your site.
Straightforward navigation. Put yourself in the shoes of a first-time visitor. If you struggle to find information regarding the organization's mission or can't locate any opportunities to get involved, you'll likely grow frustrated and find a similar organization that presents their work in an easy-to-navigate, interactive way. That's why you should only put your most important pages in your navigation menu and potentially include a search feature for all other content.
Branded to your cause. If a user clicks a link and thinks they've somehow ended up on another site, that can come across as untrustworthy. Put in the time to make sure that every page on your site aligns with your nonprofit's brand. This includes using your official brand colors, including your logo at the top of every page, communicating using your nonprofit's voice, and using visually-consistent imagery.
A Google Grants agency like Getting Attention will ensure that your website is up to par and optimized for the user experience. To completely overhaul your site, you might need to outsource the work to a full-on web development firm, though. Either way, professional help is the most reliable resource for making the most of your site through Google Ad Grants.

Step 5) Submit Your Google Grant Application.
Once your Google for Nonprofits account is approved, you'll receive an email from Google, and you can finally apply for Google Grants! While filling out an application form is part of it, it's more of a multi-step, back-and-forth process.
The most up-to-date activation steps will be available in your Google for Nonprofits account. Here are the steps you'll currently need to take: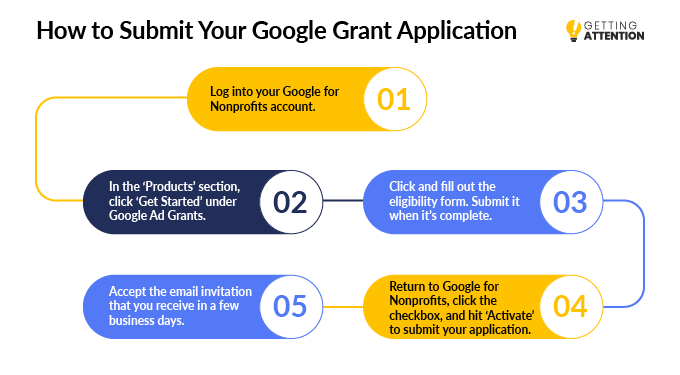 Log into your Google for Nonprofits account. Within your account, click "Products" and then "Get Started" under Google Ad Grants.
Click the eligibility form link. This will prompt you to fill out an assessment with basic information from your nonprofit. You'll need to provide your nonprofit's official name, website URL, and information regarding your goals with the program. This should only take around 20 minutes. Once you've entered the required information, hit 'Submit'.
Return to the Google for Nonprofits homepage. Click the checkbox to verify you've completed the form. Then, hit 'Activate' to submit your organization for review by the Google Ad Grants team. Normally, they'll review your Google Grant application within a few business days.
Accept the invitation. Once your activation request has been approved, accept the email invitation from the Google Ad Grants team. You'll also need to accept the billing profile, which will be sent to you in a separate email. From here, you can start running your Google Ad campaigns and will automatically receive $329 spending per day so long as you maintain compliance with the program's rules.
At this point, you're all ready to start creating your campaigns, using the grant to spread your message, and connecting with new prospects online. Google will provide you with instructions during each stage of the Google Grant application process, so you know exactly what you need to do.
Advice for Completing Your Google Grant Application
Our best advice is to be patient while you wait. If you're eligible and follow the provided steps, you'll more than likely get approved. Even if your application is denied the first time around, Google's team will provide you with a reason why so that you'll have clear next steps on how to get approved.
While following instructions is the most crucial way to get approved, we have a few other recommendations to maximize your chances of success, including:
Do not enter any credit card information even if prompted to do so. If you receive any emails or any screens pop up requesting payment information, don't provide it. There will likely be a red bar at the top of your Google Grant Application account, but you should ignore it. Sharing billing information means you'll be setting up a paid standard account, not a Google Grants account, so you'll have to start the process over with an entirely new account to do it correctly.
Make note of your customer ID number within your Google Ad Grant account. You can find this in the top right corner of the page. It will be in this format: XXX-XXX-XXXX.
Put thought behind the eligibility form questions. Some questions will be straightforward and have a clear-cut answer (such as your organization's official name and website URL). However, the form also asks questions that will impact the experience you have with the program, such as how you'd like to learn more about the program. Think through what will be most useful for your organization, so the Google Grants team can tailor the effectiveness of the program to your preferences.
Overall, applying for Google Grants is pretty straightforward, even though there are a lot of steps in the process. If this seems confusing to you or you simply don't have enough time in your day to apply, we fully recommend reaching out to a professional Google Grants agency. Our team is happy to chat about your needs and handle the Google Grant application process for you! We'll explore how a Google Grants agency can help in a later section.

What To Do When Your Google Grant Application Gets Approved
Now that you're approved for the program, you might find yourself asking, "What's next?" Learning how to apply for Google Grants was the easy part! Now you have to create highly targeted campaigns and ensure you're meeting the program's compliance requirements.
While your best bet for success is to outsource account management to a Google Grants agency, there are plenty of steps you can take without professional help. Let's walk through the immediate next steps your team should take after getting your Google Grant application approved.
Configure Your Google Ads Account
To start leveraging your grant money, you should set up your first few campaigns. Within Google Ads, you'll find the Campaigns tab on the navigation bar to the left.
You'll be able to build campaigns with keywords targeting your intended audience, write your ad copy, choose the landing page for each campaign, and more. As you do this, here are a few tips to help configure a well-organized account:
Follow the required account structure. Google requires that grantees follow a specific account structure. Within each of your campaigns, you should have at least two ad groups. Within each ad group, you should have at least two active ads. These standards incentivize organizations to include the necessary elements in their Ads.
Do plenty of keyword research. The program has a few requirements in place such as not using single-word or overly generic keywords. However, you should put even more thought into choosing your keywords beyond those rules. Make sure you pinpoint search queries that receive a decent bit of monthly traffic and relate to your mission. Google even has a keyword quality score tool that will check the expected CTR, ad relevance, and landing page experience for your different campaigns.
Enable Sitelink Extensions. These will enable you to link to specific parts of your website below your ads. This gives users additional options to click and ways to interact with your cause. Typically, these include other pages relevant to the ad, like where people can donate or volunteer. To enable this, click the Ads & Extensions tab in your Google Ads page menu on the left.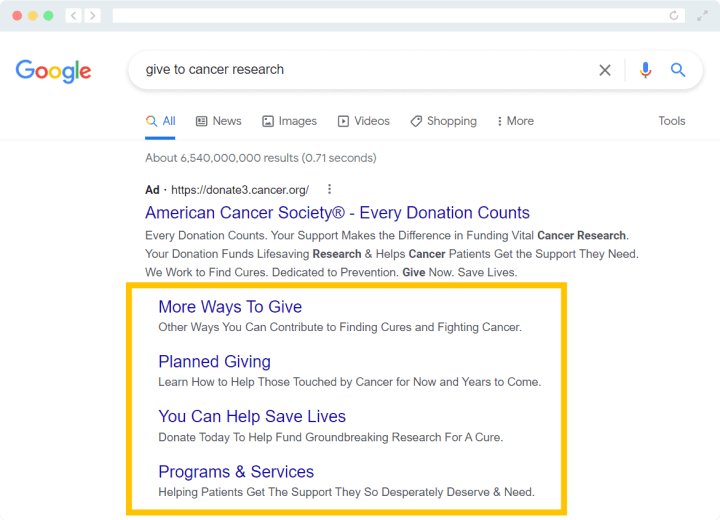 This is just a glimpse into the best practices you should follow to maintain a healthy Google Grants account. If you're interested in learning more about setting up high-performing campaigns, check out our ultimate guide to optimizing your Google Grant account. In it, we dive into account management tips and requirements that will help you connect with your audience.
Meet Google Grants Compliance Requirements
Now that your nonprofit has secured its Google Ad Grant, be sure you're taking the proper precautions in maintaining eligibility. To ensure your account remains in good standing, here are a few key components to key an eye on:
Account activity: By logging into your account at least once a month and updating its components every 90 days, you will prove to Google that you're still using the help they're providing. After all, Google will not give away money and resources to those who waste them!
Ad relevance and geotargeting: Be sure that the ads you are putting out have specific relevance to their audience. A great way to do this is by including geotargeting, so Google knows their users are receiving ads relevant to them.
Monthly keyword evaluation: Google requires a Keyword Performance Report once a month to ensure that you are optimizing your keywords for the best results. In doing so, Google ensures you're in the best position to connect with likely prospects.
A minimum of 5% click-through rate (CTR): Google mandates that you have at least a 5% CTR, starting at 90 days post-approval. The goal is to ensure that your ads are actually useful to users and are relevant to their search intent. Accounts that fail to meet this requirement will be notified, and if they fail to meet a 5% CTR for two consecutive months, those accounts will be suspended.
Google doesn't implement these requirements to penalize your organization. Rather, they do so to ensure that you're actually generating value from the program. Failing to meet these compliance requirements will result in account deactivation, so keep an eye on your account and continue optimizing your ads over time!

How an Expert Can Help You Apply for Google Grants
Although having your application approved and receiving grant money is great, it does not guarantee ad campaign success. To see meaningful results, consistent upkeep, performance tracking, and compliance with Google's official account requirements are necessary. With the weight of running a nonprofit already on your shoulders, this may seem like a lot to handle. Have no fear— that's why Google Grant agencies exist.
Although there are many marketing professionals who are willing and able to oversee your campaign, the Google Ad Grant program is unlike other Google Ad accounts. Therefore, you should thoroughly review different agencies' services, ensuring that each one is well-equipped to assist your nonprofit in any capacity.
From application to account management, Google Grant agencies like Getting Attention are there to ensure your success every step of the way. Some valuable areas of assistance include: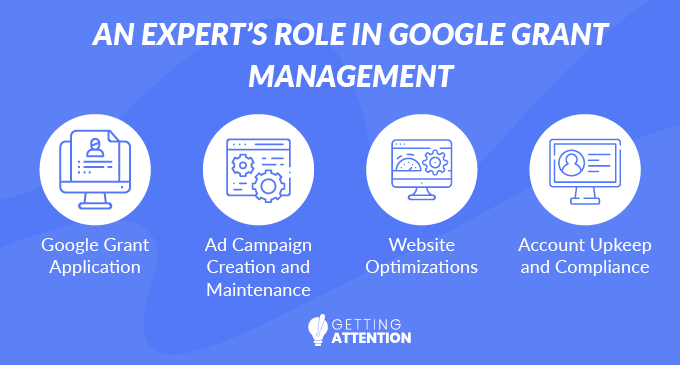 Applying for Google Grants. As you now know, applying for Google Grants is a lengthy process! Our agency will check your eligibility, help you get registered with TechSoup and Google for Nonprofits, and fill out your Google Grant application. There's no need for you to even understand how to apply for Google Grants beforehand since we'll walk you through it all!
Creating, maintaining, and optimizing ad campaigns. Considering that you need 3-5 ongoing campaigns to generate real results, having professionals there to continuously track performance and refine strategies will prove incredibly beneficial to your overall success.
Optimizing website content. In order to best serve the needs of your audience, your website will need refinement to account for the increase in generated traffic. Google Grant agencies like ours can help keep your website in the best shape via constant keyword research, landing page relaunches, and more.
Maintaining account upkeep. To avoid grant suspension due to poor account maintenance, we can help make sure your organization is in constant compliance with Google Grant guidelines. This will help to avoid the headache of ever having to go through the account reactivation process.
The process of selecting an agency may seem daunting, but doing proper research will help make the decision easier. Be sure to look into pricing models, expertise, agency case studies, and testimonials before taking concrete action. Starting with the application process, a knowledgeable agency will help you from beginning to end.
If you're curious about the role that an agency will play in Google Grants management, our team is happy to chat! Reach out to our team to discuss how we can support all your Google Grants needs, from applying to the program to researching the best keywords for your cause.


Final Thoughts on Applying For Google Grants
Google Grants are a wonderful opportunity for any nonprofit looking to amplify its digital marketing strategies. All you need to do is learn how to apply for Google Grants and then configure your Google Ads account according to your goals.
All of this information may feel a bit overwhelming, but the opportunity to utilize $10,000 a month of free Google Ads spending is worth weathering the confusion. Contact us today for a free consultation with our agency to help plan the best Google Ad Grants strategy for your nonprofit. Whether you need help applying for Google Grants or you've already been approved, we're here to help with whatever you need!
In the meantime, learn more about the program and maximize the success of your ad campaigns with these great resources:

https://gettingattention.org/wp-content/uploads/2021/11/How-To-Apply-for-Google-Grants_Feature.jpg
340
720
Getting Attention
https://gettingattention.org/wp-content/uploads/2021/08/getting-attention-logo.svg
Getting Attention
2022-04-04 12:00:38
2022-04-05 18:40:50
How to Apply for Google Grants: 5 Easy Steps for Nonprofits