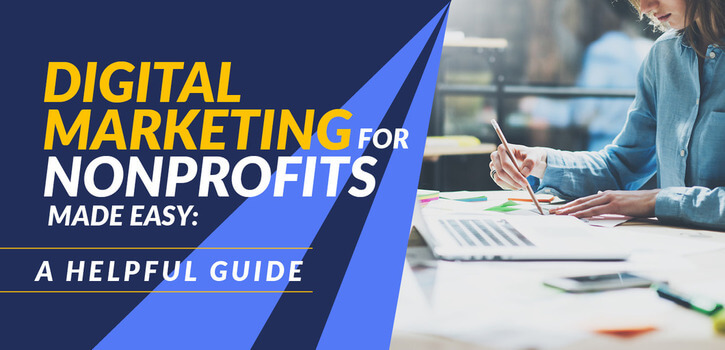 Pretty much everything takes place on the internet these days: shopping, socializing, and even (you guessed it!) supporting charities. That's why digital marketing for nonprofits is non-negotiable nowadays.
At Getting Attention, we work with nonprofits to amplify their missions through the Google Ad Grant, which is a form of nonprofit marketing. We have a pretty solid grasp of what effective digital marketing for nonprofits can do for causes like yours, which is why we're here to help!
To help you establish your digital presence, we'll walk through everything you need to know. Whether you're a seasoned marketer or brand new to the game, there's something for everyone. Here's what we'll cover:
Taking a smart approach to nonprofit digital marketing will empower you to expand your online presence and drive more support for your cause. Let's start things off with the essentials.

What is digital marketing for nonprofits?
Nonprofit digital marketing refers to all the online outreach strategies organizations use to promote their causes to current and prospective supporters. It involves any processes and tools used to attract donors, engage volunteers, and drive mission awareness online.
Common digital marketing channels nonprofits use include websites, social media, texting, and email. Nonprofits typically employ multiple outlets to promote their causes to as many individuals as possible, which is a strategy known as multichannel marketing.
To properly allocate their budgets to the most effective channels, a nonprofit's marketing team will typically create a document known as a marketing plan. Within this document, they'll outline the organization's goals, branding standards, key performance indicators, core messaging, and tone.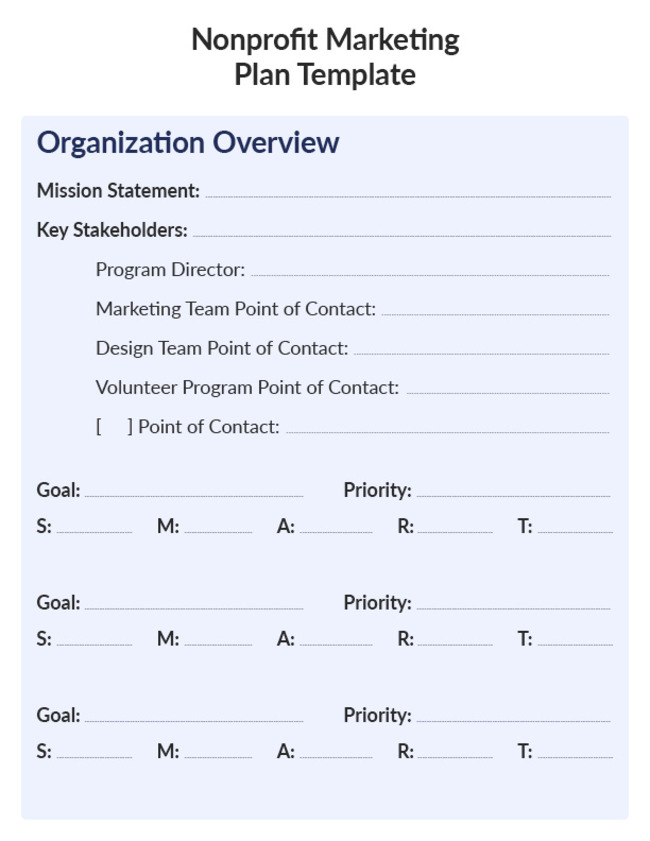 Why is digital marketing important for nonprofits?
As nonprofit marketers, we all know that establishing an online presence is vital to our success, but why exactly is that so important? How does promoting your cause online help push your mission forward?
Let's explore the common benefits you can expect from a strong digital marketing strategy for your nonprofit.
Increase brand awareness.
Your current and prospective donors are already online every day, scrolling through social media, reading emails, and browsing Google. Establishing your online presence allows you to connect with these individuals and meet them where they are.
Nonprofit digital marketing is one of the easiest ways to fit into supporters' everyday lives. Imagine this: someone's scrolling through Facebook. Among the posts from family and friends, they see where one of their friends shared your nonprofit's post about a new project you launched. They're curious, click a link in the post, and explore your organization's website to learn more. After reading about the program, they feel inspired to help make your project a success, and they sign up to volunteer.
That's the power of nonprofit digital marketing! Plus, beyond spreading awareness of your nonprofit's work, you can raise awareness of specific causes that deserve more attention from the public. Online awareness campaigns inform your audience of key issues you're trying to solve and invite them to join in the fight by taking action. You can expand your audience almost effortlessly, especially thanks to the power of social sharing.
Break down geographical barriers.
One major benefit of digital marketing for nonprofits is that it allows you to connect with supporters across the globe. 
People are more accessible than ever before! You can easily post on social media, and it'll instantly populate on supporters' feeds. No need to wait for direct mail to reach them.
In comparison, traditional marketing is restricted by geography, and it's costly and labor-intensive to launch a global marketing campaign. Digital platforms empower you to avoid those restrictions altogether!
Raise fundraising revenue.
Online donations are the most popular donation type. In fact, 63% of donors prefer to contribute to their favorite causes online. When you proactively promote your work online, you can raise even more to support your mission.
For starters, your website allows you to accept online donations in the first place. You can drive users here across all of your digital outreach.
Then, channels like email allow you to promote your website's fundraising opportunities to engage existing donors. By using segmentation, you can deliver opportunities that specific groups are likely to be interested in based on their past giving history.
Social media allows you to cast a wide net and connect with new donor prospects. This is especially true when current donors share your posts and encourage their like-minded friends to donate!
And with platforms like Google Ads, you can tap into the billions using Google every day and choose keywords that target donors who are ready to give.
Recruit more volunteers.
Volunteers are some of your most loyal supporters. They're the ones working on the ground to make your mission possible, and online marketing for nonprofits can play a vital role in boosting volunteer recruitment. Promote volunteer opportunities in your email newsletters, on social media, and via text.
Not to mention, the digital space opens up more volunteer opportunities than ever before. You can get creative and even have them do something as simple as partake in a peer-to-peer fundraiser.
Promote your services.
Connecting with beneficiaries is an important part of your success. Effective digital marketing for nonprofits allows you to connect with your beneficiaries and make sure they're aware of your services. It also allows you to explain the work you're doing to supporters.
Start by creating a page on your website that explains your services. Then, you can use different channels to promote this page and get your services in front of the right audiences.
For example, let's say you want to boost adoptions for your animal shelter or promote your vaccination services. Google Ads are a great opportunity for amplifying this. You can choose relevant keywords like "adopt a cat" or "animal vaccination services." Then, use geotargeting to promote your services to users in your area.
Make the most of your marketing budget.
If your organization is like most, you're likely operating on a limited budget. It's no secret that nonprofits are usually challenged to do more with less. The great part of leaning into digital marketing is that it has fairly low overhead costs, especially when you tap into grants for nonprofits like the Google Ad Grant.
Not to mention, some nonprofit digital marketing outlets have an incredible return on investment (ROI).
Our guide to Google Ad Grant impact shows that nonprofits see an average ROI of $4.78 for every dollar they spend on paid search ads. View-through revenue (AKA revenue from donors who saw but didn't click on an ad) accounts for 35% of all giving sourced from digital ads.
With incredible numbers like that, it's not hard to see why so many nonprofits invest in digital marketing!
Common Types of Digital Marketing for Nonprofits
Now that you understand why digital outreach is vital to any modern organization's success, you're ready to dive into common channels.
We recommend taking a multichannel approach to nonprofit digital marketing, meaning that you should choose multiple outlets to promote your cause. While it's tempting to choose all available outlets, it's best to experiment and figure out what works best. That way, you won't spread your efforts too thin.
Crafting meaningful outreach for each platform's audience will allow you to grow your online presence more effectively. As you read about the different channels you can use, think carefully about which outlets will help you achieve your mission's goals!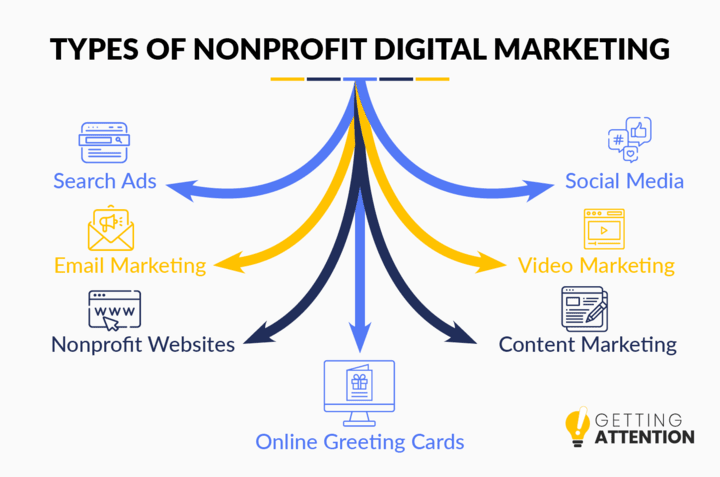 Search Ads
Of all the digital marketing methods, search advertising is certainly one of the most effective ones! Using Google Ads, you can amplify your website's content for mission-centric keywords.
With this form of paid advertising, you choose the keywords you want to rank for and develop ads that promote specific content on your website. Then, Google will place your ads in strategic locations on the search results pages for the terms you bid on. Note that Google rotates through ads from different organizations, especially for competitive terms.
You have complete control over your ads, including everything from your ad copy to what landing pages you'll promote. With a thoughtful Google Ads management strategy, you can:
Target people who are actively searching for your cause. Target keywords directly related to your mission, like "donate to ocean conservation" or "save the ocean." That way, anyone who's searching for your mission online will come across your website.
Share any content that will push your mission forward. You can educate people about your cause, share your volunteer registration form, boost donation opportunities, or amplify anything that's important to your cause.
Connect with prospects in your service area. Use geotargeting to ensure your ads only appear for users in certain locations. That way, your content is only served to users who will find it useful.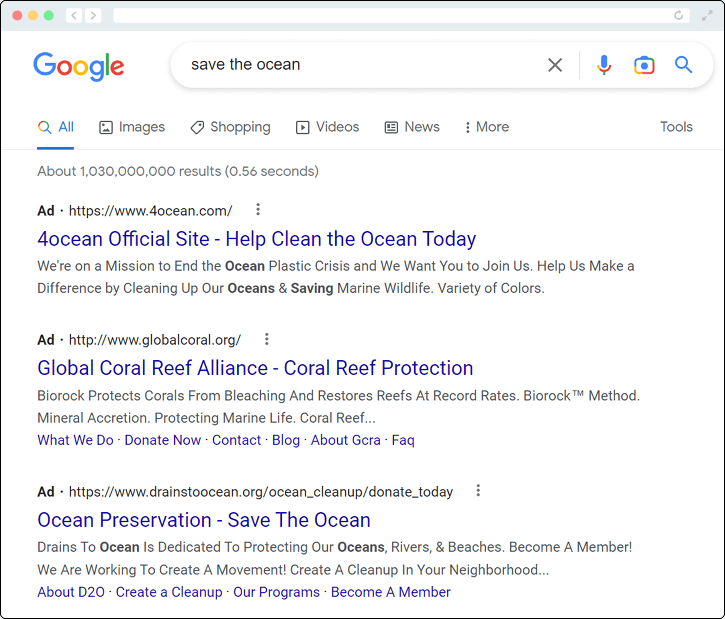 Best of all, you can leverage this nonprofit digital marketing method for free with the Google Ad Grant. When you apply for Google Grants and are approved, you'll receive $10,000 in free funding every month to spend on paid ads. Most types of nonprofits, such as churches, for example, can apply for the Google Ad Grant. However, there are some nonprofits that are not eligible, such as schools and hospitals.
Although, there's a considerable learning curve that comes with the program. An agency (like Getting Attention) can step in to help out. Our experts will work with you to understand your nonprofit's digital marketing goals. Then, we'll craft a strategy that launches your nonprofit toward those objectives. From applying to the program to crafting your ads, we've got you covered!

Online Greeting Cards
If you're looking for a creative way to market your cause, online greeting cards might be just what you need. They provide an engaging way to spread the message about your mission and all the good work you're doing. Plus, they get supporters in on the action.
You have a couple of options for leveraging digital cards as an online marketing tool. For one, you can offer them for free and encourage supporters to send as many as they want to their loved ones. Alternatively, you can sell them to supporters, which can incentivize them to give. Both are great options to inspire supporters to start a conversation about your cause.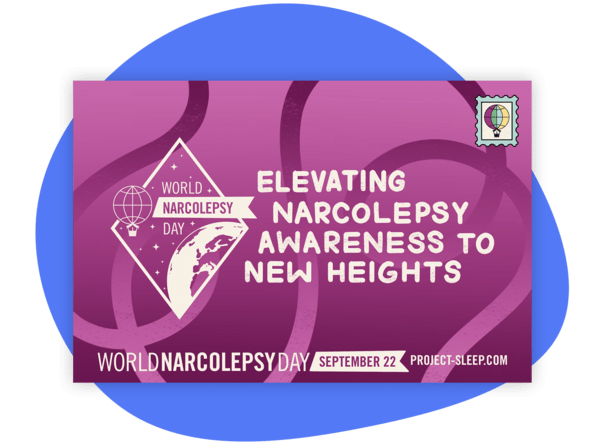 Either way, you'll need to brand them to your cause. Here are a few easy ways to do that:
Add your logo to the design. No matter what the occasion is, add the logo to the corner of each greeting card to connect it to your organization.
Use images related to your mission. For example, an animal shelter might create Valentine's Day cards that feature pets up for adoption. If you work for a homeless prevention organization, you might design holiday fundraising cards that explain the card's proceeds will provide housing during the cold holiday season.
Customize the message that will be sent with each eCard. Each card will have a message attached to it, providing the perfect chance to explain your mission and call readers to action. Encourage recipients to visit your site, donate, or take some other action.
With fun and eye-catching designs, eCards are more likely to be shared and talked about than traditional marketing materials. Plus, you can offer designs for every occasion. To spark some inspiration, you can offer birthday, holiday, thank-you, and tribute eCards.
Donors can share their favorite designs and express their passion for your cause to their loved ones. If your eCard fundraising platform enables multiple sending options, your supporters can send the cards via email, social media, or text, making it the perfect addition to your nonprofit's digital marketing strategy.
Email Marketing for Nonprofits
When you first think about digital marketing for nonprofits, your mind might immediately go to email. Email is the bread and butter of most nonprofits' online marketing strategies, because you can send customized outreach and send outreach directly to supporters' inboxes.
Just like search ads, email accounts for an incredible amount of online revenue, clocking in at 15% of all nonprofit revenue.
As you add email to your nonprofit's digital marketing repertoire, keep these tips in mind:
Create a compelling subject line. When someone's scrolling through their inbox, your subject line will be what either reels them in or prompts them to delete the email without even opening it. Take time to craft a subject line that piques recipients' interest and explains the content of your email.
Think through your design. Whenever someone opens your email, make sure it's clearly associated with your cause and is organized effectively. Start by branding each email to your organization with elements like your logo, official fonts, and brand colors. Then, organize the email's content using visual hierarchy techniques to draw readers' eyes to important content.
Feature compelling content. Kwala's guide to email newsletters explains that "the beauty of a nonprofit newsletter is that you can customize it to fit your organization." Test out different types of content, like beneficiary stories, announcements about upcoming events, relevant news articles, and milestone updates.
However you approach your strategy, email is a must when it comes to digital marketing for nonprofits. These suggestions are only just a glimpse into email best practices.
Nonprofit Website Marketing
Digital marketing for nonprofits revolves around one core asset: your website.
A well-designed website will be a primary resource for anyone engaging with your cause online. It's where supporters will get directly involved in your work by donating, signing up to volunteer, registering for an event, and reading educational materials about your cause.
With all that rides on an effective website, you'll want to take plenty of time optimizing it to provide a valuable user experience. Whether you're designing yours from scratch or overhauling your existing design, keep these tips in mind to craft a persuasive site:
Secure your website with HTTPS. Securing your site is a must for any website that collects private information. It's also one of the Google Ad Grant website requirements. You want your donors and other supporters to trust you with their sensitive information, like payment details. Acquiring an HTTPS certificate will allow your site to encrypt any data transferred on your site. Explore our linked website requirements guide above to learn the exact steps for acquiring an HTTPS certificate.
Optimize your design for mobile users. Use a mobile-responsive content management system (CMS) for nonprofits. That way, your content will automatically resize for mobile users. You'll also want to quicken your site speed by compressing images and removing extraneous HTML. A slow site speed is annoying for any user, especially those on mobile devices.
Design for accessibility. You want every prospect to be able to interact with your website, so make sure your site adheres to the latest Web Content Accessibility Guidelines (WCAG). You'll need to take steps like adding alternative text to all your images and ensuring your site's colors have a sufficient contrast ratio.
Once you've perfected your design, you can start to drive more traffic to your website by promoting it via search ads, email, social media, and any other nonprofit digital marketing outlet.
Social Media Marketing for Nonprofits
Social media is prominent for so many reasons. For one, it unlocks two-way communication, allowing you to interact directly with supporters in ways you can't with other outlets. For example, you can like supporters' posts about your cause and respond to comments on your page.
It's also an incredible way to leverage social sharing and visual storytelling, thanks to its multimedia features. For example, a visual-centric social media platform is a great place to share a flyer with information about an upcoming fundraiser because it will capture the attention of social media users as they scroll. You can even tap into nonprofit digital marketing strategies like influencer marketing (which isn't solely for for-profit businesses or social-media-obsessed teenagers).
A Breakdown of Different Social Media Channels
Facebook pioneered the way for nonprofits, acting as the first real social media outlet organizations could leverage. Now, nonprofits are using Instagram, Twitter, and TikTok to connect with their audiences. Any of those can be a valuable addition to your nonprofit's digital marketing strategy.
As you get started, keep these pros and cons in mind for each platform:
Facebook has more than 2.96 billion monthly active users, making it the most popular platform. It's great for long-form content, storytelling, and impactful multimedia like videos and photos. Content on this platform tends to be longer-lasting than other platforms, and Facebook offers some unique digital fundraising features, like Birthday Fundraisers. However, organic reach has dropped substantially compared to what it used to be.
Instagram has more than 1.3 billion monthly active users. Much like Facebook, it offers fundraising features like donate stickers for Stories and "support" buttons on profiles. You can post interactive Stories and lean into visual storytelling. Be aware that there are a lot of features users can leverage like Stories, Reels, and paid ads, which can be overwhelming if you're not particularly tech-savvy.
Twitter is great for short-form content and shareability thanks to its retweet functionality. Plus, hashtags and trends make it easy for users to find trending topics. The downside is that tweets age out quickly. Thousands of tweets are published each minute, flooding people's timelines with content.
TikTok is perfect for reaching younger audiences and inciting large-scale movements. It's great for visual storytelling, trends, and shareability. However, this platform often requires a unique approach for nonprofits that want to incite change and maintain a professional image.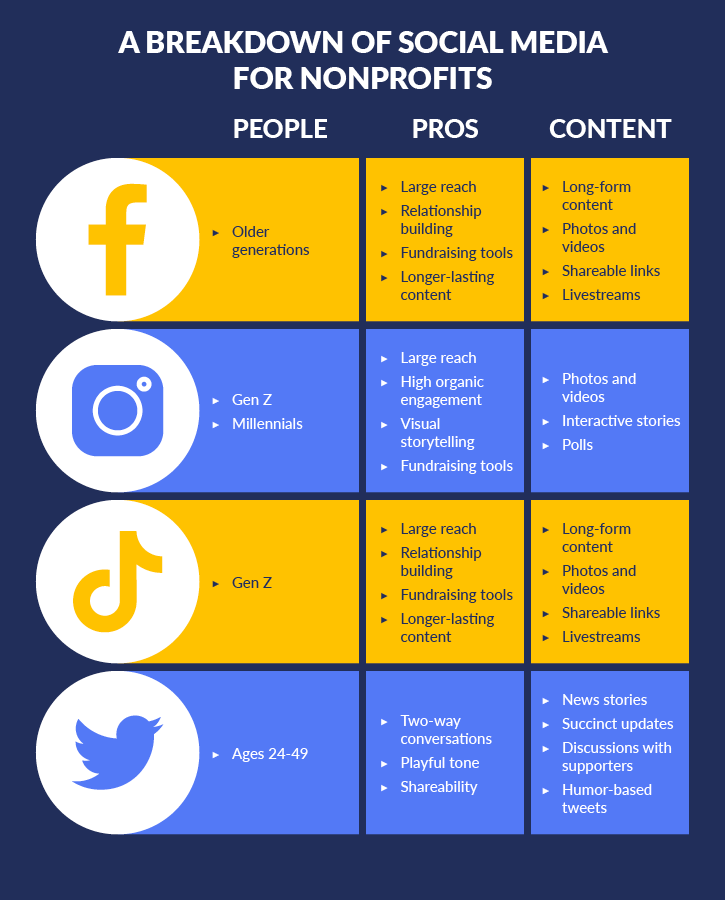 Choosing the right social media platforms will help launch your nonprofit's digital marketing strategy forward. For the best results, consider the types of messages you share across each, and adapt your outreach to fit each platform's audience.
Video Marketing for Nonprofits
As humans, we're naturally drawn to captivating visuals. In fact, we process images much quicker than text. Not to mention, 91% of individuals prefer visual content to written content.
From TikTok's meteoric launch in popularity to video publication tools on traditional social media, video storytelling has quickly become commonplace in digital marketing for nonprofits. As you test out this strategy, keep these tips in mind:
Share inspiring stories. Video allows you to put a face to your cause. By sharing testimonials from beneficiaries or volunteers, you can give supporters a peek into how your organization impacts lives.
Make the most of the first few seconds. Your videos need to capture viewers' attention right off the bat. Billions of videos are published every day, so there's a lot of competition for your supporters' time. Create some sort of hook, question, or teaser to reel people in from the start.
Have a clear call-to-action (CTA). As with any nonprofit digital marketing strategy, you'll need to provide clear next steps for supporters. Remember, your videos might be entertaining pieces of content that showcase your cause, but they must ultimately serve a bigger purpose. Display your CTA toward the end of the video, prompting your audience to donate, volunteer, or support your cause somehow.
The best part is that video marketing doesn't have to break the bank. It can be as simple as picking up your smartphone and recording. Then, you can use video tools like Promo, Biteable, or Canva to craft beautiful videos for your nonprofit digital marketing.
Content Marketing for Nonprofits
Content creation and blogging are valuable nonprofit digital marketing assets for any organization. Well-written content empowers you to educate your audience about your mission, leverage SEO to bring in new leads, and tap into free PR when people share your content online.
Creating digital content for your cause can help you drive more value through your marketing. Here are some tips to get started:
Source ideas from volunteers, donors, and staff members. These individuals are closest to your cause and might have great ideas for what your audience would be interested in reading.
Vary your content types. For instance, your team might create detailed blog posts, informative ebooks, eye-catching infographics, or case studies showcasing success stories.
Consider your content's design. How you present the content is almost as important as the content itself! Be conservative with fonts and colors to make content readable. You'll also want to make your work scannable when possible by using headings, bulleted lists, and visual hierarchy techniques.
Informative and inspiring content can be a smart addition to your outreach. However, content creation can be time-consuming. Think carefully about how it plays into your nonprofit's digital marketing strategy, so you don't overexert your team!
Crafting A Nonprofit Digital Marketing Strategy
Take the time to craft your nonprofit digital marketing strategy carefully. From defining your exact goals to choosing the platforms you'll use, there's a lot you'll need to do.
Remember, digital marketing for nonprofits is all about learning to do more with less. Being smart with your approach will allow you to connect with your audience on a deeper level.
Let's walk through a few tips and tricks to keep in mind as you get started.
1. Set your digital marketing goals.
As with any endeavor, your nonprofit needs clear goals before investing time and money into its digital marketing strategy. What do you want to accomplish, and what will success look like after you've implemented your strategy?
Instead of choosing an arbitrary goal, choose one with concrete metrics attached. A good rule of thumb is to avoid non-definite adjectives like "more." Consider these examples:
Goal #1: Increase social media engagement to acquire more volunteers.

Goal #2: Grow your nonprofit's Instagram following by 500 people, and use that following to acquire 75 new volunteers by the end of the year.
Notice how there are clear metrics attached to the second goal, making it much clearer what success will look like.
To create goals that push your mission forward, we recommend using the SMART method, which stands for: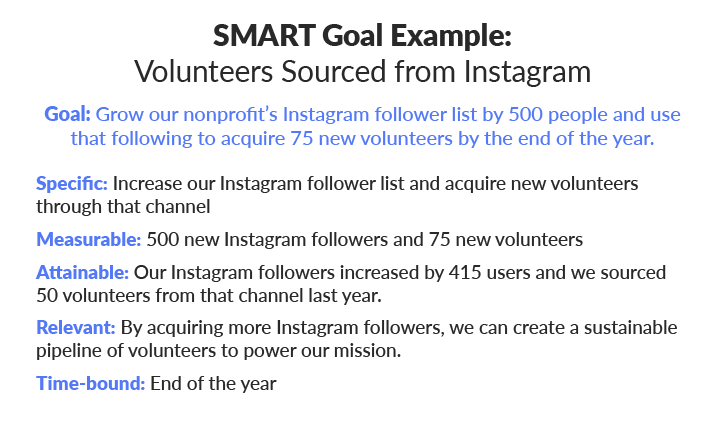 Specific: Be specific about the channels and methods you'll use.

While the first goal is arbitrary, the second goal is more specific

in that it explicitly says your team will grow its Instagram following and use that following to source new volunteers.
Measurable: Ensure there are clear metrics attached to your goal for measuring success. In our example, metrics for success would include 300 new Instagram followers and 75 new volunteers.
Attainable: Don't be too ambitious with your goal. Otherwise, you risk demotivating your team if they don't reach it. Look at past performance as a starting point for your goal, and go from there!
Relevant: How will your goal support your mission and create additional value for your work? In the examples above, you'll grow your volunteer list, increasing the power behind your programs.
Time-Based: Set an end date for your goal, whether that's by the end of the year or by the end of a specific campaign. This will create a sense of urgency for your team.
By following this framework, you'll create effective goals that lay a solid foundation for your nonprofit's digital marketing strategy. Then, you'll have a much clearer picture of the types of messages you'll need to use to achieve these goals.
2. Craft the messages you want to share.
What key information do you want your audiences to know, remember, and share about your organization? Defining your key messages before pushing campaigns live is important for a few reasons:
Key messages keep your entire organization aligned. No matter who's creating marketing collateral, they'll be on the same page about what they need to say and how to say it.
Key messages help target different audiences. Your nonprofit interacts with different groups of people. You likely communicate with donors, volunteers, beneficiaries, and your general community. You can craft key messages for each audience to make sure you're targeting the right audiences effectively.
When it comes to digital marketing for nonprofits, everyone on your team needs to know how to convey your organization consistently. Crafting key messages is how you'll accomplish that.
An Example of A Key Message
So that you can see how this step looks in action, let's walk through a quick example. Let's say you're leading the charge on digital marketing for a youth homeless shelter.
Key message: We protect the welfare of youth in our community through housing, hot meals, warm showers, mentoring, mental healthcare, and college admissions support.
For volunteers: You can work on the ground floor to hand out hot meals and collect resources from the community.
For donors: You can help us protect the welfare of our community's youth by donating to housing, hot meals, water costs, mental health services, or college admissions support.
For youth mentors: You can provide mentoring to at-risk youth, giving them a familiar face as they overcome life's obstacles.
Each of these key messages has the same purpose and underlying tone. They're simply tailored to motivate each group.
3. Choose the right nonprofit digital marketing outlets.
With your key messages and marketing ideas ready to go, it's time to choose the outlets that will best support your mission.
Remember, a multichannel approach is the smartest way to maximize your reach. Choose the outlets that make the most sense for your message and goals. Here are some tips to keep in mind as you do that:
Think through the audience for each platform. For example, TikTok is great for inspiring younger audiences, while email will help you capture the attention of slightly older audience members.
Tailor your message to each platform. It's not enough to toss up the same message on every platform and call it a day either. This general approach won't get you very far. Maybe you'll use Facebook to share video content, a blog post to share a testimonial, email to send regular updates, and text messages to solicit donations.
Overall, think through which nonprofit digital marketing platforms you'll use to reach the primary audience for your key messages. If you're investing in paid advertising, give your team plenty of time to get set up. Then, strategize how you'll adjust your key messages to suit each channel, whether paid or organic.
4. Start promoting your cause.
It's time to push your messages live! Regardless of which channels and strategies you choose, spend plenty of time planning before moving forward. Here are some questions to ask as you prepare:
When will you send your nonprofit's digital marketing messages?
Who will be responsible for carrying out these activities?
How much do we plan to spend on digital marketing for our nonprofit?
How does this support our organization's overarching goals?
Pushing your messages live is a major turning point for your strategy. It's when all your hard work comes to fruition.
As you start publishing your messages, remember to engage with supporters. After all, the ability to interact is the beauty of online marketing for nonprofits!
5. Track results by measuring KPIs.
As you gain momentum, it's time to start analyzing results. Note that it might take time to gain traction, especially if you're brand new to digital marketing for nonprofits.
Routine reporting will help you track performance and make adjustments to reach your goals. While there's an abundance of metrics you can track, here are some common ones to kickstart your brainstorming:
Engagement KPIs: likes, time on page, open rate, bounce rate, comments, and video views
Brand Awareness KPIs: website traffic, keyword rankings, social shares, tags and mentions, referral traffic, and impressions
Conversion KPIs: online donations, online volunteer sign-ups, digital event registrations, cost of acquisition, number of quality leads, and number of new social media followers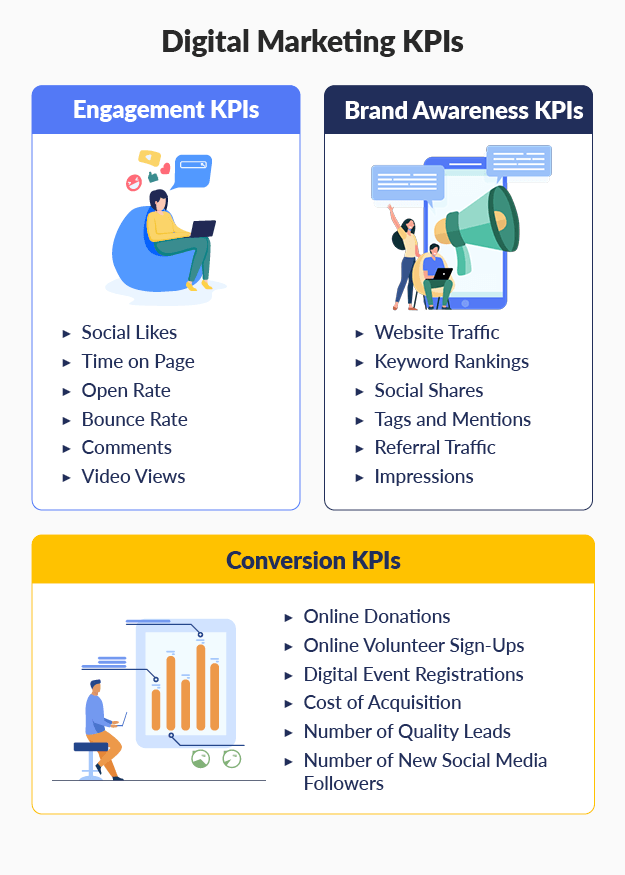 We recommend establishing key performance indicators (KPIs) from the very start, so you can make sure you have proper tracking in place. Think back to the very first step as you choose your KPIs, ensuring the metrics you choose correlate with your goals.
Note that you'll need to implement tracking tools to monitor most metrics. For example, social media comes with built-in tools, email requires the use of email marketing tools, and Google Ads requires you to use Google Analytics. Some analytics resources are free (like Google Analytics with a Google for Nonprofits account) while you'll need to pay for others.
Ultimately, monitoring your metrics will allow you to make the necessary adjustments and ensure your nonprofit's digital marketing is as impactful as possible. If your email open rates are dwindling, tweak your subject lines. If your Google Ads have a low CTR, experiment with better ad copy.
Wrapping Up
Thanks to digital marketing for nonprofits, you have the power to connect with more prospects than ever before. There's no need to wait for direct mail to reach them anymore when you can send digital communications that instantly arrive in their inboxes or on their social media feeds.
By curating a strong nonprofit digital marketing strategy, you can inspire more supporters than ever before – no matter if they're in your community or across the globe!
From video marketing to search ads, there are so many ways you can connect with today's supporters. And if you want to add Google Ads to your marketing arsenal, we're here to help. Getting Attention's experts will work with you to understand your nonprofit's online marketing goals and create a Google Grants management strategy that makes sense for you. Reach out to get started.
While you wait for your free consultation, continue exploring the world of digital marketing for nonprofits with these resources:

https://gettingattention.org/wp-content/uploads/2023/03/Digital-Marketing-for-Nonprofits_Feature-2.jpg
350
725
Getting Attention
https://gettingattention.org/wp-content/uploads/2021/08/getting-attention-logo.svg
Getting Attention
2023-03-08 14:09:15
2023-07-28 13:06:34
Digital Marketing for Nonprofits Made Easy: A Helpful Guide