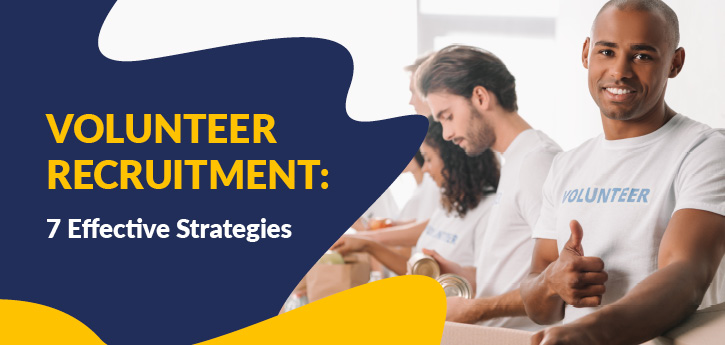 Picture this – an animal shelter with no one there to watch the puppies and kittens up for adoption, a food bank with no one there to collect donations, a crisis hotline with no one there to answer the phone. Nonprofits of all shapes and sizes rely on volunteers to keep their mission going.
While volunteers are important to mission-driven organizations, it can be difficult to find them and to hold onto the ones you do have. That's where effective volunteer recruitment comes in.
Did you know that in 2014, 67% of people found volunteer opportunities online, compared to only 34% in 2006? This statistic barely scratches the surface of all the best info on how to recruit volunteers.
This guide will cover the following points to help your nonprofit recruit as many amazing volunteers as possible:
Ready to learn the ins and outs of volunteer recruitment? Let's dive in.


Volunteer Recruitment: FAQ
Let's start by covering a few of the most frequently asked questions to break this valuable topic down:

Why is volunteer recruitment important?
The importance of volunteer recruitment traces back to one central idea: volunteers are vital to keeping your nonprofit going. And recruitment is how you get your volunteers! Here are three ways your organization benefits from volunteers:
Volunteers will keep your organization running. Having a group of people so passionate about your cause that they will give you their time for free is a resource you shouldn't take for granted.
Volunteers will save your organization money.

According to DonorBox

, over 100 million people in the US volunteer annually, equating to a total value of $150 billion. Time is money, so really think about how much money you're saving with their free support.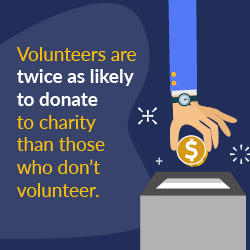 How do I recruit volunteers?
So you know they're important, but how exactly do you recruit volunteers? We cover the seven best volunteer recruitment strategies and ideas later on. For now, here's a synopsis of how to recruit a volunteer support system:
Reevaluate your current volunteer program
Identify what you need from volunteers
Survey your current volunteers
Establish clear job descriptions
Clearly plan your recruitment strategy
Speaking of that last step, let's look at why volunteer recruitment plans are necessary.
Do I need a volunteer recruitment plan?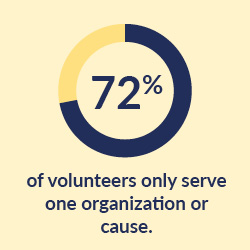 The short answer is yes, your nonprofit needs a volunteer recruitment program. There are a limited number of potential volunteers out there. For best results, it's important you have an organized, evidence-based approach to recruiting your volunteers.
According to the Bureau of Labor and Statistics, 72% of volunteers only serve one organization or cause. Make sure the cause they choose to support is your nonprofit by implementing a strategic volunteer recruitment plan to capture their attention.
Now, let's move into actually putting together this type of plan.

How to Recruit Volunteers: 5 Steps to Get Started
Don't get so overwhelmed by the work that volunteer recruitment requires that you don't get a plan started. To help you out, we'll break it down into five simple steps.
First, let's underscore the importance of good volunteer communication throughout the entire process.
If you don't clearly and effectively communicate with your volunteers— potential, former, and current— none of these steps will matter! Check out this guide for a more in-depth look into how to best connect with your volunteer base.
Now, let's dive into the five steps on how to recruit volunteers: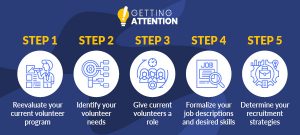 1. Reevaluate your current volunteer program.
Begin with a close look at your current volunteer program. In order to get people to participate, you need a program that's engaging, appreciative, and meaningful. Here's what we mean:
Engaging: Is your volunteer program interactive? Do people get up close and personal with your nonprofit's work? Are there opportunities to interact with staff and other volunteers?
Appreciative: Volunteers should feel valued for their contributions. There are many ways to show appreciation— a simple email, social media post, or even letter can go a long way.
Meaningful: Give your volunteers the opportunity to make a significant impact on your nonprofit's mission. The more an individual feels like they're making a positive impact, the more likely they are to return.
You can use an internal evaluation to understand the present operations of your volunteer program, but we also heavily encourage you to survey your current volunteers. They're the people who really experience your volunteer program, and they'll bring an outside perspective. Plus, asking for your volunteers' opinions will show you care about what they have to say.
2. Identify your volunteer needs.
After you determine what is and isn't working in your current volunteer program, you need to identify what type(s) of volunteers you need the most. Ask yourself these questions to articulate your nonprofit's volunteer needs:
What type of organization are we? Many people choose to volunteer for organizations that align with their interests, skills, and passions. Figure out who your nonprofit's mission appeals to.
What type of volunteer program do we offer? There are different types of nonprofit programs: formal, non-formal, project-based, and more. Define your volunteer program so you'll attract people who will enjoy that type of program.
How many people do we need? Do you need one person to come regularly? 10 people a week in shifts? 100 people for one specific day? There's no one set amount of volunteers, so figure out what suits your nonprofit best.
Answering those questions will be invaluable as you expertly craft your volunteer recruitment plan.
3. Give current volunteers a role.
Current volunteers who sincerely enjoy working with your nonprofit could be your best recruitment tool. Encourage them to reach out to like-minded friends and bring them along for their next volunteer shift. Since they're familiar with the process, they can also help onboard and acclimate new volunteers.
This peer-to-peer recruiting will come in handy as a more personal recruitment strategy.
4. Formalize your job descriptions and desired skills.
Getting specific with your volunteer job descriptions is a win-win for your nonprofit and prospective volunteers: on one hand, you'll recruit volunteers with the skill sets you need most, and on the other hand, individuals looking to volunteer will know whether or not you're the right fit for them.
Volunteer jobs don't necessarily have to be tasks that everyone can do. Think outside the box to what your organization could benefit from:
Graphic design
Photography
Writing
Translation
And more!
You won't get what you don't ask for, so be sure to include skills you'd love to see in your volunteers for the best recruitment results.
5. Determine your recruitment strategies.
After carefully considering all the information you've gathered in the above steps, establish a clear and organized strategy for your volunteer recruitment.
Need ideas for specific strategies to recruit volunteers? Read on for seven of the best volunteer recruitment strategies out there.

7 Volunteer Recruitment Strategies and Ideas
There's no one way to successfully recruit volunteers. Actually, the possibilities are endless when it comes to volunteer recruitment strategies. That may seem daunting, but instead, think of it as exciting.
We've provided seven of the top ways to recruit quality volunteers. Consider this your nonprofit's go-to guide for volunteer recruitment strategy inspiration:

Establish a school partnership.
Over one in four college students and teenagers volunteer with nonprofits. Reach out to local middle and high schools, as well as colleges and universities in your area to recruit this age group for your organization.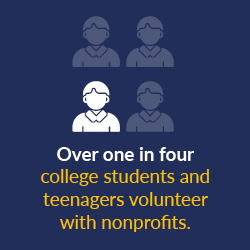 Many schools encourage students to volunteer by offering awards to students who reach a certain amount of service hours. Volunteering also gives students an opportunity to build their résumés for college and job applications, make valuable connections, and balance out their academic responsibilities.
To spread the word, schools could post flyers about your volunteer program, include a pitch for it in their email newsletter, or even set up a time for representatives from your nonprofit to visit classes and encourage students to get involved.
Overall, establishing a partnership with an academic institution is a great way to reach a young audience of potential volunteers, and hopefully, build a strong volunteer base for years to come.

Use social media for promotion.
Social media is a great way to reach a lot of people without having to spend much money. Get creative with your Instagram, Twitter, and Facebook pages to let potential volunteers see how fun it is to work with your organization.
Here are just a few ideas for how to promote your volunteer program on social media:
Go "behind the scenes." Give everyone a glimpse into what a day looks like at your nonprofit. Show people the meaningful work they get to be a part of if they volunteer with you.
Post volunteer testimonials. Get some great action shots of your most dedicated volunteers and ask them for a quote about why they love what they do. Then, post the picture with their quote as the caption to illustrate how happy your volunteers are.
Let people do an account "takeover." This tactic could be a day-in-the-life for one of your volunteers. Everyone watching will get an idea of what it means to volunteer with your nonprofit, and hopefully want to get in on the action.
In the digital world we live in, social media is a no-brainer way to reach a large group when it comes to volunteer recruitment.

Reach out to recent donors.
It's likely that at least some individuals who go out of their way to give money to your organization will be willing to give their time as well.
Reach out to recent first-time donors to thank them for their contribution, and let them know there are more ways to get involved if they want to. Also, reach out to one-time donors to let them know about your volunteer opportunities—  they may not have the financial means to donate regularly but could offer their time.
According to the Bureau of Labor and Statistics, people between the ages 35 and 54 are most likely to volunteer their time with nonprofits. Consider segmenting your donor database and reaching out to this group, among others, who would be most likely to participate in a volunteer program.

Cultivate corporate partnerships.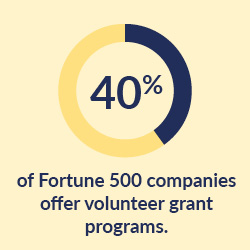 Corporate philanthropy is another excellent avenue for volunteer recruitment. By reaching out to a business and forming a relationship with them, you're opening the door to them supporting your nonprofit in a number of ways. For example, they could encourage their employees to volunteer with your organization.
Another way they could support you is through a volunteer grant. Volunteer grants are financial support that companies give to nonprofits where their employees regularly volunteer. 40% of Fortune 500 companies offer volunteer grant programs, so they're pretty common.
Want to uncover what the most promising corporate partnership leads are for your nonprofit? Consider performing an employer append on your donor database to see what employers you already have strong connections to.

Contact past volunteers.
It's possible that your organization has lost volunteers over the years. Just because they stopped volunteering for now doesn't mean they have stopped forever. Reach out to them to try and re-recruit them to your organization!
After you revamp your volunteer program, you can send them an email detailing what the new and improved system is like and encourage them to return.
You could also ask for their feedback at the start of the process and include them in your volunteer survey. Their feedback may be more valuable than current volunteers because you can figure out what about your program, if anything, pushed them to stop volunteering.
Check out this guide on volunteer management for the best ways to keep current volunteers around.

Advertise your open positions.
Potential volunteers won't know they could work with your nonprofit if you don't actively promote your open positions. Advertise what opportunities your organization has for people to get involved.
A fantastic, cost-effective way for nonprofits to advertise is the Google Ad Grants program. Google Grants is a nonprofit marketing grant program that gives nonprofits $10,000 a month in AdWord credits. Eligible charitable organizations can use these funds to drive their name and mission to the top of Google search results for relevant niche audiences.
In terms of volunteer recruitment, you could use this grant to target potential volunteers with advertisements of your open volunteer positions. To learn more about this program and determine if your nonprofit is eligible, use our comprehensive eligibility guide.
Interested in Google Ad Grants, but not sure where to start? Getting Attention is a certified Google Ad Grant agency, and we can help you get started.

Create a robust volunteer page on your website.
Here are some ideas for things you should include on this page: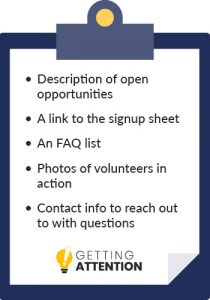 Description of open opportunities
A link to the signup sheet
An FAQ list
Photos of volunteers in action
Contact info to reach out to with questions
Make it as easy as possible for individuals to learn how to volunteer with your organization. The easier and more accessible the process is, the more success you'll have with volunteer recruitment.
Now that you have the best strategies and ideas in your volunteer recruitment toolbox, you're all set to gather the best group of volunteers for your nonprofit.

Wrapping Up
Recruiting high-quality volunteers to support your nonprofit's mission is essential to your nonprofit's success. Luckily, there are a number of tips, tricks, and strategies for you to use when creating a volunteer recruitment plan.
Before we go, here are three additional resources to help you in your nonprofit marketing journey:

https://gettingattention.org/wp-content/uploads/2021/11/Volunteer-Recruitment_Feature.jpg
345
725
agilstrap
https://gettingattention.org/wp-content/uploads/2021/08/getting-attention-logo.svg
agilstrap
2021-12-01 18:46:08
2022-08-01 14:35:11
Volunteer Recruitment: 7 Effective Strategies