As a nonprofit professional, you know that every extra dollar helps get you closer to meeting your goals. Putting a dedicated strategy in place to secure volunteer grants can lead to a boost in funding and volunteers for your nonprofit.
That's why we've put together this guide to walk you through everything you need to know about volunteer grants. We'll cover the following:
If you're not familiar with volunteer grants or you don't know how to maximize revenue from this channel, look no further! Let's dive right in by answering your frequently asked questions!

Volunteer Grant FAQs
It can be challenging to understand the nuances of volunteer grants if you've never heard of them before. We've broken down the basics:
What are volunteer grants?

Volunteer grants are a type of corporate giving program in which employers provide monetary grants to organizations where their employees volunteer on a regular basis. These programs are also known as Dollars for Doers, Dollar for Hour, matching time, and Grants for Time programs.
For example, if your nonprofit has a dedicated volunteer who devotes 15 hours a week to your organization and their company offers volunteer grants, the company will pay you for those hours. And it doesn't have to be 15 hours a week! Many companies have different hour requirements that can be met over a specified period of time. 
What are the benefits of volunteer grants?
The main draw of volunteer grants is getting extra funding for your organization at no cost to supporters. Beyond that, volunteer grants have benefits for everyone involved in the process:
Individual volunteers get to make an even bigger impact with the hours they give to your nonprofit. They already care about your mission and purpose; now they get to give you twice the support through one avenue.
Companies that offer volunteer grants benefit from maintaining a positive public image. This positive reputation also means their consumers and employees will be happier to work with them.
Nonprofits benefit by building stronger relationships with both companies and volunteers. Your volunteers know the impact they're making and will want to keep working with your organization. And company relationships could turn into sponsorships or other regular programs!
Some companies even offer team volunteer grants, where groups of employees from the same company can volunteer together at a nonprofit, and they can get a grant for that, too!
Why do businesses offer volunteer grants?
Nonprofit organizations usually rely on companies their supporters work for to already have corporate social responsibility (CSR) programs like volunteer grants in place. However, by understanding why businesses might offer a volunteer grant program and researching businesses your supporters work at, you or your donors may be able to persuade certain companies to start a new CSR initiative. 
As mentioned, businesses also benefit from volunteer grants thanks to the positive reputation boost working with nonprofits gives them. However, they only gain this benefit if both the business and the nonprofit publicize their connection. While it's up to businesses how they promote their volunteer grant program to employees, make sure your nonprofit holds up its end of the bargain by letting eligible supporters know about volunteer grants and thanking businesses when they donate to you.
Reports show that employees who work at organizations with volunteer programs are five times more engaged than those who don't. When pitching a volunteer grant program to businesses, emphasize statistics like this and how they can lead to improved business outcomes, such as increased productivity and retention. 
Additionally, remain open to other types of corporate volunteerism. For example, some businesses arrange organized corporate volunteer groups, which serve as teambuilding activities for their employees while also providing your nonprofit with extra hands to help with your ongoing programs.
Are volunteer grants common?
Yes! We've pulled together some key statistics from Double the Donation that demonstrate how common, and important, these programs actually are: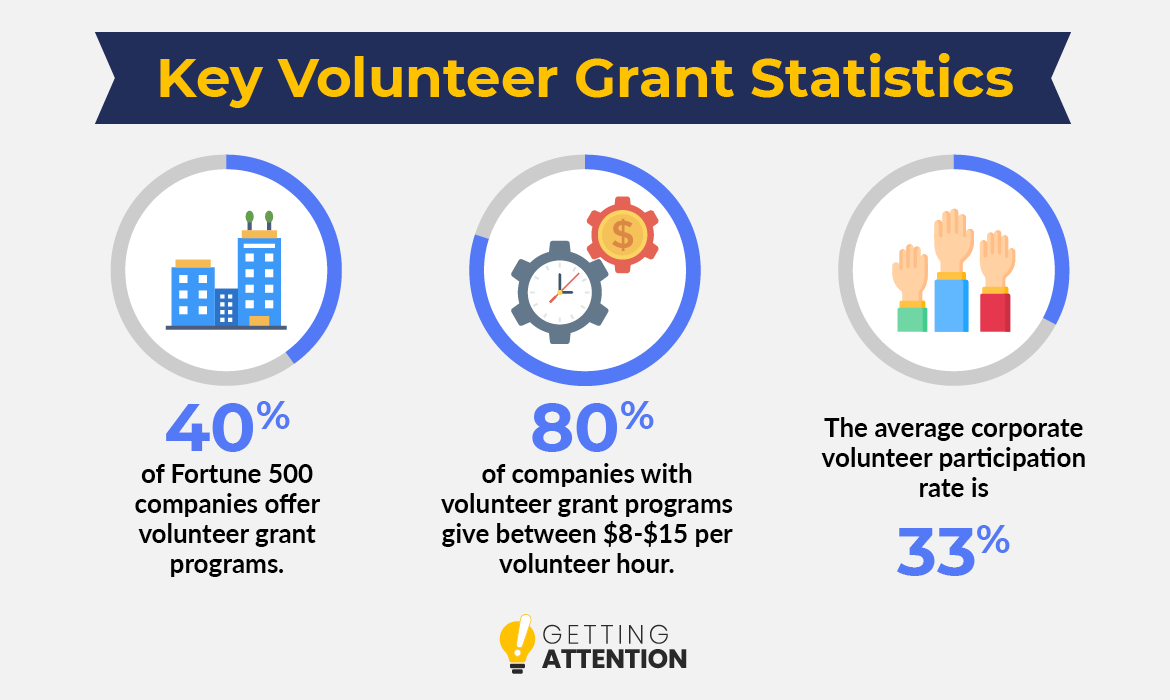 40% of Fortune 500 companies offer volunteer grant programs. There are plenty of other businesses and corporations that offer some sort of volunteer grant program, too.
80% of companies with volunteer grant programs give between $8-$15 per volunteer hour. Those dollars add up! If you have a dedicated group of volunteers, those accumulated hours can offer you a nice sum.
The average corporate volunteer participation rate is 33%. About a third of eligible employees currently take advantage of volunteer grants, and nonprofits are working to increase this number by effectively marketing their volunteer programs.
From these statistics, it's clear that there are plenty of volunteer grants your organization and your supporters can take advantage of. 
How to Get Volunteer Grants for Your Nonprofit
To secure volunteer grants, you first need to understand how the full process works. From your nonprofit's perspective, it happens in four steps: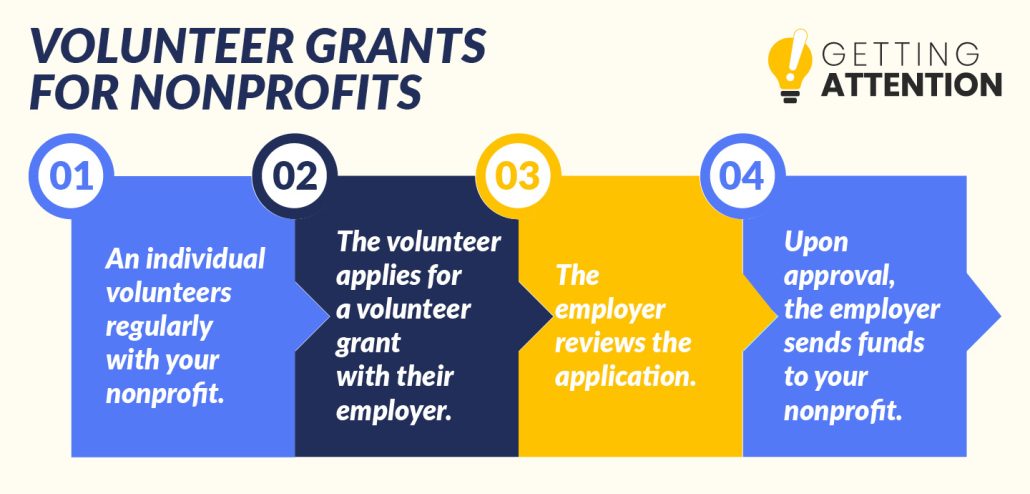 An individual volunteers with your nonprofit. This can include performing office-related tasks, volunteering virtually, or any other roles your organization offers.
That individual looks up their eligibility for a volunteer grant from their employer. If they're eligible, they'll submit a request to their company for the grant.
The employer looks over the application and confirms eligibility.
Once the company has verified the hours with your nonprofit, your organization gets a check!
Companies' volunteer grant requirements vary, but there's generally a minimum number of hours that must be volunteered to qualify for a grant. The company will then either pay by the hour or provide a set amount once a threshold has been met. For example, some companies pay $25 per volunteer hour, while others pay a flat $500 after 40 hours have been contributed.
It's easy to let this opportunity fall to the wayside when you've got dozens of other things on your plate. But most volunteers don't even know whether they're eligible or how to check, so it's crucial to market the opportunity.
Best Practices for Securing Volunteer Grants
How do you get the word out about this mutually beneficial opportunity? Just follow these three best practices:
1. Market volunteer grants to your supporters
You can't secure volunteer grants if your supporters don't know what they are or how to request them. That's why it's crucial to create a marketing plan that promotes the opportunity across communication channels. 
As you develop your plan, consider implementing these strategies:
Create a page on your website that explains the volunteer grant process and how to make a request.
Launch a social media campaign that educates donors on volunteer grant basics and encourages them to check their eligibility.
Highlight volunteers and companies who contribute volunteer grants in your monthly newsletter.
Once you've created some basic volunteer grant marketing materials on your website, you can really expand your reach by leveraging the Google Ad Grant. The Google Ad Grants program provides eligible nonprofits with $10,000 a month in credits to spend on Google search ads. 
Through the Google Ad Grant program, your organization can create ads that show up at the top of Google search results pages for relevant terms, like "volunteer opportunities near me" or "animal shelter volunteering." Highlight volunteer grants in these ads, and you'll promote the opportunity to a whole new audience of potentially interested volunteers! 

2. Offer a variety of volunteer opportunities
Another key aspect of securing volunteer grants is ensuring you have enough relevant volunteer activities to interest your supporters. Consider creating various ways to get involved, such as numerous different activities or program formats. 
For example, plan group community service projects or create volunteer teams for your events. This will boost the number of volunteers you get from a company, increase the grant money you receive, and build a long-term relationship with the company they came from.
3. Use a volunteer grant database
Help volunteers quickly determine their eligibility by investing in matching gift software that includes a volunteer grant database. With this software, you'll get easy access to a database of thousands of corporate volunteer grant programs. 
Plus, this software comes with search tools you can embed anywhere on your website, so when volunteers type in the name of their employer, they'll immediately see their volunteer grant guidelines. Here's an example of how simple and intuitive these search tools are: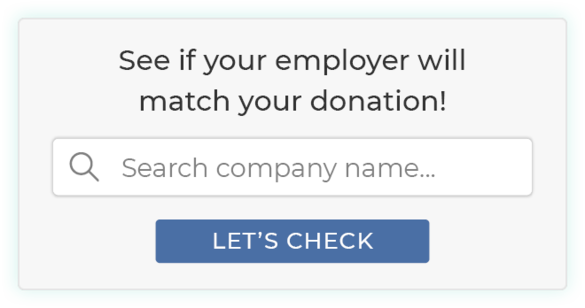 Examples of Top Companies with Volunteer Grant Programs
To give you an idea of how much businesses put toward corporate philanthropy, take a look at some of the top companies with volunteer grant programs.
Verizon's Volunteer Grant Program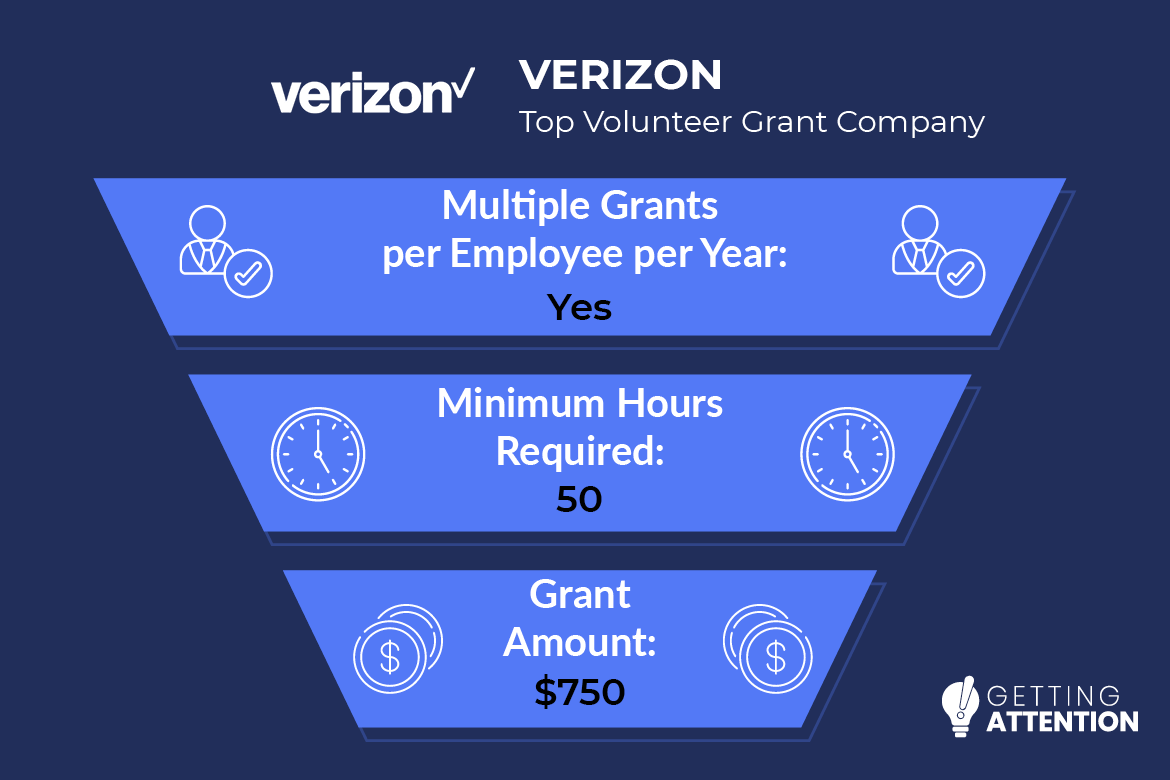 Verizon offers a Volunteer Incentive Program (VIP), which awards $750 to an organization after an employee volunteers 50 hours with that organization. Even better, Verizon employees can request up to two of these grants per year.
Microsoft's Volunteer Grant Program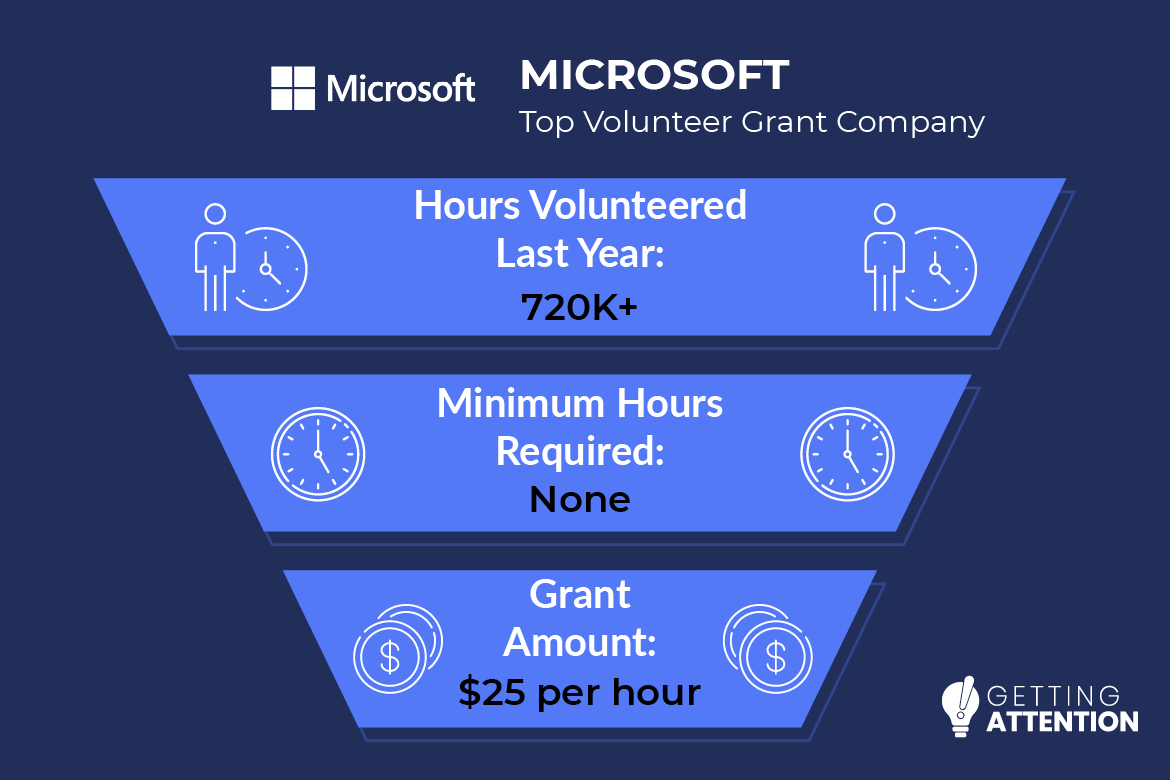 Microsoft has a generous volunteer grant program with no minimum hours required. Microsoft employees can earn $25 per hour they commit to a nonprofit. Last year, almost 30,000 employees took advantage of this program and volunteered over 720,000 hours in total.
ExxonMobil's Volunteer Grant Program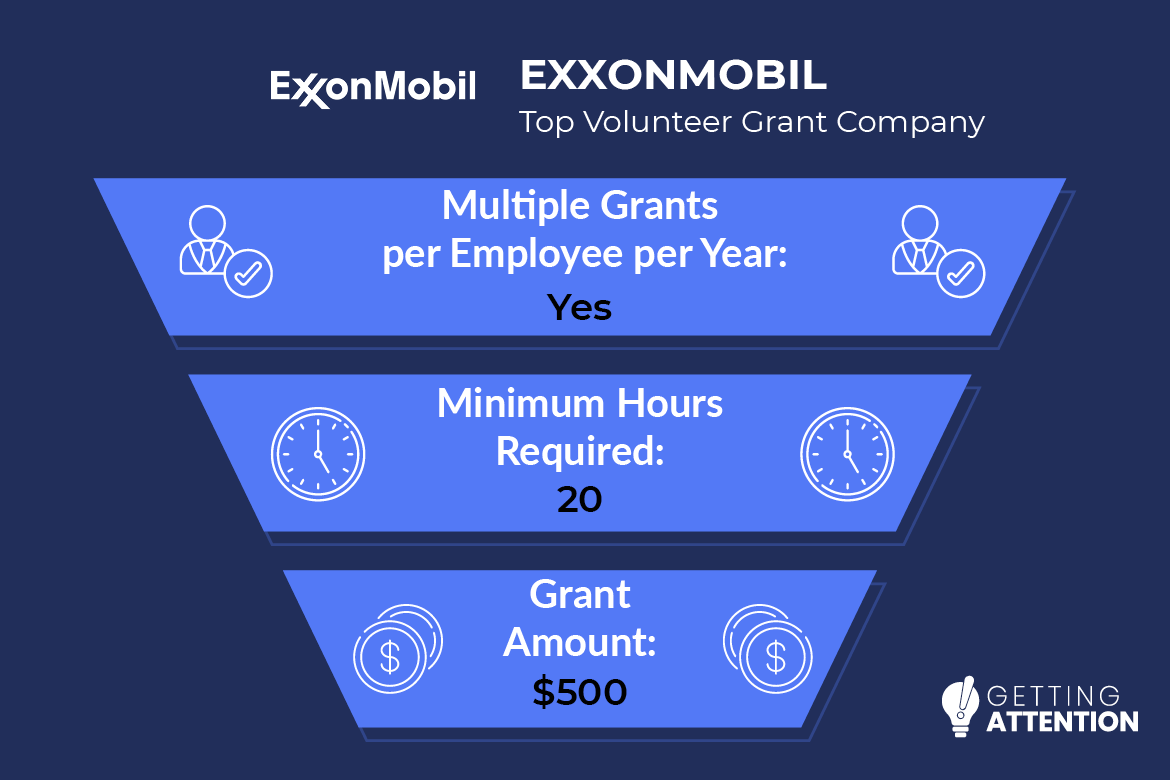 ExxonMobil has multiple volunteer grant programs: an individual volunteer grant program where employees can get a $500 grant after volunteering 20 hours with an organization and team volunteer grant opportunities for groups of five or more.
Additional Volunteer Grant Resources
Tapping into volunteer grants doesn't have to be daunting. The more knowledge you equip your team with, the more successful you'll be. 
We hope this guide has helped your organization realize all the untapped volunteer grant opportunities you can benefit from! If you want to continue your research, we've handpicked some great resources to get you started:

https://gettingattention.org/wp-content/uploads/2021/08/Volunteer-Grants_Feature-New-2.png
700
1450
Getting Attention
https://gettingattention.org/wp-content/uploads/2021/08/getting-attention-logo.svg
Getting Attention
2023-06-27 09:06:22
2023-09-05 13:05:16
Corporate Volunteer Grants: The Basics & How to Secure Them