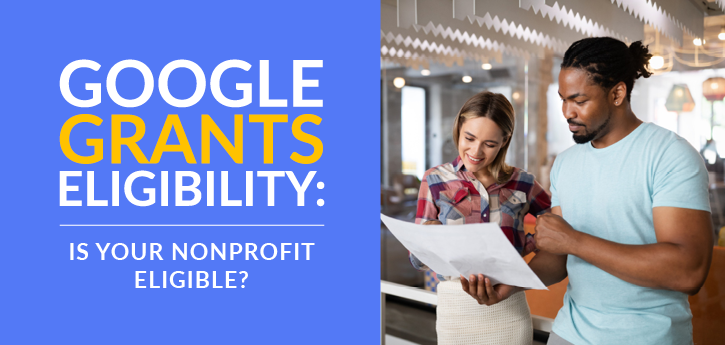 If you're involved in the nonprofit world, you need to know about Google Grants. Google Grants are a digital marketing resource designed to get your nonprofit the attention it needs and deserves in a financially practical way. Through receiving a monthly paid advertisement stipend, your nonprofit will absolutely see a spike in website traffic from Google Search.
While Google Grants is a valuable nonprofit resource, not all nonprofits are eligible to receive the funds. The process to determine eligibility can appear daunting, as can the next steps once you've figured out your organization is indeed eligible. That's what this guide is here for, to clear up any confusion or misconceptions surrounding the Google Grants process. 
At Getting Attention, we specialize in helping nonprofits just like yours secure and strategize for Google Grants. In this guide, we're going to cover the following points to help your nonprofit determine your eligibility for Google Ad Grants:
Would Google Grants benefit your nonprofit? Continue reading and we'll give more program details, as well as help you determine your nonprofit's eligibility. 
What is a Google Grant? 
Google Grants (also known as Ad Grants or AdWords Grants) are awarded through a  Google-sponsored marketing grant program that gives eligible nonprofits $10,000 monthly in AdWord credits. These credits provide your nonprofit with a free way to advertise at the top of Google search results. 
Unlike most nonprofit grant programs, the Google Grants for Nonprofits program is not constrained by available funds. In other words, all nonprofits with Google Grants eligibility can receive the $10,000 per month— there is no limit to the number of nonprofits who can participate.
What does free advertising on the world's largest and most popular search engine mean for your nonprofit? You'll have: 
Increased digital visibility and reach 

More interactions with your website 

Free and amplified promotion to potential donors and volunteers

Complimentary analytics on your campaign

The ability to market multiple digital campaigns at once
Each of these five benefits come together to drive more awareness for your nonprofit, and in turn, garner more donations. Next, we'll cover eligibility requirements for the program. 



Who is eligible for Google Grants? 
To be eligible for Google Grants, your nonprofit must be in good standing, meaning you are fully registered with your respective country, be located in a country in which Google Grants operates, and meet the full eligibility requirements of your respective country. 
Beyond that criteria, there are three main categories Google looks at when determining a nonprofits Google Grants eligibility: 

1. Type of nonprofit organization 
Not every nonprofit can receive Google Grants. In the U.S., for instance, only 501(c)(3) nonprofits are eligible. 501(c)(3) means the Internal Revenue Service recognizes the nonprofit as an official charitable organization and thus exempts it from any federal tax obligations.  
A nonprofit's specific industry matters, too. The following three sectors are ineligible for Google Grants:  
Government:

All government-affiliated organizations and entities

Healthcare:

All hospitals, offices, and other healthcare organizations

Education:

All schools, academic institutions, and universities
It's important to note that these eligibility requirements are specific to Google Ad Grants. There are other programs offered by Google, such as Google for Education which offers support to educational institutions, designed for different purposes and thus have different specifications. 
2. Quality of website 
Google also looks at the attributes and quality of a nonprofit's website to determine the organization's Google Grants eligibility. This is because the advertisements purchased via Google Grants will send search engine users to the nonprofit's website, and Google doesn't want to direct users to ineffective web presences.
When evaluating a website, Google looks for:
An owned website:

Your organization must own the domain that a Google ad would direct users to when they click on it.

A clear and detailed description of the organization, its mission, and its activities:

There should be no mystery as to what your nonprofit does and stands for. 

Unique website content:

Materials on your site should be exclusive to your nonprofit and not found elsewhere on the internet.

No broken links or slow loading time, and HTTPS-secured:

 

Broken links are links that no longer direct to their previously intended destination. Avoid these by constantly checking your linked materials and updating as needed.

There are many factors that contribute to slow loading time, and therefore many ways it can be avoided. For instance, opt for smaller images as opposed to larger ones to keep your site running quickly. 

HTTPS-secured refers to a website that is encrypted and therefore offers users greater protection and privacy during their browsing. Make sure your website is secured for best results with Google's quality evaluations. 
Noncommercial in nature:

Your website must serve the general public, not just those who provide financial contributions. The main purpose of your website cannot be anything commercial. This includes the sale of products and/or services, consultation offers, lead generations, and referral provisions. If anything commercial appears on your website, you must clearly describe how it supports your mission; and in certain cases, you must provide an annual report detailing how your organization used the commercially-obtained funds. 

Limited advertisements:

All ads must be relevant to your mission and not obtrusive to site users.
In short, make sure your nonprofit owns its website, the site clearly describes your mission and purpose, the site hosts unique content, the site has no broken links or slow loading time and is HTTPS-secured, and is noncommercial. Next, let's discuss program policies. 
3. Compliance with program policies 
In order to be eligible and remain so for Google Grants, your nonprofit must comply with various program policies set by Google. 
This includes following the Google Ad Grants terms and conditions, standard Google Ads policies, Google's general terms and conditions, and account management policies.



How do I get a Google Grant? 
So, you've determined your organization's Google Grants eligibility. What's next? Here are the steps to getting the Google Grant process started:
Register with TechSoup.

If you haven't already, you need to authenticate your nonprofit through TechSoup. It could take a few days, so be sure to factor this step into your timeline. 

Sign up for a Google for Nonprofits account

. In order to access Google Ad Grants, your nonprofit needs a Google for Nonprofits account. It's a straightforward process that involves providing your tax identification number, non-discrimination policies, and general contact and organization information. Plus, this account offers many other nonprofit resources  that your organization can take advantage of. While straightforward, this process could take many months. It's best to get started as soon as possible. 

Apply for the Google Ads Grant.

This is a six-step process that includes the following steps: 
Create a Google AdWords account.

Submit a pre-qualification survey and complete ad grant training.

Submit required materials for pre-qualification review.

Set up your first Google ads campaign once approved for pre-qualification..

Submit your first AdWords campaign for review.

Begin running Google Ad campaigns once approved.
If this process seems a bit overwhelming, relax. Getting Attention specializes in helping nonprofits apply for Google Ad Grants, so reach out today for a free consultation. 
Can you lose Google Grants eligibility? 
In short, yes.
If your nonprofit doesn't maintain compliance with the program's policies, you can absolutely have your eligibility revoked. To avoid that outcome, abide by the following best practices: 
Maintain an active account.

Google wants to see that you're making good use of the grant, so log in at least once a month and update your account at least every 90 days. 

Target ads in a relevant way to a specific region.

Make a recognizable effort to target your desired audience by both topic and region. You want your ads to accurately reflect your nonprofit's mission as well as reach who your mission is relevant to. 

Evaluate keywords monthly.

Check your keywords often to see what's working and what's not. Based on your evaluation, restrategize as necessary. Additionally, there are a few keyword rules to keep in mind. For example, no single keywords, overly generic keywords, or keywords with a quality score of 1 or 2 are permitted. 

Maintain a 5% click-through rate (CTR)

. Failing to meet 5% CTR for two consecutive months can result in account deactivation. 
Google provides a number of resources to help you meet these account requirements. For example, to improve CTR, you can pause generic and high impression, low CTR keywords. You can also ensure geotargeting is set for each campaign. Don't worry about having to figure it all out on your own; Google is here to help. 
Have you lost your eligibility? Don't stress about it too much yet. Google has a clear process for requesting account reactivation. You can partner with a Google Grants consultant to work through the reactivation process.

Wrapping Up 
We know this is a lot of information to take in. Don't worry, though— you don't have to navigate Google Grants alone. There are professionals out there who can help you use your Google Grant funding to its fullest potential. 
Oftentimes, nonprofits will look to traditional marketing agencies for their Google Grants needs. However, the Google Grants program is not the same as standard Google Ads. It's best to look for an agency that specializes specifically in Google Grants.
For example, Getting Attention is qualified to help you every step of the way. Here are just a few of the many services we can offer your nonprofit throughout your Google Grants journey: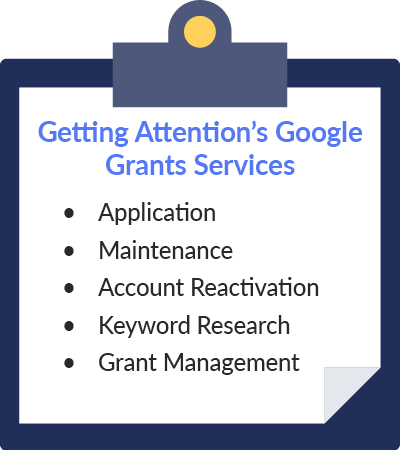 Google Grant Application:

Our experts can complete the application for you efficiently and effectively, pledging a high success rate for your nonprofit's acceptance. 

Google Grant Hygiene:

While you focus on your nonprofit's mission, we will take care of maintaining your campaign and keyword data. 

Google Grant Reactivation:

If your account is ever suspended, we can help get your account back up and running. 

Keyword Research:

The key to a successful Google Grants campaign is choosing the perfect terms to target. Our research team can do the heavy lifting to make sure you're using the most relevant and effective keywords for your nonprofit. 

Grant Management:

Accurate conversion tracking is a crucial component of your Google Ad Grants campaigns. In fact,

Google requires

your nonprofit to report at least one conversion per month. We'll meet and beat this expectation by tracking conversions as well as taking note of potential valuable opportunities based on our findings. 
Interested? Sign up for your free consultation today and we'll get to work on shaping up your Google Ad Grants strategy.  
We've covered the ins and outs of Google Grants and your nonprofit's potential eligibility, but that's not all we have to offer. Review the following resources on the Getting Attention blog to help you take your nonprofit to the next level and meet your mission goals:

https://gettingattention.org/wp-content/uploads/2021/11/Google-Grants-Eligibility_Feature.png
345
725
Getting Attention
https://gettingattention.org/wp-content/uploads/2021/08/getting-attention-logo.svg
Getting Attention
2021-11-04 22:16:04
2021-11-04 22:17:18
Google Grants Eligibility: Is Your Nonprofit Eligible?