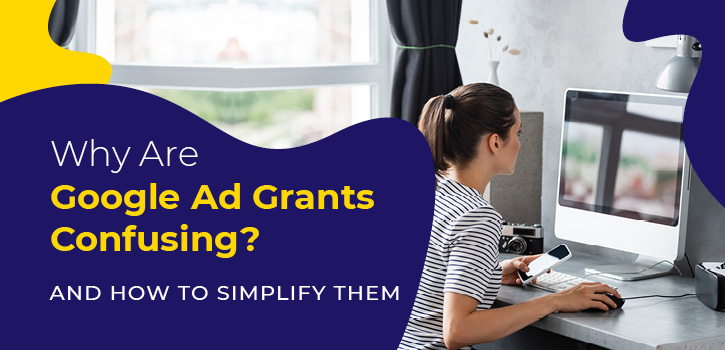 Google Ad Grants are an asset to any nonprofit's budget. While many organizations see the value of the program, some are turned away from applying simply because they find Google Ad Grants confusing.
If you're unfamiliar with the program, it provides eligible nonprofits with $10,000 per month to spend on ads. Nonprofits can receive these funds in perpetuity, until they are no longer eligible.
While applying for Google Ad Grants will naturally provide many benefits to your nonprofit, the steps necessary for confirming your eligibility, getting approved, and then developing your ad campaigns are not always clear. A lack of familiarity with proper account management can result in losing the grant or missing advertising opportunities. But gaining a deeper knowledge of the program and its requirements will eliminate any Google Ad Grants confusion and make your experience go much smoother.
We're here to clear up any questions surrounding Google Ad Grants to make sure you can take full advantage of your account. To simplify Google Ad Grants for your nonprofit, we'll cover the following topics:
Here at Getting Attention, we provide professional Google Ad Grant support in hopes of helping nonprofits take advantage of this valuable opportunity. Our goal is to eliminate any confusion surrounding Google Ad Grants, so you can create successful ad campaigns that connect you with committed supporters.
If you're ready to eliminate any Google Ad Grants confusion, keep reading!


Why Are Google Ad Grants Confusing?
If you feel mystified by Google Ad Grants, you're not alone. Many nonprofit professionals have trouble with their Google Ad Grants accounts, and this can lead to missed opportunities. Some of the most common roadblocks you may face are:
Confusion about how to apply
Uncertainty around your eligibility for the program
Limited experience running paid search ads
Unfamiliarity with account compliance requirements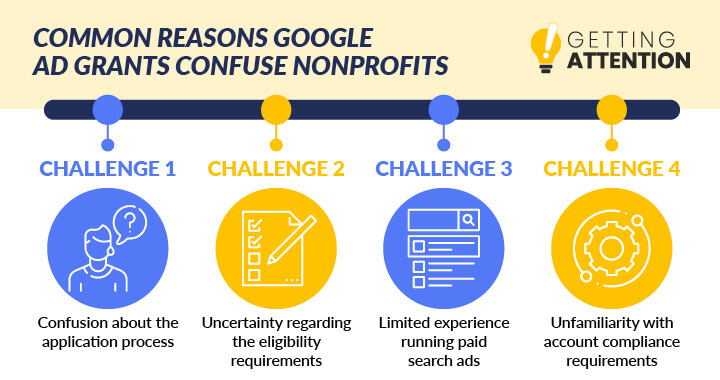 First, receiving a Google Ad Grant requires that you undergo a lengthy application process, which is something that we'll cover more in-depth later on. This process involves multiple steps, such as getting verified by TechSoup and registering for a Google for Nonprofits account. With so many steps, there's room for error and confusion in the process.
Any errors may lead to your nonprofit's rejection without a clear understanding of why. Before the application process, you may not be sure what preparations you need to take, like confirming your status as a 501(c)(3) nonprofit or ensuring your website is up to par.
Beyond the application, maintaining a well-functioning Google Ad Grants account is often difficult for busy nonprofit professionals. A limited understanding of how to run high-performing ads or a lack of quality ad content can result in inefficient management of the grant. In turn, mismanaging your Google Ad Grants account can result in account suspension due to not complying with the program's policies.
All of that said, managing marketing grants for nonprofits like the Google Ad Grant doesn't have to be confusing. Learning more about the Google Ad Grant program can prevent potential challenges down the line.

FAQs to Help Clear Up Any Google Ad Grants Confusion
No matter if you're just getting started with the program or already have your first campaign set up, you might have some lingering questions. Anyone who's participated in the program has needed help at some point. Let's answer and clear up anything that might be making Google Ad Grants confusing for your team.
How do I effectively use Google Ad Grants?
While there's a lot of flexibility with the Google Ad Grant program, there is proper account management protocol you should follow to ensure your grant is put to good use. Effective Google Ad Grant management consists of:
Choosing the right keywords that will connect you with qualified users searching for causes like yours.
Developing effective ad copy and writing 3-5 compelling ads per ad group that are relevant to the keywords for that group.
Tracking your analytics to determine how well your ad campaigns are performing and what can be improved.
Using ad extensions to promote additional pages on your site under your ads.
Conducting A/B tests to determine the specific elements that drive users to click through.
Choosing the appropriate landing pages to promote and optimizing them to drive users to take the desired action.

If you find any aspect of account management confusing, you might hire a professional to provide you with tailored Google Ad Grant help.
How much are Google Ad Grants worth?
Theoretically, they're worth $10,000 per month, which averages out to $329 per day. You won't receive the grant in cash, but instead, you'll receive it in the form of Google Ad credits.
Plus, if your nonprofit uses Google Ad Grants to promote your fundraising initiatives, that will make the Google Ad Grant worth even more as donations start to roll in. In other words, not only will the program add free marketing money to your budget, but you'll also connect with new donors who will provide you with even more funding!
How long does it take to get approved for Google Ad Grants?
Depending on where you are in the process of applying, getting approved for Google Ad Grants may take several weeks. The application process requires you to do the following: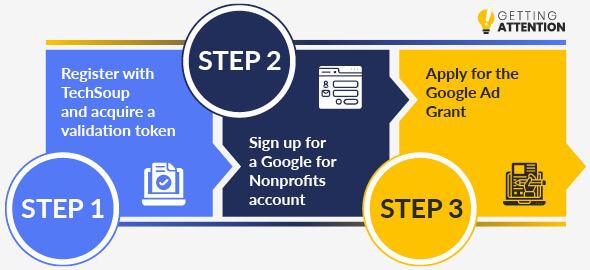 Register your nonprofit with TechSoup. TechSoup partners with for-profit corporations (like Google) to provide nonprofits with free and discounted software. To apply for Google Ad Grants, you must first set up your TechSoup account. Validation can take up to 30 days.
Create a Google for Nonprofits account. Once you receive your validation token from TechSoup, you need to apply for Google for Nonprofits. You must agree to non-discrimination statements and provide contact and organization information. After you fill out all the required details, Google will typically approve your application within a few business days.
Apply for Google Ad Grants. Once your Google for Nonprofits account is approved, you can finally apply for Google Ad Grants. Within your account, you'll need to fill out an eligibility form, which takes around 20 minutes. Google will get back to you within a few business days, letting you know if you have been granted eligibility or need to make any adjustments to be approved.
From here, you can create your Google Ads account and set up your first campaign. We recommend that you start the application process as early as possible. If the Google Ad Grants application process seems confusing to you, our team of experts is here to help!
Can I have an Ad Grants account and a paid Google Ads account at the same time?
Yes, Google actually encourages nonprofits to create a paid Google Ads account if the program is positively benefiting the organization! Standard, paid accounts are a proven way to expand your impact and gain access to paid features, such as:
Remarketing – This feature allows you to customize your display ads campaign for people who have previously visited your site.
Image Ads – This enables you to feature ads with static and animated images on webpages in Google's Display Network.
Video Ads – This is a feature that allows you to create video ads to display on YouTube and across video partner sites.
Creating a paid Google Ads account won't impact your Google Grant account either. Your accounts won't compete with one another since Ad Grants ads will already appear below paid ads on the search results pages. Your Google Grant ad will be eligible to show if there's available space, regardless of whether a paid ad is already showing.
Do I have to spend the $10,000 every month to keep my Google Ad Grant?
No, there are no rules regarding how much you have to spend each month to maintain your eligibility. In fact, most nonprofits don't spend the full $10,000 every month.
The ultimate goal is to drive meaningful outcomes for your mission, not spend as much money as possible.
That's also why Google created its compliance requirements. They want to ensure nonprofits aren't spamming search results with irrelevant content and are instead putting thought behind each grant dollar they spend.
Why does Google have a policy regarding click-through rate (CTR)?
Google requires any grantees to maintain a 5% CTR every month. They use this as an indicator of ad quality since it lets them know whether users find the ads relevant to their search query.
While Google Analytics will automatically calculate your CTR for you, you can do so yourself by dividing the number of people who click through to your landing page by the number of impressions (i.e. how many people see your ad). So, if your ad is shown to 100 people and 5 people click the link to your website, your CTR will be 5%.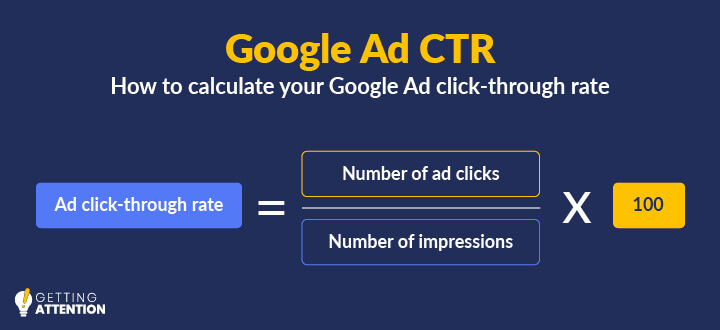 Google recognizes that it takes time to get your account up to speed and understand what drives users to click an ad. That's why new accounts have a grace period of 90 days to comply with the policy.

5 Google Ad Grants Marketing Challenges That Cause Confusion
Google Ad Grants are incredibly beneficial to nonprofits, but they can bring about some unique marketing challenges. You may not have extensive experience in paid advertisement management— if that's the case, you're not alone! Let's walk through 5 common challenges that nonprofits face that often make Google Ad Grants confusing to them.
1. Failing to abide by Google Ad Grants guidelines
Unfortunately, many nonprofits fall victim to the Google Ad Grants guidelines. Google created these compliance rules regarding keyword usage, quotas, and other requirements. Failing to follow these guidelines can result in a temporary suspension of your account or loss of the Google Ad Grant.
For the most part, these guidelines are simple and easy to follow. Nonprofits may be unaware of these rules, fall behind on quotas, or experience confusion around what they mean. Because these rules are fundamental to how Google permits spending the grant, you should keep a close eye on whether your site is keeping up.
In case you're unfamiliar, here's a quick breakdown of Google's guidelines:
Avoid single-word keywords. Don't use single keywords that are not included on this list of approved exceptions. The keywords you choose should relate to your nonprofit specifically rather than being generic or broad.
Choose keywords with a minimum keyword quality score of 3. Google grades keywords for quality on a 10-point scale. Each score is based on the expected clickthrough rate, how closely your ad matches the user's search intent, and the landing page experience. Ensure that your keywords maintain a score of at least 3.
Maintain a minimum click-through rate of 5% for your account. Your account must receive a clickthrough rate of at least 5% for all ads. In short, this metric means that at least 5% of those who view your ads click through to your website.
Use at least 2 ad groups per campaign. For each active ad campaign on your account, you must have at least two ad groups. Within these ad groups, you must feature at least 2 ads.
Use at least 2 sitelink ad extensions. Sitelink ad extensions enable you to link specific pages related to your ad below your main landing page. You should include at least two of these.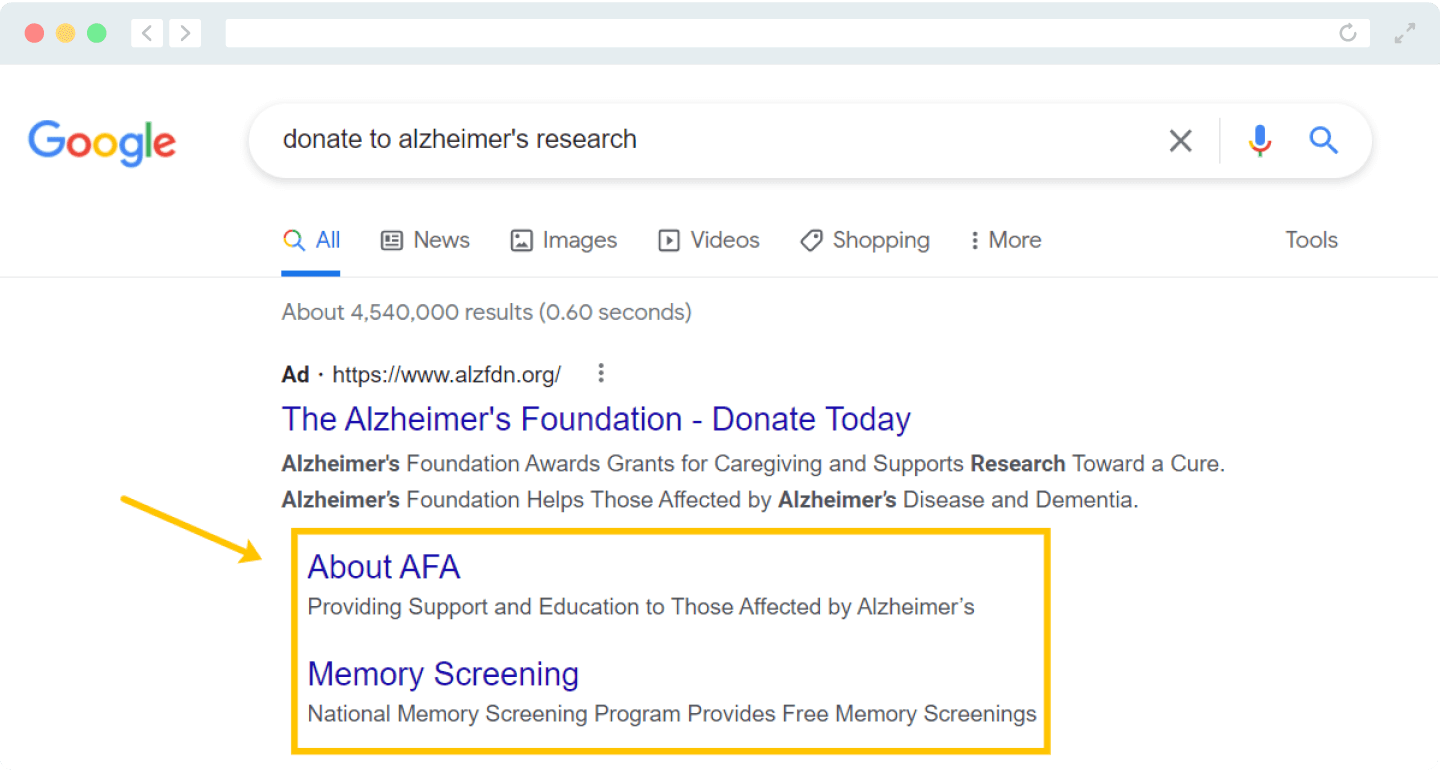 Now that you are aware of the guidelines, it should be easy to follow them. While these rules are extremely important for remaining compliant, they're also meant to maximize your ad performance. Many of these rules can double as tips that can improve your ad campaigns.
2. Neglecting your website's landing pages
Being accepted into the Google Ad Grants program deserves excitement and celebration. But, it's important to fortify your web presence before doing so. This will give your ads the best chance of success. Down the line, you won't run into any confusion as to why your Google Ad Grant campaigns are underperforming, too.
Don't fall behind and neglect your website — the ads you purchase using the grant send visitors to your site, but your landing pages are what seal the deal!
Each ad you run will direct users to a landing page on your website, through which they'll be able to complete a desired action. This could be registering for an event, joining your volunteer program, or making an online donation. If your web pages are outdated or have unclear calls to action, your supporters won't know what to do once they follow an ad and land on the page.
Looking to learn more about other crucial elements of your marketing plan? Check out our complete guide to nonprofit marketing.
3. Targeting broad, generic keywords
You may think targeting broad keywords like "donation" or "fundraiser" is a no-brainer. However, targeting short, generic keywords can bring about challenges for your nonprofit.
Keywords like "fundraising event" are very vague and often have many bidders. Google's algorithm is not particularly conducive to smaller organizations winning these highly competitive terms. Therefore, it's unlikely that your nonprofit will be able to edge out large organizations that are bidding on the same words, which means there is a lower likelihood your supporters will be able to see your ads.
In addition to competing with large organizations for these broad keywords, Google bans targeting single-word keywords. Not only can generic keywords lessen the effectiveness of your marketing, but they can also result in suspension from the Google Ad Grants program.
If you're struggling to pick the right keywords for your cause, consider seeking professional Google Ad Grant help from an agency (like Getting Attention). We'll clear up anything that makes Google Ad Grants confusing for your team, including keyword research!
4. Only running a single ad per group
Following the appropriate account structure is often where most Google Ad Grants confusion stems. Before explaining relevant account requirements, know that each Google Ads account is broken down into campaigns. Each campaign contains different ad groups that are assigned to specific keywords. Then, each ad group is made up of multiple ads that include your ad copy, link to a relevant landing page, and target those keywords.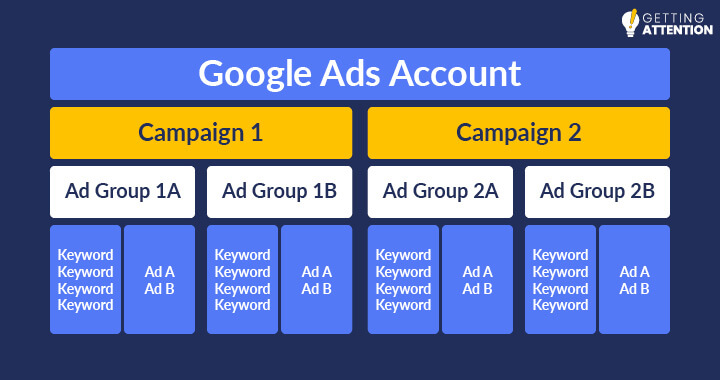 Google requires that all grantees:
Have at least two ad groups for every campaign
Include at least two active ads in every campaign
Running only one ad violates Google's policies and could put your account at risk. According to Google Ad Grant guidelines, you should have at least two ads running at all times. The consequences of noncompliance can result in suspension from the program.
Another problem with running a single ad is the lost potential to grow and develop your ad strategies. Running one ad doesn't allow your nonprofit to track and evaluate performance. Further, it can be hard to improve if you have no way to note how and why ads perform differently.
Single ads can only reach so many people. With fewer touchpoints, there is a lower likelihood that you will reach the right people who are willing to support your organization. Don't limit your organization's reach with only one ad.
5. Creating unclear calls to action
Calls to action are an important element of nonprofit marketing, both in your ad copy and on your website. Lack of clarity can easily derail their success and leave supporters feeling confused.
When you create a call to action, be specific. Ensure that what you say in your ad aligns with what you want viewers to do. For example, an ad encouraging viewers to "donate here!" but also directs to a page about your upcoming events will not garner the success you are hoping for. Instead, this creates a bad user experience and leaves potential supporters feeling confused and frustrated.
Take the time to be clear and consistent with your calls to action.

5 Ways to Improve Your Google Ad Grants Management
We discussed the challenges of leveraging the program, but there are plenty of things you can do to overcome those and step up your marketing efforts. Understanding proper account management best practices is a great place to start and will make Google Ad Grants less confusing overall, so let's review our top 5 tips that will transform your advertising efforts.
1. Prioritize creating valuable and promotable webpages.
For a webpage to be useful within the Google Ad Grants program, it should be both valuable and promotable.
There are a few steps you can take to make each of your landing pages effective before you implement ads that promote them: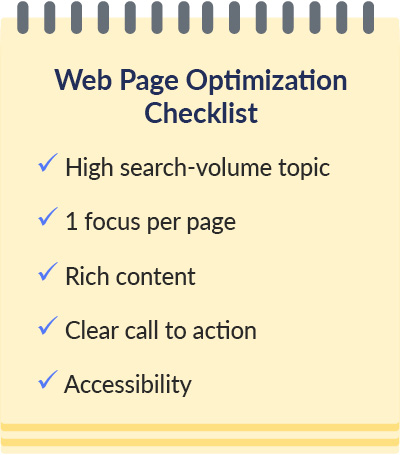 Center it around a topic that receives a high search volume. Topics that receive a high search volume are more likely to receive clicks than those that are extremely narrow and focused. Highlight these popular topics on your webpage to engage supporters.
Limit to a single focus for each page. Avoid including several topics on one page. Narrowing each page on your website to a single focus will make it easier to create ads that target them.
Feature rich content. Including different media formats on a page of your website is much more engaging than just a few sentences of text. Try to engage site visitors with images, videos, animation, and more. But, ensure all multimedia elements have an accessible version— such as alternative text— so all viewers can engage equally.
Highlight a clear call to action. This tip is worth reiterating. Be consistent and clear with calls to action. Clearly label any direct action you'd like the supporter to take, and link them to the page on which to do so. Or better yet, embed the sign-up form (whether an online donation form, volunteer sign-up, or even event registration) directly on your landing page.
Make your site accessible to all visitors. Make sure that your web pages are accessible on both desktop and mobile formats, including both mobile phones and tablets.
A valuable landing page is a must-have to ensure high conversion rates from your ads. These five suggestions help nonprofits reap the many benefits associated with an optimized website.
Otherwise, failing to optimize your landing pages may lead to confusion down the line when you're experiencing low conversion rates.
2. Familiarize yourself with Google Ad Grant compliance.
Becoming eligible for the program is the easiest part of the process. Staying eligible is a little more difficult. You must follow the Google Ad Grant policies if you want to maintain your grant status (and you do want to maintain eligibility).
We broke down some of these policies above, but you should continue to check in with them in case they change. Thoroughly understanding these rules and what they mean will keep you on track to succeed.
Knowing these policies well will make account management much simpler. Think of the rules as tips. Not only does following them uphold your Google Ad Grants account status, but it also benefits your ad performance. Keep these rules in mind as you continue to develop your Google Ad Grant management strategy to ensure the best results.
If you find the rules for Google Ad Grants confusing or hard to keep up with, consider reaching out for professional help. Hiring a Google Grants agency means you can maintain compliance without ever fully understanding the guidelines. Plus, they'll be willing to translate any terminology you're unfamiliar with from the guidelines.
3. Use Google Analytics for tracking your CTR and conversions.
Not only is it required, but tracking your nonprofit's data is also a helpful way to understand how effective your ads are.
To get started, make sure you're tracking your conversions and CTR within Analytics to ensure you meet the minimum monthly threshold. From there, you can begin to set goals for the individual actions you want people to take, like making a donation or registering with their email. These steps can help you see which ads best accomplish meaningful conversions.
The Google Ad Grants program requires a 5% CTR and at least one conversion each month. Not only are these thresholds necessary for maintaining grant compliance, but if your CTR or conversions fall below this, that means your ads are underperforming and not generating value for your cause. 
For instance, a low conversion rate or CTR might mean:
You're targeting the wrong keywords and are putting content in front of unqualified prospects.
You're pointing users to content that doesn't match what they're searching for.
Your landing pages aren't optimized to maximize the user experience.
Even if your conversion rate or CTR is high, Google asks that you confirm that they're actually meaningful clicks and conversions. When setting goals and tracking conversions, make sure you're looking at actions that are valuable to your work. Google wants nonprofits to pay attention to actions that are important to them. What those are might change depending on your organization's mission. For instance, organizations' goals might relate to donations, petition signatures, event signups, volunteer registrations, email newsletter signups, or something else.
4. Make the most of your Google Ad Grant allowance.
You put in the work of applying and maintaining your Google Ad Grants account status. Now that you have an advertising allowance, what is the best way to make the most of it?
Here are some tips for managing your funds:
Run multiple ad campaigns. Use around 3 – 5 ad campaigns, each with tightly-focused ad groups. This is a great way to center ads around a few key concepts that you want to advertise.
Use at least 3 ads in each group. Using this approach, you should have at least one RSA, or Responsive Search Ad. These ads allow you to input several different headlines and descriptions which will change based on Google's algorithm. Ads will then be more tailored to individual viewers.
Make use of the full character limit. Taking advantage of the entire character limit for headlines and ad descriptions will make your ad appear larger to viewers.
Using $10,000 per month can be a challenge, especially when you want to make the most of it. These tips are a great place to start when you are budgeting your Google Ad Grant.
5. Use geotargeting to hone your outreach.
If you're a community-based organization or generally want to reach a local audience, geotargeting is an incredibly helpful feature you can leverage when creating your ads.
Geotargeting allows you to show ads only in locations where users will find the information you share and the services you offer useful.
A few examples of effective times to enable geotargeting include:
You have an upcoming event that doesn't have a virtual participation option and want to promote it to nearby supporters.
You provide services to a local audience and want to make sure your beneficiaries encounter those ads. Examples include food banks and homeless shelters.
You're located in the U.S. but most of your donors are located in France, in which case you'd promote fundraising ads in France.
Your organization has different chapters located across the country or globe. You'd want to separate campaigns into different geographic areas to ensure users in different locations receive ads for services closest to them.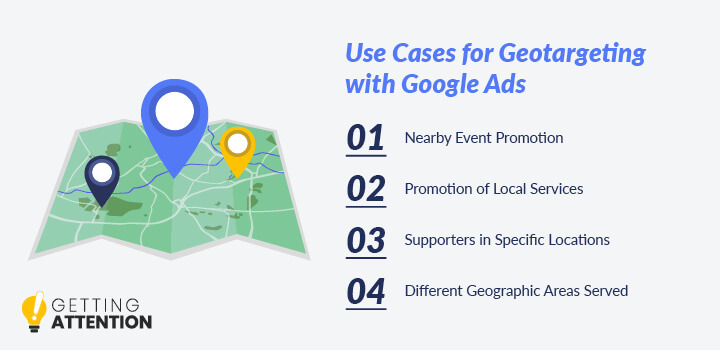 Unique features like this can make Google Ad Grants confusing to nonprofits, but they're actually easy to understand once you start to use them!

Seeking Professional Google Ad Grant Help
Working with an agency can make applying for, managing, and maintaining your Google Ad Grants account a more straightforward, manageable process. There's no room for any confusion when you have expert Google Ad Grant help just a phone call or email away.
Even if you don't find Google Ad Grants confusing, you might not be able to invest as much time as you need to into properly managing your account and its campaigns.
Getting Attention is a Google Grants agency that's ready to help with all of your Google Ad Grant needs, big or small. No matter where you are in the process, you can take advantage of Getting Attention's full range of services, including: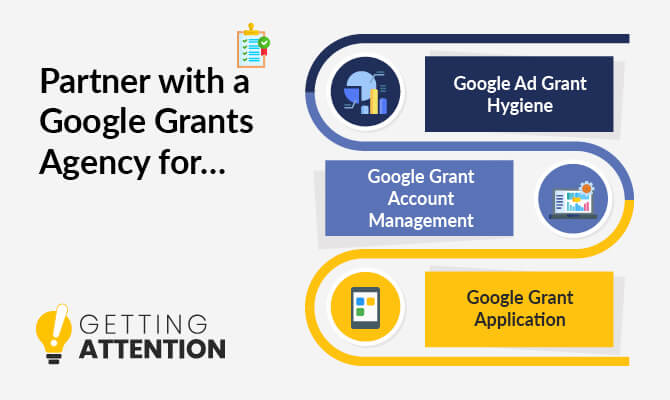 Google Grant Application: We'll make sure your nonprofit is accepted into the program the first time around. From helping you get registered for Techsoup to filling out the Google Ad Grants application form, we'll handle the entire application process.
Google Grant Hygiene: Cleaning data and eliminating irrelevant, unnecessary data can be difficult to manage independently. We can help you maintain a clean, strong database so unnecessary data won't slow anything down.
Google Ad Grant Management: From keyword research to metric tracking, managing your campaigns can be challenging. Our team will help you decide which conversions you should be tracking, pick the best keywords that will help you reach your goals, and make sure you have high-performing ad campaigns.
No matter what's making Google Ad Grants confusing for you, we're here to streamline every step of the process. We'll work with you to make sure we fully understand your organization's brand and goals.
Think you might benefit from our expert Google Ad Grant help? Get a free consultation, and we can chat about all of your Google Grants needs!

Resources to Help Make Google Ad Grants Less Confusing
The Google Ad Grant is a great option for many nonprofits. While it could be a game-changer for your nonprofit, joining the program can be confusing and difficult to navigate. Don't let any intimidation stop you from experiencing the benefits of the program!
Our top recommendation is to reach out to an experienced agency, like Getting Attention. However, we also have plenty of helpful resources to boost your knowledge of Google Ad Grants. Check out these articles to continue researching:

https://gettingattention.org/wp-content/uploads/2021/11/GoogleAdGrantsConfusing_Feature.jpg
350
725
BCauthen
https://gettingattention.org/wp-content/uploads/2021/08/getting-attention-logo.svg
BCauthen
2021-04-18 20:37:38
2022-04-27 20:11:46
Why Are Google Ad Grants Confusing? And How to Simplify Them