Just as doctors need their surgical instruments and mechanics need their tools, your nonprofit organization needs to be equipped with the right technology to continue fulfilling its mission.
According to Nonprofit Tech for Good, many nonprofits are leveraging technology to enhance their processes—79% use automation technology in online fundraising, and 15% even have artificial intelligence software in place to predict donor behavior. Not every organization, however, has the funds to stay at the cutting edge of technology.
That's where nonprofit technology grants come in. These grants supply the necessary funds for forward-thinking nonprofits to gain access to software solutions and resources that will magnify their impact. In this guide, we'll cover:
In order to achieve bigger and better results, nonprofits must continually adopt and adapt to advances in technology that streamline essential processes such as fundraising, marketing, and donor engagement. By doing so, your organization can free up more capacity for what matters most—bettering the lives of those you serve.

What is a technology grant for nonprofits?
Nonprofit technology grants assist organizations with acquiring or implementing tools and software that will further their impact. Like most grants, technology grants for nonprofits come from three primary sources: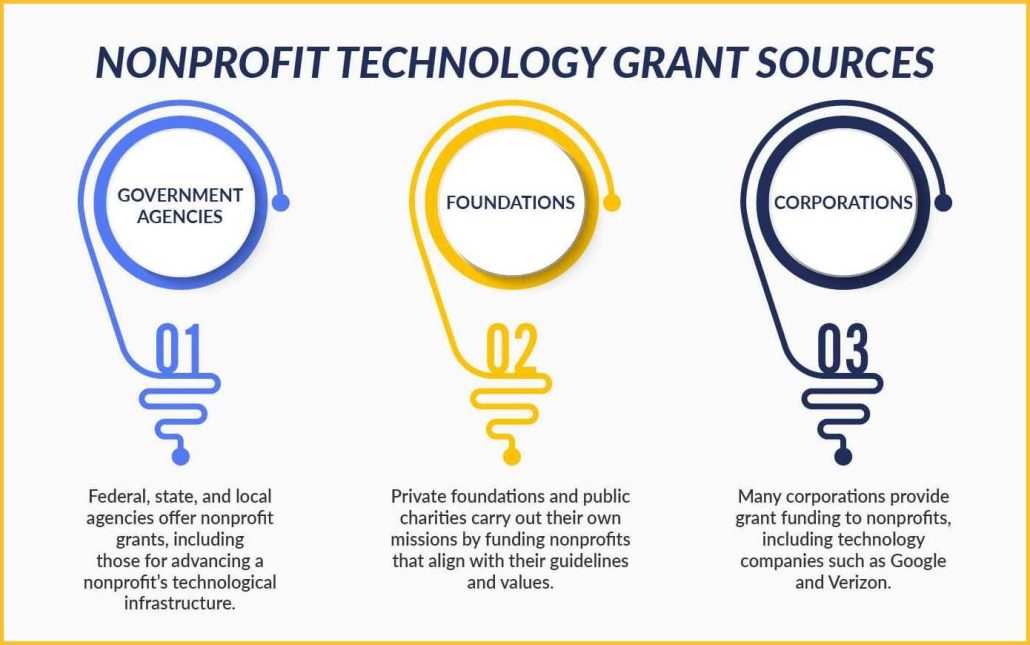 Government agencies
Foundations
Whether you're an environmental nonprofit or a nonprofit hospital, gaining expanded access to the latest technology ensures that you can serve your beneficiaries with greater efficiency and results.
How can technology grants support nonprofits?
Depending on your specific goals, a technology grant can empower your nonprofit to: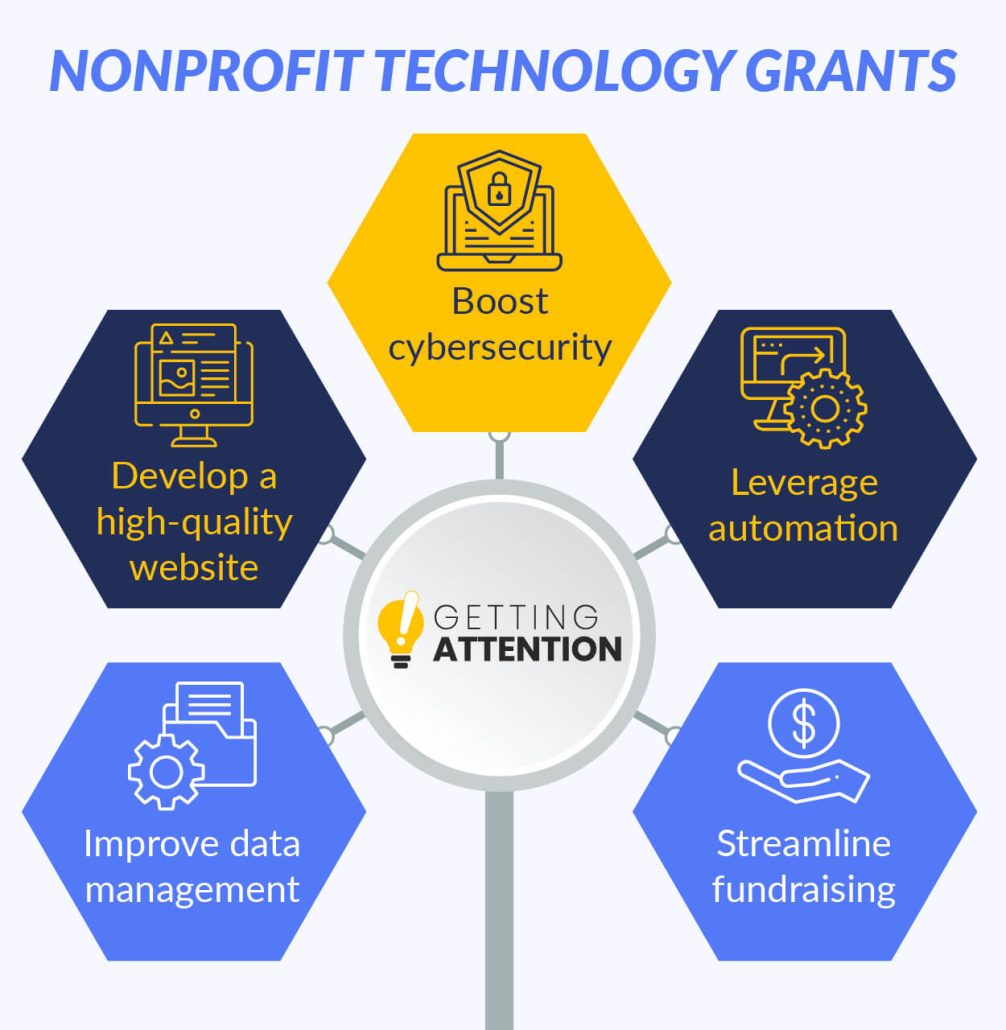 Boost cybersecurity. NTEN's State of Nonprofit Cybersecurity Report reveals that only around 20% of surveyed nonprofits indicated that they had documented policies and procedures in place should a cyberattack occur. A technology grant can provide your organization with the resources for cybersecurity training and the right tools to keep your information secure.
Leverage automation. With a technology grant, your organization can reduce the time and resources it expends on its daily operations by embracing automation technology.
Streamline fundraising. A technology grant can enable your organization to adopt top-of-the-line CRM software that makes it easy to manage supporter relationships and reach out to them for gifts.
Improve data management. Your organization's data is not only key to personalizing your communications and engaging donors, but it also serves as a rich well of insights for improving your strategies over time. With a technology grant, you can make data management a top focus among staff and volunteers.
Develop a high-quality website. A nonprofit technology grant can supply you with the necessary funds to elevate your website or create an entirely new one that inspires more support.
Once you've pinpointed your organization's specific needs for technology funding, it's time to find a funder that best aligns with your mission and values. The more well-matched you are to the grantmaking organization, the more likely you'll succeed in winning the grant.
How do I find the right technology grant for my nonprofit?
With the right approach, you'll be well on your way to securing grant funding for your upcoming technology project.
1. Refer to your goals and mission.
Before you begin your search for grant opportunities, it's important to root yourself in your organization's goals and mission. This ensures that you only identify and apply for technology grants that are most suited to your nonprofit.
Remember that each grantmaking organization has its own mission and interests. As a result, they'll be much more prone to funding nonprofits that align with their own priorities and generate the kind of impact that they're looking to see.
2. Conduct research.
Among possible technology grant sources in the United States, there are around 127,595 foundations alone. Because of this, it's necessary to be strategic with your research to narrow down the right options. Follow these best practices to get started: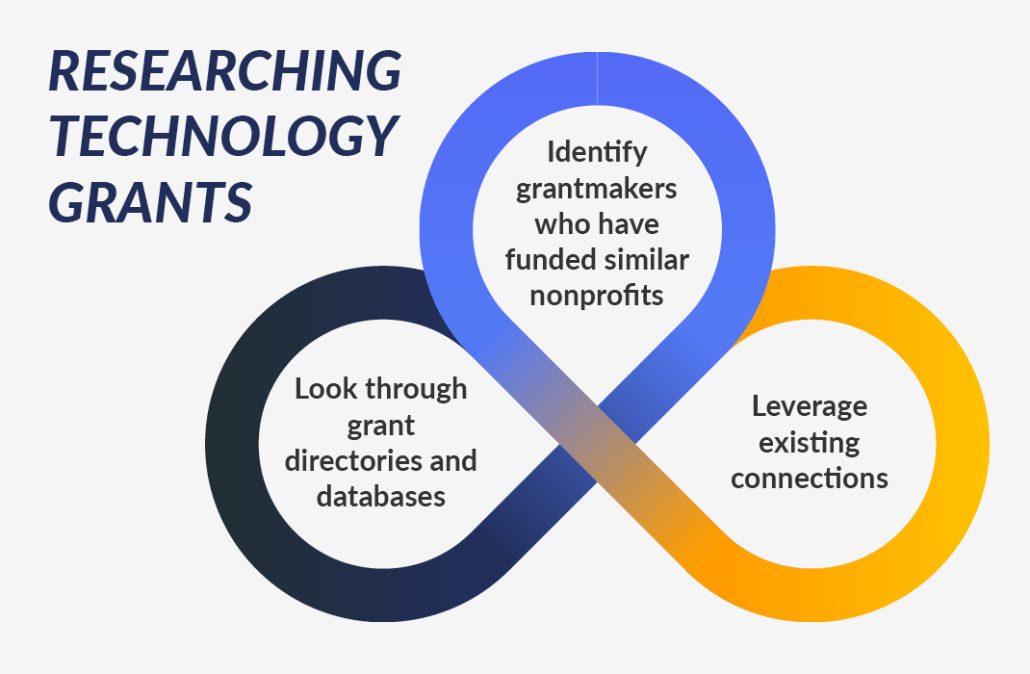 Study similar nonprofits and locate grantmakers who've funded them in the past.
Identify existing connections that your board or staff members may have with funders.
Look through grant directories and databases, such as Grants.gov and Foundation Directory.
Review each nonprofit technology grant's application criteria to ensure that you're eligible to apply. For instance, some grantmakers may require your organization to be located in a specific region or area.
3. Prepare your technology grant application.
Once you've found a nonprofit technology grant that you're interested in applying for, be sure to personalize your application according to the research you've conducted on the funder. An effective grant application clearly defines your nonprofit's needs, leverages storytelling to convey your impact, and specifies realistic goals for the funding you're requesting.
4. Consider seeking expert help.
If your nonprofit is looking for some additional guidance to make your technology grant applications stand out, consider partnering with a nonprofit grant consultant. Top nonprofit grant consultants, such as Getting Attention, will devote themselves single-mindedly to ensuring that your organization's grant efforts succeed.
When you work with a technology grant consultant, you should expect them to:
Learn the ins and outs of your nonprofit, such as your mission, your impact, and your donor base.
Develop a dedicated strategy and conduct research to identify grant opportunities that align with all that they've learned about your organization.
Handle your nonprofit grant applications to maximize your chances of winning the grant.
Assist your organization with building relationships with funders to secure more support down the line.
A nonprofit grant consultant can be instrumental in helping your organization secure nonprofit technology grant funding, especially if you have limited time and resources to carry out the entire process effectively.

12 Top Technology Grants for Nonprofits
Use these nonprofit technology grants as a jumping-off point to your pursuit of technology funding:

1. Google Ad Grants
Since its creation, the Google Ad Grants program has provided over $10 billion in free advertising to nonprofits. All eligible organizations can receive $10,000 monthly to bid on keywords for ads that will appear on Google's search results pages. With these ads, you can promote key pages on your nonprofit's website, such as your donation page or event registration page, to generate more support for your cause.

To meet the program's eligibility criteria, your organization must:
Be a registered 501(c)(3) nonprofit.
Not be a government, healthcare, or educational institution.
Have a high-quality website.
Register with TechSoup.
Create a Google for Nonprofits account.
Ready to start leveraging $10,000 a month for free advertising? Sign up for our Google Ad Grants newsletter to learn insider tips and maximize your results.
This nonprofit technology grant can equip your organization with a powerful tool for spreading the word about your mission and attracting more supporters to your cause. To ensure that you secure your grant and make the most of it, consider turning to a Google Ad Grants agency like Getting Attention that can take care of the entire process for you.

2. Salesforce's Power of Us Program
The Power of Us Program has provided discounted CRM technology access to over 56,000 nonprofits and educational institutions. To join these ranks, your organization must:
Additionally, Salesforce Foundation provides grants to organizations focusing on education, workforce development, and climate change through invitation only.

3. Twilio
Through their Impact Fund, Twilio has awarded over $35 million in grants and investments to provide nonprofits with the technology they need to heighten their impact. Organizations that are eligible for this nonprofit technology grant funding must:
Be a recognized 501(c)(3) nonprofit.
Not be a government entity or political organization.
To receive an invitation to apply for the Impact Fund, nonprofits should sign up for the Impact Access Program, which offers additional benefits such as discounts on Twilio products.

4. Okta for Good
Okta for Good's Nonprofit Technology Initiative aims to meet the technology needs of nonprofits by supplying $10 million in philanthropic funding. To be selected for these technology funds, nonprofits must:
Be a recognized nonprofit organization in their country of operation.
Have strong leadership teams and mission alignment with Okta.
Whether your nonprofit is seeking to improve its data security or move to the cloud, Okta's focus on digital transformation is worth looking into for all organizations interested in technology improvements.

5. Box Impact Fund
Box Impact Fund supports nonprofits with aligned missions on their path to adopting technology that will enhance their daily operations and work. To meet Box Impact Fund's eligibility requirements, organizations must:
Be a recognized 501(c)(3) nonprofit.
Focus on child welfare, crisis response, or the environment.
Propose a digital transformation project.
Box lists four specific criteria for evaluating grant applications: alignment, impact, inclusion, and scale. Ensure that your organization matches this funder's priorities to set your application up for success.

6. Cisco Product Grant Program
The Cisco Product Grant Program supplies networking and communications technology to nonprofits focused on crisis response, education, economic empowerment, and climate change. To be eligible for the program, organizations must:
Be recognized as a 501(c)(3) nonprofit.
Have more than one year of successful operations.
Not be a school, hospital, library, or food bank.
Not exceed an overhead of 25%.
Cisco accepts grant proposals year-round and reviews them quarterly. To ensure your nonprofit meets all the criteria to apply, you can take this eligibility quiz that Cisco provides on its website.

7. Microsoft Tech for Social Impact
Microsoft launched Microsoft Tech for Social Impact to provide discounted and donated Microsoft tools to nonprofits. To be eligible for Microsoft's nonprofit programs, your organization must:
Be a recognized 501(c)(3) nonprofit, public library, or public museum.
Comply with Microsoft's anti-discrimination policy.
Only assign licenses to eligible staff members.
On its website, Microsoft provides a step-by-step registration process that you, another staff member, or a volunteer can complete to start accessing the technology tools this company has to offer.

8.  Technology Innovation Awards
Tech Forward will provide $10,000 through its Technology Innovation Awards to support nonprofits seeking funding for a technology-related project. To be eligible for this grant, your organization must:
Be a 501(c)(3) or 501(c)(4) charitable organization.
Not be a church, private educational institution, nonprofit hospital, or governmental unit.
Have an annual operating budget of at least $500,000.
As part of the nonprofit technology grant application, you'll need to present information such as your mission, services, and key constituents, along with a full description of your proposed technology project.

9. TechBridge
TechBridge's Dream Big Grants provide an opportunity for nonprofits to acquire technology solutions that will enhance their operations and boost their impact. To be eligible for one of these grants, your organization must:
Be a recognized 501(c)(3) nonprofit.
Focus on one of its four pillars: hunger relief, homeless support, social justice, or workforce development.
Have annual operating expenses over $2,000,000.
Have at least five full-time paid employees who are paid minimum wage or more.
The application process for one of these technology grants for nonprofits includes an eligibility check, an application essay, and a video submission.

10. Verizon Foundation
Verizon offers invitation-only grants to support nonprofits in three main areas: digital inclusion, climate protection, and human prosperity. Nonprofits must contact their local community relations manager about receiving an invitation. If you're approved to apply, you'll still have to meet these eligibility requirements:
Be a recognized 501(c)(3) nonprofit or not-for-profit school.
Observe the highest standards of conduct in relationships with the public.
Not duplicate or significantly overlap the work of public agencies.
Furthermore, if you're requesting funds for IT infrastructure improvements that total more than 20% of the grant's total direct costs, you must provide specific details on how your organization is planning to use those IT assets in your grant application.

11. HP Technology for Community
HP is a technology company that's driven to supply funds to nonprofits so that they can purchase technology to better serve their purposes. To be eligible for HP Technology for Community, organizations must:
Be a 501(c)(3) nonprofit.
Not be a member agency or a school.
Not be located outside of the United States.
While qualified nonprofits can apply from across the country, HP will give preference to those operating in or near the site communities listed in its requirements.

12. The Change Happens Foundation
The Change Happens Foundation is a private nonprofit foundation dedicated to supporting nonprofits focused on creating social change around science, the environment, and education. The foundation offers several grants—to be eligible, organizations must:
Be a recognized 501(c)(3) nonprofit.
Not be faith-based or located outside of the United States.
Have a three-year history of 990 forms.
Once you've determined your nonprofit's eligibility, you must submit a Letter of Inquiry as a first-time applicant to determine if the foundation's interests align with your request. Organizations accepted for further consideration can then submit their grant proposals.
Wrapping Up
New technologies are constantly emerging, and along with them come better ways for nonprofits to serve their communities and make a lasting difference. Figuring out how to incorporate these tools into your fundraising, marketing, and communications strategies is essential to setting your organization up for success in the future.
Government agencies, foundations, and corporations recognize this priority as well. Because of this, there are numerous technology grants for nonprofits available to fund your initiatives—you just need to know where to look and how to pinpoint the right opportunities to pursue.
For more information on grants and how to deepen your nonprofit's impact, consider these resources:

https://gettingattention.org/wp-content/uploads/2023/07/Technology-Grants-for-Nonprofits_Feature.jpg
405
1165
Getting Attention
https://gettingattention.org/wp-content/uploads/2021/08/getting-attention-logo.svg
Getting Attention
2023-07-20 14:30:10
2023-08-21 16:06:31
Technology Grants for Nonprofits Guide + 12 Options for 2023