Nonprofits rely on donors' generosity to fund their mission programming and cover operating overhead costs. But an organization can't expect to sit back and watch the revenue roll in without first outlining how they'll identify donors, market their missions to them, and build relationships with them—which is where thoughtful donor engagement strategies come in.
A donor's engagement extends beyond their donations. With the right tactics in place, you can transform them into lifelong ambassadors of your cause. On the other hand, failure to properly cultivate relationships with them means you'll potentially lose their interest and their support altogether.
To help, we'll walk you through the basics of engaging donors and explore proven methods that are known to drive nonprofit support, including:
At Getting Attention, we empower nonprofits to connect with new prospects and promote valuable opportunities using the Google Ad Grant program. Through our time working with nonprofits, we've seen how different tactics drive results for nonprofits.
We're confident this guide will give everything you need to better connect with your supporters and drive increased support in your fundraising initiatives. Let's get started!

What Is Donor Engagement?
Donor engagement refers to the process of building and maintaining relationships between a nonprofit and its donors. This includes all interactions that encourage donors to become more invested and involved in the organization, including communications, events, volunteer opportunities, and fundraisers.
The primary goal of a donor engagement plan is to cultivate loyal relationships with donors by forging deeper connections. The more you engage donors, the more likely they are to stick around for the long term. In other words, their engagement directly impacts your donor retention rate.
To increase commitment, nonprofits often experiment with different donor engagement strategies like unique marketing tactics and public recognition to improve fundraising outcomes.
Why Nonprofits Should Track Donor Engagement
We've all heard that retaining a donor is more cost-effective than soliciting donations from first-time donors. New donors need countless touchpoints before deciding to give whereas current donors have already demonstrated an affinity for your cause and need less convincing.
Plus, due to fluctuating donor retention rates and increased marketing costs, the price of replacing lapsed donors has skyrocketed. As a result, losing donors is unaffordable for many organizations.
Tracking donor engagement is imperative to your mission's continued success. Specifically, here's what tracking donor engagement will enable your team to do: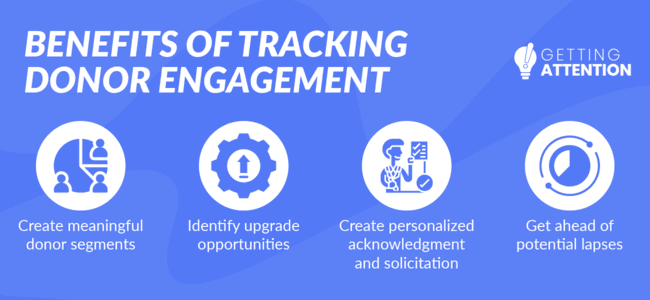 Divide your supporters into meaningful donor segments. Send relevant appeals by grouping donors based on their donation tiers, donation frequency, and interests.
Identify areas to upgrade support. Locate major giving prospects by paying attention to long giving histories, notably high wealth indicators, and high engagement scores.
Create personalized acknowledgment and solicitations. Send targeted follow-up outreach that aligns with donors' support levels and appeals to what they love about your organization.
Get ahead of potential lapses. Monitor people who have downgraded their support, whether they're attending fewer events or stopped donating altogether.
Tracking the right details will allow your nonprofit to cultivate meaningful relationships and reduce the number of lapsed donors. Overall, investing sufficient time and energy can help you establish a solid foundation for your mission.
Signals That Measure Donor Engagement
Donor engagement expands far beyond financial contributions. While consistent giving is a top engagement indicator, there are several other factors that communicate donor involvement.
Using a powerful CRM and other digital tools, your nonprofit can track a range of donor engagement signals, like: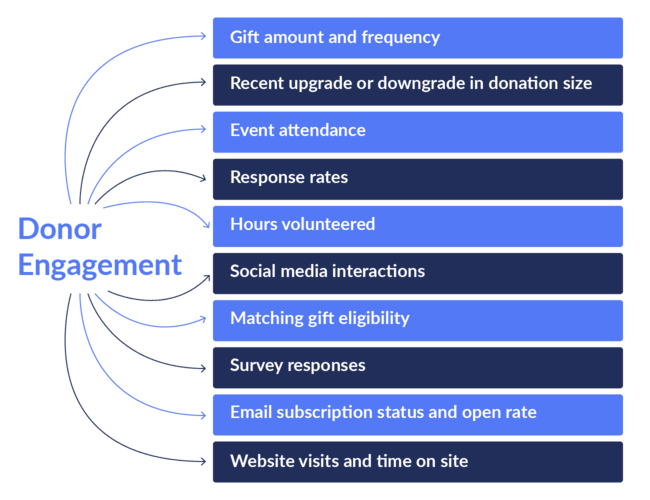 Gift amount and frequency
Recent upgrades or downgrades in donation size
Event attendance
Response rates
Hours volunteered
Social media interactions
Matching gift eligibility
Survey responses
Email subscription status and open rate
Website visits and time on site
As you can see, both financial and non-financial indicators can signal donor engagement. Using your CRM alongside other tools like Google Analytics for monitoring web traffic, you can identify donors who are at risk of disengagement or who are ready to upgrade their support.
For example, let's say another donor consistently donates $50 on a regular basis, interacts with your social media posts, and fills out your surveys. They may be a great candidate for recurring giving. Monitoring the right metrics allows you to identify these upgrade opportunities!
9 Donor Engagement Strategies to Drive Support
With the fundamentals nailed down, you're ready to craft a plan for engaging donors! Knowing what drives your supporters to stick around will help you interact meaningfully and communicate that your organization cares about its supporters.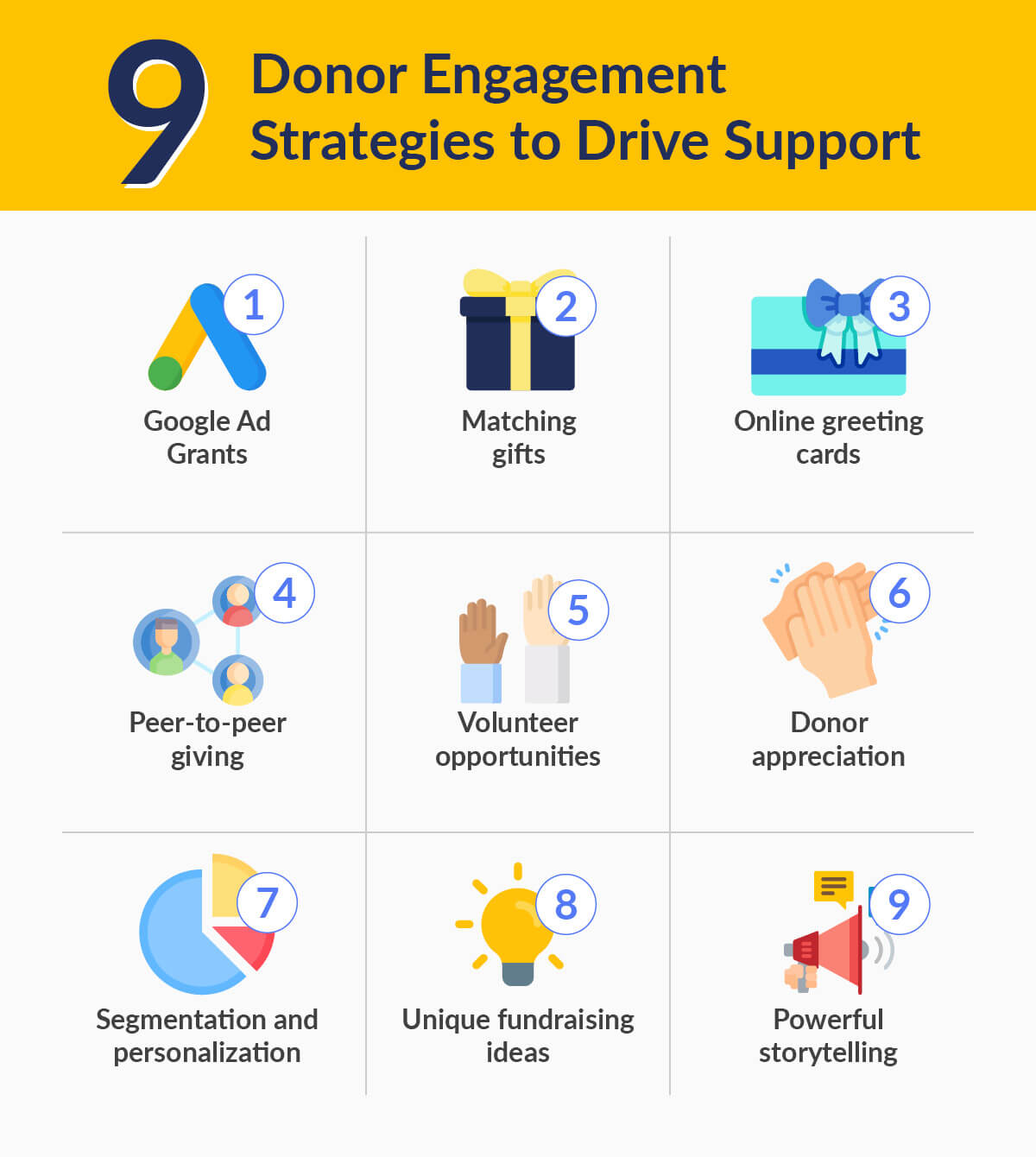 Remember, each nonprofit's donors are unique, so every organization finds success in different donor engagement strategies. Tailor your approach to your supporters, and you'll be on the right path.
1. Google Ad Grants
If your nonprofit isn't already leveraging Google Ad Grants in its marketing strategy, you're missing out on a huge opportunity to engage with existing and prospective donors. Here's what getting involved in the program entails:
Google offers up to $10,000 in free advertising credits to eligible 501(c)(3) organizations per month.
Your nonprofit leverages this in-kind advertising space to promote your cause and its fundraising efforts to supporters by targeting specific keywords.
A (potential or existing) supporter conducts a Google search for a term related to your nonprofit.
Your nonprofit's website shows up in the top spot on Google's search engine results page.
The supporter clicks through to your nonprofit's site and decides to get involved with your cause, such as by making a donation.
Our guide to Google Ad Grant impact shows that search ads (like Google Ads) have the highest ROI for nonprofits using paid advertising among other platforms. And since 98% of searchers click a result on page 1 of Google, you stand to gain a lot of exposure for your digital content.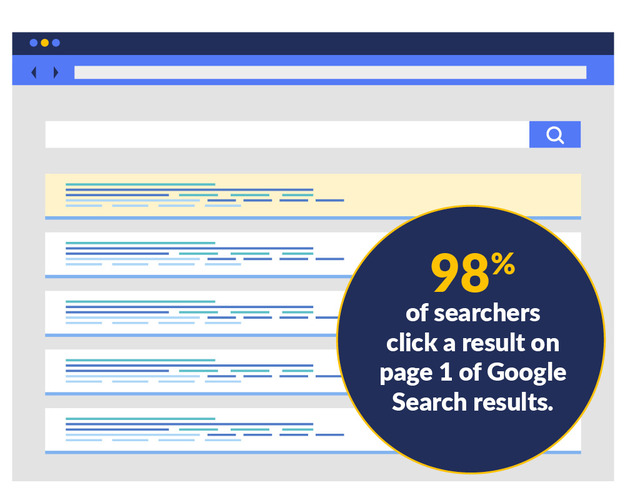 Google Ad Grants are essential for increasing donor engagement on two key fronts⁠: attracting new supporters and providing additional engagement opportunities for existing supporters.
By utilizing the free ad space made available by the world's most popular search engine, your organization can put your cause in front of tons of new and recurring donors, opening up even more chances for building on those relationships.

2. Matching gifts
Matching gifts are an extremely effective type of corporate philanthropy that places individual donors at the heart of their employers' giving strategies. They help to deepen both corporate and donor relationships with your nonprofit.
Here's how these workplace giving programs typically work:
An individual donor gives to your nonprofit.
You encourage the donor to look into their matching gift eligibility through their employer by providing access to a matching gift database or asking them to contact their company directly.
Upon determining their matching gift eligibility, the donor completes a quick online submission form to request their donation match.
The employer reviews the request and verifies that the initial donation adheres to pre-determined matching criteria.
A matching donation is provided by the donor's employer, so your nonprofit receives two gifts for the price of one.
Highlighting matching gift opportunities is one of the most effective ways to engage donors⁠—and there are a ton of studies to back this up. Not to mention, following up with matching gift donors after their initial contribution provides your nonprofit with an additional touch point for reminding donors of your mission.
Research shows that 84% of donors are more likely to donate if a match is offered, with 1 in 3 donors indicating they'd give a larger gift if matching is applied.
Meanwhile, companies that do not currently match employee gifts may be willing to consider a Custom Matching Gift Program. To pursue this avenue, reach out to potential corporate partners and pitch the idea of a short-term workplace giving initiative that involves matching staff donations exclusively to your nonprofit.
Not only is this an excellent way to engage previously ineligible donors in matching gift campaigns, but it can also increase your fundraising reach as your mission is exposed to the company's other team members.
Plus, having a successful corporate philanthropy partnership with a business can lead to further opportunities in the future, such as financial, media, or in-kind sponsorships.
3. Online greeting cards
Engaging donors requires you to get creative. Digital greeting cards might be just what you need to capture supporters' attention! When you spend time creating visually-attractive designs, your eCards can act as an easy, cost-effective, and interactive way to engage donors.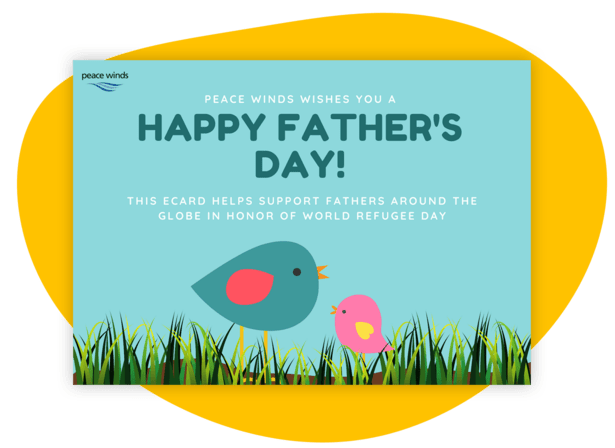 There are a few ways you can leverage eCards in your donor engagement plan, including:
Provide cards as donation incentives. Give your donors a fun reason to give! eCardWidget's guide to charity eCards explains that you have a few options for using eCards for fundraising. For one, you could sell your eCards in your online fundraising store. Alternatively, add them to your website where donors can give in exchange for eCards.
Send cards to thank donors. Showing appreciation for donors can go a long way in retaining their support. Have your fundraising staff send thank-you eCards as a way to recognize your committed supporters after they donate or during the holiday season.
We recommend that you create designs for every occasion. Create a mission awareness collection to amplify a cause awareness campaign, holiday cards to celebrate important days year-round, and tribute cards to let individuals give in someone else's name. Your options are endless! Donors will appreciate having a fun, interactive way to support your cause and share it with their loved ones.
If you're offering them in exchange for donations, make sure your online greeting card creation platform allows you to enable donations. No matter your approach, be sure to brand each eCard to your cause, even if you only add your logo to the corner.
4. Peer-to-peer giving
Organizations hosting peer-to-peer campaigns are able to reach new donors (via existing supporters who take on a fundraising role for your nonprofit) while offering one of the most engaging ways for existing supporters to participate.
Equipped with customizable donation pages from the organization's peer-to-peer platform, supporters then reach out to their own networks of friends and family members to solicit donations for a cause they care about.
First-time donors are more likely to contribute when asked by peers, rather than directly by your organization. Donately's guide to peer-to-peer fundraising explains that "even if they're unfamiliar with your work, they can still form a personal connection thanks to the power of social proof." That means this donor engagement strategy enables your team to get in touch with new supporters you may not have won over on your own.
All the funding goes to your organization's mission, and you're left with a ton of donors who are highly engaged with the cause. From there, you can work to continue building connections with new and existing individuals through additional donor engagement ideas.
5. Volunteer opportunities
Even your most dedicated donors don't want their only communication with your team to be additional requests for funding. That's why it's an excellent idea to offer unique opportunities for involvement with your mission.
And one of the best ways to do so is by encouraging donors to participate in volunteer opportunities! This can be an excellent way for donors to see your cause in a new light.
Not to mention, you can even monetize this donor engagement strategy by highlighting the potential for volunteer grants. Many donors (especially those previously determined to be eligible for matching gifts) work for companies that provide financial support to the nonprofits their employees volunteer with.
6. Donor appreciation
Two of the most common reasons why donors stop giving to nonprofit organizations they've supported in the past are:
They were never thanked for their gift.
They were not informed about how the funding was being used.
Both of these undersights together can lead a donor to believe that the nonprofit in question didn't really need their donation in the first place. ⁠As a result, donor engagement may decrease.
Luckily, effectively communicating appreciation for your donors can assist in solving all of the above problems. You'll want to thank each individual donor for supporting your nonprofit with their hard-earned dollars through meaningful outreach via a variety of methods, such as:
A handwritten thank-you letter. Show a little extra effort by writing thank-you messages the old-fashioned way. It'll add personality to your note and remind donors that they're supporting an organization comprised of real people.
A video message. Think outside the box and create a more dynamic thank-you message for donors. Feature your nonprofit's staff, supporters, board members, and even beneficiaries (with their permission). Not only are videos impactful, but they're easy to make; all you need is a mobile device with a camera to shoot, edit, and send video thank-you messages.
Access to exclusive content and opportunities. After you've thanked your supporters, you can show further appreciation by providing unique content they can't get anywhere else. For instance, invite them to meet and greets with beneficiaries, special webinars with nonprofit influencers, and other interesting chances to engage further with your mission.
Donor appreciation days. Who doesn't love a party? Donor appreciation days allow you to pull out all the stops for your supporters. Make it a night to remember with free food trucks, games, goodie bags, and live entertainment. Or, you can organize an outing to a fun community activity, such as the zoo or a sports game.
Addition to a donor wall. Your donors want to leave their mark on your nonprofit, and you can symbolize this connection with a donor wall. Create different tiers based on the value of the donor's contributions and add them to it on an annual basis. You can even host an inauguration ceremony for new additions to make your donors feel special.
Donor gifts. Re:Charity's expansive list of donor gift ideas explains that thoughtful gifts help to show appreciation and that you value your relationships with donors. Gifts can include branded merchandise, gift cards, or tickets to activities.
Not only is thanking your donors the polite thing to do, but it also helps close the loop and reiterate to the donor that you received and processed their contribution successfully. So long as you show genuine appreciation for your supporters, you can cultivate lasting relationships with them and retain their support long-term.
7. Segmentation and personalization
Unfortunately, a donation appeal that begins with "Dear donor" or "To whom this may concern" and ends with a generic request of $5, $10, $25, or $50 is not likely to produce great results. That's because it won't elicit the emotional connections that are required for effective fundraising nowadays.
Why not? An effective ask needs to incorporate strategic segmentation and personalization⁠—two things that, when done well, can go particularly far for your donor engagement plan. It's what makes a donation request feel like an intimate appeal to an essential partner in your organization's mission (which, as you know, is what your donors are).
In order to drive donor engagement, segment your communications. You should group donors by specific characteristics to receive targeted information relevant to that slice of your network. Common segments might include: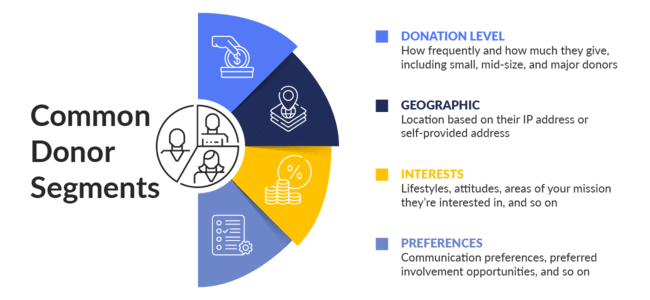 Donation level (including frequency and amount)
Geographic region
Interests (e.g., lifestyles, attitudes, and mission engagement preferences like events or monthly gifts)
Preferences (including communication preferences and preferred involvement opportunities)
Further, you should also personalize your communications to each individual. That may include addressing the recipient by name, referring to a recent donation, or acknowledging how long the donor has been involved with your organization.
8. Unique fundraising ideas
Choosing unique, exciting, and refreshing fundraisers is an essential part of engaging donors! And that's not saying you have to drop your tried-and-true fundraising ideas, either. Just try sprucing them up to make them stand out, and your audience will be more than happy to participate.
A few ways to spice up your existing fundraising ideas include:
Incorporate a fun theme. For example, if you usually host a fun run in the fall, consider getting into the holiday spirit with a Halloween costume theme. This will help set your fundraiser apart from others.
Add entertainment. While your fundraiser surely has a main event, don't be afraid to add side entertainment and activities to keep attendees engaged. For instance, add a concession stand to your fun run, or incorporate a wine tasting at your next gala.
Implement gamification. To get attendees to emotionally invest in your event, implement gamification elements so they further connect with your fundraiser. This could mean incorporating a fundraising thermometer so attendees can visually see the impact of their gifts, encouraging them to make larger gifts.
Aside from these strategies, you can also consider taking your in-person fundraising events virtual. By doing so, you'll be able to connect with more supporters all across the country and even the globe. Or, if you're intimidated by the thought of an entirely online event, you could make your next event hybrid instead.
9. Powerful storytelling
The story you tell about your nonprofit and its mission is essential for securing and retaining donor support.
To bring your strategic storytelling practices to the next level and inspire more supporters to get involved, it's important to incorporate essential storytelling elements. Include these three fundamental components:
A group or person in need of aid (your organization's beneficiaries)
A compelling hero (your nonprofit's team and the donors who support your work)
A key solution (what your organization does to make a difference).
From there, you'll also want to include supporting data, an emotional narrative, sensory details, and relevant imagery when possible.
The idea is that donors feel connected to the story and desire to play a role in the solution⁠—thus, supporting (or continuing to support) your organization in its work!
---
Final Thoughts on Donor Engagement
Your donor base forms an essential component of your overall nonprofit organization, and their engagement with your cause is critical for continuous mission success. A highly engaged donor is more likely to contribute to your cause time and time again⁠—so you don't want to settle for base-level efforts.
Luckily, utilizing donor engagement strategies like workplace giving promotions, strategic fundraising, and cost-effective marketing can make a huge difference. That means it's time to begin incorporating these ideas into your donor engagement plan and make sure you equip your team with the tools required to do so effectively!
Want to learn more about engaging donors in your nonprofit organization? Browse these additional resources:

https://gettingattention.org/wp-content/uploads/2022/07/Donor-Engagement-Strategies_Feature-2.png
700
1450
Getting Attention
https://gettingattention.org/wp-content/uploads/2021/08/getting-attention-logo.svg
Getting Attention
2022-07-12 16:18:34
2023-09-26 22:28:12
9 Donor Engagement Strategies to Transform Your Outreach