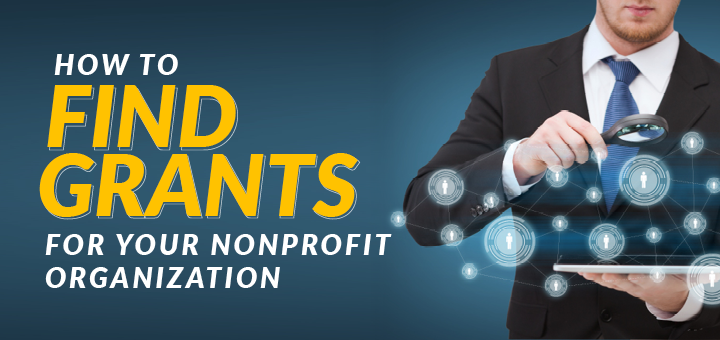 Grants provide amazing opportunities benefitting the nonprofits they serve. From capital support to marketing assistance, grants are a great way to boost the success of your nonprofit. You may be wondering, how will a grant help me? In allowing you to spread your mission, help more people, and carry out charitable initiatives, grants are an undeniably useful tool.
With the many different categories and sources of funding, it can be difficult to pinpoint which grants would be most beneficial for your nonprofit. No need to worry! 
At Getting Attention, we help nonprofits maximize their grant opportunities. We're here to guide you through how to find grants, making it as simple as possible, through the following points:
If these topics seem like they would be helpful to your organization, stay with us as we uncover all there is to know about grants for nonprofits.
Grants for Nonprofits: FAQs
When most people hear the word "grant," they instantly think of money. However, there is much more to grant funding than the dollar sum alone. Having a good understanding of the different types of grants will serve as a helpful guide throughout the search process. 
What are the 5 types of grants?
When searching for grants, it is important to understand the various areas of assistance in which they provide. It will make the process of targeting specific grants that serve the wants and needs of your organization far easier. The five main categories of grants include: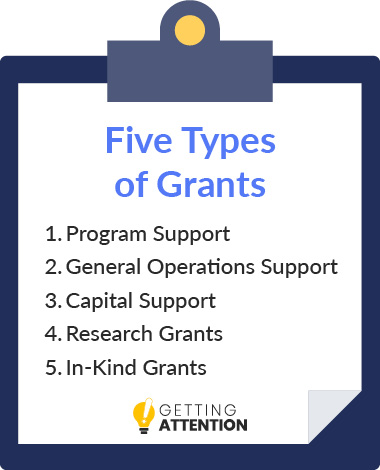 Program support

:

Program development grants provide funding for specified projects or programs, meaning they are usually restricted in terms of spending. Recipients of these grants must only use the funds for the exact purpose outlined in the grant proposal.

General operations support:

General operations support grants cover almost any expense for your organization and are far less restrictive than program development grants. However, they are a rarity in the nonprofit sphere. 

Capital support:

These are most commonly given for specific capital campaigns that involve activities such as building construction, property acquisition, or other large-scale projects of that nature.

Research grants

:

Found in academia and research-oriented nonprofits, these grants promote the scientific research demanded of certain fields and are often attached to a particular team member.

In-kind grants:

Sometimes, your organization is in need of resources other than funding. In-kind grants provide assistance in non-monetary forms, such as equipment, supplies, or free consulting and personnel. A great resource for discovering such grants would be

Google for Nonprofits

. A particular in-kind grant opportunity offered through Google would be the

Google Ad Grants

program, which offers nonprofits a monthly allowance of $10,000 in AdWords spending. If this program seems of interest to your organization, discover how

Getting Attention

can help you maximize the opportunity.
Each type of grant promotes the success of your organization in a different way. Having a clear understanding of the help you need will allow you to find which grant best serves your nonprofit. You may be wondering, where are these grants coming from? Read on to find out!
Where do these grants come from?
Grants come from grantmakers, which come in a variety of forms. This includes:

The government:

Federal grants are those bestowed to any nonprofit across the country. State grants are given only to nonprofits belonging to a particular state. Local grants are limited to a specific community or district within a state. As you can see, these are various levels of the government grant funnel, but they serve as a great opportunity for funding the operative and administrative costs of your nonprofit.

Foundations:

In 2014 alone, foundation grants contributed $54 million to organization funding. Some foundation forms include family foundations, private foundations, public foundations, and community funds. 

Corporations:

Many corporations allocate portions of their profits for corporate giving initiatives. Google Ad Grants serve as another example of large corporations offering valuable resources and assistance to nonprofits in need, with Google donating valuable Ad space that most businesses pay thousands for. 

Federated funds

: These are funds raised from local businesses and company workers that are then distributed to nonprofits. This type of "community chest" model is nothing new, but it is a significant source of revenue for nonprofits that allows the organization to influence how much they raise. 
As you can see, there are various sources that provide the grant assistance you need. Having a clear understanding of which donors do what will allow you to best identify where to go in the grant application process.
What are the advantages and disadvantages of grants?
Like most things, grants come with their pros and cons. Before embarking on the search and application process, it is worth noting all that grants for nonprofits encompass. To make it easier for you, here are some important things to consider: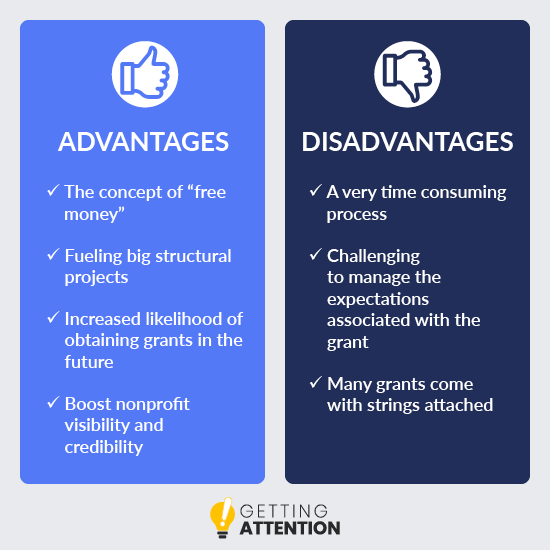 Grants can feel like "free money". Unlike loans, grant funding does not need to be repaid. 

Grants can fuel big structural projects, enabling large-scale societal impact and helping to further the overall mission of your organization.

Once you have obtained a grant, you are more likely to obtain more in the future. Being approved by one foundation serves as a stamp of approval to others of your organization's good standing. 

Grants boost visibility and credibility for your nonprofit. Showing that a prestigious organization believes in your mission and trusts your ability to deliver may be what you need to win donors' trust.
The process of searching for, applying to, and acquiring a grant can be very time-consuming. Individuals must develop grant-writing skills to win grant proposals, take time writing a winning application, and wait for grant-related funds to enter an account before use.

It can be very challenging to manage the various expectations associated with receiving and maintaining a grant. This includes specific rules surrounding how funds can be used and how that use must be reported on. The effective management of grants often takes specific grant-related software.

Many grants come with strings attached, meaning there are explicit conditions that dictate how the money can be used, such as with program development grants.
These advantages and disadvantages are necessary for nonprofits to consider when going on their journey of how to find grants. 
Should your nonprofit apply for a grant?
Now that you've learned the types of grants, who is funding them, and all of the advantages and disadvantages they offer, it is time to decide if applying for a grant is in the best interest of your nonprofit. Here are some questions to ask yourself:
Do you have the ability to invest the resources necessary to write a winning grant application?

Are you able to meet grant conditions?

Are the activities outlined in terms and conditions consistent with the mission, aim, and strategy of your nonprofit?

Can the activity in question continue after grant funding has ended?

Why is a grant vital to the success of your nonprofit or the specific mission?

Do you have properly qualified staff in place to implement your program?

Do you have outcomes related to past work? How healthy are those outcomes?
It is important to keep the short-term and long-term organizational goals of your nonprofit in mind when searching for and making the decision to apply for grants. Your organization should not have the tactic of throwing everything you have at the wall and seeing what sticks. Make sure you are seeking out grants that match the unique needs of your nonprofit. 
For instance, if you're looking to leverage grant money to bolster your marketing, you might consider applying for the Google Ad Grant, which will provide you with money to spend specifically on digital ads.
Additionally, ensure that you are associating yourself with fellow organizations whose missions and values align with yours. Although grant money and resources are great, do not forgo the identity of your organization during the process. Keep your nonprofit's reputation at top of mind when answering the question: should I apply for this grant?



How to Find Grants for Nonprofits
The process of finding grants that are the right fit for your nonprofit can seem like a daunting process. By following these steps, you will find the grants best matched for your organization.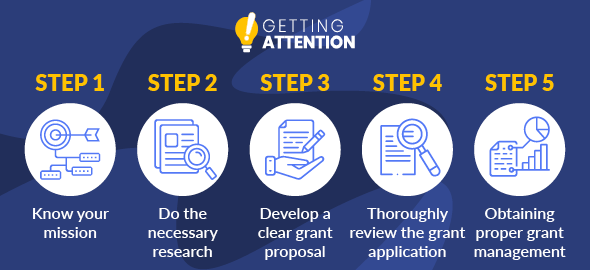 Step 1: Know Your Mission
Begin by taking a look into the internal values of your organization. Taking the time to clearly define your goals will serve as a helpful tool for you as you root out which grants are the right fit for you. 
This internal reflection requires a closer look into the grantors you may be working with. It is extremely important that these organizations resonate with your mission as much as you do. Not only will this save you from wasting time in applying for grants that match your nonprofit poorly, but it will ensure you are joining forces with organizations that share your passion and drive. Doing so will ensure the most enjoyable journey for all parties involved.
Step 2: Do the Necessary Research
Since there are many grants available, start by searching internally to narrow down the field. Some places to start looking include:
Your network

Region

Previous grantors

Peer organizations

Grant databases
When sifting through all of these sources, ask yourself a few questions. Will those grants meet your needs? Do they align with your mission? A simple yes or no response to these questions will help you to quickly sift through and identify which grants are worth pursuing for your organization and which are not.
Step 3: Develop a Clear Grant Proposal
It is imperative that as a grant applicant, you develop a proposal that makes evident why your organization is most deserving. Here are some tips on how to do so: 
Don't be generic

.

Make sure you are being as specific as possible about the mission of your organization and explicitly state how the grant will help you to accomplish just that.

Refer to data.

As a method of persuasion, reference data from your organization's past to outline the impact you have already made in your target demographic. You can also use the data to show that, with a little more funding, you can potentially multiply your existing impact.

Be clear and concise

. W

hen reading applications with a lot of "fluff," reviewers tend to skim the page and will often miss your information of value. Try to get right to the point.

Reference direct impact.

As you elaborate on the mission of your organization and the ways in which you will use the grant to further this mission, reference the direct impact you anticipate it making. And remember, data is king!
In following these tips and tricks for developing a clear grant proposal, you will have yourself ready to submit your grant application in no time!
Step 4: Thoroughly Review the Grant Application
Before hitting submit, take the time to read through your application from the perspective of a reviewer. It can be difficult to detect the flaws of our own work. However, when shifting your mindset from that of the applicant to that of the reviewer, you may come across some important errors originally missed.
It is also worth noting that the reviewer will seek sources outside of your grant application in order to come to a well-informed decision. Show the impact of your organization throughout the application, as well as on your website, social media channels, and any other platforms grantors may look at while reviewing. 
Another valuable tactic in keeping your organization at top of mind is engaging with grantors before submitting applications. Whether that be through social media, email, phone, or in-person meetings any form of communication that will help put a personality to the name will serve useful when competing against several other applicants. Taking part in these necessary, but often forgotten, steps will help set your organization up for success when it comes time for decision-making.
Step 5: Prioritizing proper grant management.
Congratulations! Now that you have received the grant, you must ensure that it is properly managed in order to optimize your outcomes. Some helpful ways of doing so include:
Making sure all members of your team are in the know of the project's goals, steps, and strategies. 

Submitting reports in a timely manner.

Being straightforward about successes and challenges throughout the duration of the project.

Partnering with a grant management expert, like Getting Attention, when needed.
Your organization cannot optimize its grant opportunities without proper grant management. Therefore, be sure to prioritize this important step in the search process. 



12 Places to Research Grants for Nonprofits
Here is a list of resources to get you started with finding grants: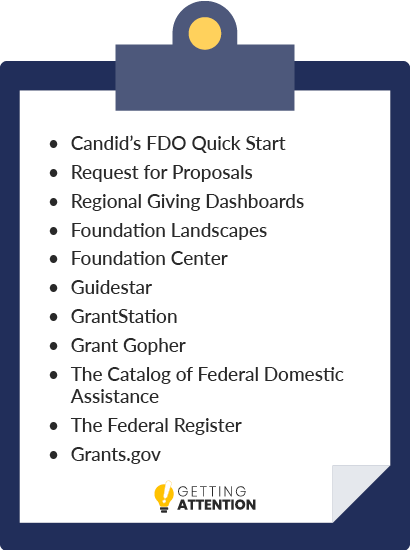 Candid's FDO Quick Start:

This research platform

allows you to search U.S.-based private and community foundations by name, city, state, ZIP, or EIN to get contact and basic grantmaker information, as well as links to recent 990s.

Philanthropy News Digest:

Search published grant announcements at

Philanthropy News Digest

, a service brought to you by

Candid

. Through this service, you can sign up for a free weekly email that lists newly posted RFPs. Do be warned, however, that less than 1% of foundations publish RFPs, so do not rely on these as the only source of grant opportunities

Regional Giving Dashboards

: This provides at-a-glance information for top grantmakers and their funding priorities for 20 different states.

Foundation Landscapes

: Through partnering with funders and philanthropy networks, Candid developed free custom web portals that display grants available to selected subjects. Examples of subjects include human rights, disaster philanthropy, early childhood care and education in the U.S. These portals are constantly being updated and show you, in real-time, the funders and recipients working in your specified area of concern. 

Foundation Center

: Through 400 public locations in the U.S. and international, you can access the Foundation Directory Online (FD) for free. Use the Foundation Center's lookup form to see if there is a Funding Information Network near you. 

Guidestar

: T

his site includes a

database of form 990s. You can also see the names of organizations that the foundation funded during the filing period, the dollar amount given, and sometimes a brief description on the purpose of the grant. This can help you determine if the organization is likely to fund a nonprofit like yours, which can help speed the application process along.

GrantStation

: T

his is a funder database that

produces two useful (and free!) newsletters: one that lists recent U.S. grant opportunities (weekly) and another that lists international grant opportunities (monthly). You can access these for free through other subscriptions/memberships, such as Grant Professionals Association.

FundsforNGOs

: O

n this website, you

can find information about recently released opportunities, organized by grant category. They also distribute a free newsletter of newly released calls for proposals, as well as provide access to webinars and other training material.

Grant Gopher

. This is a f

unding opportunity database that offers U.S. organizations free basic searches and access to the details of their first five search results. This also includes access to a newsletter which covers a selection of open grant opportunities. 

The Catalog of Federal Domestic Assistance

: This p

rovides a

full listing of all

federal programs

available to state and local governments, territories of the United States; domestic public, quasi-public, and private profit and nonprofit organizations and institutions, specialized groups, and individuals.

The Federal Register (FR):

This announces newly authorized and/or funded programs, annual application deadlines, and award amounts for continuing programs

daily

.

Grants.gov

: This allows access to over 1000 grant programs offered by all federal grant-making agencies and serves as the single access point for

many

opportunities.
Although this list is not exhaustive, we hope it provides some useful insights to guide you along your search process! Below are some more beneficial tips to help you perfect your search process.



How to Find Grants: 4 Best Practices
1. Know the kind of funding you need.
When seeking out which grants to apply for, be sure you know which kind of funding best supports your mission. Are you in need of project support? Would a general operating support grant serve you better? Having a clear understanding of your organization's goals will help you sift through which opportunities appear helpful and which do not.
A helpful way of clearly outlining your needs is to sit down with your leadership and development team to generate a list of goals for the upcoming year. Be sure to include highly specific content, such as supplies, materials, and start-up costs. Continue brainstorming until you run out of things you may need money or capital for and then continue on with your search. 
2. Use the 3-Way Fit Test.
The 3-way Fit Test is a helpful tool for weeding out leads that don't need to be on your prospect list due to being poor matches. The 3-ways are as follows:
Geographic fit

: F

unders typically choose to support nonprofits located in specific geographic areas. When searching, if the organization does not fund the area you serve it is highly unlikely they will award you the grant. Red flag! Therefore, you should continue on with your hunt.

Programmatic fit

: Y

ou must consider the mission, goals, and areas of interest to the funder and make sure they align with your own. If you want to run a program for the homeless shelter but are trying to appeal to an environmental organization, it may not be a good match. 

Philanthropic fit

: Be sure the grantors are giving away the type of funding you are looking for, such as programs, projects, general operating support, or capital. This is a good way to ensure you receive the form of help that you

need

.
By taking these three areas of "fit" into consideration, you can best determine which grant opportunities would be most beneficial to your organization.
3. Learn about your funder.
Take the time to dig into the funder's information. Analyzing this information provides a better gauge on their likelihood to fund your nonprofit and gives you the best chance of writing a winning proposal that will appeal to them. 
You can do so by reviewing materials such as their IRS 990, grant guidelines, and eligibility criteria. For instance, Google lays out very detailed eligibility requirements for the Ad Grants program.
For organizations that don't provide criteria as in-depth as Google does, you can generate questions to ask funders and better understand what they're looking for. Examples include:
What are their mission and current funding priorities? 

How much grant money or resources do they have available?

What are their funding patterns?

Do they encourage grant applicants to contact them beforehand?
Although these are just a few potential questions to consider, this list will help uncover the information pertinent to your grant application process and decision-making. 
4. Form meaningful connections.
After going through the motions above, consider reaching out to the funder and, if willing to do so, ask any clarifying questions. Some baseline questions include:
What is your selection process?

Have your submission instructions undergone any recent changes not shown on your website?

What is an appropriate amount to request in a proposal as someone who has never been funded by your foundation?
Reaching out to the funder will help kickstart a meaningful relationship between both parties. This could give you an advantage when it comes time for the funder to review grant proposals, as you will be kept at top of mind. 
Following these best practices will set you up for success when it comes time for you to search, apply, and (hopefully) acquire grants in the future. Remember to always stay true to the mission and values of your organization, and the rest will fall into line!
---
All of this information can be a bit overwhelming. Trust us, we get it. However, you are never alone throughout the process. Be sure to reach out to any Getting Attention professionals for help in managing marketing-specific grants for your nonprofit.
In the meantime, explore our additional resources below: 

https://gettingattention.org/wp-content/uploads/2021/11/How-To-Find-Grants_Feature.png
340
720
Getting Attention
https://gettingattention.org/wp-content/uploads/2021/08/getting-attention-logo.svg
Getting Attention
2021-11-04 23:54:39
2022-04-05 19:04:10
How to Find Grants for Your Nonprofit Organization