Your Google Ads have the power to connect you with motivated supporters who are ready to make a difference—but that's only possible if you choose the right Google Grants keywords. In this guide, we'll explore insider advice to enhance your Google Ad Grants keyword strategy:
It takes careful research using the right tools to find the keywords that will set your campaigns up for success. For expert help with crafting your keyword strategy and managing your Google Ad Grant, reach out to our team.


What Are Google Grants Keywords?
When someone searches for something on Google, they type a word or phrase into the Google search bar. These are what we call keywords.
You'll attach these specific terms or phrases to your Google Ad Grant campaigns. These keywords then trigger the display of your ads on Google's search engine results pages (SERPs) for relevant search terms.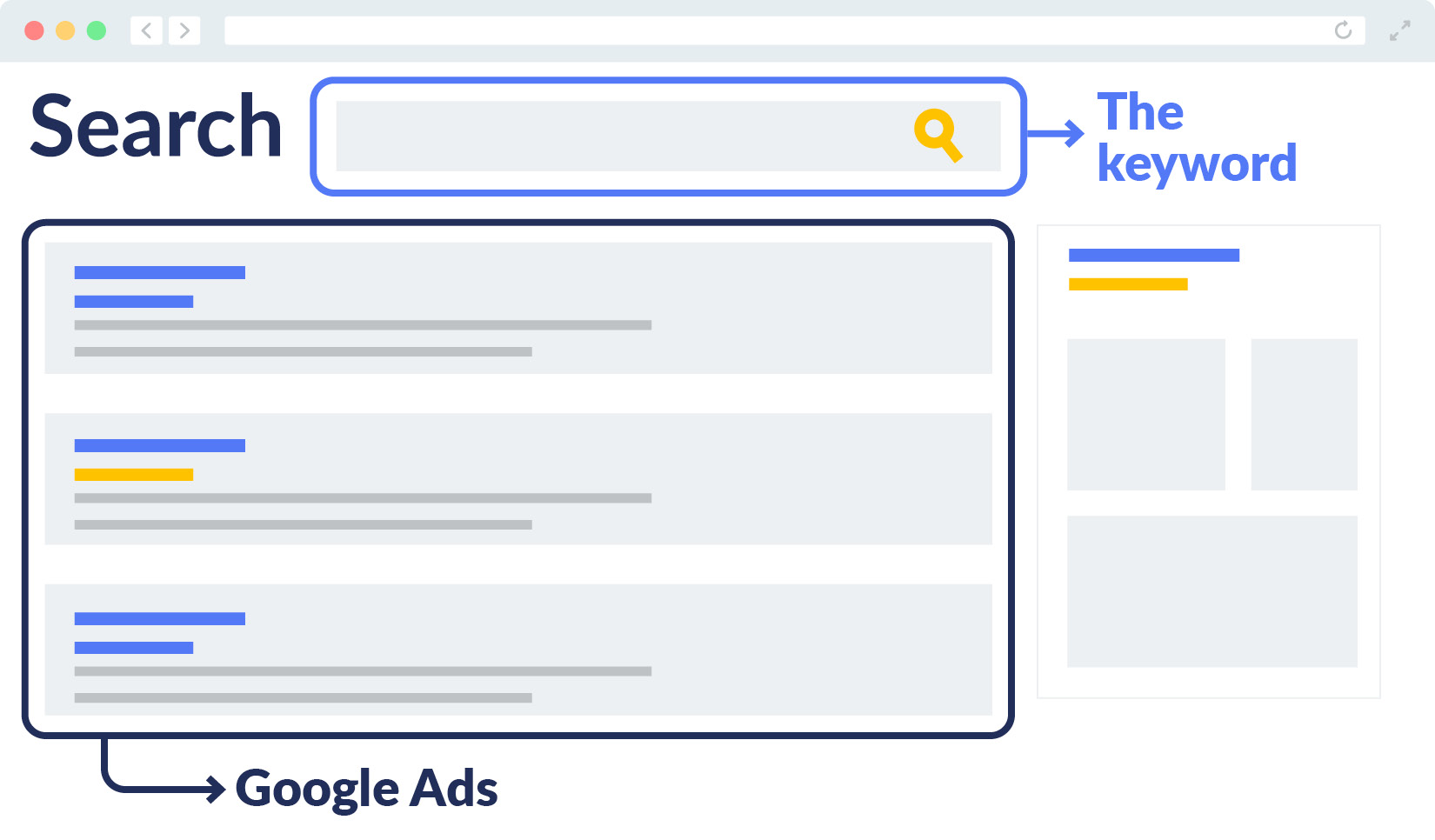 Keywords are a vital part of your Ad Grant account. By choosing the right ones, your ads can help you reach the right users who are actively searching for information related to your cause or services. This can help you accomplish all sorts of things, whether you're engaging existing donors, bringing attention to a pressing issue, or recruiting volunteers.
Keywords ensure your ads are displayed to likely donors, volunteers, beneficiaries, or anyone else connected to your mission. That way, nonprofits can maximize their ad's visibility, boost ad clicks, and drive desired actions, such as donations, volunteer sign-ups, or nonprofit event registrations.
Types of Google Grants Keywords
Within your Google Ads account, you can use different types of search terms to target your audience. Make sure you're familiar with these specific types of Google Ad Grants keywords: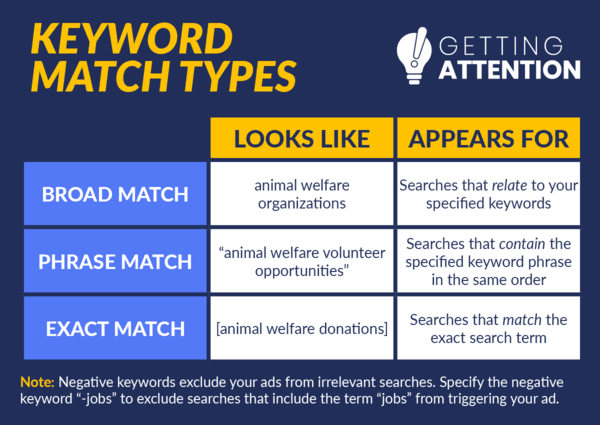 Broad match: Expand your reach by triggering ads for searches that include keyword variations, synonyms, or related terms.
Phrase match: Target searches that contain the specified keyword phrase in the same order. These types of nonprofit keywords provide a more targeted approach than broad match keywords.
Exact match: Allow your ads to only trigger for the exact search term or very close variants. These offer the highest level of specificity and control over your ad's targeting.
Negative keywords: Prevent ads from appearing for irrelevant searches. By using negative keywords, you can improve the relevance of your ads.
Knowing the different types of keywords you can use within your Google Ad Grant account will allow you to show up for relevant queries and connect with likely supporters.
Why You Need To Conduct Google Grants Keyword Research
The Google Ad Grants program has a ton of requirements for websites, ad content, and (you guessed it!) nonprofit keywords. Google requires you to use your keywords effectively to maintain program eligibility.
These limitations aren't meant to restrict you. Rather, they're intended to help you make the most of the program.
Your keywords are what will put your ads in front of the right audiences. Choosing the right ones is crucial to spending your Google Ad Grant wisely and showing off your ads.
The Searcher's Perspective
To get a sense of why keywords matter, put yourself in the searcher's shoes for a moment. Let's say you're in the market for some new running shoes. You decide shopping online is the best way to go. Your experience will probably go a little something like this: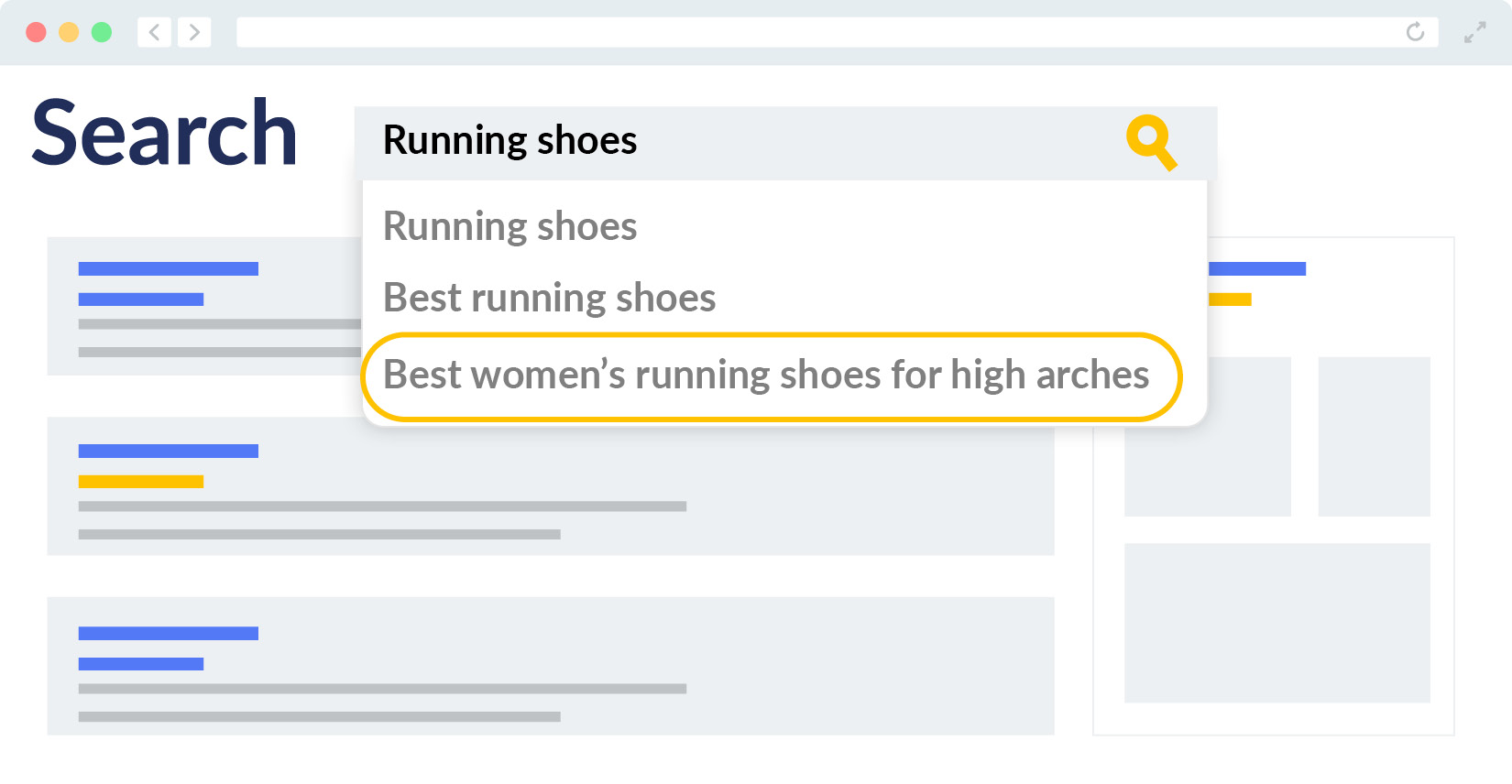 You go to Google and search "running shoes." You're met with a ton of search results — some paid and some unpaid. You browse through the results, not seeing quite what you need.
You go back to the search bar and type in "best running shoes." More specific results pop up this time. You're getting closer to what you need! You need some shoes that are designed for women who have high arches, though.
You go back one more time and type in "best women's running shoes for high arches." Bam! You find exactly what you need: the latest women's running shoes from Asics that offer plenty of support for high arches.
In this scenario, you were able to find what you needed thanks to well-thought-out keywords. The company used keywords throughout its ad and landing page to target women looking for supportive running shoes. It works a lot like this for nonprofits' Google Ads, too.

Research Tools to Find Google Grants Keywords
That brings us to our next point. Now that you know what keywords are and why they matter, how can you pinpoint which keywords your prospective supporters are searching for on Google?
You'll need to research trending and relevant keywords to make the most of your nonprofit ads. By leveraging research tools, nonprofits can gather valuable data and insights to inform their keyword research process and optimize their Google Ads campaigns.
Let's explore a handful of tools that you might find useful.
Google Keyword Planner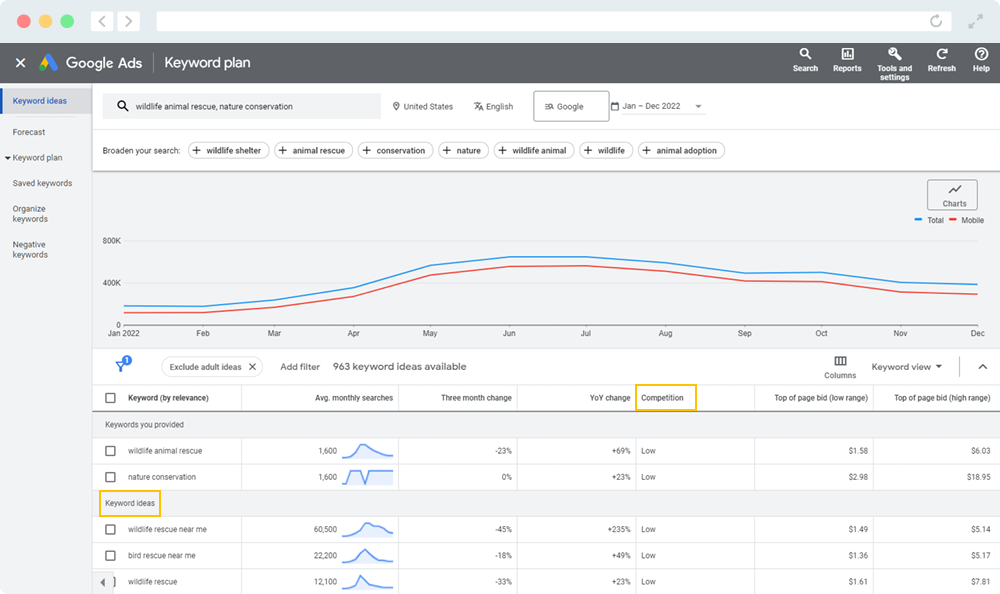 Keyword Planner is Google's own keyword research tool that provides insights into:
Search volume: See how many average monthly searches specific keywords get. This indicates how frequently people search for the terms you provide.
Keyword ideas: Keyword Planner generates a list of ideas based on the search terms you provide. Keyword suggestions will help expand your list and discover new opportunities.
You can take a look at historical metrics to identify seasonal trends, too! All you need to do is enter potential nonprofit keywords your supporters might be searching for on Google. Best of all, the platform gives accurate data and is free to use.
Find this tool in your Google Ad Grant account. First, log into your Google Ads account. Then, find it under Tools & Settings > Planning > Keyword Planner.
Google Trends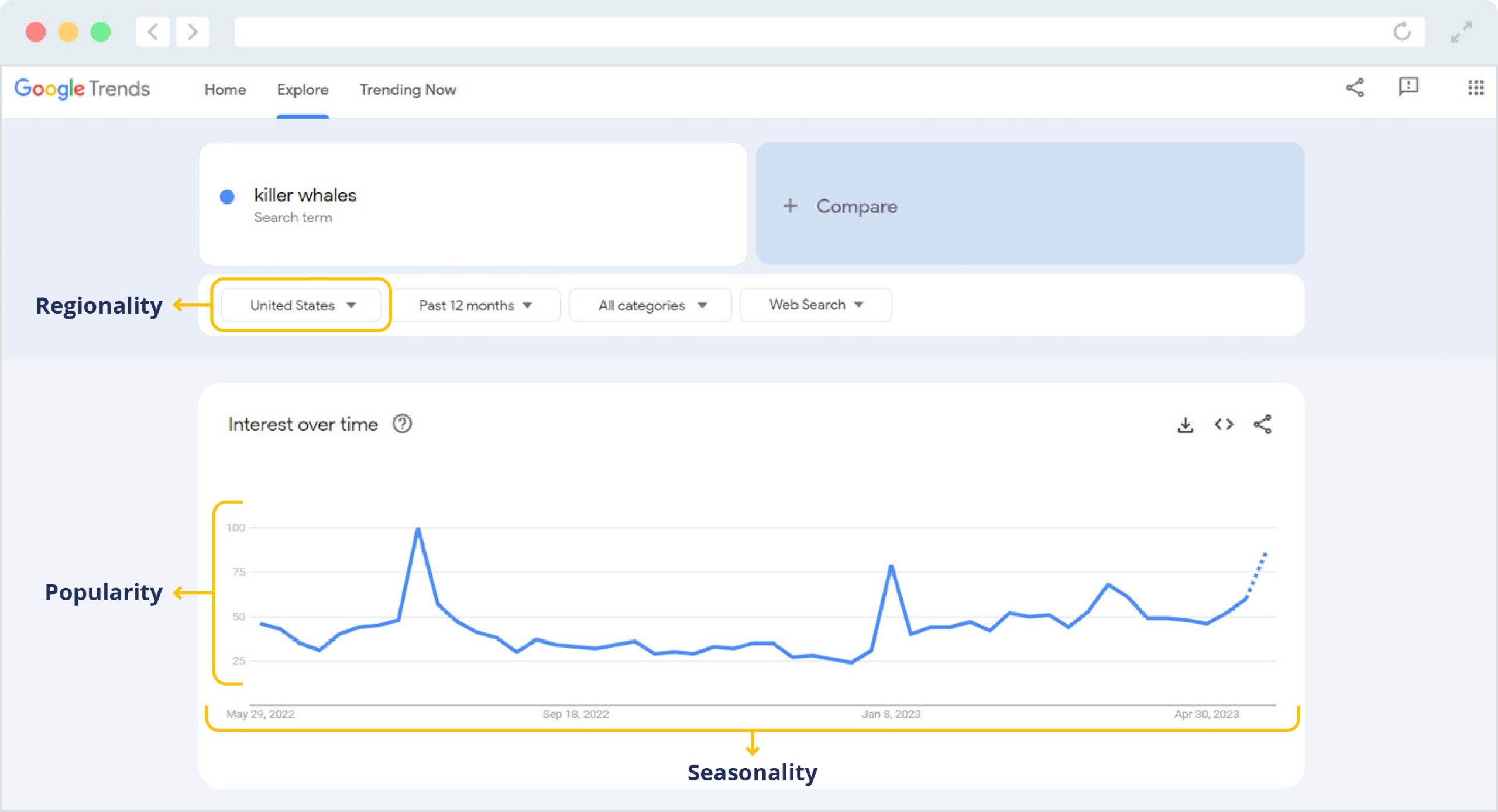 Another one of Google's tools is Google Trends. While it's not necessarily for nonprofit keyword research, it allows organizations to explore the popularity and search trends of specific search terms over time.
Gain valuable insights into a keyword's:
Popularity
Seasonality
Regional interest
That way, you can make informed decisions when selecting your Google Ad Grants keywords.
Just know that the data Google Trends provides doesn't perfectly mirror search activity. Rather, the platform assigns topics, queries, and locations a score from 0-100, with 100 being the most searched related query or the location that has the most searches for the given topic.
Google Search Console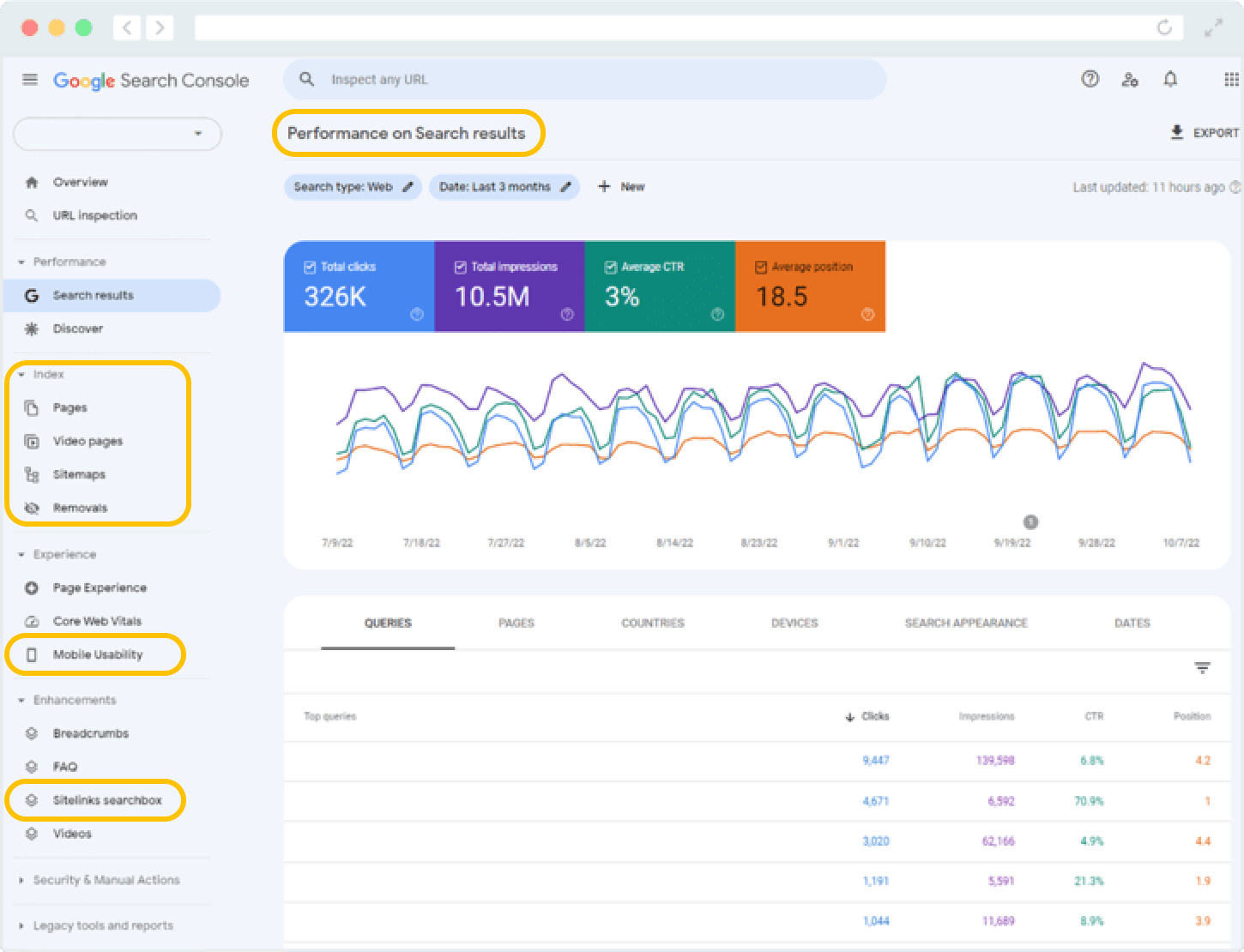 While not exclusively for Google Grants keyword research, Google Search Console gathers vital website performance metrics such as:
Search Performance: Learn which search queries drive traffic to your nonprofit's website. That way, you can pinpoint the right Google Grants keywords for your ads.
Index Coverage: Understand how well your website is indexed by Google (i.e., is your site showing up in search results?).
Mobile Usability: Learn whether mobile users can access your site. Search Console will highlight issues affecting the user experience on mobile devices, so you can improve your site's usability for users who click on your ads using any device. After all, mobile users account for 50% of all nonprofit website traffic, according to Double the Donation's fundraising statistcs.
Links: See which websites link back to you. You can view metrics like the total number of backlinks, linking domains, and pages on your site with the most inbound links.
Whether you want to look at individual pages or your website as a whole, Search Console provides valuable data. That way, you can refine it to be the best nonprofit website it can be and point to the best content in your Google Ads.
Moz Keyword Explorer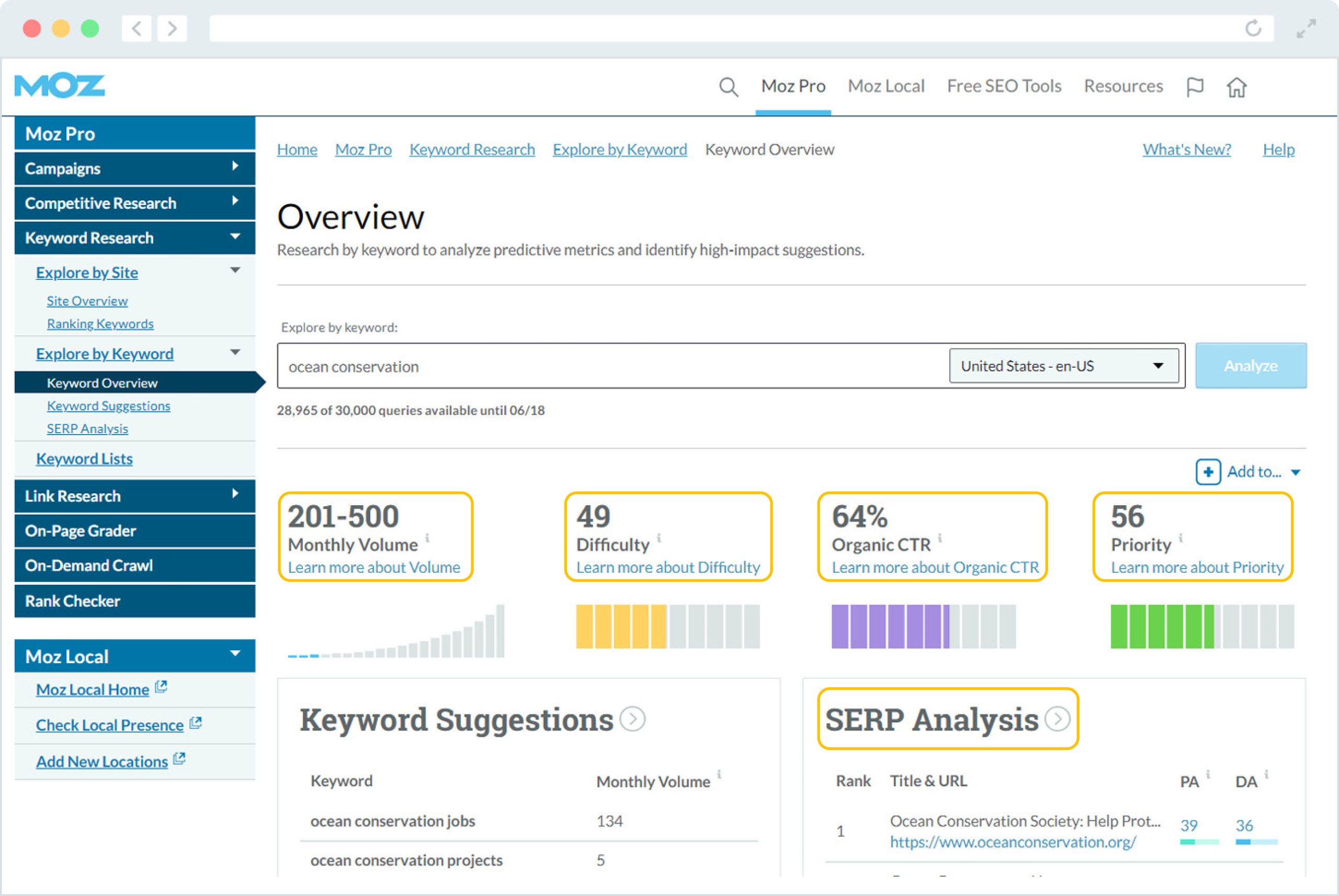 We're venturing out of Google's collection of tools with this one! Moz Keyword Explorer can be incredibly insightful for your Google Ad Grants keyword research. While it's mainly used for SEO purposes, the platform can help you pinpoint which keywords to prioritize and target with your Google Ads.
With this tool, you'll gain insight into:
Monthly Volume: Get an estimate of how many searches are performed for particular keywords each month.
Difficulty: Learn how difficult it is to rank for a keyword organically. The tool assigns a score from 1-100, with 100 being the most difficult. You can use this metric to estimate how competitive a query is when it comes to advertising.
Organic CTR: Learn how many people click on organic links within search results for the keyword. When other SERP features (like ads) compete for attention, this score will be lower.
Priority: This metric combines the monthly volume, difficulty, and organic CTR for a keyword, giving you a score from 0 (low) to 100 (high). A higher priority means you've struck the sweet spot of high volume, high organic CTR, and low difficulty for SEO.
Search Engine Results Pages (SERPs): See what's currently showing up for the search terms that matter to you. That way, you can stand out from the competition.
While it's an excellent SEO keyword research tool, note that you're limited to 10 searches a day with a free account. If you upgrade to a paid subscription, you can research up to 5,000 nonprofit keywords per month. Their pricier plans increase incrementally up to 30,000 keywords per month, but Moz offers a 75% discount for nonprofit organizations.
SEMRush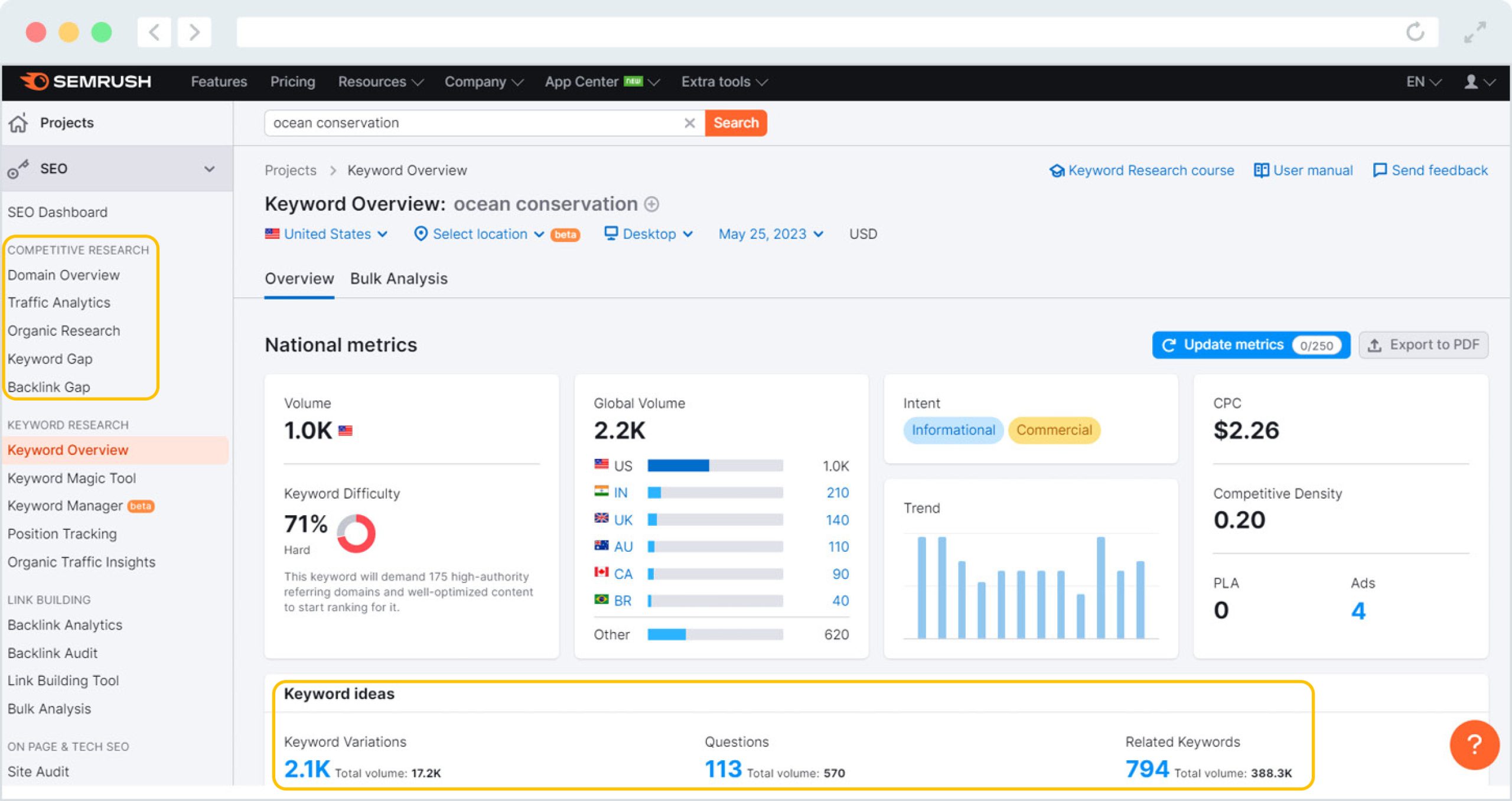 SEMRush is a comprehensive SEO and keyword research tool that offers:
Keyword data: Get a sense of search volume and difficulty. Then, gather related keywords and long-tail keyword suggestions. This can help your nonprofit identify high-priority keywords for your Google Ad Grant campaigns.
Competitor Analysis: Take a look at your competitors' websites and keywords. Gain insight into the keywords they're targeting, organic and paid search strategies, and the search terms that drive traffic to their sites.
With a paid subscription, this Google Grants keyword research tool provides a handful of other helpful features and data too. It's perfect for enhancing your Google Ads and organic performance in one fell swoop.

Narrowing Down Your Google Grants Keywords
Figuring out how to narrow down your options can be confusing. You need to strike the perfect balance of high search volume, relevance, and low competition. Meanwhile, you need to choose keywords that adhere to Google's guidelines.
Among many other program guidelines, Google requires nonprofits to choose keywords that are:
Specific instead of overly-generic terms that don't match the searcher's intent.
Multiple words unless the name of your nonprofit is only one word.
High quality, which can be measured by Google's quality score metric.
Work with a Google Grants agency like Getting Attention to handle nonprofit keyword research and implementation. Our professionals know how to use the right tools to pinpoint Google Ad Grants keywords that will drive value for your mission.
We'll help you narrow down your options based on: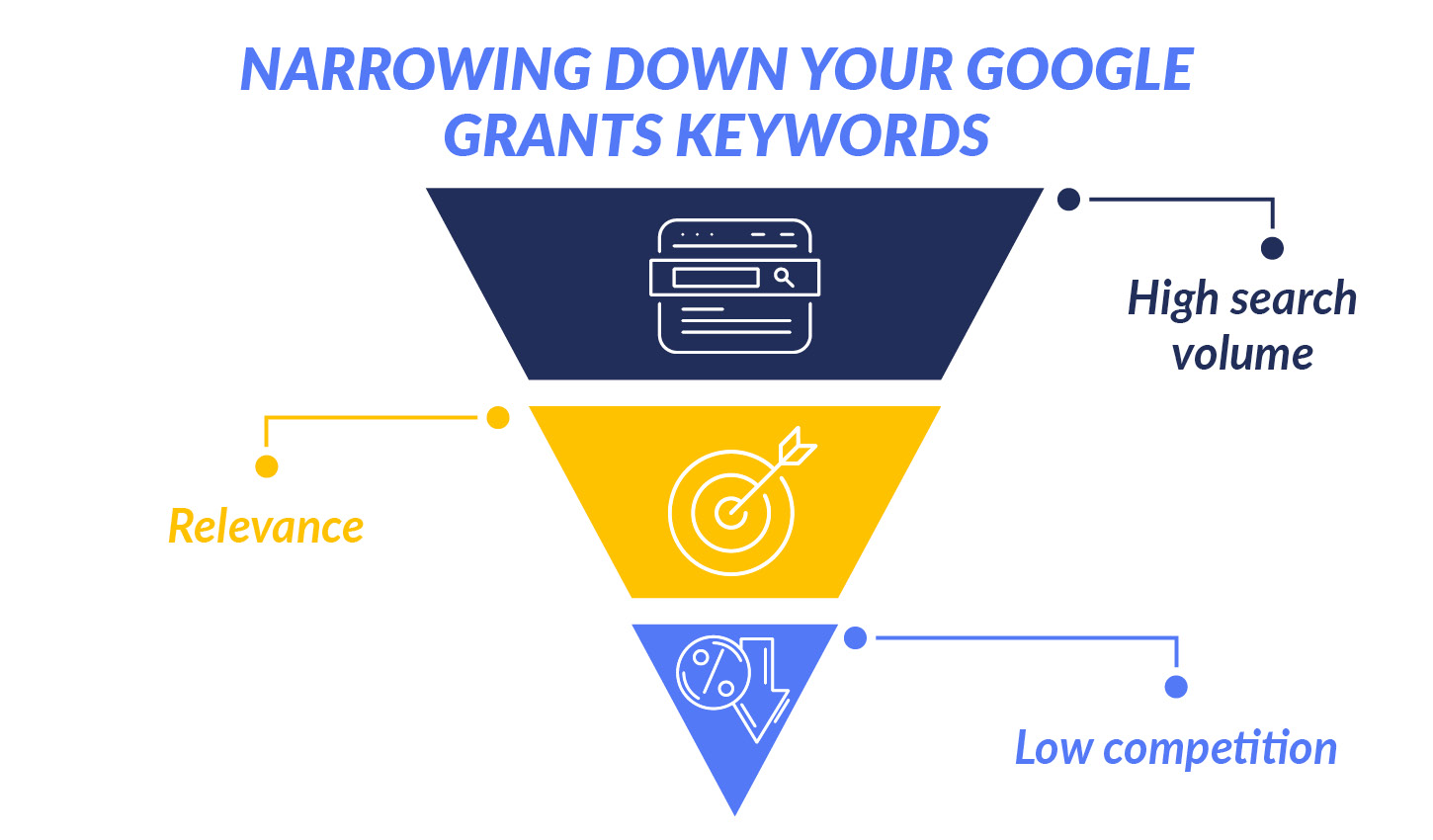 High search volume: A nonprofit keyword might work, but if there's no search volume, no one will see your ads. The higher the search volume, the more people you'll reach.
Relevance: Your manager will make sure your Google Grants keywords relate to your landing page (AKA the page where you're directing readers). If a reader clicks a Google Ad about donating to ocean conservation that leads them to a scholarship application page, they'll quickly bounce from the page. That signals to Google that your ad isn't relevant to users, making the search engine less likely to show your nonprofit's ad in search results.
Low competition: Oftentimes, a keyword with a high monthly search volume will have high competition. That'll make it harder for your nonprofit to show up in search results. Your manager can find Google Ad Grants keywords that aren't as competitive, striving to strike a balance between high monthly search volume and lower competition.
Above all, your account manager will ensure that your nonprofit follows the Google Ad Grant keyword requirements. The official guidelines require nonprofits to avoid overly-generic keywords, use keywords longer than 2 words, and choose ones that have a quality score greater than 2. Otherwise, you risk losing your Google Ad Grants eligibility. With an expert on your side, you won't have to worry about this.


Using Nonprofit Keywords in Google Ad Grants Campaigns
You've found the right nonprofit keywords that will place your ads in front of likely volunteers, donors, or another key audience. Now, you're tasked with incorporating your keywords into your Google Ads.
Here are some quick tips to get you started:
Incorporate keywords into your ad headline, description, and landing page to indicate relevance to the reader and Google.
Consider the intent behind search queries and align your keywords and landing pages with what users are seeking.
Implement conversion tracking to measure the impact of keywords on desired actions.
Again, we recommend turning to a Google Ad Grant agency that knows how to incorporate nonprofit keywords into Google Ads effectively. At Getting Attention, we've learned the intricacies of different keyword research platforms and implementation techniques. That way, you can stand out from the competition and connect with donors and volunteers through powerful ads.
Final Thoughts on Google Grants Keywords
While incredibly important, choosing nonprofit keywords can be incredibly time-consuming. Using keywords in Google Ad Grants campaigns is a whole other ball game, too. There's a lot to handle between brainstorming potential keywords, gathering data for them, and incorporating them into your ads. Not to mention, you have to meet some Google Ad Grant restrictions regarding keywords.
Turn to an expert to handle research and implementation. They'll even keep an eye on your campaigns to ensure you're seeing the results you need. At Getting Attention, our marketing consultants are equipped and more than happy to find the right nonprofit keywords to make your campaigns thrive.
In the meantime, continue refining your marketing strategies with these resources:

https://gettingattention.org/wp-content/uploads/2023/05/Google-Grants-Keywords_Feature-1.png
700
1450
Erin Toland
https://gettingattention.org/wp-content/uploads/2021/08/getting-attention-logo.svg
Erin Toland
2023-05-30 14:15:15
2023-07-28 13:35:52
Need Google Grants Keywords? Here's Your Roadmap to Success