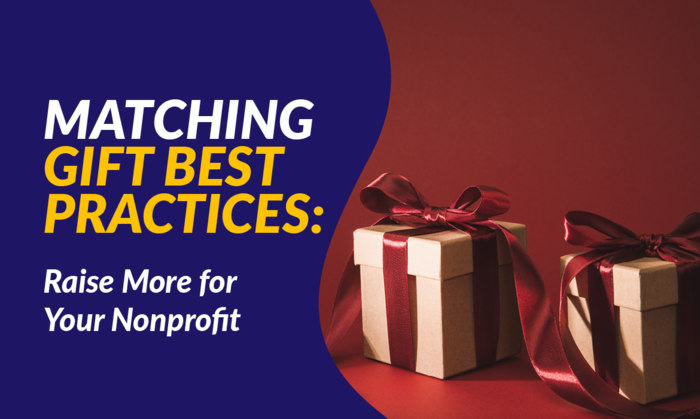 As a nonprofit professional, you likely already know the basics of matching gifts. But ask yourself this question:
Do I know how to implement matching gifts effectively as part of my team's fundraising strategy?
As a nonprofit professional, you likely already know the basics of matching gifts. Matching gifts are an amazing fundraising tool that allows you to maximize your donation revenue. However, without a sense of matching gift best practices, you may be missing out on some essential matching gift opportunities.
That's why here at Getting Attention, we've put together this guide to help you set your matching gift strategy into motion. We'll start with the basics and then jump into some best practices you can leverage to make matching gifts work for your organization. Let's dive in!

How Matching Gifts Work
There are a few different ways your nonprofit can collect matching gifts, but the most common ones are matching gift campaigns and corporate matching gift programs. Matching gift campaigns involve getting a business, benefactor, board member, major donor, or foundation to match donations made during a campaign up to a specific amount. 
However, what many donors don't know is that their own employer might match their personal donations to many nonprofits. That's where corporate matching gift programs come in—and they're the focus of this article!
Many companies match employee donations at a certain ratio—usually 1:1—to most eligible nonprofits. Corporate matching gifts are one of the most common forms of corporate philanthropy. Here's a rundown of how the process works:

An individual donates to a nonprofit.
The individual submits a matching gift request to their employer.
The individual submits a request for a gift match. 
The company reviews the request and verifies the donation with the nonprofit.
The company matches the donation.
This process is made easier with dedicated matching gift software that pinpoints your donor's matching gift eligibility. A donation tool like 360MatchPro by Double the Donation does all of the heavy lifting for you. Organizations simply embed the matching gift search tool anywhere on their website. Here's how it works: 
From there, donors can access Double the Donation's comprehensive matching gift database, which houses information on more than 20,000 companies and subsidiaries and their matching gift programs.

Corporate Matching Gift Rules
As amazing as corporate matching gifts are, there are a few important guidelines to take note of. That means, as a best practice, following and meeting these guidelines will ensure your nonprofit reaps the benefits of matching gift programs.
Guidelines usually include:
Minimum and maximum match requirements. In order to qualify for a matching gift, the donation amount must usually meet specific thresholds. Minimum amounts are typically around $25, but these vary, as do maximum amounts, which can be anywhere from $1,000 and beyond.
Match ratio. Another important guideline to look out for is a matching gift ratio. They're typically set at 1:1, but ratios range anywhere from 0.5:1 to 4:1.
Nonprofit eligibility. One of the biggest specifications to look out for is whether your nonprofit is eligible to receive matching donations. Usually, most nonprofits are eligible, including educational institutions, arts and cultural organizations, and health and human services. However, the most common type of ineligible nonprofit is religious organizations, though there are exceptions to this as well, especially if the donation is being used for a non-religious purpose.
Employee eligibility. It's also best practice to understand your donors' eligibility for matching gift programs. Companies often specify whether full-time, part-time, or retired employees are eligible for matched donations.
Nonprofit verification. Once a donor has submitted their matching gift request to their employer, it's your nonprofit's responsibility to verify the donation with the company. You'll usually receive an email or letter with instructions on how to verify the gift through a corporate giving vendor. If you don't follow the instructions and confirm the donation and your nonprofit's eligibility, you will lose out on the match.
Understanding the basic matching gift guidelines from companies will give you access to the gifts your nonprofit needs to propel its cause forward. 
Promoting Matching Gifts
Did you know that approximately $4-7 billion in matching gift funding goes unclaimed every year? That's because too many donors are unaware that they're eligible for matching gift programs. And even if they knew they were eligible, they wouldn't know how to start their match request. 
That's why one of the most impactful matching gift best practices is promotion. Here are some additional statistics provided by Double the Donation for some perspective: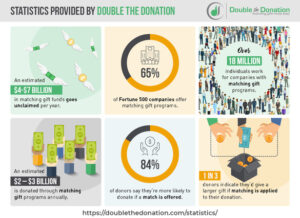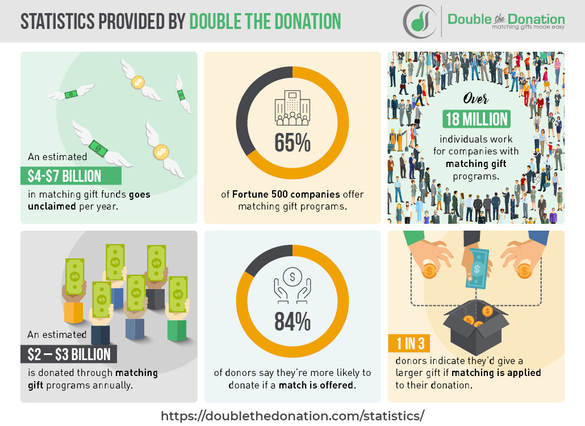 $4-7 Billion in matching gift funds goes unclaimed per year.
65% of Fortune 500 companies offer matching gift programs.
Over 26 million individuals work for companies with matching gift programs.
An estimated $2-3 billion is donated through matching gift programs annually. 
84% of donors say they're more likely to donate if a match is offered.
1 in 3 donors indicate that they'd give a larger gift if matching is applied to their donation.
With so many employees working for companies with matching gift programs, it's essential to spread the word to capture as many matched donations as possible. Plus, because more employees are more likely to increase their donations if they knew their employer would match!
To summarize, if you don't promote this valuable opportunity to your donors, they won't take the next step toward matching their donation. Luckily, we've identified some of the top ways you can effectively promote matching gifts to your supporters. 
Online Donation Forms
Donors are at the height of their engagement when they arrive on your donation form. They're serious about making a donation to your organization, which means this is the perfect time to promote matching gifts.
At the very least, ask donors in a prominent spot on your form if they are looking to get a matched donation from their employer. From there, link to an informational page on your website that explains what matching gifts are.
To drive even better results, insert a matching gift search tool on your donation page. Tools like these capture employer information on the donation form, then display that company's matching gift information immediately following the donation.
These tools then track the donors who take the next step and click on their company's matching gift form. Some of these tools will even autocomplete a company's name in the search field as a donor types it in: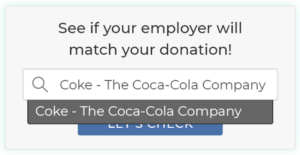 Adding matching gift information to your donation process, whether that's on the actual donation page or confirmation page, can significantly impact the number of matching gift funds you ultimately receive.
Email Outreach
According to Double the Donation, mentioning matching gifts in fundraising appeals results in a 71% increase in the response rate and a 51% increase in the average donation amount. This statistic illustrates that email is a marketing trend that is here to stay.
That's why using email outreach to make your matching gift appeals is so important.
Mention matching gifts in your emails, whether you're sending out a regular newsletter or specifically thanking a supporter for their donation. Briefly explain what a matching gift is, how donors can submit a matching gift request to their employer, and how they can let your nonprofit know that they're doing so. For example, refer to this email:
Dear Mary,
We really appreciate your support to our organization.
Did you know that we raised 1 million dollars from matching gift programs? which were submitted by over 6,000 donors? Please visit our matching gift page to see if your company will match your gift and to access the forms, guidelines, and instructions to submit your match. Here are the steps to follow:
Check if my company will match my donation!
Click the provided link to let us know you have submitted your request.
Thank you again for your support.
Kind Regards,
Matching Gift Team
Like in the example above, provide links in your email that donors can click to:
Indicate that they've submitted a matching gift request.
Indicate that their donation is not match eligible.
By including these links, your organization will be able to keep track of who is engaging with your matching gift appeals, as well as the status of each active matching gift request.
Direct Mail
Contrary to popular belief, direct mail is not dead! Many of your supporters may still prefer traditional mail to other methods of communication. Whenever you send out printed marketing materials or thank-you letters, include an insert or other mention of matching gifts.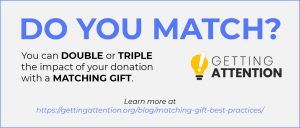 Just as with email outreach, the insert should briefly explain what matching gifts are and offer ways for the supporter to learn more. You might even include a scannable QR code that directs the reader to a dedicated matching gifts page on your website.
To simplify the process of designing, printing, stuffing, and sending your mailings, consider reaching out to a direct mail fundraising platform. This can save your team time and money that can be reinvested into your mission and put efforts toward your highest value match opportunities.
Social Media
Social media is already an excellent marketing channel to promote giving opportunities. So why not promote matching gifts through this method, too?
Spread the word across social media platforms, whether you're running a specific campaign or simply looking to bring in more corporate donations. Include information about matching gifts, such as how they work and how donors can learn about their employer's programs. Then link to a dedicated matching gift page on your website.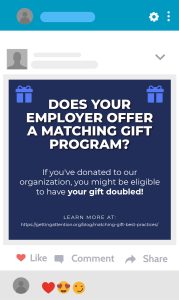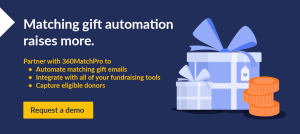 https://gettingattention.org/wp-content/uploads/2023/05/Matching-Gift-Best-Practices_Resized-image.png
419
700
Getting Attention
https://gettingattention.org/wp-content/uploads/2021/08/getting-attention-logo.svg
Getting Attention
2023-05-23 16:06:22
2023-08-10 15:47:24
Matching Gift Best Practices: Raise More for Your Nonprofit