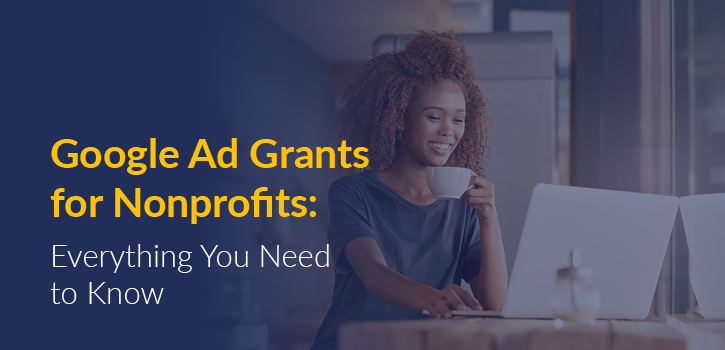 Google Ad Grants have been around for almost two decades now, but it seems that not enough nonprofit organizations are taking advantage of this powerful program. 
By equipping eligible organizations with $10,000 in ad credits per  month— yes, you read that right!— to reach out to supporters online, the Google Ad Grant program enables nonprofits across the world to see a phenomenal increase in website activity and digital conversions. 
If your nonprofit wants to thrive in this modern space and ensure its website reaches the right audience to push your mission forward, starting with the Google Ad Grant will establish a secure and dependable marketing foundation in which your organization can only grow. 
Whether you already have an account but need help leveraging all of its capabilities, or your account has started to lag and you want to reinvigorate it, or you don't have an account at all, you're in the right place. Our ultimate guide to Google Ad Grants for nonprofits is here to teach you about:
Let's dive in.
Google Ad Grants for Nonprofits | The Basics
The Google Ad Grant is a program hosted by Google that offers nonprofit professionals $10,000 each month to spend on ads in Google Search. If you comply with the program's rules and guidelines, your organization can continue to receive this $10,000 grant each month for as long as you need. 
What are Google Ads?
When you look up a term or question on Google search, like ocean conservation, you'll get tons of results for educational articles and news stories. Along with these results, you'll also run into advertisements providing convenient access to organizations and foundations dedicated to supporting this cause. 
This is all thanks to Google Ads! 
Google Ads is a platform where organizations and businesses can display advertisements, services offerings, products, and other marketing content to web users. The platform places ads strategically in the search engine result pages (like Google's) as well as non-search websites, mobile apps, and videos. 
While Google Ads are similar to Google Ad Grants, they are also very different. There are stricter guidelines to be a part of the Google Grant program. Additionally, Google Ads participants have to pay a fee per ad click instead of using a fund each month. 
Bottom line: If you are looking to increase marketing for your charitable organization, Google Ad Grants will allow you to do so without spending a single penny. 
What are The Benefits of Google Ad Grants for Nonprofits?
With the Google Ad Grant program for nonprofits, organizations can:
Increase online conversions like event signups, donations, volunteer registrations, and more. 

Reach out to new donors and inspire them to take action.

Market multiple ad campaigns at once.

Analyze and track performance to ensure that campaigns are always improving.

Learn about how to better meet the needs of their digital supporters. 
If your nonprofit has a website and is active in the online space, applying for a Google Ad Grant is your next natural step for your marketing strategy. After all, current and prospective supporters are likely already looking up relevant topics about your mission anyways. 
Plus, Google Ad Grants isn't like your traditional grant where there is only a limited amount of money, requiring eligible organizations needing to meet certain criteria and compete for the money. 
Any nonprofit that is eligible and complies with Google guidelines can use this grant. 
What Do Nonprofits Need to be Eligible?
In order to qualify for the Google Ad Grants, nonprofits need to meet certain requirements. It's important to note that the program is available in over 50 countries, with each having its own requirements. We will be primarily discussing the eligibility requirements for organizations in the United States.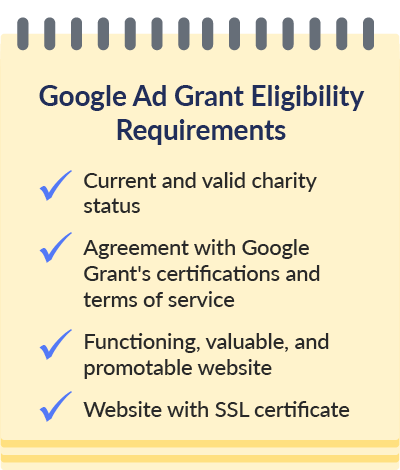 Here are the following requirements for eligible nonprofits:
Hold current and valid charity status

. It is essential that you have a current 501(c)(3) status.

Acknowledge and agree to Google Grant's required certifications

regarding how to receive and use donations obtained from the grant. You must also agree to the Google for Nonprofits and Google Ads terms of service.

Have a website that is both functioning and provides valuable content on your nonprofit and mission.

This website must be hosted on your own domain and adhere to

Google's website policy

.

An SSL certificate.

SSL stands for Secure Sockets Layer and is a security protocol between a web server and browser. This will look like a lock icon in the navigation bar in Google Chrome. If there is no lock and you see the words "not secure" next to your website's URL, it means SSL is not installed or there is another issue.
If your nonprofit organization has a solid foundation in the digital space, it doesn't take much to be eligible for the Google Ad Grant. However, there are also Google Ad Grant agencies that can help with the process and make sure you comply with Google's requirements and have an optimized website.
What Organizations are Not Eligible?
While the Google Ad Grants program is widely available to many charitable organizations that want to reap its benefits, there are a couple of exceptions.
These are the organizations that are not eligible to apply and use Google Ad Grants:

Governmental entities and organizations

Hospitals and medical groups

Schools, childcare centers, academic institutions, and universities — However, the philanthropic arms of educational organizations are eligible! 
We'd also like to note that Google does have a similar grant program for educational institutions, so if this is applicable to your situation we recommend checking it out. 
Who Should Apply for the Google Ad Grant?
Many small nonprofits wonder if they should apply for the Google Grant— will it genuinely help them? The general answer is yes. However, while all nonprofits are encouraged to apply to the Google Grant, that doesn't mean the program will benefit them all.
The Google Grant is especially helpful for organizations that have extremely relevant missions and topics— meaning many people are searching for it online— with an established website with content that reflects and supports those topics. 
If this sounds like your nonprofit, then the Google Grant can be very beneficial. It doesn't matter if your nonprofit is just getting started or if your work already spans countries. Many small nonprofits have valuable website content that effectively serves their audience and promotes their mission— the perfect Google Ad Grant candidate.
In fact, the Google Grant gives smaller nonprofits an even playing field, especially when compared to other larger organizations. If your organization is eligible and has an established web presence, then it is fully recommended to apply. 

Applying for the Google Ad Grant
Getting accepted into the Google Ad Grant program isn't as complicated as it may seem. However, there are a couple of essential steps that must be followed if you want to be eligible and attain the program's benefits.
To apply for the Google Ad Grant, here are the basics steps you'll need to follow: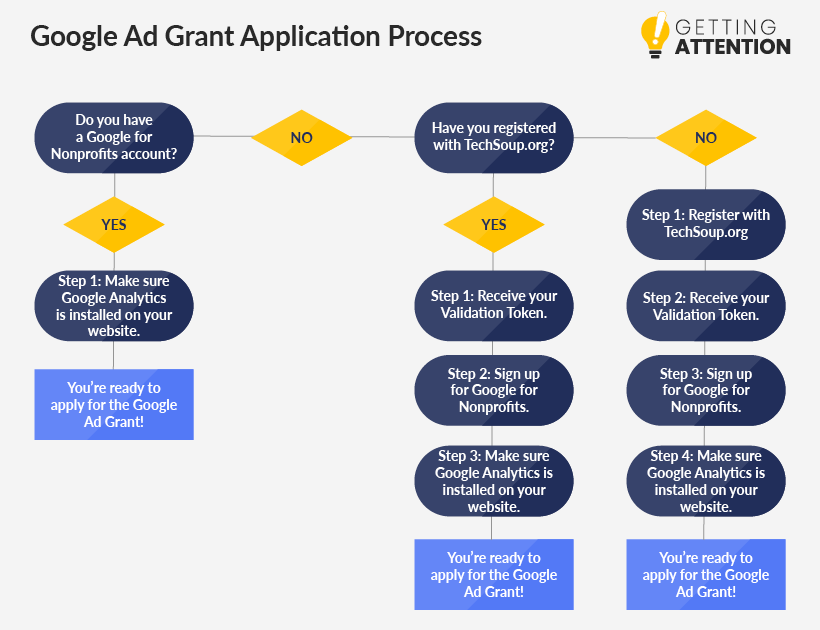 1. Create a Google for Nonprofits Account
If you want to get started with the Ad Grant program, it's essential that you have an active Google for Nonprofits account. If you already do, you can skip to Step 3. Otherwise, the application is available through Google for Nonprofits.
With a Google for Nonprofits account (for US organizations) you can have access to the Google Ad Grants along with these additional services: 
Google Workspace for Nonprofits

Youtube Nonprofit Program

Google Earth and Maps
Before you get verified for a Google for Nonprofits account, you'll also need to register your organization with TechSoup.org. TechSoup provides a Validation Token that Google uses to verify your eligibility and confirm your Google for Nonprofits account. If you've never registered your organization with TechSoup, you can sign up for an account here. 
2. Ensure Google Analytics is Installed
Google Analytics is essential for not only your own data tracking purposes but is also a requirement that all websites need to have prior to applying. 
We recommend installing Google Tag Manager on your website and setting up some conversion tracking goals for your site. These goals should be valuable actions that you want your audience to complete while on your site, like making an online gift.
These goals can guide your analytic tools and help determine the content or pages that will best appeal to users and inspire them to complete that goal. Plus, you can effectively track marketing campaigns and tweak them when needed. 
3. Submit Your Website and Basic Google Ads Account to the Google Ad Grants Team for Review
Submit your website for review to the Google Ad Grants team. They'll certify whether you're eligible by determining if your web presence and content are ready. 
Once you are approved, you can then get started building out a basic Google Ads account, and then submitting that for review as well.
As you are applying, you'll be given the choice of a "Smart Campaign" or a "Classic" Google Ads account. Make sure you apply for the "Classic" account as the "Smart Campaign" is a much more basic version.

Maintaining your Google Ad Grant Account 
Once your Google Ad Grant Account is up and running, your work isn't quite done. You still need to allocate your $10,000 smartly, figure out which campaigns to conduct, and maintain and track those campaigns. 
Here is what a healthy Google Ad Grant account looks like:
Ideally 3-5+ campaigns.

Each campaign has multiple ad groups.

Each ad group has at least three ads, with one

responsive search ad

, an ad that adapts to show more text and relevant messaging to your customers. 

A liberal usage of

ad extensions

, a key way to extend your ads with additional information and provide people with more reasons to click your online content. 

Effective conversion tracking in place.
These qualities are easier said than done, especially when fundraising leaders already have to juggle so many different tasks. In particular, managing the full $10,000 a month can be challenging. 
How to Manage the $10,000
While this may come as a surprise, the majority of nonprofits using the Google Ad Grant actually do not spend the full $10,000. This could be for many reasons, like:

Difficulty in management

— Not every nonprofit has the resources and support to maintain multiple marketing campaigns, with a large chunk of money not being spent or put to use.

Lack of high-quality online content

— If your Google Ads aren't performing well, it might be because your website and other online content are not meeting the needs of your audience. 
However, just because you don't spend $10,000 a month doesn't mean you don't have a fully functioning and successful Google Ad account. For instance, perhaps your audience is just narrow. If you're promoting ads in one specific city, you don't need to spend the full amount of money to target the audience you need. 
Bottom line: It's way more important to focus on the quality of your visitors and the number of online conversions than just maxing out your monetary quota. If you do find yourself falling into the first two reasons, continue reading for further advice. 
Conversion Tracking
The Google Ad Grant isn't just about spending $10,000 a month, it's about making meaningful and valuable conversions.
Managing your Google Ad campaigns can be simple, but you do need to set up conversion tracking and data analytics in order to do so successfully. The best part is, you already have Google Analytics installed on your website— so use it! It's important that you set up one or more "Goals" within Google Analytics so you can track valuable actions on your website.
To determine the best goals to track, explore your website and note the actions that you want users to take the most to push your mission forward. Something like online gifts, volunteer registrations, and newsletter signups are common goals. 
Don't forget to also set up conversion tracking for each of these actions using Google Analytics and Google Tag Manager. 
Valuable and Promotable Website Content
If you want your Google Ad Grants account to be successful and provide value to your supporters, you need to have online valuable website content that is promotable to your audience. 
Look at your website pages and make sure that they have:
A high search volume topic

— Sometimes you're prioritizing content on a topic that very few people search for. A dedicated blog post summarizing a volunteer event likely won't get as much traffic as more educational informational content answering the most common questions about your mission and work. To get a better idea of the terms and topics your audience is actively seeking out, check out

Google Trends

or other tools like

Moz

. 

One single focus

— A common problem that nonprofits run into is not having enough dedicated content on important topics. Don't lump your most searched questions into one page. The important big topics should all have their own page or blog post on your website. 

Enough content

— Don't make a different page for each topic just for the sake of doing so. Google won't respond positively to a page with just a couple of sentences on it. Taking the time to develop researched and comprehensive pages will not only perform better for Google Grant but increase your organic search engine rankings as well. 

A call to action

— When someone lands on these well-developed and valuable website pages, they should know the exact next step you want them to take. From filling out a form to signing up for text alerts, make this next step clear with a strategically placed call to action in the form of a prominent button or link.
Valuable and promotable website content is not only critical to get your Google Ads account approved, but it also ensures that the Google Grants program actually helps you gain meaningful conversions. 
Google Ad Grant Compliance
This is a topic that is extremely important to Google Ad account management. In fact, not complying with the Google Grant policies will even lead to your entire account being suspended.
While visiting the official compliance page will be your best bet to up-to-date policies, here are the most important requirements (as of August 2021) to remember: 
Do not use single-word keywords unless it is one of the

approved exceptions.

Avoid overly generic keywords that don't indicate the intent of the person searching, for example: '"free videos", "e-books," or "today's news".

Ensure your keyword quality has a score higher than 1 or 2. You can determine keyword quality with Expected clickthrough rate, Ad relevance, and Landing page experience. Explore these qualities more on

Google's Quality Score about page. 

Maintain a 5% clickthrough rate (CTR) each month. CTR is the number of clicks that your ad receives divided by the number of times your ad is shown. For example, if you had 5 clicks and 100 impressions, then your CTR would be 5%.

Have valid conversion tracking set up through Google Analytics and Google Tag Manager.

Have at least 2 ads per ad group, with at least 2 ad groups per campaign.

Have at least 2 sitelink ad extensions.

Respond to the annual program survey sent to the login email addresses on each Ad Grants account.
It's highly recommended to frequently check (even bookmark!) the Google Ad Grants compliance page to keep up-to-date, as the rules sometimes do change. 

Working with a Google Grant Agency
Oftentimes, nonprofits will turn to professional help to manage their Google Ad Grant accounts. Many of them will turn to a traditional marketing agency to handle their accounts, however, this is actually not the best route to take.
The Google Ad Grant program is not like other Google Ads accounts. This is because Google Ads doesn't have the requirements or compliance rules that Google Grants accounts need. This is why Google has a dedicated certification program to compile agencies that are fully equipped to support the Google Grants program. 
It's critical that if you do turn to professionals to help apply, create, maintain, and manage a Google Ad Grants account that you make sure that they are a Google Grants "Certified Professional." There are tons of agencies that claim they can help with the Google Ad Grant, but only a few dozen are actually certified. 
Getting Attention: A Certified Google Ad Grants Agency
Getting Attention is a fully certified agency here to serve any of your needs when it comes to your Google Ad Grant account. We are prepared to help you every step of the way, no matter if you're learning about the program for the first time or just need help getting your existing Google Grant marketing campaign off the ground. 
Here are some of our services:
Google Grant Application

— Our team of experts can walk you through every step of the way to ensure that your nonprofit is accepted.

Google Grant Hygiene

— Maintaining your data and keeping it clean can be a pain point for many nonprofits. We're here to ensure you never have to worry about outdated or unnecessary data bogging down your processes. 

Google Grant Reactivation

— Has your account been lagging or even suspended? We can help get your account reactivated.

Keyword Research

— High quality and valuable website content is one of the most important qualities of a successful Google Ad Grants campaign. Make sure that you're targeting the most relevant and useful keywords with our research team. 

Google Grant Management

— To determine if your marketing strategies are working, you need to be tracking conversions. We'll ensure that not only are you on top of your conversions but that you also are tracking the most useful opportunities. 
Are you interested in a free consultation? Contact us to learn more about how Getting Attention's services can help your nonprofit grow! 
Additional Resources
The Google Ad Grant is an obvious opportunity for nonprofit organizations looking to take control of their digital marketing and target their audience effectively. However, getting started and maintaining the account isn't a simple walk in the park. Understanding all the rules and compliance guidelines is your best bet when it comes to making the most of your Google Grant account.
Want to continue your research on Google Ad Grants or learn how to market your mission effectively? Explore these additional resources:

https://gettingattention.org/wp-content/uploads/2021/09/Google-Ad-Grants_Feature-1.png
350
725
Getting Attention
https://gettingattention.org/wp-content/uploads/2021/08/getting-attention-logo.svg
Getting Attention
2021-09-01 21:10:03
2021-09-01 21:10:03
Google Ad Grants for Nonprofits: Everything You Need to Know