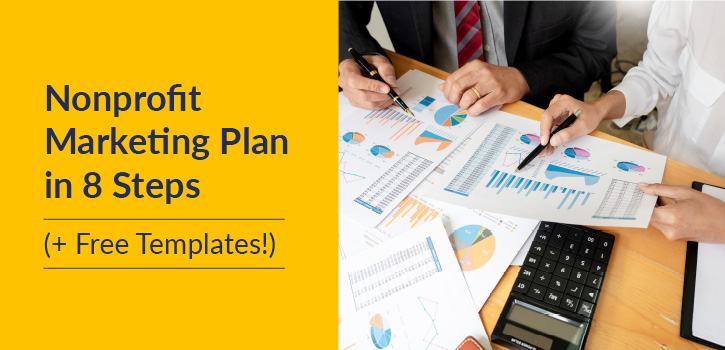 You've worked hard to build an organization that makes a difference for your mission and the community you serve. You plan exciting fundraising events and months-long campaigns to engage your donors and inspire support to your cause. However, all this work is less effective without a strategic plan to market it. 
While your nonprofit and mission are extremely important, you won't be able to make meaningful change and connect with supporters without a strategic marketing plan.
Taking the steps to outline a nonprofit marketing plan is critical if you want to set your organization up for success, serve your audience's needs, and drive meaningful conversions. Whether you have one overarching plan for the year or create them on a case-by-case basis, creating a comprehensive marketing plan will only make planning successful campaigns in the future easier and more effective. 
Our marketing experts at Getting Attention know the importance of a well-developed nonprofit marketing plan. Whether you've never created a dedicated plan before or you simply want a refresher to ensure you're not missing out on any important points, we created this guide to walk you through the following topics:
Your nonprofit marketing plan can do more than just advise on the best channels and messaging to use. It acts as an all-knowing resource for your entire fundraising team when it comes to representing your mission and pushing you to your goals. Ready to learn more? Let's start with a simple overview. 


Nonprofit Marketing Plan: What Is It?
A nonprofit marketing plan is a dedicated document to help your fundraising team create promotional materials, stay consistent with branding and goals, and reach a target audience effectively. 
This document should be made available to everyone in the organization so that no matter the campaign or event they are promoting, the messaging and tactics are supporting the core mission. This is the best way to not only reach your supporters and meet new ones, but it also ensures that all team members are on the same page when it comes to how you can accomplish your goals. 
In the end, your marketing plan becomes much more than just guidelines for picking an outreach strategy. Your nonprofit marketing plan should:
Provide clarity to your nonprofit team

— No matter what, your fundraisers should not lose track of your nonprofit mission and goals. Your nonprofit marketing plan will clearly outline this information so that your team is clear on every detail and the most valuable way to communicate them.

Keep tasks and team members organized

— A fully fleshed-out fundraising campaign comes with a lot of moving parts, especially when it comes to marketing it. When it comes to sending out email blasts, creating marketing materials, and engaging with donors on social media, it can be overwhelming without a concrete plan on when and how to complete these actions. A nonprofit marketing plan will outline exactly the tasks that need to be done, the steps it will take, and when they should be completed.

Focus on reaching donors and increasing awareness

— The goal of any marketing strategy is to connect to your audience, bring awareness to your mission, and inspire action from supporters. Your nonprofit marketing plan will walk through the specific motivations of your supporters and prospects, as well as list out the most valuable channels and strategies to appeal to those emotions. 
You won't be able to accomplish the above without a well-crafted and developed nonprofit marketing plan, however. Keep reading to explore the essential components your own marketing plan needs.

The Essential Components Of Nonprofit Marketing 
When it comes to your nonprofit marketing plan, it's best to be as thorough as possible. Don't leave any stone unturned and risk a lack of clarity for team members or gaps in outreach methods.
While your specific marketing plan will be unique to your mission and campaign, there are still several core essential components that you'll need.

Overview of Organization
Mission statement

—

 

Your mission statement should summarize why your organization exists, the audience you serve, and how you'll serve them in just a couple of sentences. Mission statements can clarify a sense of direction for your team members and remind supporters of the ultimate purpose of your organization. For example, Water.org's mission statement is "Water.org empowers families with access to safe water and sanitation through affordable financing."

Key stakeholders and nonprofit staff structure

— Your stakeholders include both internal and external factors, like board members, paid staff, program directors and volunteers, and association members. It's important that your entire organization has knowledge of important team members as well as how they all work together. This way, if someone has a question or concern, they know exactly who to go to.

Goals

— What exactly is your organization hoping to accomplish? For your marketing plan, it can be helpful to outline both long-term and short-term goals, each of them different stepping stones for your core mission. You might outline goals for each month, as well as some for the entire year. When creating goals, it's recommended to use the SMART method.

Priorities

— As you outline your goals, rank them in terms of priority. For instance, if your mission is to provide equal gender education opportunities, your priority might be to raise money for needed school supplies over creating scholarship opportunities. Though both goals are valid and important, you can't expect students to excel in scholarship programs without adequate materials.
Overview of Audience
Current audience

— What type of people currently support your organization? Look at your nonprofit database and determine if there are any commonalities. List out the type of people and entities that consistently donate and support your organization.

Target audience

— Who are the people you are trying to reach? For each campaign or event you plan, you should have a specific audience you want to market to. This audience can include new donors, existing donors, lapsed donors, major donors, and more! You can narrow your target audience down with donor segments and donor personas. 
Messaging and Communication Plan
Language and tone

— Make sure your language and tone make sense with both your mission and who your audience is. For instance, if your organization is focused on education and helping children, you might take on a more user-friendly and casual tone. Consider including some common phrasing or word choice in your plan to make it even easier for your marketing team. 

Calls to action

— Keeping in mind your nonprofit goals, what are the types of actions you want your target audience to complete? This can range from giving a gift, signing up for newsletters, or another type of actionable support.

Branding, color, logo, font

— While the aesthetics of your marketing materials might not seem as important as your messaging, it is crucial that your branding and other design factors are consistent. This not only ensures that your marketing efforts remain organized, but that audience members can recognize your organization as soon as they see content, building a deeper connection between supporters and your brand.

Tactics and marketing channels — How are you going to exactly use your audience and messaging to promote your mission? Your marketing plan should outline specific tactics (like donor segmented email lists) as well as the most successful marketing channels to use.
Marketing calendar

— An effective marketing strategy doesn't happen in just one day. You'll likely release content and launch campaigns throughout the year, so it makes sense to include a marketing calendar within your dedicated plan.

Reporting and analytics method —

No marketing plan is effective or complete without a valid way to track its performance. Make sure you have reporting and analytics set up so that you can follow a campaign's success and learn about the tactics that made it thrive and the factors that can be improved.
It's easy to look at these components and think you can fill them out at once. However, it actually takes careful planning and data analysis to accurately determine factors like the most valuable goals to target and which marketing channels to use. Keep this in mind as you learn about the basic steps we recommend to creating a nonprofit marketing plan.


Follow These 8 Steps to Creating a Nonprofit Marketing Plan
1. Review past performance and conduct a marketing audit
Before you really get into the nitty-gritty of your nonprofit marketing plan, take a moment to reflect on your current standing and past performance. To ensure your marketing plan is as valuable as possible, determining what has and hasn't worked in the past is your best bet.
Review your previous marketing efforts and ask yourself the following: 
Did you achieve your desired goals and objectives? 

What was the most successful past of this strategy or campaign? 

What didn't go as expected with the campaign?

What could we do differently in the future?

Can any marketing materials be reused for future campaigns?
Having a sense of your past efforts and determining the gaps in your strategies will give you a sense of how you can improve your next campaign. 
Along with reviewing past performance, you can even conduct a more in-depth marketing audit. This might include a:
SWOT analysis

— SWOT analysis is a strategic planning technique used to help a person or organization identify strengths, weaknesses, opportunities, and threats related to business competition or project planning.

Collect your assets, services, products, and resources

— When you gather your various marketing assets, you'll have all the information in one place and will be better able to consider your options.

Analyze data

— Once you've taken the time to gather your data, it's time to look at it as a whole. Make notes of what you notice as you go.

Create an action plan

— What's working? What could be improved? Where are the gaps? Create an action plan based on what you discover in your audit.
In many cases, your internal marketing team can successfully conduct a marketing audit. If this is your first time or you don't have an established team yet, then consider working with a professional marketing consultant or outside auditor.
2. Establish SMART Goals
Once you have an idea of your past marketing performance, your current resources, and relevant data trends, you can move forward with setting actionable goals.
It's not enough to set general fundraising goals. Your goals should be carefully chosen and aimed to drive meaningful conversions to your nonprofit organization and support your overall mission. That's why we recommend using the SMART method to set goals.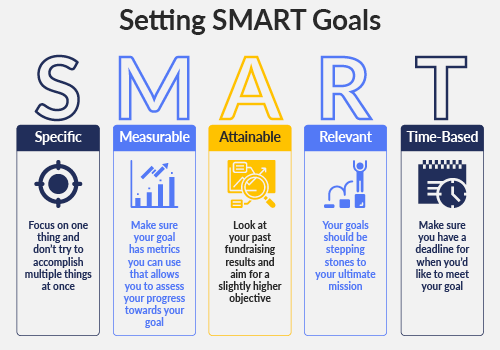 Specific

: Your goal should be as specific as possible— focus on one thing and don't try to accomplish multiple things at once. If it's a fundraising goal, set a monetary amount, if it's a conversion goal, determine the rate at which you want to increase actions. 

Measurable

: Goals are only useful when you can measure their success and progress. Make sure your goal has metrics you can use that allow you to assess your progress towards your goal. This way, if you notice rates dropping, you can adjust your strategies. 

Attainable

: Don't set lofty, unrealistic goals. Look at your past fundraising results and aim for a slightly higher objective. For example, if you currently only have 10,000 Instagram followers, it's much more attainable to set a goal of increasing it to 20,000 than 1 million followers. 

Relevant

: Your goals should be stepping stones to your ultimate mission. Make sure that every goal you set is helping you get where you want to go. 

Time-based

: Goals shouldn't be set and then never checked in on. Make sure you have a deadline for when you'd like to meet your goal. Even if you don't accomplish it, this information can help you plan future campaigns and strategies. 
Here's an example of a SMART goal you might set for your nonprofit that aims to increase funding for equal education through their matching gift program:
"By the end of this year, we aim to increase our matching gift program participation from 150 donors to 300 use the funds to create college networking opportunities for at-need students. To track our progress, we will check these numbers and create reports biweekly.
This goal is time-based (end of year), has a specific and attainable target (increasing matching gift participation from 150 to 300), is relevant to your mission (college opportunities to decrease education inequality) and includes reporting methods (biweekly reports).
3. Study marketing trends and current news
While internal nonprofit data and past performance can take you miles when it comes to formulating a marketing plan, it's also a good idea to look at current trends and news items that you can incorporate. 
For instance, there's a wealth of nonprofit fundraising and marketing trends released each year. You might see that social media has become more popular to connect with donors and then prioritize that in your future marketing. Here are some reliable data sources you might use:
Along with nonprofit trends, you can look at current news events and other important national occurrences. This is known as "newsjacking," and involves leveraging popular keyword searches from relevant stories and other important occurrences, whether that's a global pandemic or a national holiday. This not only helps you reach a wider audience but lets your supporters know that you're current and engaged with what's happening in the world. 
4. Outline your target audience 
Knowing who your marketing strategy is trying to reach is one of the most valuable ways to improve your efforts and connect with supporters in meaningful ways.
We touched on this earlier, but it's recommended to outline your target audience by using donor segmentation and donor personas:
Donor segments

— To better reach your audience, use donor segmentation to group supporters by common traits. These segments allow you to create targeted strategies to better connect to that specific group. You can segment supporters by shared characteristics/traits like whether they're new donors, current donors, lapsed donors, or potential donors. You can also use traits like age, location, career, etc.



Donor persona

— This is a semi-fictional person made up of the traits of your chosen audience/donor segment. Donor personas allow you to better understand the motivations of your audience and use those motivations to drive your campaign. These are extremely helpful because they humanize your messaging— it's much easier to formulate messaging when you imagine one type of person versus a vague general group of people.
To employ donor segmentation and personas into your nonprofit marketing strategy, we recommend:
Segmenting your audience into small, medium, and major donors or first-time donors, repeat, and lapsed donors.

Draw various donor personas under each segment. Your personas should be as specific as possible. You might include a description of their support, how much they'll usually give or volunteer, their preferred method of communication, personal details like education status or age, and the causes they support.

Start crafting messaging for each donor persona based on the traits you listed out.
Let's walk through an example. Your nonprofit organization focuses on promoting equal education opportunities around the United States. You decide to segment your audience based on first time, repeat, and lapsed donors. Within lapsed donors, you create a donor persona of a recent college graduate who has given while they were in school, often volunteers with other causes, prefers email communication, and cares deeply about education rights.
As you craft your messaging, keep your donor persona in mind. Perhaps you'll consider an email campaign that reminds them of their past involvement and mentions how, with their help, they can provide the quintessential college experience they just had to others in need. You might even include volunteer opportunities that they might be interested in, as well as an impact statement of what a future gift could mean. 
5. Craft your messaging
While your nonprofit is doing good in this world, it doesn't mean you're the only organization attempting to make a meaningful difference. It's not enough to have a solid mission and goals, but you need to craft your messaging in a way that stands out from the rest. After all, the average office worker receives about 121 emails daily, with nonprofit emails only having an average open rate of 25.17%. You need your messaging to stand out from the crowd. 
One recommendation is to use the CRAM rule in marketing messaging: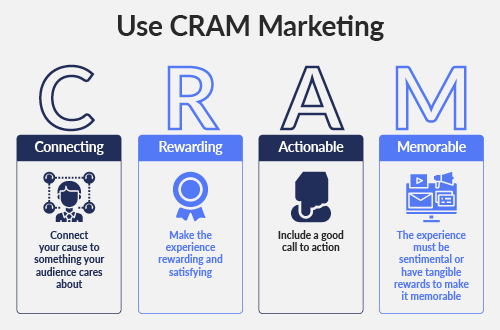 Connecting

— Connect your cause to something your audience cares about.

Rewarding

— Make the experience rewarding and satisfying.

Actionable

— Your marketing message must have a good call to action.

Memorable

— The experience with you must be sentimental or have tangible rewards to make it memorable.
One of the best ways to uphold all the qualities in CRAM is to use effective nonprofit storytelling techniques. In fact, 56% of those who support nonprofits through social media say that it's compelling storytelling that motivates them to make a donation. Use real stories and photos from the communities that you've helped and the impact you've had on individuals to really drive the point home. 
6. Allocate budget
When it comes to your nonprofit marketing plans, there are a lot of moving pieces to manage. Creating the materials, maintaining certain accounts, and tracking each data point effectively aren't actions that come cheap.
You need to make every dollar account, so it's critical that as you lay out your marketing plan, set your budget carefully. 
As a general rule, it is advised that 5-15% of your operating budget is reserved for marketing. Look at your overall budget for the year, take 5-15% of it, and then start dividing it by marketing strategy and channel. It's better to undershoot your budget than overestimate it when planning. 
It's important to be as specific as possible about the expenses of your campaign as well as the expected revenue and result. This will ensure that you are prepared at every step of the road and that you don't run into any unexpected problems when it comes to budget. Plus, having your budget already allocated out will help get board members and other stakeholders on board. 
7. Choose the best marketing channels
Now comes the exciting part! Remember, before you dive into the marketing channels you'll want to focus on, it's important that you first determine your target audience and the budgeting you allow yourself. 
There are tons of marketing channels that you can choose from, and each has its own strengths and challenges. Here are the popular ones:
Email

—  Email is often the go-to for nonprofit marketers because it allows you to connect with all types of supporters, whether new, repeating, or lapsed. It's great for sending event invitations, thanking donors for their gift, and even just providing general updates with a regular newsletter. Email is generally an intimate platform to speak with those who know you and trust you on a personal level.

Website

— Your website is a huge resource when it comes to marketing your mission. It's likely the first place prospects go to learn about your mission and where long-term supporters go to give support. It not only hosts valuable information on your organization but it also provides engagement opportunities like online giving, event registration, and more. 

Blog

— Sometimes nonprofits have a blog on their website to drive more traffic and provide meaningful content about your organization. It's also a great way to provide a community and act as a go-to resource for supporters. Consider blogging about nonprofit industry trends, mission updates, and recent events or campaigns. 

Facebook

— Facebook has many amazing features that can help nonprofits market their mission and connect with donors. You can utilize its events features, its page capabilities, and even encourage supporters to reshare your content. Facebook is also great for showcasing impact, expanding reach, and engaging in conversation among different supporters.

Twitter

— Twitter is known for its real-time short text updates and retweetability. It's the perfect place to share updates on an issue or announce the exciting news.  

Google Ad Grant

— The

Google Ad Grants program

helps nonprofits take their marketing to the next level with $10,000 each month in free Google ad space. All eligible nonprofits can receive this grant if they simply apply. To get started or help in maintaining your account, it's recommended to partner with a certified Google Grant agency. 
Along with the strengths of each marketing channel, it's also beneficial to look at past marketing campaigns and data to see which outlet has had success in the past. If you see that your Facebook fundraisers have shown great promise in both donation amount and shareability, then it's a good idea to focus more on this channel.
While pinpointing the best marketing channel for your needs is important, remember that the recommended route of action is to take a multi-channel marketing approach. This allows you to use a variety of channels and strategies to work together towards one ultimate goal. 
Make sure that your multi-channel marketing efforts support each other. For instance, in a direct mail event invitation you might include a QR code to your online registration page and your social media accounts. Increasing as many touch points as possible will only build the bond between donors and your mission, creating the foundation for long-term support. 

8. Create a marketing plan calendar
The last step to creating your nonprofit marketing plan is to finally put everything into place. You know who you're targeting and you have your strategies and messaging all picked out. It's time to put it all together with a comprehensive and detailed marketing plan calendar. 
This calendar should be a timeline of your marketing plan actions, including:
The start and end dates of events or campaigns.

The team and leaders involved, including goals for each member.

Budget allocations for each event and action.

Volunteer and staff training dates (if necessary).

Regular meetings with the staff.

Content calendar for when the material is released.
Once this is all in place, make sure that your team members are all on the same page. This blueprint will ensure that everyone stays organized and knows their roles and when to perform actions, streamlining the entire marketing process as it plays out. 

Nonprofit Marketing Plan Downloadable Templates!
Planning your nonprofit marketing can be a painstaking process and involves many moving parts. Feel free to download one of these templates (or download them all!) to ensure your planning remains organized and streamlined.  
General Nonprofit Marketing Plan Template 
SMART Goals Template 
Donor Persona Template 
Marketing Plan Budget Template 
Nonprofit Marketing Calendar Template 

https://gettingattention.org/wp-content/uploads/2021/09/Nonprofit-Marketing-Plan_Feature-2.jpg
350
725
Getting Attention
https://gettingattention.org/wp-content/uploads/2021/08/getting-attention-logo.svg
Getting Attention
2021-09-01 21:11:03
2022-08-29 20:15:58
Nonprofit Marketing Plan in 8 Steps (+ Free Templates!)