To further your nonprofit's cause, you need all kinds of support, including donations, and support from volunteers and members alike. To get that support, people need to be aware of your organization and its goals. That's why getting the word out about your mission is one of the most important parts of running a successful nonprofit.
If you're not convinced that marketing is vital for your nonprofit, consider that one in four donors use their mobile devices to discover nonprofits they were previously unaware of. And in 2021, nonprofit email list sizes grew by 7%. This means that potential supporters are interested in learning about and helping your nonprofit—they just need to find you.
To help you upgrade your marketing efforts, this guide will cover the following topics:
Having access to free marketing tools can take a great burden off of small or new nonprofits that are just getting started and may not have the budget to pay for marketing software solutions. However, to use these tools effectively, you must first understand how advertising can help your nonprofit.
What are the Benefits of Nonprofit Marketing?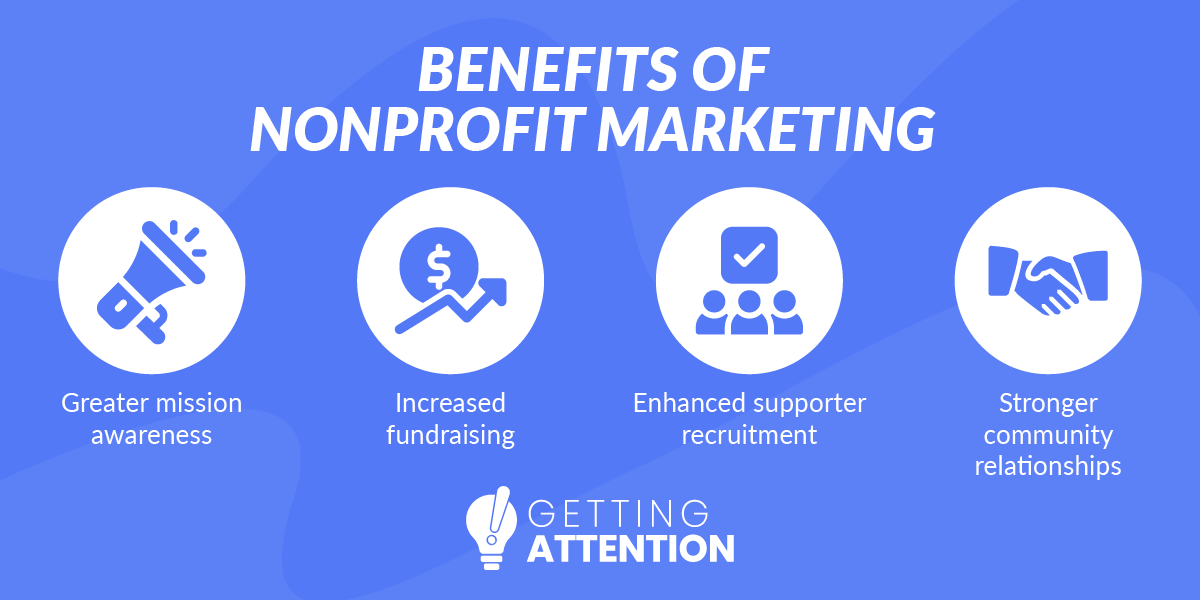 Promoting your nonprofit brings a variety of benefits. It extends your organization's reach, resulting in:
Greater mission awareness. Increasing your marketing presence means that you'll be informing a greater number of individuals about your nonprofit's mission, operations, and work. Even if these individuals don't choose to support your nonprofit, you'll still be boosting awareness of your cause.
Enhanced supporter recruitment. Nonprofit marketing helps enhance supporter recruitment simply by reaching a larger audience. You'll be able to connect with a larger amount of individuals who genuinely want to help.
Increased fundraising. Because a greater number of people are aware of your nonprofit's mission, your fundraising capacity also increases as these individuals make donations in your support. Just think back to the ALS Ice Bucket Challenge, which went viral and helped the ALS Association increase its annual research funding by 187 percent.
Stronger community relationships. Not only does nonprofit marketing result in new supporters, but it can also strengthen relationships with existing supporters. With email newsletters and social media posts, keep your work top of mind and show the tangible impact of your supporters' help.
To fully leverage the benefits of promoting your nonprofit digitally, you'll need to put time and effort into creating a thorough marketing strategy. There's a lot of research and planning involved in a successful marketing campaign, but not to worry—we'll help you get started with establishing your strategy.

7 Steps for Creating Your Nonprofit Marketing Strategy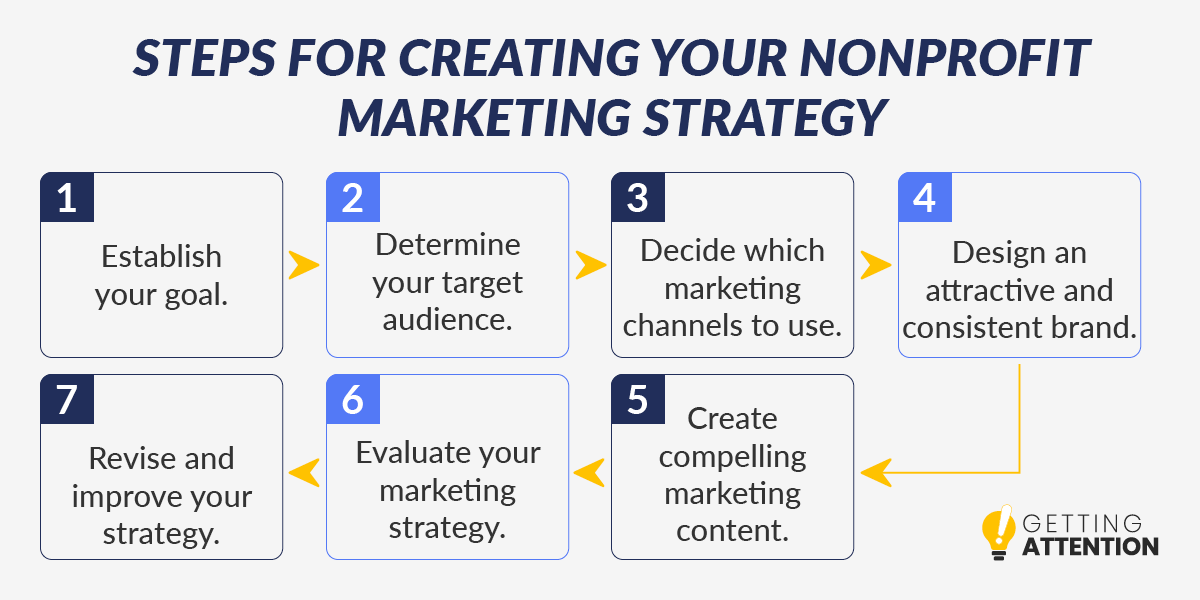 For advice on establishing a comprehensive and thoughtful promotional plan, consider these seven steps to creating a successful marketing strategy:
Establish your goal.Ask yourself, what's the ultimate goal behind promoting your nonprofit? Depending on what that goal is, you may need to adjust your approach. Common goals include increasing fundraising revenue, recruiting volunteers, and attracting event attendees.
Determine your target audience. Consider the demographics that make up your supporter base. For example, maybe most of your volunteers belong to Gen Z and live locally to your headquarters. Or, maybe the majority of your donors are Millennials that live all across the country.
Decide which marketing channels to use. Once you've determined your target audience, assess what types of messages they are most responsive to and what channels they are most active on. Common marketing channels include email, direct mail, and social media.
Design an attractive and consistent brand. Remember that your marketing efforts reflect back on your nonprofit. Having consistent and professional graphics, branding, and content will add to your nonprofit's credibility.
Create compelling marketing content. Your content should be unique from other nonprofits, shaped by the marketing channels you use, your nonprofit's voice and culture, and what your supporters and target audience are interested in.
Evaluate your marketing strategy. After you've employed your new strategy for a period of time, assess how well it's performing. Look at relevant data and information and ask yourself: What's going well? What could be better?
Revise and improve your strategy. Once you've honed in on the portions of your nonprofit marketing strategy that could be improved, make adjustments to them so the strategy is tailor-made to fulfill your goal.
Don't be discouraged if your strategy isn't as successful as you want it to be on your first try. Building a nonprofit marketing strategy can be difficult, as there are many different aspects to it that you'll need to consider. It will take trial and error, and it's normal for your strategy to need revising.
13 Free Nonprofit Marketing Tools
To help you execute your marketing strategy, we'll discuss 13 free nonprofit marketing tools you can use and what you can accomplish with them.
1. Google Trends
With Google Trends, you'll gain a broad understanding of what people are searching on Google in real time. You can use this information to gauge interest in a particular topic. This could be your nonprofit, your cause, or any current events that relate to either.
You'll also be able to evaluate engagement with your topic of choice in specific locations over time. This can help you determine how popular the topics surrounding your nonprofit's mission are and form an understanding of your target audience. You can also leverage long-term trending searches in your marketing strategy to garner more support for and awareness of your nonprofit.
2. Google Analytics
Google Analytics is helpful for nonprofits during each stage of establishing their marketing strategy. It allows you to understand your website, your visitors, and their behaviors. Some of the insights you gain from Google Analytics include:
Who your visitors are. This includes each visitor's location, age, gender, and interests.
How they're getting to your site. Web browsers commonly find sites through search engines, but they could also click on a direct link from another page or on an ad to get to your web page.
What device they're using. You'll learn whether your visitors use desktops or mobile devices, the browser they've chosen, and even their operating system.
How long they're engaging with your site. Google Analytics tracks session duration rates, meaning the amount of time that a visitor stays on your site. It also tracks bounce rate, which is the percentage of users that leave your site after only viewing one page.
This tool is most helpful for nonprofits who are trying to determine their target audience and decide which digital marketing channels to use. You can also use it to track the success of certain strategies and channels, like Google Ads.
With the insights from Google Analytics, you'll be able to gain a thorough understanding of your target audience and how they prefer to see communications from your nonprofit. You can also create customized dashboards to keep track of the information you need, which is very helpful for evaluating and tweaking your nonprofit's marketing strategy.
3. SurveyMonkey
This free nonprofit marketing tool allows you to conveniently create surveys for polling your nonprofit's audience. Not only can you create surveys to assess attendee satisfaction after events, for example, but you can also leverage this tool to inform your marketing efforts.
With SurveyMonkey, you'll have access to a library of survey templates that you can build upon and customize to fit your nonprofit's needs. Make your survey available through web links, email, or embeds on your website. Once you get responses to these surveys, analyze responses with SurveyMonkey's built-in reports and dashboards.
Like Google Analytics, you can use this free marketing tool to decide on your target audience and which marketing channels to use. However, you can use it to gather more in-depth and detailed information from your nonprofit's existing supporters to fuel your marketing efforts. For example, use your surveys to ask them about their interests, communication preferences, and what they'd like to see from your organization.
4. Canva
When it comes to developing your nonprofit's graphics and marketing materials, Canva is the free marketing tool you'll want to use. To help nonprofits with their advertising efforts, Canva offers free use of its intuitive and convenient premium tools to eligible organizations.
With Canva, you can create a variety of marketing materials to boost mission awareness and recruit support, including:
Social media posts
Presentations
Infographics
Reports
Posters
Flyers
This tool offers over 75 million images and 3.5 million graphical elements to help you design attractive, professional, and consistent marketing materials for your nonprofit. If you're unsure of how to effectively utilize graphic design principles to create eye-catching promotional content, don't worry—Canva also offers over 400,000 customizable templates to get you started.
5. Pexels
"A picture is worth a thousand words" is a common saying, but it's based on reality. In fact, articles with images have 650% of the engagement of articles without. If you're interested in leveraging the power of images to engage your audience, consider using Pexels.
This free nonprofit marketing tool is a database of free stock photos and royalty-free images and videos that you can use at no cost. Pexels also encourages creativity by allowing users to modify the photos and videos on their site.
For nonprofits without photographers and videographers, Pexels is a great alternative. While you don't have sufficient photos and videos of your own, use this tool to liven up your promotional content and make it more visually appealing and engaging.
6. Grammarly
While visuals are important for your nonprofit's marketing content, your written content is also crucial to creating a compelling message that helps garner more funds and followers. Grammarly is a free nonprofit marketing tool that can help you do that.
Although Grammarly can't write your content for you, it can act as a proofreader. To ensure your nonprofit presents a professional image to potential supporters, it will review spelling, grammar, punctuation, and clarity errors in your text and suggest fixes. By downloading the Grammarly app and extension, you can write mistake-free in any app you use, including Gmail, Google Docs, Facebook, and more.
If you're looking for even more in-depth insight into improving your writing, Grammarly's paid premium service will give you targeted suggestions for clarity, vocabulary, and tone.
7. Typito
Nonprofit video content is a type of marketing material that, when strategically created, can create a great impact on your organization. A recent study found that as many as 91% of consumers want to see more online video content from brands, and another study found that video marketers get 66% more qualified leads per year and achieve a 54% increase in brand awareness.
Typito is a free nonprofit marketing tool you can use to create stunning and professional text videos. It has an easy drag-and-drop interface to make the editing process more convenient, so you can have your promotional videos ready to go in no time. Typito also offers the following features:
Brand Kit. With this feature, you can choose colors, fonts, and styles to create a consistent brand for your nonprofit.
Instant Captions. Automatically create closed captions that are synced perfectly with the audio of your video.
Video Formats. Typito allows you to choose from over 20 different video formats and aspect ratios for full control over your video.
Free Templates. Inexperienced video creators will appreciate the free text animations that can help you spice up your video without editing expertise.
Live Video Preview. You'll know how your finished video will look at every step of the editing process with the real-time video preview feature, without needing to export.
And, if you ever need any help with your creations, Typito's support team is ready to help. For nonprofits that are looking to create compelling video content, such as for a social media platform like Youtube or TikTok, this free marketing tool is a stellar choice.
8. Google Ad Grants
When it comes to reaching a wider audience, Google Search Ads is a top tool for organizations of all types. The 
Google Ad Grant
gives eligible nonprofits access to these ads for free by giving them $10,000 of credits to spend on Google Ads. This free funding can make a huge difference for small nonprofits seeking to create a greater impact.
To be a part of the Google Ad Grant program, your nonprofit must be eligible and go through the application process. After you've been approved, you'll set up ad campaigns that help you work towards your greater marketing goals. Effective Google Ad Grants management allows nonprofits to: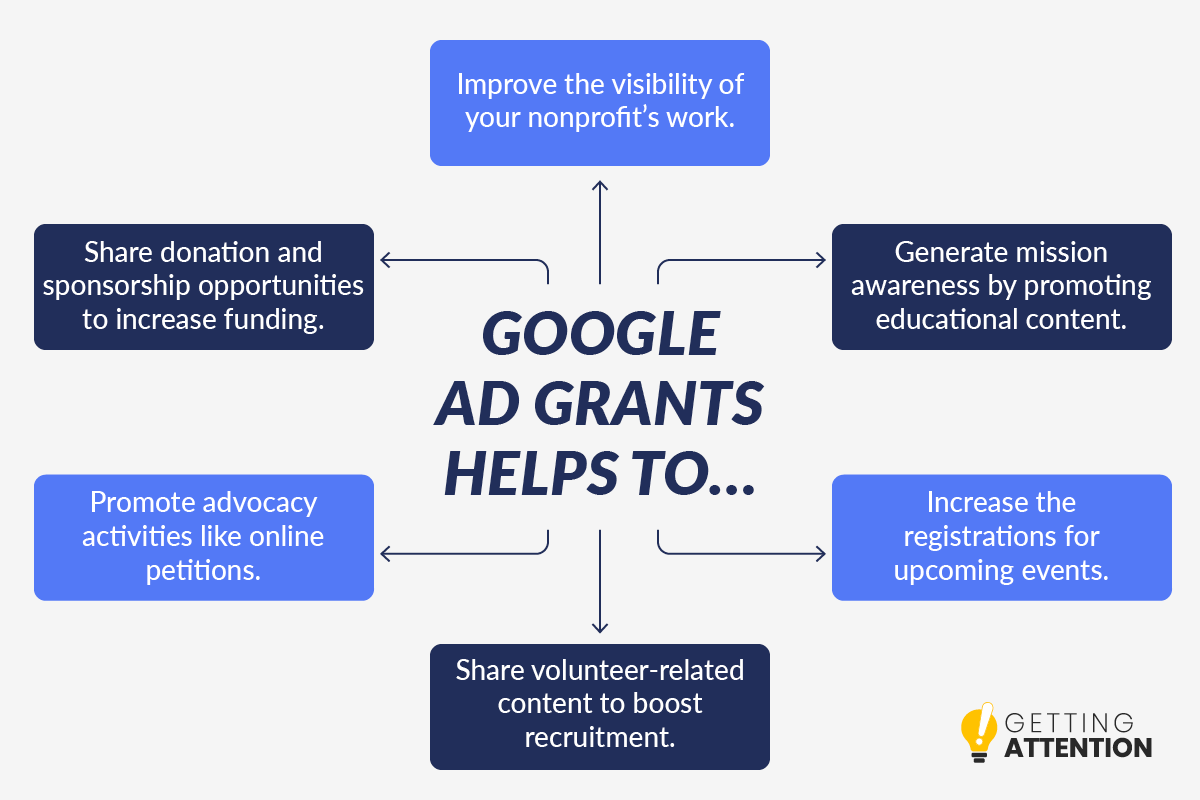 Improve the visibility of your nonprofit's work.
Generate mission awareness by promoting educational content.
Increase the registrations for upcoming events.
Share volunteer-related content to boost recruitment.
Promote advocacy activities like online petitions.
Share donation and sponsorship opportunities to increase funding.
Use Google Ad Grants to create compelling advertisements that your target audience will click on. To do so, you'll need knowledge of search engine optimization (SEO) and keyword research. However, if you have the budget and lack the required experience, consider partnering with a Google Ad Grants agency. These marketing professionals can lend their experience to help you generate the impact you desire.

9. Mailchimp
Email marketing is a tried and true channel for nonprofit advertising. Mailchimp makes that easier for you with a solution built for marketing. With this free nonprofit marketing tool, you can set up automated email campaigns to ensure that you send your messages at the right time.  And, it syncs seamlessly with your existing software solutions so you can save time.
Use Mailchimp's free, pre-built email templates to help you jumpstart your email marketing processes. You'll have access to tools to help you create content, customize designs, and assess how your content is performing. You can also separate your supporters into different segments, helping you create compelling content that appeals to each unique audience group.
10. Hootsuite
It's estimated that there are over 4.8 billion social media users worldwide. That alone speaks to social media's greatest power, which is helping your nonprofit increase its reach and visibility. Hootsuite helps you do that by managing your social media profiles, all in one place.
With Hootsuite, you can:
View all your social media content in one calendar.
Schedule and publish content to your profiles.
Create and organize your posts.
Track post engagement in real-time.
Monitor relevant trends and topics.
Get actionable insights on the best times to post.
This nonprofit marketing tool will level up your social media marketing efforts by helping you create high-quality content that appeals to your target audience. Hootsuite offers a free 30-day trial for organizations interested in their Professional and Team plans, but after that, you'll have to pay a yearly fee to continue using their services.
11. Bitly
Bitly is a free nonprofit marketing tool for creating short links, QR codes, and Link-in-bio pages. They have over 500 thousand paying customers across the globe and 5.7 million monthly users. Their free features include:
Link Management. This includes URL shortening, custom brand links, and URL redirects.
QR codes. Fully customizable and dynamic QR codes, different QR code types, and different destination options.
Link-in-bio. Customizable social media URLs and landing pages and easy-to-manage links.
You can use Bitly's features in a variety of ways to aid your marketing efforts. For example, if the URL for your donation page is long and difficult to remember, make it more convenient for potential donors by shortening it. Or, if you're promoting an event, include a QR code on your posters and flyers so people walking by can easily get more information
Additionally, Bitly also offers advanced analytics and tracking tools to help you easily assess the data from your links and QR codes. You can use these features to evaluate your marketing strategy's efficacy, helping you identify points that could be improved in the future.
12. WebSite Auditor
This free nonprofit marketing tool does exactly what its name suggests—it audits your website and performs on-page analysis for SEO. Ensuring that your organization's website is as easy as possible for search engines to crawl through is important to improving your ranking on search engine results pages (SERPs), as this boosts your mission's visibility.
WebSite Auditor's free plan allows you to:
Find and analyze the pages of your website
Calculate overall website statistics
Make Google XML sitemaps for your pages
Create and manage robots.txt files
Check the number of visitors every page gets
Run full health checks for your website
Polish your site's HTML code
Not only that, but it offers easy access to all analytical data for your website and pages within one project. WebSite Auditor gives your nonprofit specific knowledge on how your site can be improved and empowers you to make those changes by giving you actionable insights. It works on any operating system, allowing you to easily evaluate and upgrade your site's marketing potential.
13. Give Lively
After you've put your advertising plan into place and evaluated it, you'll need to decide which improvements to make. Ask yourself, what changes would help your marketing strategy fulfill its purpose? One of the ways you can improve your strategy is by using a dedicated fundraising platform like Give Lively.
Entirely free for nonprofits, Give Lively offers digital, event, and peer-based fundraising features that will help your organization raise the funds you need. This software solution enhances your marketing strategy with these features:
Campaign Pages. Create beautiful, customizable, and responsive donation pages that are easy for donors to use.
Text-to-Donate. Encourage supporters to give on the go with custom text codes that never expire, making fundraising easier than ever.
Peer-to-Peer Fundraising. Word of mouth is a great way to spread information about your nonprofit and its mission. Take that to the next level with peer-to-peer fundraising, empowering your supporters to appeal for and collect donations on your behalf with personalized campaign pages.
If the goal of your advertising strategy is to increase your fundraising capability, Give Lively is the free marketing tool that will upgrade your marketing efforts. To use this software solution, you need to be a U.S. based 501(c)(3) public charity. You'll apply to become a member, and Give Lively will accept your membership if you align with their values statement.
Additional Resources
Nonprofit marketing can be just as complex and difficult as marketing for for-profit organizations. Luckily, there are a variety of free marketing tools available that your organization can use to reach your goals.
There are a lot of choices, and you might feel overwhelmed by them. Just remember that the first step is to establish your marketing plan—after that, do thorough research and select the tools that will help you achieve your goals.
If you're interested in learning more about nonprofit marketing, take a look at the following resources:

https://gettingattention.org/wp-content/uploads/2023/07/Free-Nonprofit-Marketing-Tools_Feature.png
700
1450
connie.zhang
https://gettingattention.org/wp-content/uploads/2021/08/getting-attention-logo.svg
connie.zhang
2023-07-06 15:14:53
2023-08-15 19:31:44
Promoting Your Mission: 13 Free Nonprofit Marketing Tools