Peer-to-peer fundraising is a powerful form of nonprofit fundraising in which organizations empower their supporters to raise money on their behalf. This fundraising strategy, also referred to as social fundraising or P2P giving, enables nonprofits to reach larger audiences, engage new donors, and raise a ton of funding for their causes.
For this fundraising method to be effective, your dedicated supporters require the right tools⁠—or peer-to-peer platforms⁠—to manage their fundraising from start to finish. And there are a lot of software choices to explore. That's why we've crafted this guide to help you decide on the provider that's best for you.
In this article, we'll cover the following:
By the end of this guide, you'll be comfortable with the types of features and functionalities peer-to-peer fundraising software can offer, and you'll walk away with a few great options to consider. Set your team up for success by carefully deciding which solution will work best for you!
Peer-to-Peer Fundraising Software: The Basics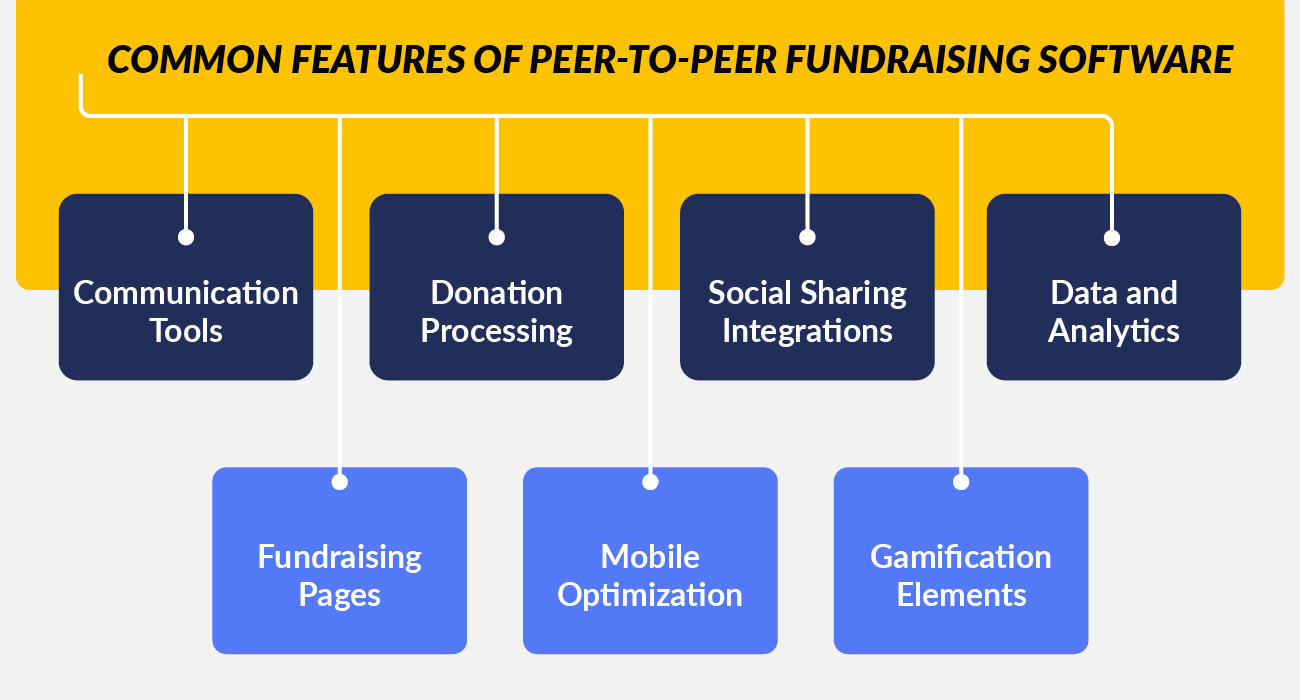 Keeping your peer-to-peer fundraising process organized can be difficult. Your team may have suddenly become a lot bigger with the inclusion of your peer fundraisers, and you have to manage both them and your staff members for your campaign to succeed. Plus, you have to track the funds everyone has raised and keep morale and excitement high.
Peer-to-peer fundraising software can help you keep your processes organized and streamlined. Such a solution comes with the following functionalities:
Communication tools. To have a successful campaign, you need to communicate effectively with staff members and volunteers. Peer-to-peer fundraising software enables you to message all involved individuals and even create communication templates to help your volunteers reach out to their networks.
Individual fundraising pages. With the right software solution, your volunteers will be able to create, customize, and personalize individual fundraising pages. They can use these pages to help you acquire donations and share their story, goals, and progress. Since they'll be tapping into their network for fundraising, this personalization will help create an emotional connection for potential donors.
Donation processing. Allow donors to make gifts through individual fundraising pages. That way, they won't have to navigate to your nonprofit's website to make a gift, making the process more convenient. Peer-to-peer fundraising software will give you secure and easy-to-use donation processing forms to ensure a smooth giving experience.
Mobile optimization. As 57% of nonprofit website traffic comes from mobile devices, ensure that your peer-to-peer fundraising software can create fundraising pages that are optimized for mobile usage.
Social sharing integrations. Since your volunteers will be promoting their fundraising page to their network, social sharing integrations are crucial to success. With these integrations, they'll be able to easily share their pages through social media, email, and text messaging, maximizing their advertising opportunities and ability to reach their network.
Gamification elements. Friendly competition motivates your peer fundraisers to increase their efforts in helping your nonprofit. Peer-to-peer fundraising software allows you to create a competitive spirit by incorporating gamification elements, such as leaderboards and milestone rewards.
Data and analytics. Keep track of your volunteers' fundraising in real-time and get insight into the overall amount of revenue generated. Then, use this information to make informed adjustments to the strategy for your peer-to-peer fundraising campaign. You can also evaluate the data to help improve future campaigns.
Peer-to-peer fundraising software is specifically designed to help your nonprofit's peer-to-peer campaign shine. Harness these functionalities to provide support for your volunteers and ensure your next campaign is a success.
11 Top Peer-to-Peer Fundraising Software Solutions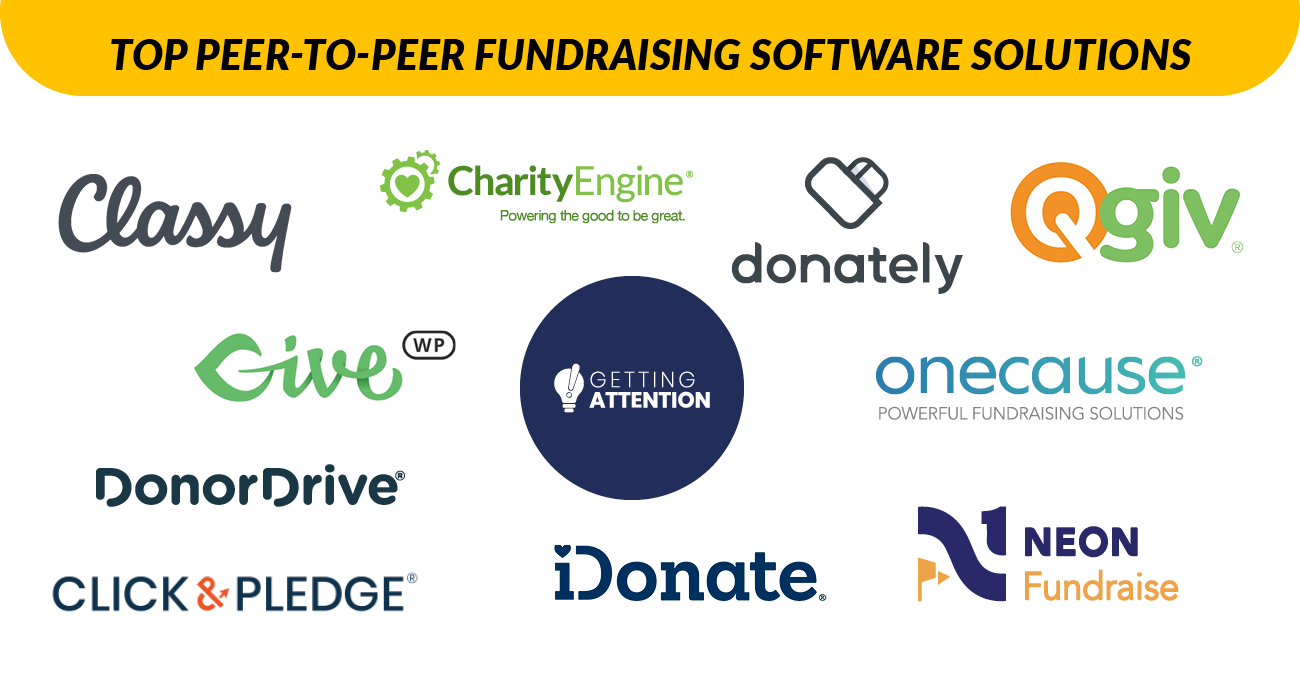 When choosing a peer-to-peer fundraising software solution to invest in, take a look at their case studies and testimonials. In particular, assess how the provider has helped organizations similar to yours in size and type, as that will give you insight into how the solution will work for you. Also, don't be afraid to look at third-party reviews!
Keep these considerations in mind as you read through the following list of top peer-to-peer fundraising software solutions. If you see a solution you're interested in, assess whether it will meet your needs, align with your budget, and be easy to use.

1. CharityEngine
CharityEngine is an all-in-one nonprofit donor management and fundraising platform designed to aid nonprofits of all sizes in a wide range of fundraising efforts. In addition to their greater constituent relationship management (CRM) solution, they offer peer-to-peer fundraising software that provides groups and individual fundraisers with the capabilities they need to succeed.
Some of CharityEngine's peer-to-peer features include:
Personalized campaign microsites
Customizable team and personal fundraising pages
Strategic fundraising goal-tracking tools
Plus, CharityEngine's peer-to-peer fundraising software integrates seamlessly with donor management solutions, event management tools, and other fundraising software. That way, you can smoothly transition from your existing software to this CRM solution.
2. Classy
Classy is a comprehensive online fundraising solution complete with peer-to-peer functionality and a mission to empower nonprofit organizations to unlock the generosity of their supporters. Since its foundation, Classy has helped thousands of nonprofits advance their missions, raising more than $5 billion in donation revenue.
This peer-to-peer fundraising software's features include:
Campaign templates
Embedded videos and livestreams
Built-in progress thermometer
Mobile-optimized pages and donation forms
Flexible payment processing
Employer donation match options
With Classy, you'll be able to mobilize your supporters with easy-to-use tools so they feel empowered to advocate for your cause. Plus, you'll have built-in tips and expert fundraising guidance, including automated email workflows to coach, motivate, and thank volunteer fundraisers.

3. Click & Pledge
A powerful online fundraising platform, Click & Pledge is dedicated to helping nonprofits and their supporters set up and manage effective fundraising campaigns. They've handled more than $1 billion in charitable contributions for more than 20,000 causes. Their platform is built for a variety of organizations, including nonprofits, associations, educational institutions, faith-based groups, and more.
They offer a variety of solutions that can support your peer-to-peer needs, including:
Donation Forms
Text-to-Give
Peer-to-Peer Fundraising Sites
Video Fundraising
Donor Outreach
In-Person Fundraising
Account Management
Click & Pledge's peer-to-peer fundraising software solution provides added customizability by offering over 20 unique widgets for volunteers to add to their pages. It also makes tracking and managing your volunteers easier through a team portal, where you can evaluate success at-a-glance and conveniently message team members.
4. Donately
Donately is an online solution dedicated to creating innovative and effective online donation forms and fundraising pages. Working with all sorts of nonprofits, churches, businesses, and agencies, this peer-to-peer fundraising software aims to simplify the donation process on both the donors' end and the organization's.
A unique feature that Donately offers is its top-of-the-line peer-to-peer fundraising pages. These pages are customized to fit your organization's branding, but still allow your volunteers to personalize them with their own stories. The result is a cohesive and harmonious page that drives more donations.
Plus, you'll get access to fundraiser progress tracking bars and social sharing tools to further spread the word about your campaign. With this peer-to-peer fundraising software, you'll be able to effortlessly expand your donor network.
5. DonorDrive
This peer-to-peer fundraising software solution works with nonprofits, healthcare organizations, and higher education institutions to simplify online giving and assist in raising more for their causes. DonorDrive amplifies the voices of your biggest advocates, who can share their personal stories to expand your donor base and connections.
With a mobile fundraising app, virtual campaign functionality, online donation campaigns, peer-to-peer giving, and more, DonorDrive users have the tools they need to power their missions effectively.
Peer-to-peer donors have access to simplified donation processes to make giving more convenient. They can make recurring gifts and see if their employers will match their gifts, resulting in more donations for your nonprofit. Plus, DonorDrive offers other unique features such as personalized coaching, social media integrations, flexible event configuration, automated communication, and real-time data insights.

6. Getting Attention
Promoting your peer-to-peer fundraising efforts is key to your campaign's success. By adequately marketing your campaign, you'll be able to maximize the number of individuals you reach out to and form connections with. Digital marketing will help you enhance the visibility of your campaign, increasing the number of donations you receive.
Getting Attention is a peer-to-peer fundraising solution focused on bringing more attention to your campaign. It does so by helping your nonprofit gain access to and optimize your usage of the Google Ad Grant. Essentially, this program gives your nonprofit $10,000 of free credit to spend on Google Ads, greatly increasing your outreach.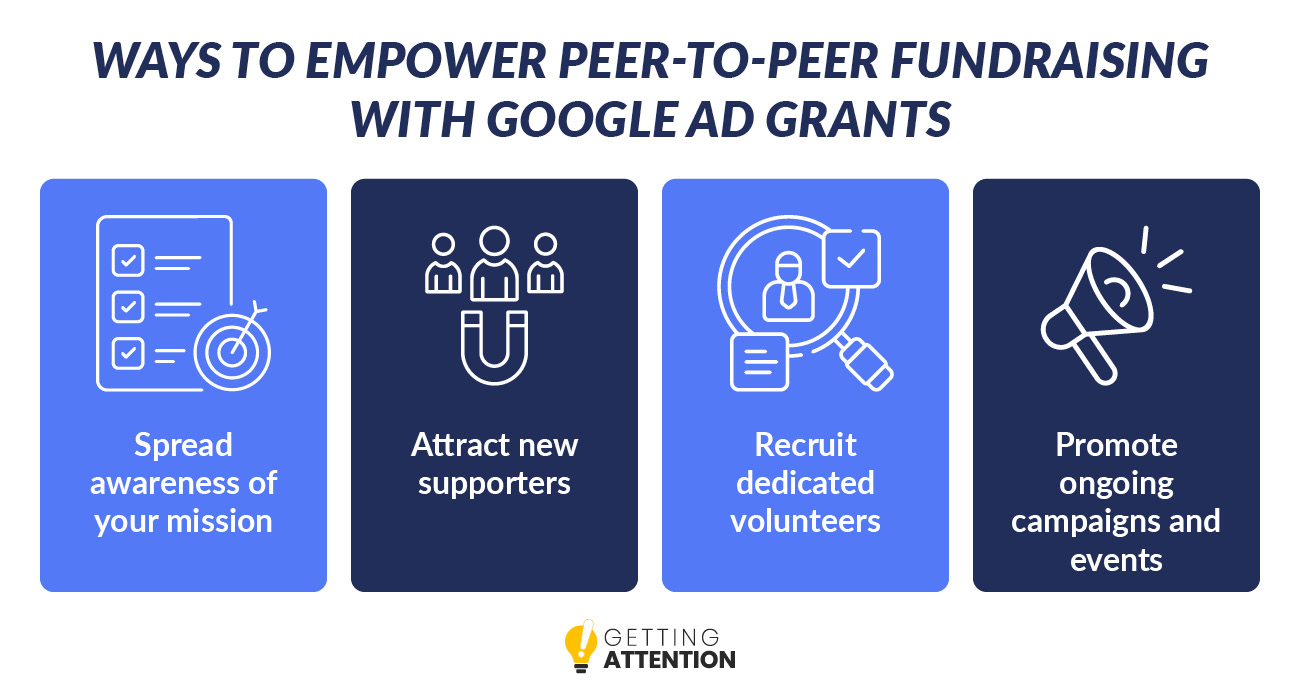 You can use the Google Ad Grant to:
Spread awareness of your mission
Attract new supporters
Recruit dedicated volunteers
Promote ongoing campaigns and events—including peer-to-peer fundraisers!
However, using the Google Ad Grants program can be difficult for nonprofits without experience in the realm of search engine optimization. That's where Google Ad Grant agencies like Getting Attention come into play.
Professionals from these agencies bring their experience and expertise to help you generate the impact you want. They offer a variety of services related to Google Ad Grants, including:
Account management
Landing page optimization
Data and reporting
By working with a Google Ad Grants professional, you'll be able to perform targeted outreach that increases awareness and participation in your peer-to-peer campaign. This results in enhanced site engagement and increased recognition, making it an extremely effective peer-to-peer fundraising software for marketing.

7. GiveWP
For nonprofits with blogs run through WordPress, GiveWP is the peer-to-peer fundraising software for you. This solution is a WordPress donation plugin option, making donating more convenient for website visitors. It's an open-source suite of tools that makes fundraising quick and easy.
GiveWP offers a peer-to-peer add-on that allows volunteers to leverage its features to encourage their networks to make gifts to your nonprofits. A unique offering of theirs is the ability to give donors choices through:
Choosing where their contributions go through the Funds and Designations feature
Using tribute eCards to make gifts in memory of a loved one
Allowing them to opt-in to peer-to-peer marketing newsletters
Other top features of GiveWP's peer-to-peer platform include fundraising goal progress bars for individuals and teams, social sharing abilities with built-in calls-to-action, and integrated sponsorship information.

8. iDonate
iDonate is a modern digital giving solution designed for today's nonprofits and other charitable organizations to grow their online giving and better reach dedicated supporters. This powerful suite of fundraising software encompasses peer-to-peer fundraising, web and mobile giving, and event management tools to drive results.
This software solution has a focus on optimizing your organization's growth through the following features:
A/B Split Testing
Recurring Gift Prompt
Personalization
Goal Meters
Their peer-to-peer fundraising platform incorporates top features such as a comprehensive command center and anchor page, campaign management with real-time data metrics, and easy campaign building and editing tools for individual fundraisers.
9. OneCause
OneCause is an online fundraising and event solution that has grown from a mobile bidding tool to a comprehensive giving platform with capabilities for online donations, peer-to-peer fundraising, auction and event management, and more. Since its launch, OneCause has raised more than $5 billion in charitable donations from 2.5 million supporters and over 40,000 fundraisers.
This software maximizes peer-to-peer fundraising by making it more social, mobile, and fun. It allows you to design your campaign materials based on the type of peer-to-peer campaign you're hosting, whether that's a walk-a-thon, memorial, or virtual campaign.
The OneCause peer-to-peer fundraising platform offers key features such as social media integration, motivation and rewards, flexible branding, and accessible technology to help your nonprofit reach its goals.
10. Neon Fundraise
Neon Fundraise is a product of Neon One, a nonprofit software company with innovative solutions for donor management, online fundraising, program management, events, web development, and more. With this peer-to-peer fundraising software, it's easy to take your mission to new heights by creating winning experiences for donors, fundraisers, and staff.
Some of the top features this software solution offers include:
One-click donations
Badges and achievements
Donor accounts
Multi-language and multi-currency capabilities
Compliant receipting
These features all work together to create a smooth donation experience for your volunteers' friends and family, helping to create a more successful peer-to-peer campaign for your organization. Not only that, but it will also help automate your workflow, making issuing receipts and collecting registrations more efficient.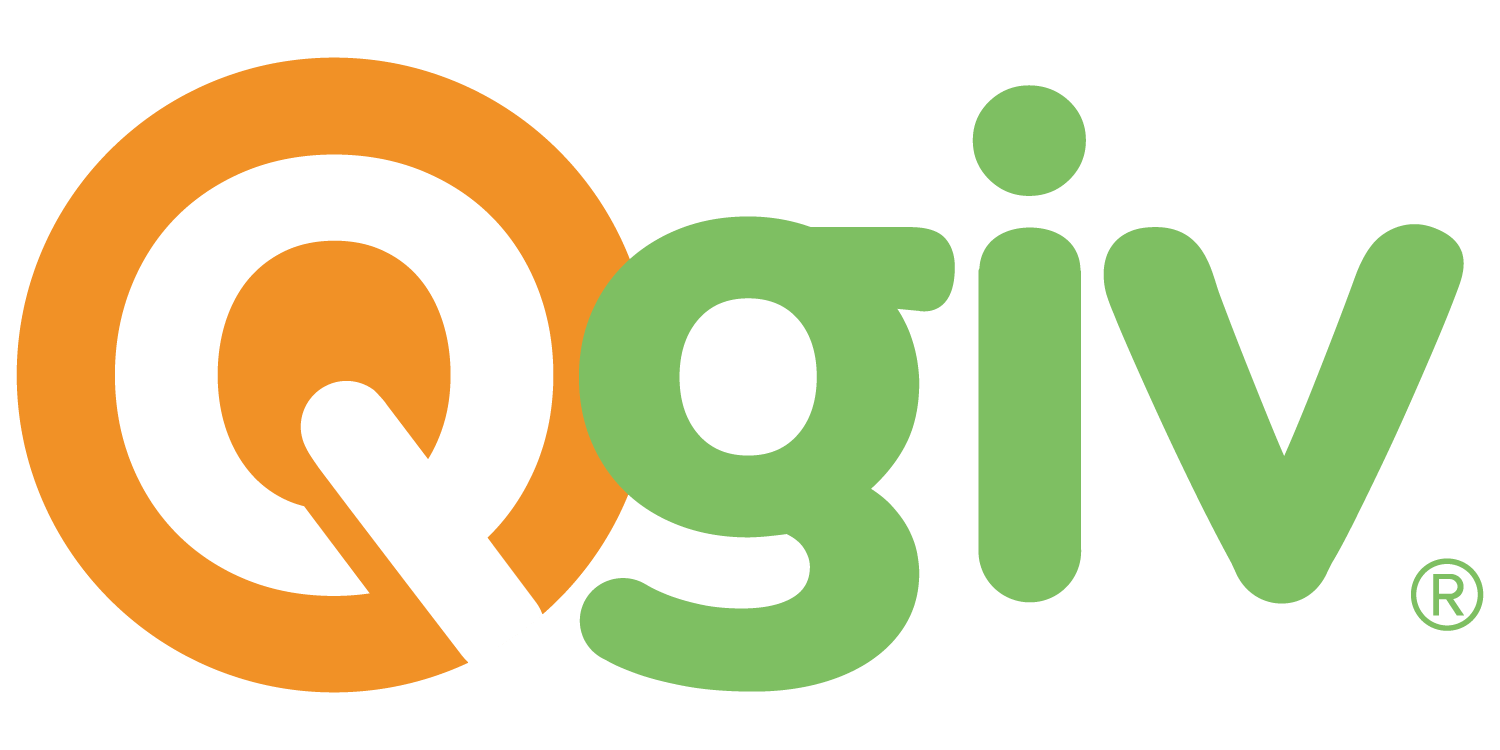 11. Qgiv
Qgiv is a powerful fundraising platform designed to assist nonprofit organizations with the tools they need to collect charitable donations online, in person, and over text. The peer-to-peer side of their software includes features such as:
Event management for pledge-based experiences
Intuitive online stores for sponsorships and merchandise
Email and social media marketing tools
This software solution also allows you to build customizable and virtual events to fit the needs of your peer-to-peer campaign. It also offers branded team and individual fundraising pages, flexible registrations, and progress thermometers to ensure that event attendees and volunteers are engaged and have a great experience fundraising for your community.
Additional Fundraising Resources
Peer-to-peer fundraising can take your nonprofit strategy to the next level. Not only does it allow you to acquire more donations, but it allows you to form connections with a greater number of potential supporters. To ensure your efforts are successful, equip your volunteers with the most effective and intuitive peer-to-peer fundraising software solutions. That way, you'll maximize the impact of your campaign.
If you'd like to learn more about nonprofit marketing and fundraising, check out these resources:

https://gettingattention.org/wp-content/uploads/2023/08/Peer-to_Peer-Fundraising-Software_Feature.png
700
1450
connie.zhang
https://gettingattention.org/wp-content/uploads/2021/08/getting-attention-logo.svg
connie.zhang
2023-08-15 19:09:37
2023-08-15 19:09:37
Peer-to-Peer Fundraising Software: 11 Top Solutions