In the fast-paced world of nonprofit membership programs, you need to create and sustain long-lasting relationships. You also need to maintain a positive brand reputation as an industry leader. That's why membership marketing is essential—it paves the way to a thriving, sustainable membership base.
In this guide, we'll explore the purpose of membership marketing, then provide the tools and tips you need to acquire, retain, and re-engage your members. Here's what we'll cover:
At Getting Attention, we specialize in helping organizations reach their marketing potential with the Google Ad Grant Program (which we'll cover in more detail later). With our professional guidance, you can amplify your message and connect with more prospects in no time.



Why Membership Marketing Matters
Membership marketing describes the strategic marketing efforts that focus on acquiring, engaging, and retaining members within a nonprofit organization. Effective membership marketing can help your organization make these benefits a reality: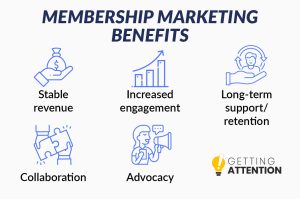 Stable revenue: Leads from membership marketing can help you build a solid financial foundation through recurring membership fees or subscriptions.
Increased engagement: Marketing communications boost your members' engagement and can facilitate community-driven experiences like event participation.
Long-term support: Consistent marketing efforts can translate into meaningful retention rates that decrease membership turnover.
Collaboration: Marketing platforms allow productive networking, knowledge sharing, and collaboration that can strengthen member connections.
Advocacy and ambassadorship: Successful member marketing can transform members into advocates and ambassadors for your cause, expanding your reach and amplifying your impact.

A long-term member marketing strategy can help your organization tap into these advantages and many more. However, to achieve these benefits, you'll need to create a plan that caters to your individual members' needs. That means you'll need to take a step back and understand the full picture of the member experience.
Membership Marketing Funnel: Understanding The Member Experience
What does the current journey look like for prospective members to become active and engaged supporters? These questions will help guide you to create an actionable membership marketing plan that prioritizes member experience above all else.
If you provide a positive and memorable experience, you'll give your members every reason to take the next defined step and engage. You can use a membership funnel to visualize your member's journey: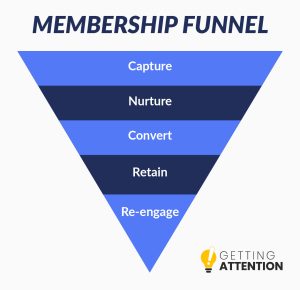 Capture: Prospective members are "captured" when they are introduced and become aware of your mission through email, word of mouth, your website, or another source that prompts them to consider learning more about your organization.
Nurture: Follow-up emails, direct mail, or other methods prompt prospects to continue their research and build up experience with your organization.
Convert: Various membership benefits, in addition to your regular marketing communications, convince prospects to become full-time members of your organization.
Retain and Re-engage: Regular marketing efforts continually engage existing members with personalized member experiences such as members-only events, discounts, and workshops. Surveys and feedback opportunities are implemented to ensure your organization is exceeding membership expectations and re-engaging lapsed members.

Every organization should have set marketing efforts based on each of the above stages of the member journey. That way, your team will have a well-rounded strategy that enriches your member's experience from start to finish.
Membership Marketing Tools
It's one thing to know marketing can have transformative effects on your organization, it's entirely another to know which tools to leverage to help you get there. That said, let's explore the top tools you should keep handy in your member marketing toolkit:
CRM (customer relationship management software): A CRM system lets your nonprofit manage member data, track interactions, and personalize its messaging. The right CRM will help you segment your audience based on predetermined criteria such as demographics, interest, and engagement level.
Email: Email marketing tools let you create consistent, targeted email campaigns that inspire and engage your members. Several email marketing tools offer templates, automated email capabilities, and analytics to track your email open rates. Keep in mind that almost 70% of new members are captured via email, so choose a tool that boosts your results.
Social media: Social media management tools like Canva or HootSuite can help you create eye-catching social graphics and schedule your posts.
Analytics: Marketing tools like Google Analytics can give your organization a bird's eye view of member engagement by analyzing website traffic and campaign performance.
Website: Your website acts as the home base for your marketing efforts. Therefore, it should include clear information about how a new member can join, relevant schedule information, and member testimonials to highlight the impact of your organization's programs.
This last point bears emphasizing as your website is essential for other onsite content strategies including Google Ads. This means a clean, organized website should not only engage your current members but also attract new ones. With this in mind, let's explore our top ten nonprofit membership marketing ideas.
Is your website set up for success? Download Getting Attention's Website Checklist for tips
10 Solid Membership Marketing Ideas
Below are ten membership marketing ideas your organization can leverage. Let's break down each according to member acquisition and member retention: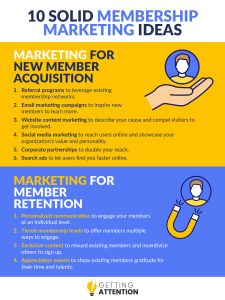 Membership Marketing Ideas for Member Acquisition
Member acquisition refers to the process of attracting and acquiring new members to your organization and is represented in the "capture", "nurture", and "convert" steps of the marketing funnel. Note that membership acquisition is notoriously tricky as 68% of organizations face challenges in growing their member base.
Try these ideas to help your organization get its feet off the ground and hit its acquisition goals:
1. Referral Programs
People trust people more than they trust organizations. For example, if a trusted friend told you that you need to check out a new restaurant, you'd be more likely to go than if the restaurant reached out to you personally.
That said, consider leveraging your existing member relationships by creating a referral program. You can do this by:
Identifying your target member: Are you wanting to recruit more students or more experienced professionals? Determine your current member base gaps and select an ideal persona that would bridge them. Then target existing members who have connections with these leads.
Determine member incentives to offer referees and referrers: You could offer a membership discount, free webinar, or free brand merchandise to incentivize existing members to refer and prospective members to join your organization.
Set guidelines: It's best to set a timeline to prompt more referrers to act with urgency. Additionally, you'll want to attain qualified leads, so it might be best to set a benchmark for the amount of time referred members are required to stay at your organization to obtain the referral incentive.
Advertise your program: Communicate your referral program guidelines on your website, social media, at events, and through emails to inspire more member applications.
Ideally, your referral program is a win-win-win situation for your referrer, referee, and organization as your referrer and referee enjoy the program's incentives and your member acquisition rate keeps climbing!
2. Email Marketing Campaign
Send out a dedicated email marketing campaign to nurture your existing contacts and lead them one step closer to conversion. To nudge your prospective members using email marketing, follow these best practices: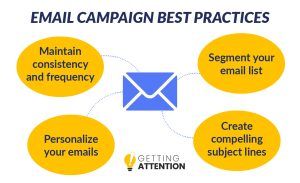 Segment your email list: The average nonprofit email list size is 4,191 recipients. Narrow them down by engagement level and demographics to target prospective members.
Create compelling subject lines: 64% of recipients decide to open or delete emails based on subject lines. Stand out in your recipient's inbox with lines that communicate your organization's value in memorable and relevant ways.
Craft engaging content: Use a mix of visuals, storytelling, and distinct calls to action that lead your recipients to take the next defined step, whether that's to join a prospective member Q&A or sign up for a yearly conference.
Personalize your emails: Include recipient names and personalized recommendations that recognize individual recipients and take note of their experience with your organization.
Maintain consistency and frequency: Make sure every email is scheduled at a rate that keeps recipients informed without overwhelming them.
Track your email open rates to discover your campaign's effectiveness and make any adjustments as necessary. For example, you might find that emails with short YouTube video explainers perform better than simple images. Using that information, you might seek to edit more video content that inspires new members to join.
3. Website Content Marketing
82% of marketers actively use content marketing, so join them by utilizing your existing website to add relevant content that educates and fascinates users. For example, you might start a blog that provides organizational insights, information, or case studies that highlight how your organization actively furthers its mission.
Doing this will boost your credibility and differentiate you from similar organizations that might not offer the same valuable resources. For example, Double the Donation's blog establishes itself as a thought leader within the nonprofit fundraising space with topics like donor retention, fundraising events, and matching gift solicitation.
4. Social Media Marketing
Aside from promoting your blog posts, social media can be a powerful tool to convince prospective members to convert as there are 4.80 billion social media users worldwide. The key is to regularly post engaging content to make your organization stand out, such as:
Testimonials: Share stories from existing members that highlight their unique experiences with your organization. With permission, post the member's photo along with quotes or relevant video content.
Member spotlights: Highlight your most engaged members and what makes them irreplaceable to your organization. This will communicate to prospects that they would enter into a community that appreciates and recognizes their unique contributions.
User-generated content: Encourage your followers to create and share their own content such as videos, stories, or posts. You can incentivize them by creating contests and awarding the most creative submissions.
Remember to respond to comments and repost tagged content to engage with current and potential members. Doing this will establish credibility and show prospects that your organization is dedicated to providing an interactive and fruitful experience.
5. Corporate Partnerships
Another effective way to reach new supporters is through corporate partnerships. This method helps you expand your reach by teaming up with organizations that have the same target audience as you. In the past, these relationships took the form of sponsorships only.
However, they have evolved since then and now represent opportunities for your organizations to meaningfully collaborate beyond providing brand name promotion. Today, you can research opportunities such as volunteering or skills sharing.
6. Search Ads
Search ads target prospective members who are already interested in your organization. Specifically, the Google Ad Grant is aimed toward nonprofit organizations and can help your organization spread awareness and attract new members. The best part? This program has donated more than 1.8 million dollars worth of search ads to nonprofits.
Basically, the Google Ad Grant program for eligible nonprofits provides funds to spend on search ads in Google. Meaning your organization will show up at the top of the results when someone is looking for additional information relating to your nonprofit's mission.
More specifically, you can use the Google Ad Grant program to:
Educate and inform your audience: If your organization focuses on increasing public awareness about a certain topic, you can use the Google Ad Grant program to launch educational campaigns.
Attract new donors or members: Donors and members will be able to find you when they search for your organization online in no time.
Promote events: You can use the Google Ad Grants program to let your audience know about upcoming events like conferences, workshops, or fundraisers.
Although the Google Ad Grant program offers serval advantages, ensuring eligibility and maintaining your account can take some time. That's why many organizations partner with agency experts like Getting Attention to get the most out of their accounts.



Membership Marketing Ideas for Member Retention
It can be tempting to think that once you've converted a new member the marketing work is over. However, it's much more cost-effective to place additional effort into member retention than only focusing on member acquisition. Members also tend to stick with organizations that make them feel valued for their individual contributions. To up your member retention rate, try these strategies:
7. Personalized Communication
Indicate to your members that they are not just another number with personalized communication efforts. Refer to your existing member data to guide your communication efforts according to your member's membership type, demographics, and unique contributions.
For example, if your organization is focused on environmental conservation, you might invite local members to an environmental clean-up and educational seminar that's conveniently located for them.
8. Tiered Membership Levels
Give new members flexibility with how they choose to engage with your organization by offering them tiered membership levels. This also provides an upselling opportunity for you to use when collecting dues from your member base. Here is what your tiers could look like:
Basic Membership: Offers a basic package that gives members access to your directory, newsletter access, virtual event invitations, and recognition as a supporter on your website.
Premium Membership: Offers all benefits of the Basic Membership and exclusive access to workshops, training sessions, and online resources.
Platinum Membership: Offers all benefits of the Premium Membership, one-on-one expert consultations, VIP access to in-person events, and the opportunity to serve on an advisory board.
By offering members these options, they can select to engage in a way that works best for their goals. Each level provides different perks which can also incentivize members to increase their level later down the road.
9. Exclusive Content
Exclusive content deals can prompt prospective members to sign-up or convince existing members to increase their membership level. Here are a few exclusive content examples: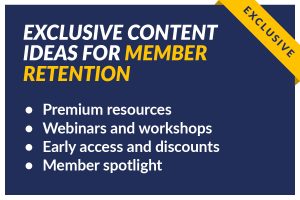 Premium resources: Recent and compelling e-books, white papers, or other downloadable resources can offer expert advice.
Webinars and workshops: Exclusive workshops and webinars can facilitate networking opportunities amongst members, enabling them to build a flourishing community.
Early access and discounts: Provide members with early access to events and new products or offer discounted merchandise or services.
Member spotlight: Recognize individual member accomplishments through a "member of the month" spotlight that those who embody your values.
Member-exclusive content should offer unique benefits that can be found only in your organization. Plan your benefits ahead of time and advertise them to prospective, new, and experienced members.
10. Appreciation Events
Celebrate member milestones with dedicated appreciation events. Members who have achieved 5, 10, 15, or more years of membership, have dedicated a large number of volunteer hours, or have given a large number of donations should be recognized for their loyalty.
You can host a wide variety of appreciation events including:
Virtual happy hour
Brunch with your organization's leaders
Annual member retreat
Special interest workshops or classes
Formal dinner
Define the standards members need to achieve ahead of time before finalizing your guest list. Creating events like this will show your members that you are dedicated to going above and beyond to exceed their expectations.
Conclusion + Additional Resources
Your ideal membership experience should directly inform your marketing efforts.
Use marketing tools like social media, search ads, and many other channels to activate a tailored marketing strategy for member acquisition and retention. Track and monitor each marketing strategy and note the ones that produce the most engagement for your outlined target audience.
We hope you enjoyed this guide to membership marketing! Check out these articles to keep learning:

https://gettingattention.org/wp-content/uploads/2023/06/Membership-Marketing-Ideas_Feature2-compressed.jpg
500
1550
Getting Attention
https://gettingattention.org/wp-content/uploads/2021/08/getting-attention-logo.svg
Getting Attention
2023-06-29 21:00:10
2023-07-26 14:49:53
10 Solid Nonprofit Membership Marketing Ideas to Drive Impact