When developing your nonprofit's marketing plan, you'll probably brainstorm some of the content you'll create for several popular communication channels, including your website, email, social media, and direct mail. To make your organization stand out, consider branching out from these typical marketing methods and adding a new—but also traditional—marketing channel: fundraising flyers.

Fundraising flyers have been around for years, whether they were attached to bulletin boards,  handed out at events, stacked in a bin by the front desk, sent in the mail, or delivered door to door. While paper flyers are still an effective way to draw attention to your cause, digital fundraising flyers open up even more opportunities for nonprofits.
Fundraising flyers come in all shapes, sizes, and content types. In this article, we'll help you create fundraising flyers that will be most helpful to your organization's marketing strategy:
Designing fundraising flyers can be highly rewarding for your organization, but it can also come with challenges. If you'd like help getting started or have any questions along the way, you can reach out to a graphic design service that will work with you on all your fundraising flyer needs.
What should a fundraising flyer include?
The exact information you include on a fundraising flyer will depend on your organization's current advertising goals and the delivery method you choose. For instance, you'll prioritize different details on a mailer promoting an ongoing fundraising drive than you would on a downloadable digital flyer advertising a one-time event.
There are a few common pieces of information that should always be on fundraising flyers, including: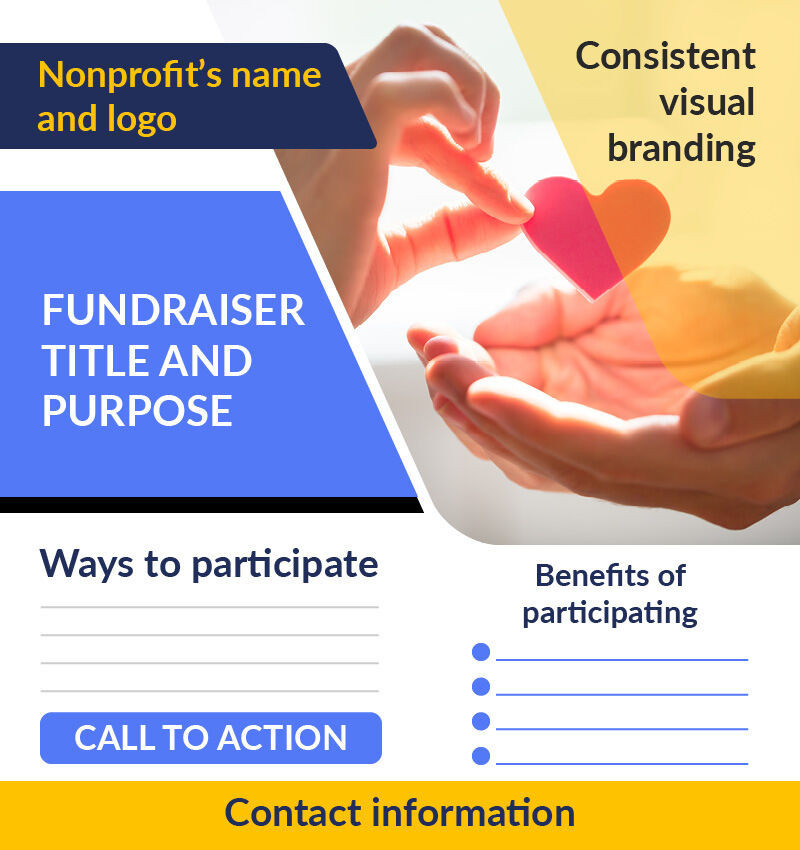 Your organization's name and logo. These foundational pieces of your nonprofit's brand will allow supporters to identify that the flyer belongs to your organization immediately. In addition to increasing brand recognition, your name and logo will make your flyer stand out from any others supporters may see.
Consistent visual branding. To cement the connection between your flyer and your organization, use your nonprofit's brand elements, like fonts and colors. While you're focusing on these elements, ensure that your flyer is legible—for example, use dark-colored text on a light background or light-colored text on a dark background.
The title and purpose of your fundraiser. Supporters will only want to get involved if they know what they're putting their time and money towards. Give your fundraiser a catchy name and explain its goals clearly on the flyer.
How supporters can participate.

If you're hosting an event, put the date, time, and location on the flyer. If you're promoting a different fundraising method, such as a product fundraiser or in-kind donation drive, include the different ways in which supporters can contribute (online, in-person, via text, etc.).

Any benefits of participating. Supporters will have extra motivation to get involved in your fundraiser if they see on your flyer that they can enter a raffle, earn a prize, or enjoy a fun activity by participating. If you aren't offering these incentives, place extra emphasis on the positive impact that supporters can make by contributing.
A specific call to action. Include a link or QR code where interested supporters can go to give to or register for your fundraiser as soon as they see your flyer, accompanied by a noticeable call-to-action phrase like "Sign Up Today!" or "Click Here to Donate Now!"
Contact information for your organization. Some supporters might have questions or want to learn more about your fundraiser before they commit to participating. To help them out, add a line of text to the bottom of your flyer that says, "For more information, contact us at…" followed by a phone number or email address.
Above all, your fundraising flyer should be helpful to supporters, so plan the content and style of your flyer with them in mind.

Fundraising flyer content ideas
In some ways, the name "fundraising flyer" can be a bit misleading as it may sound like it applies only to flyers that promote traditional donation drives. In reality, you can use a fundraising flyer to promote whatever fits with your organization's current goals, whether that's non-standard fundraisers or even fundraising-adjacent initiatives. These content ideas are great places to start.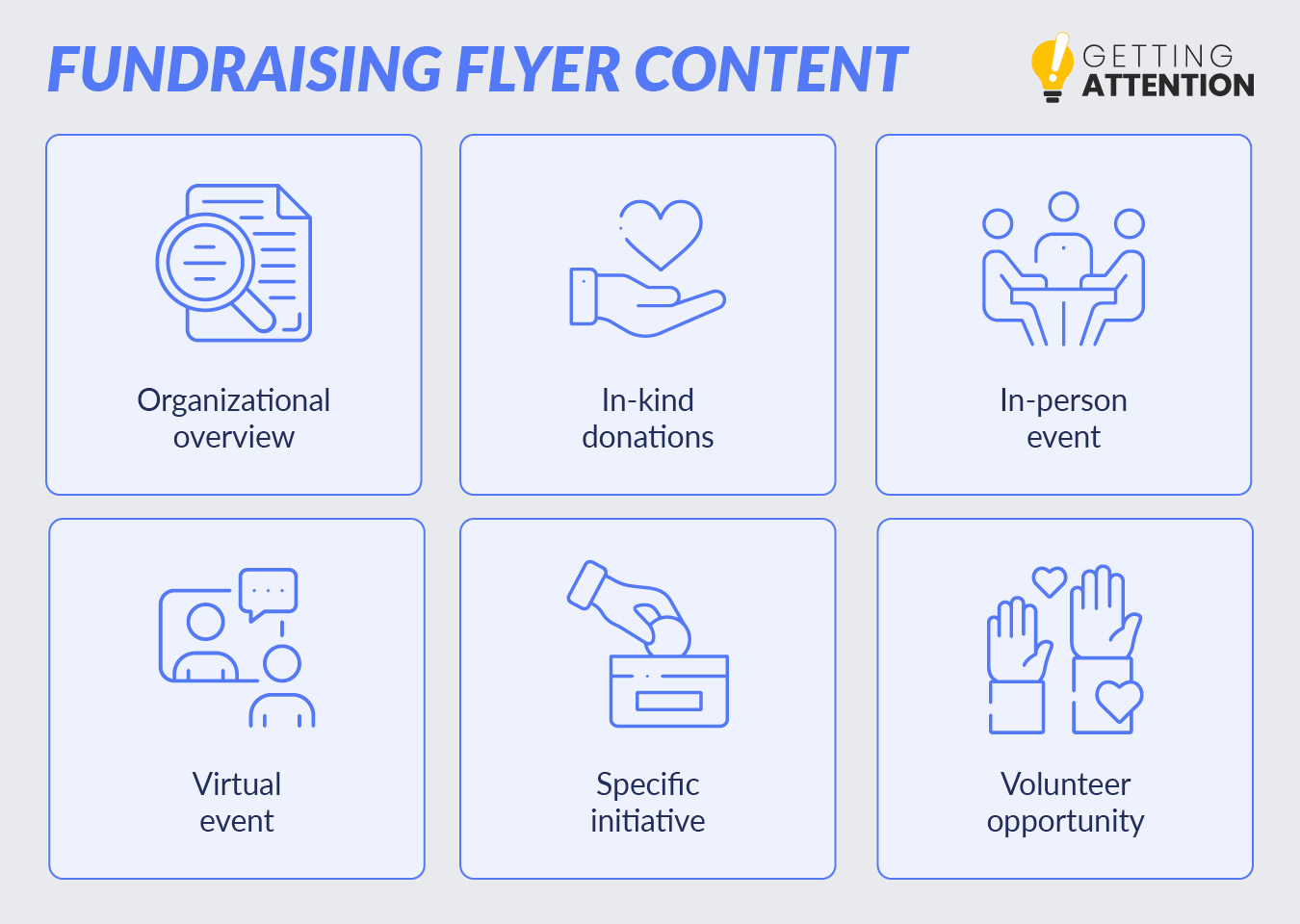 1. Organizational overview flyer
If your nonprofit is relatively new, trying to reach an untapped group of potential supporters, or promoting your annual fund, you may want to create a flyer explaining the basics of who you are and how you make a difference. An organizational overview flyer includes the following elements:
A more prominent logo than on other types of flyers.
Your organization's mission statement and core values.
Examples of major impacts you've made, supported with statistics and images.
A link to the homepage of your website and/or a contact form.
This way, you can connect new supporters to more resources after they get an overview of your mission and impact. While you may gain donors in the process, the main result will likely be increased awareness about your nonprofit that you can leverage for future support.
Example: charity:water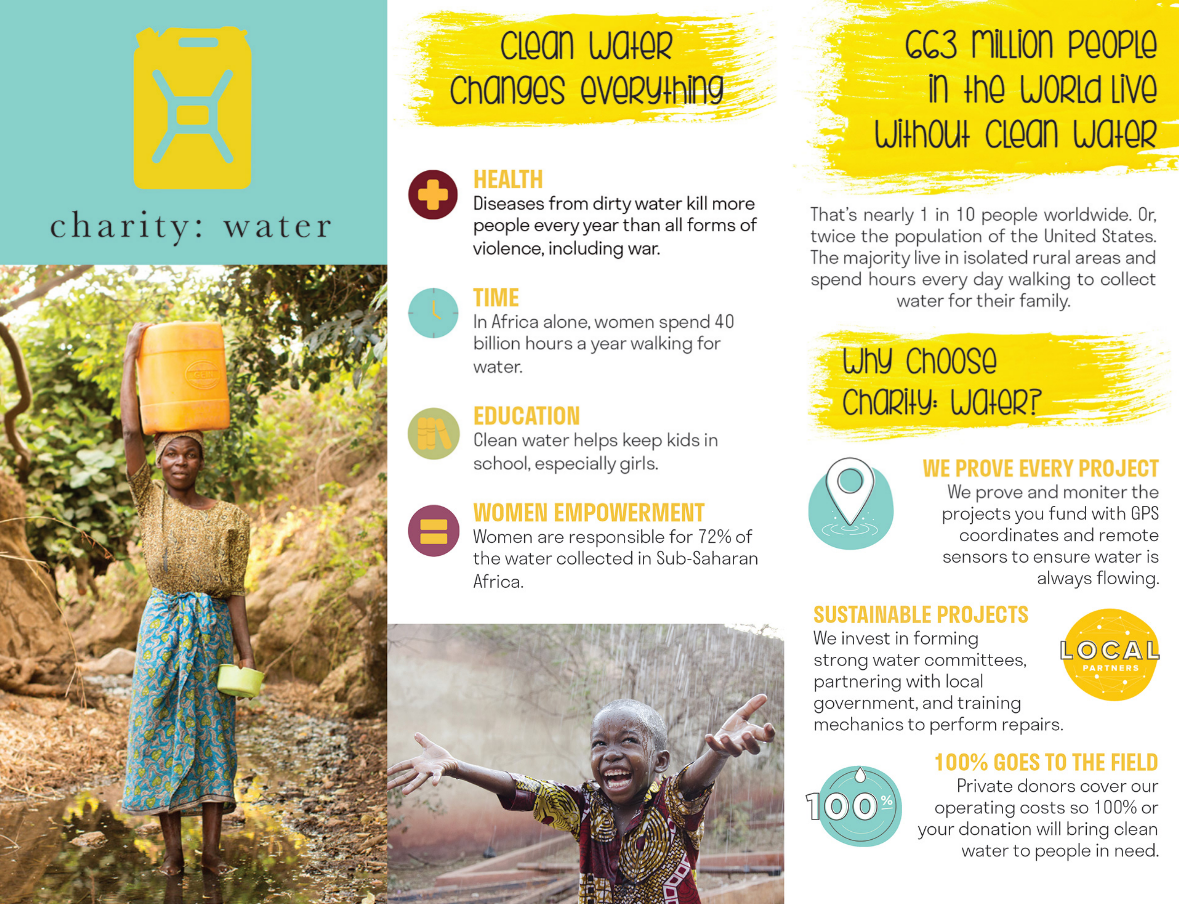 2. In-kind donation drive flyer
Fundraising flyers aren't just for collecting monetary donations—they also work well for in-kind donation drives. Your flyer should include:
A list of items that need to be donated (and anything your organization can't accept).
Start and end dates for the drive.
How donations will be collected—for example, indicate whether they'll be picked up from supporters' homes and workplaces or if they need to be brought directly to your organization.
Spread the word about your next food drive, clothing drive, school supply collection, or other need that can be fulfilled with gifts of physical items by designing a flyer.
Example: Community Food Bank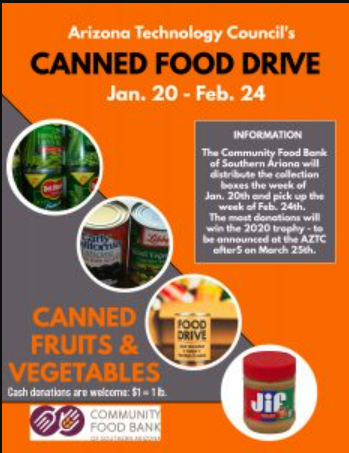 3. In-person event fundraiser flyer
Attract more attendees to your organization's next event by distributing flyers far and wide. Compile the following elements on your flyer:
The title, date, time, and location of the event.
A short description of what participants will do at the event.
Some ways in which attending the event will make an impact.
The names and logos of your event's sponsors.
Because in-person events often require large upfront costs, attracting participants to come and make donations is key to an effective fundraiser. A flyer is also a great way to put all the basic information that supporters need to know in one place.
Example: American Red Cross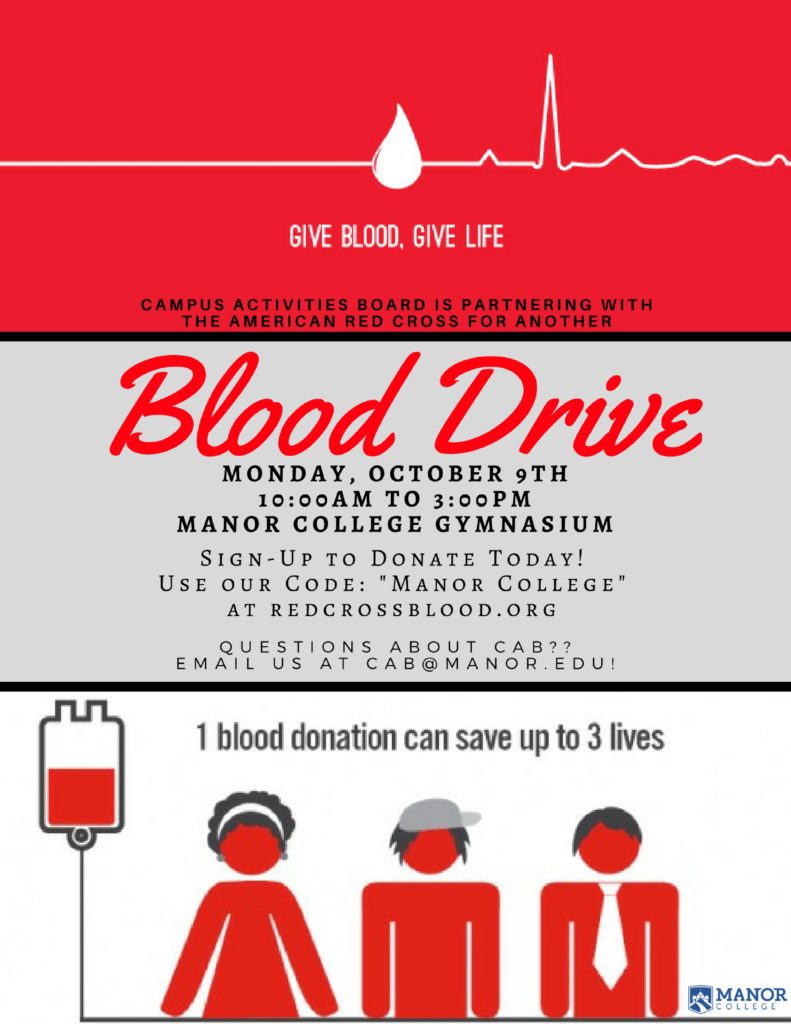 4. Virtual event fundraiser flyer
Using a flyer to advertise your organization's virtual event has similar effects to advertising an in-person event. You'll just need to include slightly different details, such as:
A more concise, image-heavy description of the event, its impact, and its sponsors.
Any relevant links and instructions for how to participate virtually.
The date and time if applicable, or a note that participation is flexible.
Keep the design more simple as you'll probably distribute the flyer via digital channels only. The flyer should be easy to download and skim for supporters who may quickly scroll past it.
Example: Coats' Disease Foundation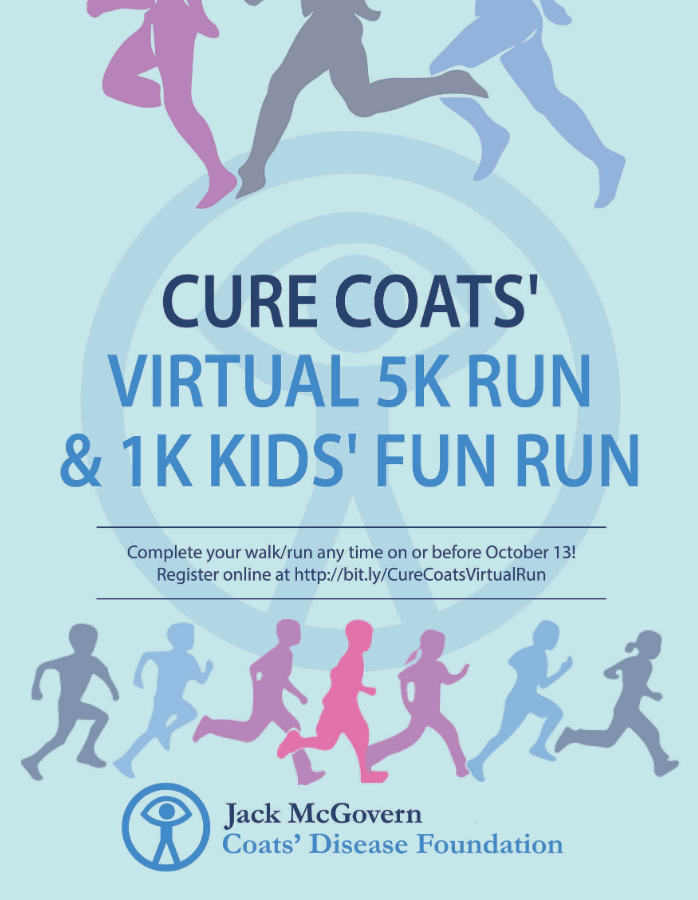 5. Specific fundraising initiative flyer
Your nonprofit can spread awareness of new donation programs, major funding needs, or initiatives targeted at specific groups by highlighting them on fundraising flyers. Include the following elements:
Your mission statement front and center, no matter how well recognized your organization is.
Lots of details about the initiative's purpose and rationale, supported by statistics.
Multiple ways to give.
Audience analysis will be especially helpful in this situation to ensure that you distribute your flyer in ways that your intended donors will notice. That way, your flyer will truly engage supporters and urge them to get involved.
Example: United Way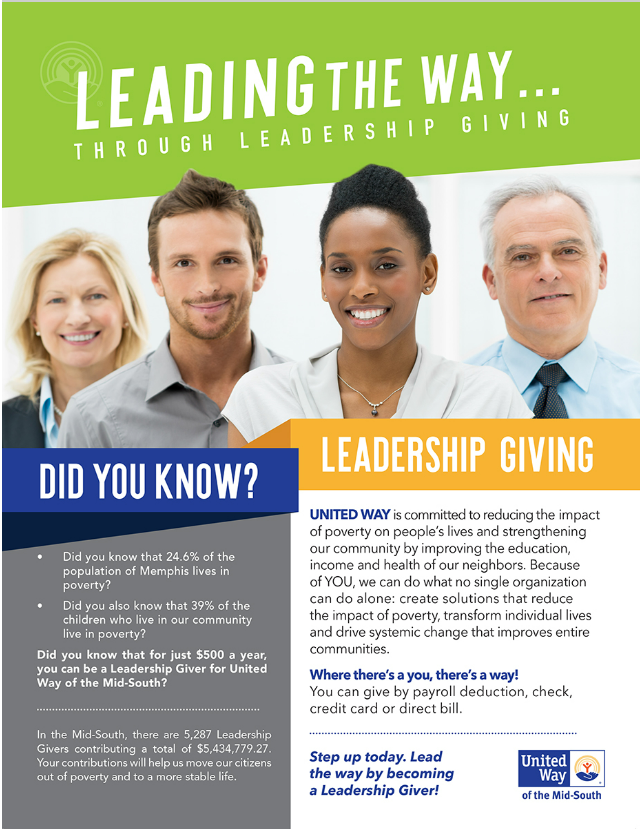 6. Volunteer opportunity flyer
Your organization can use flyers not only to attract donors, but also to bring in volunteers. You'll still help to fulfill important needs, and volunteers are likely to engage with your nonprofit again in the future—and eventually donate—once they've seen your impact firsthand. Your flyer should include:
A description of what volunteering opportunities entail, supported by images.
Benefits both to your nonprofit and to volunteers.
The date, time, and location of each opportunity.
Several ways to sign up or contact your organization.
You could choose to make a large flyer explaining all the volunteer openings your nonprofit is trying to fill or several smaller flyers highlighting specific opportunities.
Example: Habitat for Humanity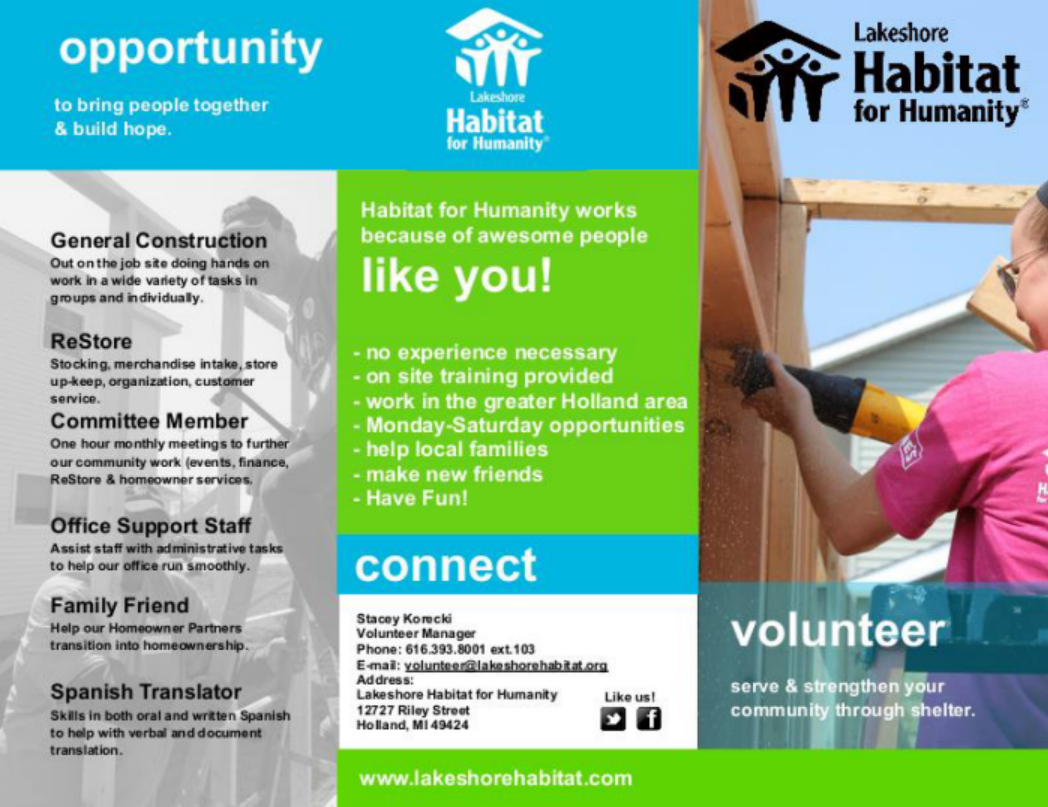 Fundraising flyer format ideas
In addition to the variety of content types that you can use for your fundraising flyers, you can design them in several different styles. Each format type is suited for different delivery methods, and although you could use any style of flyer with any content you wanted, some types below and in the previous list pair particularly well.

1. Classic poster-style flyer
When you think of a flyer, the first thing that comes to mind is probably a rectangular poster about the size of a piece of printer paper. A classic, poster-style flyer could provide information about:
In-person events
Virtual events
In-kind donation drives
These are probably the most versatile style of flyer—in digital form, they'll be small files that download quickly from your website, and you can print many copies in-house to deliver door-to-door or post around your community with permission.
2. Mailer-style flyer
When you start a direct mail marketing campaign, include a flyer with information and updates on your organization to illustrate the impact that donations will make. These flyers should cover specific fundraising initiatives, such as:
New donation programs
Major funding needs
Campaigns targeted to specific groups
Alternatively, mail out flyers individually to spread awareness of your organization.
3. Uniquely shaped flyer
Anyone can make a rectangular flyer, and nearly all organizations will. To make yours stand out on a bulletin board or in the mail, try designing your flyer in a different shape, such as:
The outline of your nonprofit's logo
A shape related to your mission (such as a paw print for an animal shelter or a stack of books for an education-focused nonprofit)
An important item to the fundraiser you're advertising (like a running shoe for a 5K or a can of soup for a food drive)
The main drawbacks to uniquely shaped flyers are that they can be more time-consuming to produce in-house since your staff or volunteers will have to cut each one out individually, and a print shop may charge more for each one. But if you really want to make your flyer stand out, these extra costs will be worth the added benefit of grabbing supporters' attention.
4. Brochure-style flyer
For fundraisers where you need to go into extra detail in the marketing materials, creating a tri-fold brochure instead of a single-page flyer will maximize the available space on a standard piece of paper.
Organizational overview: Include a variety of statistics and photos of your impact.
Specific fundraising initiatives: Detail new funding needs or donation programs.
Volunteer opportunity: Give supporters several options for involvement.
These may take longer to download digitally than a poster-style flyer, but they're just as easy to print many copies of so that each supporter can take one and refer back to it later.
How to start designing fundraising flyers
When you decide to make any content type or style of fundraising flyer for your nonprofit, you have two main options for creating the design. First, someone within your organization can make the flyer themselves, using graphic design tools available to help nonprofits, each of which offers a range of templates and features so that you can choose the program that best fits your needs.
But if you run into challenges when trying to create a flyer in-house or want to take your design to the next level, you can partner with expert graphic designers. Kwala is a graphic design service that connects nonprofits with a team of experienced professionals. Their subscription model gives your organization an unlimited number of designs and revisions each month for a flat rate. If you want to try out Kwala's services before committing to the monthly rate, you can also request a quote on a one-off project.
Additional fundraising flyer resources
No matter what content or format type you choose, fundraising flyers are a great way to market your nonprofit. Spread awareness and spark engagement by creating a flyer for your organization today!
For more information, check out these resources:

https://gettingattention.org/wp-content/uploads/2022/08/Getting-Attention_fundraising-flyers_feature.jpg
710
1460
Getting Attention
https://gettingattention.org/wp-content/uploads/2021/08/getting-attention-logo.svg
Getting Attention
2022-08-01 20:31:15
2023-08-01 12:57:33
Fundraising Flyers: How to Boost Nonprofit Marketing