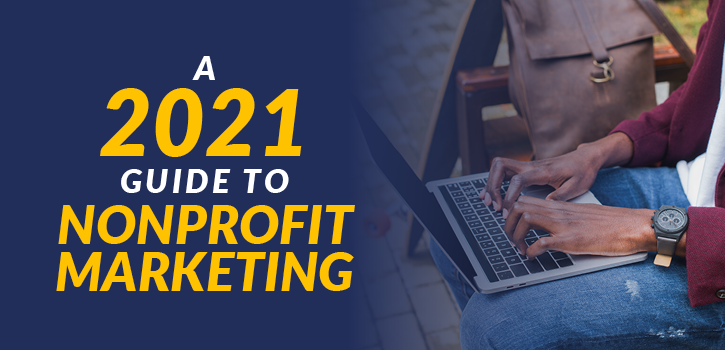 Imagine this: Your nonprofit spends months planning the perfect fundraising event. You've gathered the resources, hired the catering, and recruited volunteers to pull it all together. A scattering of your most active supporters register, but you don't get the turnout that you hope. This shortcoming is due to your nonprofit marketing. 
As a fundraising professional, you already know the importance of an effective marketing strategy. A comprehensive nonprofit marketing plan can spread awareness of your mission, deepen relationships with donors, help you engage with new prospects, and better align your team with your organization's values and goals. 
However, every marketing effort has its challenges. Whether resources are tight, strategies aren't garnering the needed results, or you just aren't sure how to craft your next fundraising email, nonprofit marketing is no walk in the park.
You've come to the right place! During the past year, nonprofits have made tremendous efforts to digitize their communication strategies and increase convenience for their donors. In this 2021 guide to nonprofit marketing, you'll learn more about:
Whether your organization is at the grassroots level or your nonprofit is more established, it's always beneficial to ensure that your current marketing plan isn't missing any essential elements. Let's dive in with an overview of what nonprofit marketing is. 

What is Nonprofit Marketing?
Nonprofit marketing is the use of marketing tactics and strategies to amplify an organization's cause and mission, solicit donations, and attract volunteers and supporters.
After you and your fundraising team work hard to plan out a campaign or set up an exciting fundraising event, the next step is getting supporters interested and invested. Without an effective marketing strategy, you won't be able to grab your supporters' attention, let alone meet new prospects. 
Effective nonprofit marketing is easier said than done, however. You need a carefully crafted plan with clear goals in mind and dedicated software solutions to carry them out. This level of thought and comprehensiveness in your nonprofit marketing can benefit you by: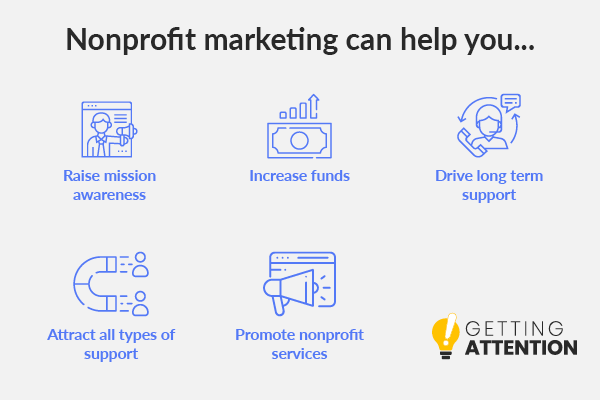 Raising mission awareness

— One of the biggest roles of your nonprofit is to spread the word about your mission. Effective marketing will raise awareness of your mission, ensuring that people not only know your nonprofit goals, but also what you're doing to achieve them. 

Increasing funds

— This is an obvious one, but worth noting. When you're able to market your nonprofit and raise awareness about your mission, the more potential funding you'll receive. 

Driving long-term donor support

— Nonprofits don't just thrive with monetary funds, they need long-term support. Good marketing can build key relationships and result in more consistent and reliable donations, rather than one-off gifts. In fact, the average monthly online donation is $52 (which is a total of $624 per year) compared to the average one-time gift of $128.

Attracting all types of support

— As you craft your nonprofit marketing strategy, you might be thinking that your main goal is to get donations. However, there's an abundance of other types of support that your marketing can help with. This includes volunteer recruitment, fundraising events, membership programs, and other forms of support you may have. In fact, this can even lead to monetary gifts down the road. In fact, volunteers are

twice as likely to donate

as non-volunteers.

Promoting your services

— What exactly does your organization do? How does it aim to impact your mission? Your nonprofit services are an integral part of your fundraising efforts and is inspire your supporters to give. With a comprehensive marketing plan, you can more effectively promote those services. 
But how can you utilize nonprofit marketing smartly and reap the above benefits? The answer: with a detailed and organized nonprofit marketing plan. 

Creating A Nonprofit Marketing Plan
If you want your donor outreach and communication strategy to be successful, it's recommended to craft a dedicated nonprofit marketing plan. A nonprofit marketing plan is a comprehensive document that outlines all the information you need to meet your audience's needs and spread your mission effectively.
Your nonprofit marketing plan will be unique to your goals, mission, and audience. However, you can take these general steps to ensure you're not missing out on any essential elements:
Perform a marketing audit

— It's a good idea to get a sense of your current marketing standing and gather the resources you have. This way, you can start thinking about the changes and tweaks you'll need to make. A marketing audit can consist of a SWOT (strengths, weaknesses, opportunities, and threats) analysis, data analysis of results, and then creating an action plan.

Define goals and mission

— Your marketing plan shouldn't just guide your actions, but really support your nonprofit journey to your ultimate goals. We recommend using the SMART (Specific, measurable, attainable, relevant, and time-based) method to create your marketing plan goals. Then, list your goals by priority. 

Understand your audience

— It's critical that your nonprofit marketing plan knows who it is trying to reach. You should outline both your current audience and your target audience. Further narrow down your audience with donor segments and donor personas. 

Craft your message

— Your supporters are bombarded with online ads and companies trying to get their attention all of the time. It's important that your marketing messaging stands out through the crowd. We recommend using the CRAM (connected to a cause, rewarding, actionable, memorable) rule to connect with donors. This is also where you'll think about the language and tone of your message, the specific calls to action you'll use, and any visual branding elements. 

Allocate budget

— Marketing plans aren't cheap. You need to create marketing materials, invest in online tools, and pay your hard working staff. As a general rule, it is advised that

5-15%

of your operating budget is reserved for marketing. This is also when you might consider applying to nonprofit marketing grants.
Outline marketing channels

— There are tons of marketing channels that you can choose from, and each has its own strengths and challenges. We'll review the different types in the following section. 

Analyze performance

— Every marketing plan needs a dedicated way to measure performance. Otherwise, how do you know if it worked or whether it needs to be improved for the future? Consider the metrics you want to track and the tools you'll use. 
Crafting a comprehensive nonprofit marketing plan isn't a small feat, but once you have one, this document can guide your team to its goals.
For more help, we advise you to visit our dedicated article on nonprofit marketing plans with free downloadable templates to keep you organized and on track. 

Creating Graphics for Your Nonprofit Marketing
Any kind of marketing leans heavily on effective visuals. For one, this makes your content stand out. It doesn't matter whether someone's scrolling through their social media feed or passing by a bulletin board with your fundraising flyer pinned to it — they're more likely to notice marketing collateral that has eye-catching graphics and vibrant colors.
Considering that people retain 55% more information when paired with an image, effective visuals make your content more memorable to prospects,too.
More nonprofit marketers have realized this over the years and have stepped up their graphic design game. Whether you realize it or not, graphics already play a huge role in your outreach including everything from your email newsletters to direct mail outreach. Here are a few areas where graphic design comes into play:
Your logo. This is one of the most crucial marketing assets your cause has. It'll appear on everything from your fundraising letters to your business cards. Prospects should see it and immediately associate it with your organization.
Website design. The graphics you include on your website are just as important as your site's layout. You'll want to include everything from images of your beneficiaries and volunteers to artistic elements that emphasize the most important aspects of each page.
Merchandise. If you sell t-shirts, mugs, or any other fundraising products, make sure you feature effective designs on them. Eye-catching graphics will make the buying experience much easier for prospects who come across your ads for them.
Printed materials. Effective graphic design doesn't just apply to your digital marketing materials. It also factors into any printed collateral like your fundraising letters, flyers, and service brochures.
If graphic design isn't your forte, that's where a graphic designer can come in to save the day. Those that have experience in the mission-driven space understand what it takes to make charitable causes stand out.
We recommend Kwala! Their team will work with yours to create anything your team requests, including flyers, logos, stickers, and even fundraising product designs. Take a look at this postcard that they designed for the Wildlife Rescue Group: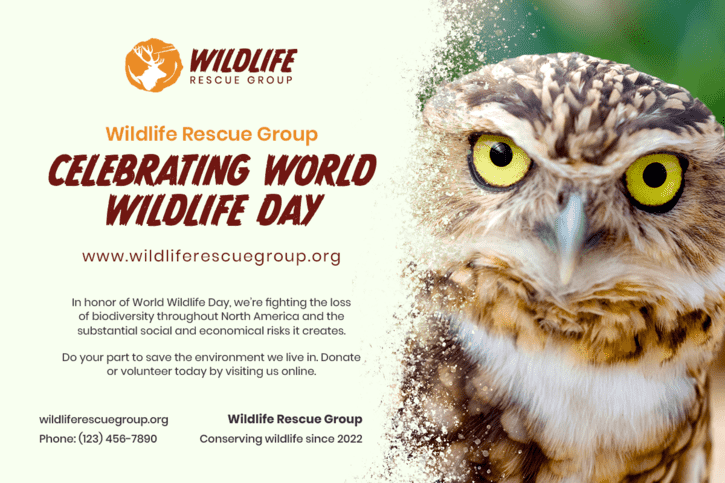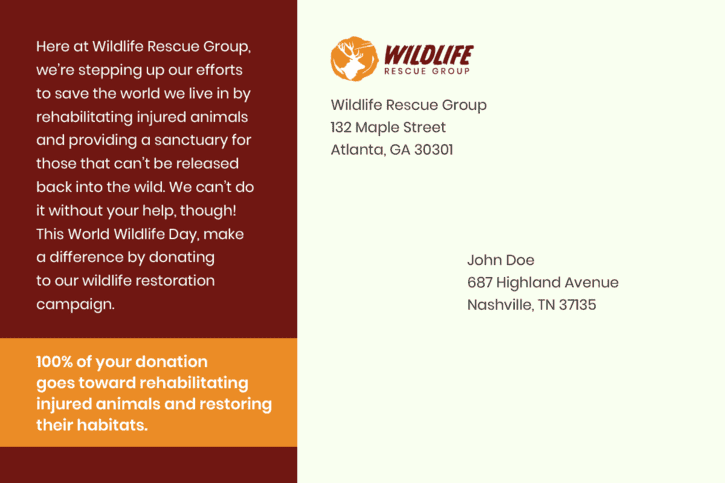 Well-designed materials like this will ultimately reel supporters in and drive more action, whether you want people to donate, volunteer, or get involved in some other way. Turning to professional graphic designers means you can focus on furthering your mission and trust that your marketing materials are resonating with supporters.

Nonprofit Marketing Channels to Explore
The nonprofit marketing channels you use are incredibly important when it comes to effectively reaching your donors and meeting new prospects. With new tools making online communications easier and nonprofits leaders hosting elaborate fundraising events from the comforts of their own home, there are several valuable marketing channels.
Let's walk through some of the most popular channels that can catapult your marketing efforts:

Email Marketing 
Email is an extremely reliable and comprehensive channel for nonprofit marketers because it allows you to connect with all types of supporters. From first-time donors to longtime major donors, fundraisers use email to send appreciation letters, event invitations, and regular newsletters with general organization updates.
Here are a few ways to leverage email marketing to reach all of your audiences:
Send a regular newsletter with your newest content, updates about your organization, industry data, and volunteer needs. 

Send monthly emails with donation needs and opportunities.

Segment your email audience based on common traits for more targeted and relevant messaging. Marketers who use segmented campaigns note

as much as a 760%

increase in revenue.

As soon as a donor gives, a volunteer participates, or some other form of support, send an email showing your appreciation. 
Email generates $42 for every $1 spent. With an ROI of 4,200%, it makes sense that this is a marketing channel worth investing in and taking the time to flesh out. 

Direct Mail
Many nonprofit marketers make the mistake of assuming that direct mail is dead. However, direct mail response rates actually hover between 5% and 9%. When compared to the email response rate of 1%, it's clear why direct mail is still an incredibly valuable channel. 
For nonprofits, direct mail marketing and fundraising is the process of writing, printing, and sending out hard copy requests for funds, event invitations, or thank you letters to your passionate supporters. These letters arrive in your donors' mailboxes and end up in their hands, providing a tangible connection to your organization — especially when compared to opening up an email.
If you want your direct mail content to hold genuine value and inspire action, here are some tips:
Lean on storytelling

— Perhaps the most unique aspect of direct mail is the personal touch. This is a key opportunity to connect with donors through good storytelling. For example, you could describe a family that your nonprofit has helped to get readers invested in your cause and excited to give.

Connect copy with visuals

— No one wants to read a huge wall of text. Make sure you incorporate visual and written elements together so that they support your call to action. Whether you use photos of real people or creative graphics to explain different points, the visuals you choose should be strategic and reinforce the messaging in your copy. Plus, a compelling photo can do wonders in enticing readers to internalize your mission. 

Combine direct mail with digital marketing

— Direct mail marketing does best when it is combined with your other digital marketing efforts. For instance, make sure to include easy ways for direct mail readers to connect online if they'd like. You might include a QR code within the letter directing supporters to your online donation page. Or, you can include social media information to encourage engagement on a different platform. 
Direct mail can benefit both your nonprofit and show donors that you really care. Make sure to check your recipient's communication preference before sending out letters willy nilly, however. Plus, consider partnering with a direct mail marketing company to make the process of writing, stuffing, and sending your letters easier. 

Event Marketing
One of the most engaging and fun ways to market your mission to supporters and gain some beneficial press coverage is with a nonprofit fundraising event!
From charity marathons to fundraising auctions to fancy galas, there are a number of different nonprofit events that you might host. Not only do you raise a good amount of funds, but you'll also have the opportunity to connect with your community in-person (or virtually) on a more personal level.
Here's how you can take your nonprofit event to the next level and market your mission effectively:
Have consistent branding on digital and physical event materials.

Advertise mission on event signage, both digital and physical.

Provide easy ways to give or connect after the event, like a text fundraising phone number.

Send an event thank you letter as soon as it is over.

Provide free or sell branded event merchandise so that attendees can continue to promote your mission.
Nonprofit events provide invaluable opportunities to engage your donors in unique ways and promote your mission memorably. Make sure you're making the most of this marketing channel. 

Video Marketing
Video marketing has been exponentially growing in popularity, and for good reason, too. From short videos on TikTok to longer content on Youtube, many nonprofits have found success in using this form of media to promote campaigns, events, and their mission in general.
Why is this? Well, here are some reasons why video marketing is so valuable:
Easy to process

— Humans

process visual content 60,000 times faster

than text. This is why it's so great for educating your audience or explaining a point. 

Inspire action

— Videos are known to do really well when it comes to inspiring emotions. This is much harder to emulate with just a photo or a paragraph. 

Shareable

— Who hasn't gotten a cute video of a pet sent from a friend? In fact,

92% of consumers

on mobile will share videos with others. 

Entertaining

—

60% of people report

that video is a media they consume thoroughly, unlike images which are easy to flip through. 
Some popular ways to use video marketing are within your nonprofit website, in social media posts, and in email content! Send out an event invitation with a video teaser or record a video of a community member your nonprofit has helped to show donors just how much they've made an impact. 
Bonus Tip! Because of their file format, videos can potentially slow down a website. We recommend turning off auto-play to prevent this from happening!

Social Media
In 2020, there were 3.96 billion people actively using social media in the world, which is an increase of 10.9% from 3.48 billion in 2019. It's no surprise that this is one of the most viable and successful ways to reach supporters and market your mission.
Not only is social media free, but it's also a key way to connect with supporters on a deeper level. You can engage with followers, encourage them to comment or repost, and build a brand personality that supporters want to keep coming back to. 
While this will depend on the social media platform you use, here are some general ways you can leverage this type of online engagement:
Share news about your organization and cause.

Boost brand awareness and recognition.

Post calls-to-action for online gifts, event registrations, volunteer signups, and more.

Recruit volunteers and employees.

Announce appreciation to donors, employees, and volunteers.
Whether you use Twitter for its short-form posts and shareability or  Facebook for its pages and peer-to-peer fundraising features, social media is definitely a channel you should spend a good amount of time thinking about. 

Website
Your website is a huge resource when it comes to marketing your mission. It's likely the first place prospects go to learn about your mission and where long-term supporters go to give support. It not only hosts valuable information on your organization but also provides engagement opportunities like online giving, event registration, and more.
When designing or optimizing your nonprofit website, keep these tips in mind:
Ensure full and regulatory accessibility compliance with the WCAG and ADA.

Liberally use calls-to-action buttons and links to direct users to your popular landing pages.

Keep user experience in mind when it comes to ease of use and navigation.

Make sure all tools and content management systems are functioning properly and are updated.

Have consistent branding throughout the site.
It's important to remember just how much your website does. Not only do you use it to collect online gifts, but it's also where supporters learn about your mission, get inspired through its online content. Essentially, your website is the accumulation of all of your marketing efforts in one platform. 
Thus, making sure your website is optimized and functioning well is essential if you want your nonprofit marketing to be successful. 

Content Marketing
Content marketing is all about creating valuable and promotable nonprofit content that can build your nonprofit brand and reputation in the sector. This content will likely live on your website, but you can also create specific content to email or host a downloadable or gated resource. 
Here are the type of content you might create:
Educational content about your mission, cause, and industry news and trends.

SEO optimized blog content to get your online content ranking higher in search engines.

Easily shareable content that encourages your audience to send it along to their friends.

Content that is easily repurposable, like a downloadable resource into an email message!
Plus, your content marketing materials can be used for future marketing efforts, whether it's for email or social media. Consider creating a dedicated team focused on content copywriting.

Text Message
With a 98% open rate, text message marketing is one of the best ways to promote a campaign and reach your audience where they already are. 
To use text marketing, it's recommended to invest in a comprehensive text giving tool. This not only allows you to send outbound messages but also empowers donors to give by text as well! This is a powerful way to leverage contextual giving.
Contextual giving is a donation given at the moment when the donor was inspired in the first place. For instance, let's say a prospect stumbles upon an in-person fundraising event and is inspired by the turnout and the mission. They see the phone number plastered on event signage and decide to text it to give a gift. If you didn't have text giving, they might have waited until they got home to give, which at that point was too late. 
Use text marketing to announce events, send urgent appeals (remember to include instructions for donating!), remind volunteers about upcoming shifts or training, and promote donations throughout your campaign or specific event. And, you can do all of this with your text giving tool.

Google Ad Grants
A popular way that nonprofits expand their marketing is with Google Ads, a platform where organizations display advertisements, services offerings, products, and other marketing content. Google places these ads strategically in the search engine result pages as well as non-search websites, mobile apps, and videos. 
This is why many nonprofits will apply for the Google Ad Grant, a program that offers nonprofit professionals $10,000 in ad credits to spend each month. This is an incredible opportunity to not only expand your marketing strategy but do it all without pushing your budget.
The best part? Any nonprofit that is eligible and complies with Google guidelines can use this grant. 
Interested in learning more about how to apply for the Google Ad Grant program? Explore our dedicated article that walks through the application process. 

The number of marketing channels you can use to reach donors these days seems to be never-ending — we only listed the most popular ones! The good thing is you don't need to leverage each one for your marketing campaign to be successful. 
Choose a couple of key channels, and then take a multi-channel marketing approach to reach your donors at multiple touchpoints. This is the best way to build meaningful relationships and successfully spread awareness of your mission. 

Follow These Nonprofit Marketing Best Practices
When it comes to your nonprofit marketing, there are a lot of moving components that you have to keep in mind. From how to craft your messaging to the strategies and channels you use, there's quite a bit to juggle.
To keep your marketing team organized, here are some general best practices that can help any fundraising team hone their marketing:
Understand your audience

. Every marketing campaign should have a target audience in mind. Knowing what demographic group or type of supporter you are trying to reach will inform every step of your nonprofit marketing plan.

Have a goal

. Are you trying to raise money or awareness? Encourage volunteering? Garner registrations for a fundraising event? Every marketing campaign needs a concrete goal and target action in order to be successful.

Make it personal. It's much easier for people to relate to other individuals than broad generalized groups. Make sure your marketing efforts feel personal enough to connect with donors emotionally and inspire them to take action.
Segment your list. We mentioned this already, but segmenting your marketing audience is critical. After all, people will respond best to communications that are targeted to their needs, goals, and preferences.
Use current events

. A good way to bolster your nonprofit marketing is to use what is currently going on in the world as a way to create urgency. Is there a story related to your cause in the news? For instance, during the height of the COVID-19 pandemic, many nonprofits took the time to connect their mission to this broader world issue and leverage that public awareness.

Follow up with donors and volunteers. For a successful nonprofit marketing campaign, you don't just send out materials and communications and be done with it. Marketing isn't just to promote your nonprofit services but to build ongoing relationships with supporters. Make sure you have a system in place to check in with current donors or volunteers, as well as follow up with any lapsed supporters to ensure they stay active.
Track your data. Data is the backbone of your nonprofit marketing efforts. Not only is it tracked to ensure that your campaign is performing positively and creating genuine benefits, but it can also be used to improve future campaigns or act as a resource for supporters wanting to learn more about your nonprofit efforts. In the end, your nonprofit data can be just as valuable as a marketing asset as your email!
The fundraising landscape seems to change year by year, so keeping up with nonprofit marketing best practices and trends is critical. With digital innovations making it easier to connect with donors and new tools increasing the types of support you can utilize, you have to remember that your supporters' needs are a priority. Without them, your nonprofit cannot make as meaningful of an impact in your community. 
Additional Resources
How can you continue to kick start your nonprofit marketing efforts and drive even more conversions for your organization? Explore these additional resources to continue your research:

https://gettingattention.org/wp-content/uploads/2021/09/Nonprofit-marketing_Feature.png
350
725
Getting Attention
https://gettingattention.org/wp-content/uploads/2021/08/getting-attention-logo.svg
Getting Attention
2021-09-07 14:09:35
2022-10-10 14:54:27
Nonprofit Marketing: A Guide for Amplifying Your Mission