Just like other nonprofit organizations, churches and religious groups need the support of their communities. Not only will this allow them to share their devotion to their faith, but it will also help them collect tithes and other charitable gifts to fund their worship and outreach. To garner such support, your church and its need for funding must be adequately advertised.
Businesses and corporations often pay for and leverage Google Ads to spread the word about their products and gain customers. With the Google Ad Grant, nonprofits such as your church or religious group can do the same—for free!
In this article, we'll cover the following topics to help you get started with Google Ad Grants:
Let's begin by learning more about what Google Ads are and why your church or religious group should make use of them.
What are Google Ads?
The Google Ads program is a digital marketing grant for businesses and organizations to advertise their products and services to individuals using the Internet. These organizations pay to use Google Ads for various reasons, including increasing web traffic and product purchases.
There are a few types of Google Ads, including:
Display ads
Shopping ads
Youtube ads
The most common type of Google Ad, and the one relevant for the Google Ad Grant, is the search ad. These ads appear at the top of Google's search engine results page (SERP) when an individual makes a relevant Google search.

What is the Google Ad Grant?
The Google Ad Grant allows nonprofit organizations, including churches and religious groups, to use Google Ads for free. By participating in this program, your church will be given $10,000 every month in ad credits to spend on Google Search Ads, increasing your organization's visibility.
To be eligible for the Google Ad Grant, your church must:
Be a registered charitable organization in a participating country.
Agree to the Google for Nonprofits Additional Terms of Service.
Have a secure and functioning website that follows the website policy.
Meet all other program policies.
Before applying, make sure that your church meets these requirements. Carefully read over all the program policies to ensure that your church is compliant or can make the necessary changes to be compliant.
What are the benefits of using Google Ad Grants for churches?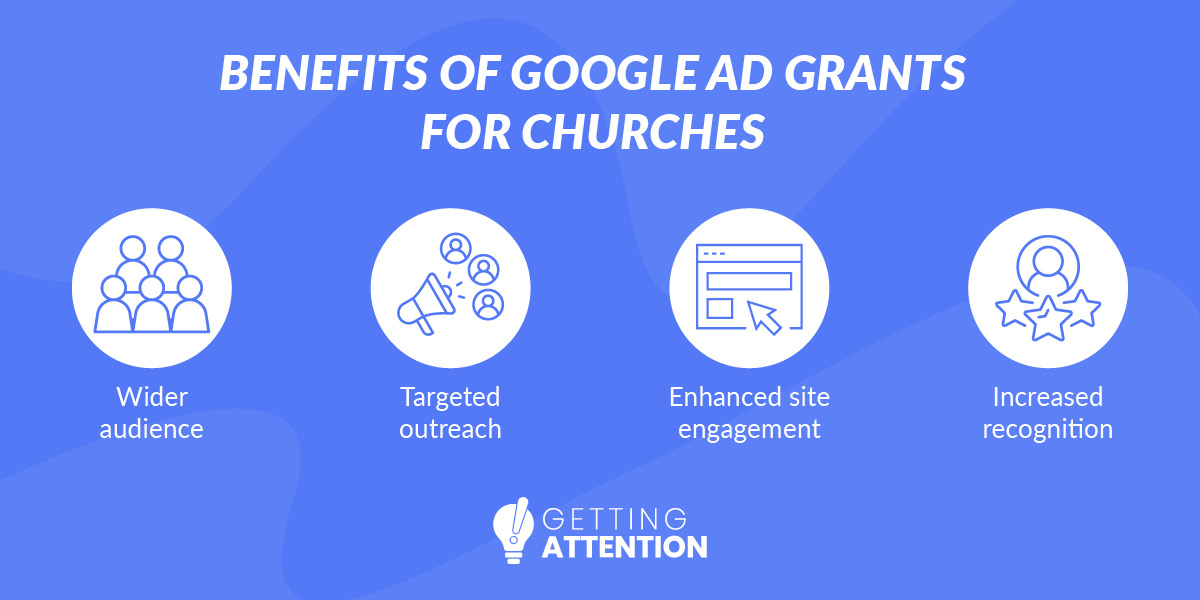 Applying for and using the Google Ad Grant brings nonprofit organizations of all types many different benefits, including churches and religious groups. The Google Ad Grant allows churches to:
Reach a wider audience. By using the Google Ad Grant for your church, you'll be able to access search ads on Google's SERPs. As Google is visited 89.3 billion times every month, making it the most-visited website worldwide, having a link to your religious group's website on a SERP will greatly increase your outreach.
Perform targeted outreach. When strategically constructed, your Google ads will appear on SERPs that your target audience is most likely to view. For example, if your church is based in San Diego, your ads might show up for individuals seeking a new place of worship in that city.
Enhance site engagement. Since your ads will appear before your target audience and other interested individuals, they'll be more likely to click on them. This helps drive web traffic to your church or religious group's website, resulting in enhanced site engagement.
Increase recognition. Even if some Internet users see your ad but don't click on it, they'll still be exposed to your church's information. This means that your ad will garner visibility for your church, resulting in greater awareness of your organization.
As an added bonus, the increase in internet visibility can result in new congregation members. Ultimately, your church will not only reach more people but will also receive more tithes and offerings. Implementing Google Ads into your church's marketing strategy will bring in more funds that you can use to maintain your church and give back to the community.

How can your church apply for Google Ad Grants?
Applying for the Google Ad Grant is a smooth and short process, especially in comparison to other grants. However, there is still a list of steps that your church or religious organization must complete before you can be approved for the program. Those steps are:
Confirm that your nonprofit is eligible for an account.
Request a Google for Nonprofits account using the email associated with your church or religious group.
Verify your account by answering a few questions or using a TechSoup account.
Wait for your request to be reviewed, which can take a few weeks.
Use your Google for Nonprofits account to activate your Ad Grants account.
Complete a Google Ad Grants eligibility form.
Verify that you completed the form on the Google Ad Grants page.
Accept your invitation to the Google Ad Grants program.
Accept the billing profile provided.
After you complete these steps and are accepted into the Google Ad Grants program, you'll be able to build ad campaigns that support your mission and grow your congregation. You'll need to actively manage your church's account to ensure that you're driving meaningful impact.
How can I optimize Google Ad Grants for my church?
1. Work with a Google Ad Grants agency.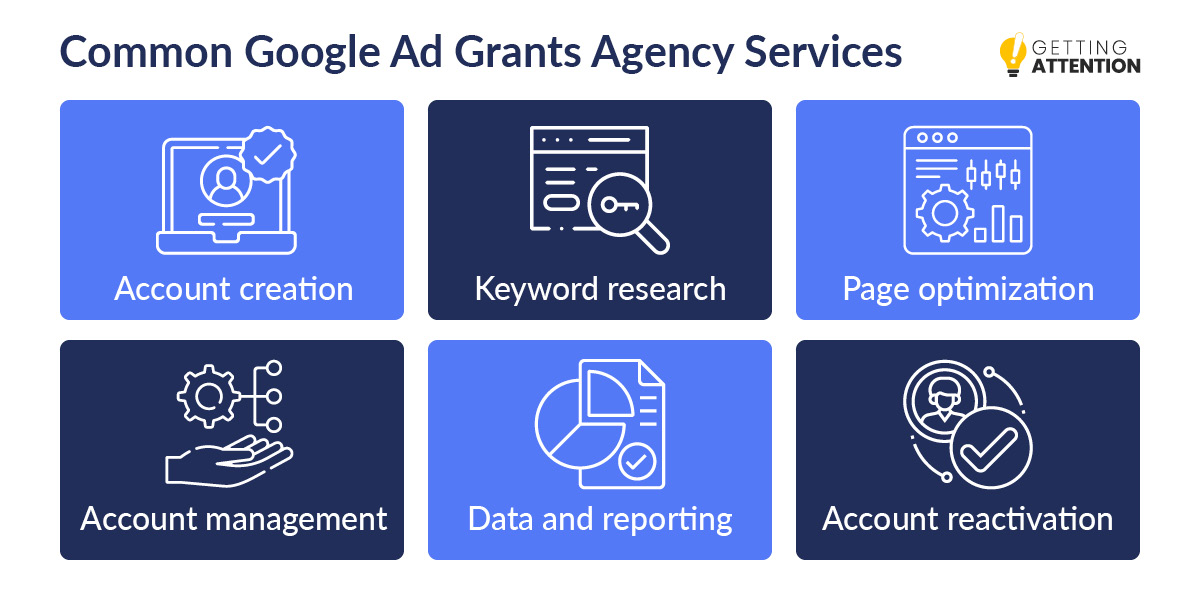 Maintaining your church's Google Ad Grants account can be time-consuming, especially when you consider the research and knowledge you need to ensure that your ads are successful. Fortunately, there are professional Google Ad Grants agencies that are willing to help your organization.
Some common services that Google Ad Grant agencies offer include:
Account creation. If your church doesn't already have a Google Ad Grant account, an agency will create one for you.
Keyword research. Google Ad Grant professionals will handle keyword research for your religious group, helping you decide which keywords would be best suited to bring new members and donors to your church.
Landing page optimization. To ensure that people find your website and stay on it, a Google Ad Grants agency will optimize your landing pages for keywords and user experience.
Account management. Google Ad Grant professionals will consistently check up on your account to ensure that your ads are performing well. They'll also make adjustments to improve performance.
Data and reporting. A Google Ad Grants agency will translate the information in your Google Ad Grants account and present you with detailed reports on the efficacy of your ad campaign.
Account reactivation. Should your account fall out of compliance with Google's policies and regulations for any reason and be deactivated, a professional will help you reactivate it in a timely fashion.
Agencies like Getting Attention bring years of professional experience and knowledge of the details of the Google Ad Grant. By choosing to partner with one, your church won't have to do the heavy lifting—the professionals will take care of your account and ensure you see the results you desire.

2. Access the Google Ad Grants Help Community.
It's likely that if you have questions about using the Google Ad Grant, another organization has had a similar question. Leverage other nonprofits' experience with the Google Ad Grant through the Help Community, which allows you to see pages with frequently asked questions and featured posts detailing any changes to the program. For example, Google provides a page with tips for Google Ad Grants success that your church or religious group can access for resources and advice.
If you can't find answers through those pages, create a post of your own! Representatives from other nonprofits will be able to weigh in and share their experience, and Ad Grants certified professionals might also jump in to help.
3. Implement SEO best practices.
To ensure your ads are reaching the right people and sending the right message, you'll want to implement search engine optimization (SEO) best practices.
The first step towards SEO optimization is thorough keyword research. You'll want to know what search terms your target audience is most likely to use and which of these terms are the most frequently searched. Then, you can incorporate those keywords in:
Your church's Google Ads. This will ensure that these ads are properly targeted towards your audience, and will help increase the amount of clicks you get from it.
Your website's landing pages. Incorporating your keywords into your church's landing pages will allow these pages to rank higher on the keyword SERPs, resulting in increased organic traffic to your website.
Aside from keyword optimization, user experience is also an important part of search engine optimization. If a potential new church member clicks on your Google Ad but finds that your website loads slowly and is difficult to navigate, chances are that they won't stay on your page long enough to learn more about your religious group and become a member.
Conclusion and Additional Resources
The Google Ad Grant is a worthwhile program for churches, but to make the most out of the program, consider whether your staff members can effectively manage the grant. Are they able to do the necessary research into SEO, keywords, and your target audience? Do they have experience in website optimization and an understanding of digital marketing?
If the answer to this question is no, don't be discouraged. Consider partnering with a professional Google Ad Grant agency, which will handle all things related to the program for you.
If you'd like to learn more about how the Google Ad Grant can help your organization, take a look at the following resources:

https://gettingattention.org/wp-content/uploads/2023/06/Google-Ad-Grants-for-Churches_Feature.jpg
700
1450
connie.zhang
https://gettingattention.org/wp-content/uploads/2021/08/getting-attention-logo.svg
connie.zhang
2023-06-26 15:40:31
2023-06-29 17:23:01
Google Ad Grants for Churches: A Guide to the Basics