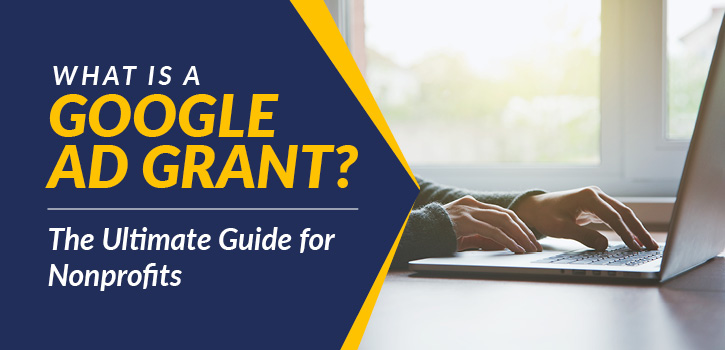 For nearly two decades, Google Ad Grants have helped nonprofit organizations thrive in highly competitive marketing environments. The program is a valuable tool that fuels many nonprofits' missions and supports the growth of organizations. However, if you've clicked on this guide, you may be wondering what exactly is a Google Ad Grant and are unfamiliar with this game-changing opportunity. 
Don't fret! You can still learn all you need to know about Google Ad Grants and begin your application today.
Getting Attention is a trusted expert in bringing new supporters to your website through Google Ad Grant management. We handle every stage of the management process, all the way from eligibility confirmation to account reactivation. In this guide, you'll find everything you need to know about the Google Ad Grant program, including information about the application process and eligibility requirements. We're here to answer your questions and help your nonprofit make the most of its grant.
In this guide, we'll cover the following foundational information about Google Ad Grants:
Then, at the end of the guide, we'll provide a few tips to bring your Google Ad Grants strategy to the next level. Let's get started!
What are Google Ad Grants?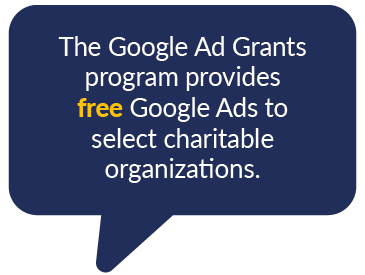 The Google Ad Grants Program awards select 501(c)(3) nonprofits with $10,000 in monthly ad credits to create and host advertising campaigns on Google. These free ads allow organizations to amplify their presence on search engine results pages (SERPs) and get their website content in front of the right eyes. 
If your nonprofit has a website, the Google Ad Grant is one of the most cost-effective and powerful marketing resources available. You just need to do plenty of research to determine which keywords your prospects are searching online. Then, create compelling ad copy that encourages people to click through to your website.
How much is the Google Grant? 
The Google Ad Grant program gives $10,000 worth of ad spend each month to any eligible nonprofits. While regular Google Ad accounts actually have to pay per ad click, Google Grant participants can display their advertisements for free. That way, nonprofits don't have to spend their marketing budget on amplifying their cause.
Since 2003, Google has awarded more than $10 billion in free advertising to more than 115,000 nonprofits across 51 countries. 
The best part is that any organization can participate without competing for funds. As long as your organization meets and maintains compliance with Google Ad Grants eligibility requirements, the grant renews automatically each month for as long as you need it. But don't worry if you don't know how to spend the full $10,000. Google Grant managers from an agency like Getting Attention will ensure you get the most out of your grant by focusing on online conversions and driving measurable results for your organization.
How do Google Ad Grants work?
Google Ad Grants give nonprofits monthly funds to spend on paid search ads in Google. These ads enable your nonprofit to appear on Google when it matters—when someone searches for topics related to your mission. It's a great way to educate the public about your cause and grow your audience. 
Paid search ads are shown at the top of the SERP, meaning your nonprofit will have a greater chance of increasing visibility and connecting with more people. Your nonprofit will choose keywords (abiding by certain guidelines outlined by Google), run campaigns, and track the success of those campaigns using Google Analytics.
How Can My Nonprofit Use a Google Ad Grant?
Google Ad Grants are an incredible marketing tool that your nonprofit can use to promote your mission and encourage supporters to take certain actions. Qualifying nonprofits use their Google Ad Grants to run a variety of campaigns with a wide range of purposes, such as:
Spreading awareness.

If your nonprofit's mission focuses on increasing public awareness about a specific issue, you can use your Google Ad Grant to launch educational campaigns focused on providing information. 
Attracting new donors.

Soliciting donations is essential for nonprofits' continued operations. A Google Ad Grant campaign can put your nonprofit in front of more new donors, helping build brand recognition and earn donations.
Recruiting volunteers.

Do you need more people to help fulfill your mission? Nonprofits can use Google Ad Grants to launch campaigns focused on getting people to sign up to volunteer, whether it's for an upcoming campaign or an ongoing initiative that can always benefit from having a more hands-on deck. 
Informing potential beneficiaries about your services.

If your nonprofit provides a service that people might be searching the web for, you can get their attention with a Google Grant. For example, a nonprofit that provides low-income families with school supplies might launch a campaign with keywords like "free school supplies" to show up in a variety of related queries potential beneficiaries are likely to search for. 
Promoting ongoing events or fundraisers.

Just as your nonprofit can encourage people to donate or volunteer, you can also use Google Ad Grants to promote other ongoing fundraisers, events, and activities at your nonprofit. 
When determining if a Google Ad Grant can help you achieve a goal, consider whether or not that goal would be furthered by spreading awareness and getting more people involved. If so, you can likely use a Google Ad Grant to promote it, just like you would other marketing channels.

What Are Google Ad Grants and Who Qualifies for Them?
Before requesting a Google for Nonprofits account, find out if your organization qualifies, what you'll need for verification, and what to expect throughout the process. If you apply and you're eligible, you will quickly be approved. 
Every registered nonprofit—other than hospitals, schools, and government organizations—is eligible for the Google Ad Grant. For U.S.-based organizations, that means you must have a 501(c)(3) designation. There is no limit on the number of nonprofits that can be approved for the program, unlike traditional grants which often have a limited amount of funds to be dispersed. 
If your nonprofit organization has an established web presence, it doesn't take much to be eligible for the Google Ad Grant. To meet the eligibility requirements for Google Ad Grants, your organization must: 

Hold a current and valid nonprofit status (501(c)(3)) 

Not be a government entity, healthcare organization, or educational institution

Have a functioning and detailed website with few existing ads

Install a Secure Sockets Layer (SSL) on your organization's website

Agree to the terms of service 
Ongoing Compliance Requirements
Once you've applied for and been awarded the grant, Google has multiple rules for maintaining eligibility. Your organization must remain compliant with the following guidelines to continue reaping the benefits of free ads: 
No single-word keywords:

Google determined that keywords must have at least two or more words to increase relevance. Swap keywords like "conserve" or "water" for complete phrases like "conserve water" or "donate to conserve water." 

No low-quality score keywords:

Quality score

is a tool Google uses to determine how your ad campaign compares to others. Ads are given a score of between 1-10 that is calculated based on expected click-through rate (CTR), ad relevance, and landing page experience. Google requires mission-drive organizations to pause or remove campaigns with a keyword quality score of 1 or 2 to ensure the results are relevant to searchers. 

Maintain a 5% minimum CTR

: Google requires that Ad Grants accounts maintain a CTR of at least 5% to stay in the program. If the click-through rate is low, this means that the ads aren't meeting the searcher's intent for the target keyword. 

Conversion tracking through Google Analytics

: Install Google Analytics on your website to track conversions and understand your Google Ads performance.

Annual survey:

Complete a survey each year to share your experience with the program. 

Account structure (minimum of two ad groups):

Google requests that you have a minimum of two ad groups (a collection of keywords and ads) for each campaign. 

Account maintenance:

Google needs to see that your organization is staying active with the account. If you don't spend any money on the account for a certain period of time, your account may be deactivated. 
The good news is that Google will let you know how to get your account back up and running again if it's ever deactivated. Even better, you can reach out to a Google Grants consultant to make sure that your account complies with the regulations and never gets deactivated in the first place.
If your organization is eligible and looking to take control of its digital marketing strategy, then we fully recommend you apply. We'll break down the application process in the next section.
How to Apply for Google Ads for Nonprofits
The amount of time spent on the Google Grants application process will depend on your organization's readiness. If you are already registered with TechSoup and have a website that meets Google's requirements, the process should only take 2 to 14 days. If not, your organization will have to jump through a few more hoops to finalize the application. 
Check off these steps before submitting your application for the Google Ad Grant: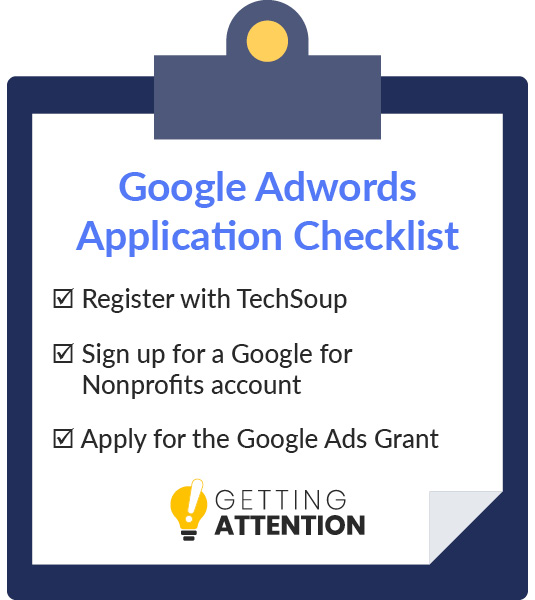 Register with TechSoup.

TechSoup

partners with businesses to verify the legitimacy of different nonprofits before providing discounted and free software and services to them. 

Sign up for a Google for Nonprofits account.

This will give you access to a range of free tools, such as Google Workspace and the Google Ad Grants application. 

Apply for the Google Ad Grant program.

Within

Google for Nonprofits

, you'll need to submit a pre-qualification survey, complete grant training, and submit the required materials to Google's team.

Start promoting your web content.

Once approved, your nonprofit can start amplifying its landing pages through Google Ads.
If you're unsure of where to start, consider working with skilled Google Ad Grant consultants,  like our team at Getting Attention. We can help you save time and avoid potential mistakes that could slow down the process or risk your eligibility. 

How Can You Set Your Google Ad Grants Campaign Up for Success?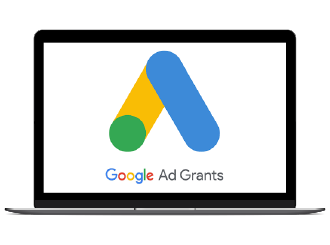 A healthy Google Ad Grant account requires proactive organization and optimization. Take full advantage of your grant by following these best practices for Google Ad Grant management. 
Optimize Your Website Before Directing Ads to It.
Rather than focusing on targeting ads, consider what happens once searchers land on your website. A common mistake is to send those users to your homepage, leaving it up to them to find the desired information. Take the time to study your audience—what are their personas, their motivations, and the keywords that resonate with them? What do you want them to do when they arrive at your website?
Create a targeted landing page that corresponds to the next action that you want ad viewers to take. On this landing page, keep the following best practices in mind:
Have a compelling headline 

Include strong visuals 

Share impact stories

Add a call-to-action button

Adapt to different screen sizes
You should also consider what types of content to create that your Google Ads will link to. While it can be tempting to just link to your donation page or volunteer form, it will be more effective to take the keywords your campaign is targeting into account. If it seems like users are actually searching for an educational guide on the topic, you'd likely want to create effective "cornerstone" content that someone searching for your keyword would likely find useful. 
Cornerstone content refers to web content such as articles that are educational, high-quality, and align both with your organization's overall purpose and potential searchers' keywords. For example, a nonprofit with a mission related to protecting oceans might write an article explaining how beach clean-ups work and the positive impact they can have for the environment and people living nearby. Then, someone who searches the term "beach clean-up" would see the nonprofit's article and have their questions about the topic answered. 
Cornerstone content can also help promote your nonprofit's other pages by including links to other blog articles, initiative information pages, and anything else relevant on your website. If your cornerstone content is detailed and valuable, readers will likely click on these links to explore the rest of your site. 
Targeted landing pages like cornerstone content can increase engagement and drive conversions. Make these pages valuable and be thoughtful about the descriptions use you to promote them. Remember, Google requires Google Ad Grant accounts to maintain a 5% click-through rate each month, which can be challenging if your content needs more work to be ready for a large audience.
Run 3 to 5 Campaigns. 
With the Google Ad Grant Program, your nonprofit can market multiple ad campaigns at the same time. Google requires organizations to run at least two campaigns, but your nonprofit should strive to take advantage of this opportunity by running at least three campaigns. Then you can compare the metrics of each to determine the successes and shortcomings of your grant marketing strategy. To create easy-to-manage campaigns, make sure to: 
Set clear goals

Always keep the target audience in mind

Use mobile-preferred ads

Implement conversion tracking

Modify campaigns when needed
What campaigns you choose to run will depend on your nonprofit's current goals, but you should aim to run a campaign for each of your ongoing projects. For instance, you might run four campaigns: one focused on earning donations, the second focused on recruiting volunteers, the third to spread awareness about a new initiative, and a fourth to promote an upcoming event. 
Dividing your campaigns based on their purpose will help you more clearly set your goals for each, determine your audience, and note if an ad led to a conversion. You can also choose keywords that more closely align with each campaign's purpose, as you'll be able to narrow potential keywords based on the probable search intents of your intended audiences. 
Base Each Campaign on Tightly Focused Ad Groups.
Google requires each campaign to have two ad groups, and each ad group must have at least two ads. Ad groups are essentially how you organize ads by grouping together ads with similar target audiences together. For example, you might group together two ads both focused on encouraging supporters to make a donation. 
Each campaign should have multiple ad groups that organize keywords under a common theme, such as the different sections or categories that appear on your website. For best results, ad groups should include at least three ads, with one responsive search ad, an ad that adapts to show more text and relevant messaging to your customers. 
Ad groups should be narrowly focused. For example, if your organization runs a clothing drive campaign, your ad groups should contain a few closely-related keywords and drive a wide variety of related phrases. Examples could include: 
"Donate shirts" 

"Donate pants" 

"Donate shoes" 

"Why clothing drives matter"

"Clothing drives near me"
Organizing your campaigns in this way simplifies the process of monitoring your account. 
Choose Relevant Keywords.
The success of your Google Ads will be determined by how well you choose your keywords. This means choosing relevant, targeted keywords is essential for ensuring your campaigns are generating sufficient traffic to your website. 
When selecting your keywords keep the following factors in mind:
CPC limitations.

For each keyword you choose, take into account Google's cost-per-click (CPC) amount for it. Prior to November 2021, nonprofits were restricted only to keywords with a CPC of $2 or less, which tended to less competitive, long-tail keywords. However, now nonprofits can use Google's automated Maximize Conversions bidding strategy, which gets around the $2 limit. For this strategy, nonprofits will input a daily budget and the Maximize Conversions attempt to deliver as many conversions as possible within your budget. While this strategy can generate a lot of traffic for in-demand keywords, it can also take up a significant amount of your Google Grant, so use it wisely. 
Negative keywords.

You can help narrow the audience of each of your campaigns by creating a negative keyword list. By designating certain terms as negative keywords, Google will not present your ad when those terms are included in the search. For instance, a nonprofit arts organization specifically focused on music might make "painting" a negative keyword to avoid getting traffic for searchers interested in the wrong type of art. 

Competition.

Your nonprofit should aim to create lots of campaigns with lots of ads that target lots of keywords to attract the largest audience possible. However, keep in mind that some keywords may be competitive and have organizations with far larger spending power bidding on them. To avoid unnecessary competition, try targeting long-tail keywords that are tailored to your audience. For instance, a nonprofit that provides adult education and skill training services probably isn't going to have much luck with a keyword like "skill training" but might find more success with "in-person adult education training courses."
Above all, when choosing keywords, be sure to consider what your target audience is likely to search for. Take note of what keywords people are searching that lead them to your page and if those visitors convert. This will help you continually update and adjust your keywords to best match your audience. 
Make the Most of the Ad Space and Characters Allotted.
Maximize your ad space by using the full allotment of headlines and descriptions. This will make your ads appear larger, increasing the click-through rate and the number of visitors arriving to your website. As a general rule, be as descriptive as possible in headlines and ensure your ad descriptions convey exactly what users can expect when they click on them. Follow these tips to write the most effective headlines and descriptions for your Google Ads: 
Include the main keyword in your headline

Add numbers and statistics

Be clear about what you're offering

Keep your most important messaging in the main headline

Check spelling and grammar 

Use remaining characters to say something new, not restate information 
You can also try using ad extensions to improve your click-through rate. Ad extensions include:
Sitelink extensions

, which are required by the Google Ad Grant requirements.

 
Callout extensions

, which add additional text below your ad, further promoting your organization's services.

 
Call and message extensions

, which provide a phone number searchers can call or text to get in touch with someone at your nonprofit. 
Location extensions

, which list your address and can be useful for attracting supporters who live nearby.

 
Structured snippet extensions,

which provide a snippet of your page on Google, showing searchers what your website is about right on the search results page.
Extensions give you more room to explain why your nonprofit's website is worth exploring. Plus, extensions tend to make your ad take up more real estate on a search results page, which can be a benefit in and of itself. 
Prioritize Conversion Tracking.
The Google Ad Grants program prioritizes high-quality traffic, rather than just driving a high quantity of users to your website. High-quality conversions happen when searchers take an action like:
Signing up for your organization's newsletter

Donating to your cause

Registering to volunteer

Signing a petition
Google strives to help your team rethink your digital advertising strategy and discover which calls-to-action are most effective at driving a visitor down your funnel of engagement. That's why conversion tracking is so crucial.
Set up a Google Analytics account to track conversions and follow which ads drive the most users to take action toward advancing your mission and what messages drive the most engagement. This tool can track additional information beyond conversions, such as your organic vs. paid traffic and demographic information about your website's visitors. Use this information to optimize your future ad campaigns.

Working with a Google Grants Agency
Whether you manage a Google Ad Grant account in-house or outsource it to a Google Ad Grant agency like Getting Attention, your return on investment will be positive if you prepare a strong digital marketing strategy. Even if you're proficient in what Google Ad Grants are and how to leverage them, you might be low on staff time.
Getting Attention is an professional agency here to guide your organization through the Google Ad Grant process. We'll manage every step of the Google Grant management process, including: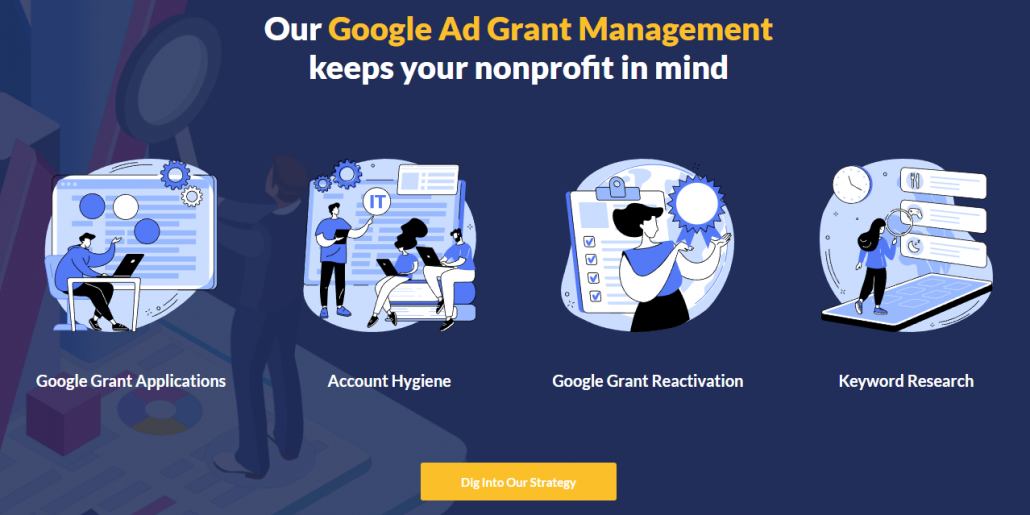 Google Grant Application

: Our team of experts can walk you through every step of the way to ensure that your nonprofit is accepted.

Google Grant Hygiene

: Maintaining your data and keeping it clean can be a pain point for many nonprofits. We're here to ensure you never have to worry about outdated or unnecessary data bogging down your processes. 

Google Grant Reactivation:

Has your account been lagging or even suspended? We can help get your account reactivated.

Keyword Research

: High-quality and valuable website content is one of the most important qualities of a successful Google Ad Grants campaign. Make sure that you're targeting the most relevant and useful keywords with our research team. 

Google Grant Management

: To determine if your marketing strategies are working, you need to track conversions. We'll ensure that not only are you on top of your conversions but that you also are tracking the most useful opportunities. 
Getting Attention's team of experts offers free consultations and resources to help your organization plan a successful campaign strategy. If you're ready to transform your Google Ad Grants strategy, reach out to our team today to learn more!
Additional Resources
Learning what a Google Ad Grant is can be your nonprofit's first step towards increasing your audience, spreading awareness, and taking your mission to the next level. To make the most of this opportunity, ensure that your website is Google Ad Grant ready, and stay up to date with Google's guidelines to remain compliant at all times. 
Of course, earning a Google Ad Grant is just the first step as there are a variety of strategies your nonprofit can leverage to create ads that appear at the top of relevant searches, get clicks, and even lead to conversions. Want to continue your research on Google Ad Grants or learn how to market your mission effectively? Explore these additional resources:

https://gettingattention.org/wp-content/uploads/2021/11/What-is-a-Google-Ad-Grant_Feature.jpg
350
725
Getting Attention
https://gettingattention.org/wp-content/uploads/2021/08/getting-attention-logo.svg
Getting Attention
2021-11-04 23:29:11
2022-06-17 19:44:07
What Is A Google Ad Grant? The Ultimate Guide for Nonprofits