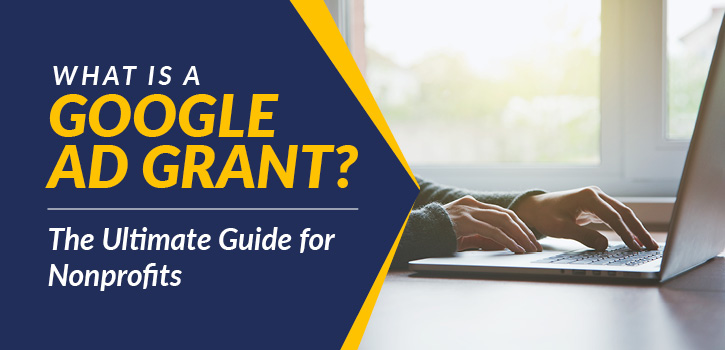 For nearly two decades, Google Ad Grants have helped nonprofit organizations thrive in highly competitive marketing environments. It is a valuable tool that fuels many nonprofits' missions and supports the growth of organizations. However, if you've clicked on this guide, you likely fall within the large population of nonprofits that are unfamiliar with this game-changing opportunity.
Don't fret! You can still learn all you need to know about Google Ad Grants and begin your application today.
Getting Attention is a trusted expert in bringing new supporters to your website through Google Ad Grant management. In this guide, you'll find everything you need to know about the Google Ad Grant Program, including the application process and eligibility requirements. We're here to clarify your questions and help your nonprofit make the most of its grant.
In this guide, we'll cover the following foundational information about Google Ad Grants:
Then, at the end of the guide, we'll provide a few tips to bring your Google Ad Grants strategy to the next level. Let's get started!
What is a Google Ad Grant?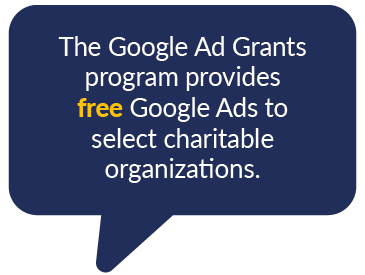 If your nonprofit has a website, the Google Ad Grant is one of the most cost-effective and powerful marketing resources available. The Google Ad Grants Program awards select 501(c)(3) nonprofits with monthly ad credits to create and host advertising campaigns on Google. These free ads allow organizations to amplify their presence on search engine results pages (SERPs) and get their website content in front of the right eyes. 
How much is the Google Grant? 
Since 2003, Google has awarded over $10 billion in free advertising to over 115,000 nonprofits across 51 countries. The Google Ad Grant gives $10,000 in ad spend to eligible nonprofits per month. While regular Google Ad accounts actually have to pay per ad click, Google Grant participants can display their advertisements for free. 
As long as your organization meets and maintains compliance with Google Ad Grants eligibility requirements, the allotment renews monthly without a time constraint. But don't worry if you don't know how to spend the full $10,000. Google Grant managers from an agency like Getting Attention will ensure you get the most out of your grant by focusing on online conversions and driving measurable results for your organization. 
How do Google Ad Grants work?
Google Ad Grants give nonprofits monthly funds to spend on paid search ads in Google. These ads enable your nonprofit to appear on Google when it matters— when someone searches for topics related to your mission. It's a great way to educate the public about your cause and grow your audience. 
The ideal Google Ad Grant candidate has a website that effectively serves their audience and promotes their mission. Whether your organization wants to increase event sign-ups or inspire new donors to take action, Google Ad Grants can help you achieve your goals. With the Google Ad Grant program for nonprofits, organizations can:
Increase online conversions.

Reach out to new donors.

Recruit volunteers. 

Market multiple ad campaigns.

Analyze and track performance.
Paid search ads are shown at the top of the SERP, meaning your nonprofit will have a greater advantage at increasing visibility and connecting with more people. Your nonprofit will choose keywords (abiding by certain guidelines outlined by Google), run campaigns, then track the success of those campaigns using Google Analytics. For more information, read our dedicated article to learn more about how marketing grants work.



Who qualifies for Google Ad Grants?
Before requesting a Google for Nonprofits account, find out if your organization qualifies, what you'll need for verification, and what to expect throughout the process. If you apply and you're eligible, you will automatically be approved. 
Every 501(c)(3) nonprofit— other than hospitals, schools, and government organizations— is eligible for the Google Ad Grant. There is no limit on the number of nonprofits who can be approved for the program, unlike traditional grants which often have a limited amount of funds to be dispersed. 
If your nonprofit organization has an established web presence, it doesn't take much to be eligible for the Google Ad Grant. To meet the eligibility requirements for Google Ad Grants, your organization must: 

Hold a current and valid nonprofit status (501(c)(3)) 

Not be a government entity, healthcare organization, or educational institution

Have a functioning and detailed website with few existing ads

Install a Secure Sockets Layer (SSL) 

Agree to the terms of service 
Once you've applied for and been awarded the grant, Google has multiple rules for maintaining eligibility. Your organization must remain compliant with the following to continue reaping the benefits of free ads: 
No single-word keywords:

Google determined that keywords must have at least two or more words to increase relevance. Swap keywords like "conserve" or "water" for complete phrases like "conserve water" or "donate to conserve water." 

No low-quality score keywords:

Avoid keywords that have a quality score of 1 or 2 to ensure the results are relevant to searchers. 

Maintain 5% minimum click-through rate (CTR)

: Google requires that Ad Grants accounts maintain a CTR of at least 5% to stay in the program. If the click-through rate is low, this means that the ads aren't meeting the searcher's intent for the target keyword. . 

Geo-targeting:

Only show ads in geographic locations where your organization operates to ensure you're targeting actual supporters of your nonprofit, rather than a wide, but uninterested audience.

Conversion tracking through Google Analytics

: Install Google Analytics on your website to set up and track conversions and understand your Google Ads performance.

Annual survey:

Complete a survey each year to share your experience with the program. 

Account structure (minimum of two ad groups):

Google requests that you have a minimum of two ad groups (a collection of keywords and ads) for each campaign. 

Account maintenance:

Google needs to see that your organization is staying active with the account. If you don't spend any money on the account for a certain period of time, your account may be deactivated. 
If your organization is eligible and looking to take control of a digital marketing strategy, then it is fully recommended to apply. We'll break down the application process in the next section.
How to Apply for Google Ads for Nonprofits
The amount of time spent on the Google Grants application process will depend on your organization's readiness. If you are already registered with  TechSoup and have a website that meets Google's requirements, the process should only take 2 to 14 days. If not, your organization will have to jump through a few more hoops to finalize the application. 
Check off these steps before submitting your application for the Google Ad Grant: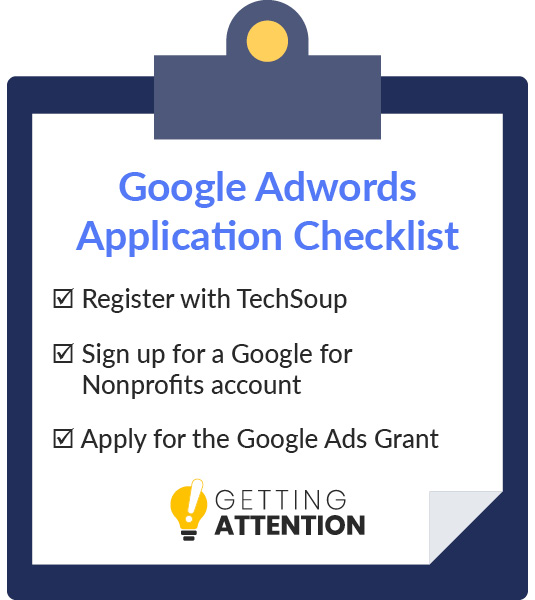 Register with TechSoup 

Sign up for a Google for Nonprofits account 

Apply for the Google Ads Grant 

Create a Google AdWords Account 

Submit a pre-qualification survey and grant training. 

Submit required materials for pre-qualification review. 

Once approved for pre-qualification, set up your first Google Ads campaign. 

Submit your AdWords account for final review. 

Once approved, the nonprofit can begin running a Google Ad campaign!
If you're unsure of where to start, consider working with skilled Google Ad Grant consultants,  like our team at Getting Attention. We can help you save time and avoid potential mistakes that could slow down the process or risk your eligibility.



How can you set your Google Ad Grants campaign up for success?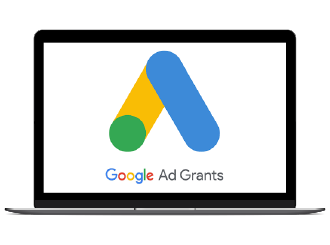 A healthy Google Ad Grant account requires proactive organization and optimization. Take full advantage of your grant by following these best practices for Google Ad Grant management. 
Optimize your website before directing ads to it. 
Rather than focusing on targeting ads, consider what happens once searchers land on your website. A common mistake is to send those users to your homepage, leaving it up to them to find the desired information. Take the time to study your audience— what are their personas, their drivers, and the keywords that resonate with them? What do you want them to do when they arrive at your website?
Create a targeted landing page that corresponds to the next action that you want ad viewers to take. On this landing page, keep the following best practices in mind:
Have a compelling headline 

Include strong visuals 

Share impact stories

Add a call-to-action button

Adapt to different screen sizes
Targeted landing pages can increase engagement and drive conversions, so it's important to develop an optimized website with landing pages for each campaign.
Aim to run at least 3 to 5 campaigns. 
With the Google Ad Grant Program, your nonprofit can market multiple ad campaigns at the same time. Take full advantage of this feature by running at least three campaigns. Then you can compare the metrics of each to determine the successes and shortcomings of your marketing strategy. To create easy-to-manage campaigns, make sure to: 
Set clear goals

Always keep the target audience in mind

Use mobile-preferred ads

Implement conversion tracking

Modify campaigns when needed
These quick, simple tricks will help your campaigns reach the right audiences and drive meaningful action. 
Base each campaign on tightly focused ad groups.
An ad group contains one or more ads that share similar targets. Each campaign should have multiple ad groups that organize keywords under a common theme, such as the different sections or categories that appear on your website. Ad groups should include at least three ads, with one responsive search ad, an ad that adapts to show more text and relevant messaging to your customers. 
Ad groups should be narrowly focused. For example, if your organization runs a clothing drive campaign, your ad groups should contain a few closely-related keywords and drive a wide variety of related phrases. Examples could include: 
"Donate shirts" 

"Donate pants" 

"Donate shoes" 

"Why clothing drives matter"

"Clothing drives near me"
Organizing your campaigns in this way simplifies the process of monitoring your account. 
Make the most of the ad space and characters allotted. 
Maximize your ad space by using the full allotment of headlines and descriptions. This will make your ads appear larger, increasing the click-through rate and the number of visitors arriving to your website. As a general rule of thumb, be as descriptive as possible in headlines and ensure your ad descriptions convey exactly what users can expect when they click on them. Follow these tips to write the most effective headlines and ad descriptions: 
Include the main keyword in your headline

Add numbers and statistics

Be clear about what you're offering

Keep your most important messaging in the main headline

Check spelling and grammar 

Use remaining characters to say something new, not restate information 
Learning to write strong ad copy is essential in growing your campaigns, so make sure you tackle this task! 
Prioritize conversion tracking.
The Google Ad Grants program prioritizes high-quality traffic, rather than just driving a high quantity of users to your website. High-quality conversions happen when searchers take an action like signing up to your organization's newsletter, donating to your cause, or signing a petition. Google strives to help your team rethink your digital advertising strategy and discover which calls-to-action are most effective at driving a visitor down your funnel of engagement.
Set up and optimize Google Ads conversion tracking to follow which ads drive the most users to take action towards your mission and what type of messaging drives the most engagement. Then, use that information to optimize your future ad campaigns.

Working with a Google Grants Agency
Whether you manage a Google Ad Grant in-house or outsource it to a Google Ad Grant certified professional like Getting Attention, your return on investment will be positive if you prepare a strong digital marketing strategy. 
Getting Attention is a fully certified agency here to guide your organization through the Google Ad Grant process. Our services include:
Google Grant Application

: Our team of experts can walk you through every step of the way to ensure that your nonprofit is accepted.

Google Grant Hygiene

: Maintaining your data and keeping it clean can be a pain point for many nonprofits. We're here to ensure you never have to worry about outdated or unnecessary data bogging down your processes. 

Google Grant Reactivation:

Has your account been lagging or even suspended? We can help get your account reactivated.

Keyword Research

: High quality and valuable website content is one of the most important qualities of a successful Google Ad Grants campaign. Make sure that you're targeting the most relevant and useful keywords with our research team. 

Google Grant Management

: To determine if your marketing strategies are working, you need to be tracking conversions. We'll ensure that not only are you on top of your conversions but that you also are tracking the most useful opportunities. 
Getting Attention's team of experts offers free consultations and resources to help your organization plan a successful campaign strategy.  Reach out to our team today to learn more!
Want to continue your research on Google Ad Grants or learn how to market your mission effectively? Explore these additional resources:

https://gettingattention.org/wp-content/uploads/2021/11/What-is-a-Google-Ad-Grant_Feature.jpg
350
725
Getting Attention
https://gettingattention.org/wp-content/uploads/2021/08/getting-attention-logo.svg
Getting Attention
2021-11-04 23:29:11
2022-04-05 19:03:01
What Is A Google Ad Grant? The Ultimate Guide for Nonprofits