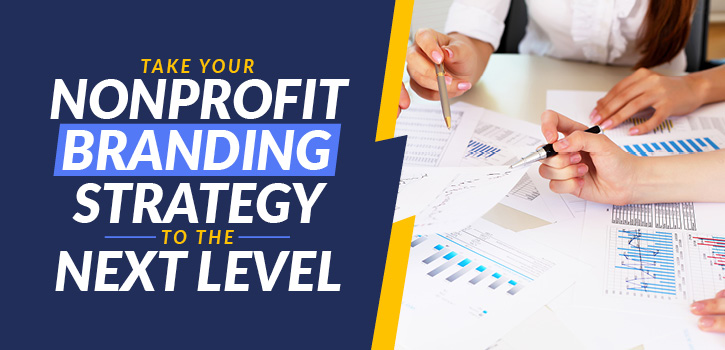 These days, a well-defined and recognizable brand can do wonders for any organization or business. Good branding increases customer loyalty, builds a positive reputation, and ensures people that you're someone to be trusted. 
While you may think a branding strategy is primarily a concern for for-profit organizations, nonprofit organizations need to prioritize it just as much!
Your nonprofit brand impacts how people view and engage with your organization, impacting whether or not they're willing to support your mission in any way. Plus, bad branding can have a hugely detrimental effect, causing individuals to regard your nonprofit as untrustworthy or illegitimate. 
There's a common misconception that nonprofit branding is just the colors of your logo and what font you use. However, branding involves much more and can actually impact your nonprofit's marketing and fundraising success. To learn more about how to take your nonprofit branding strategy to the next level, you've come to the right place! This guide will walk you through:
A memorable and compelling nonprofit branding strategy can bring your mission to the light and attract passionate supporters. Ready to learn more? Let's get started with a basic definition.


What Is Nonprofit Branding?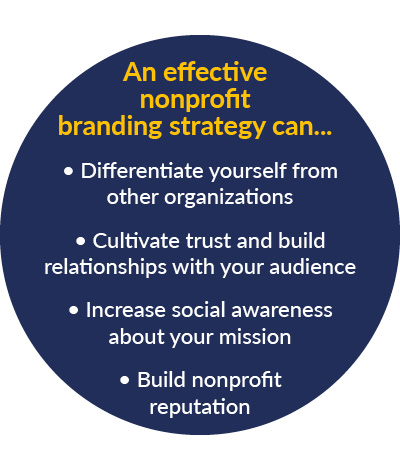 At its core, nonprofit branding is what distinctly defines your organization and sets your nonprofit apart from others. This branding can then impact how supporters and the rest of the world view your mission and the work you've done. 
When you have effective branding, your nonprofit is more easily recognized, affects how people respond to your messaging, and spreads awareness of your mission to all corners of the world.
As the modern world becomes increasingly digital, your nonprofit branding strategy becomes more critical. The internet allows us to share content with friends and family in an instant— if your nonprofit's brand is able to ride this wave, there's no telling what your organization can accomplish.
This is why it's so important to create branded content and nonprofit messaging. With the right strategy, supporters can build a relationship with your brand and instantly recognize and trust it. Who knows, maybe your words will influence a supporter to share it with a peer, continuing to spread awareness of your brand. 
To summarize, nonprofit branding is important because it:
Allows you to differentiate yourself from others

— Your nonprofit should be recognized for your own incredible work, not confused with others. Otherwise you may be missing out on funds. 

Cultivates trust with your audience and builds relationships with supporters

— Effective and consistent branding ensures individuals that your organization is legitimate and well-known. The more they see your logo or hear your name, the better. Plus, this could mean the difference in donating to your nonprofit or another's with a similar mission. 

Increases social awareness about your mission —

It's simple, the more people who see your branding, the more people who will know about your mission and need.

Can help build a solid reputation for your nonprofit — When your nonprofit brand touches the far corners of the world, supporters will much more easily regard you as trustworthy and highly reputable. After all, there's a reason why they've heard of your nonprofit!
Effective and well-thought out branding is easier said than done, however. Your nonprofit branding strategy is made of more than what we can see and engage with visually. There are a lot of moving parts and careful planning that must be done to ensure your branding is consistent, relays the right message, and ultimately furthers your nonprofit goals. 

Essential Components of Nonprofit Branding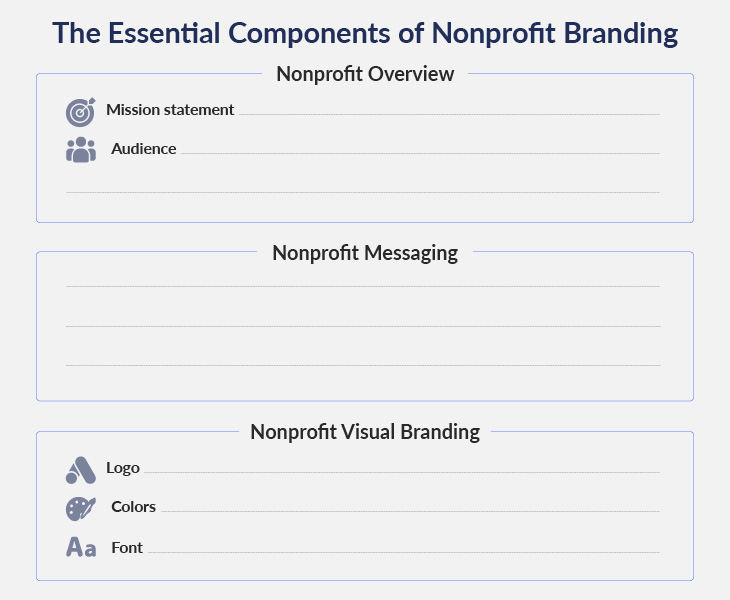 Nonprofit Overview
To ensure your branding stays on track, it's critical that you have a comprehensive overview of your nonprofit. In your nonprofit overview, we recommend outlining your:
Mission Statement — Your mission statement is the core purpose of your nonprofit organization. When crafting your own nonprofit mission statement, make sure to include WHY your nonprofit exists, WHO your nonprofit is helping, and HOW your nonprofit serves them. 
Audience

— When crafting your branding strategy, you need to know who exactly you're trying to reach. Think about who your current audience is, as well as considering the audience that you want to target. To get a better sense of who your nonprofit audience is, consider using donor segmentation methods. 
Your nonprofit branding needs to represent your organization and values as accurately as possible. Define the above first if you want an effective nonprofit branding strategy.
Nonprofit Messaging
Your branding heavily impacts how your nonprofit communicates with its supporters. Crafting your messaging carefully is key if you want your branding to stand out, connect with your audience, and inspire support. 
We recommend using the CRAM method for messaging:
Connecting

— Connect your cause to something your audience cares about.

Rewarding

— Make the experience rewarding with an incentive or reminder of the mission. 

Actionable

— Include a call to action so that inspired individuals can show their support. 

Memorable

— Craft messaging that's sentimental or has tangible rewards to make it memorable.
Nonprofit messaging goes hand-in-hand with storytelling. In fact, 56% of supporters on social media say that compelling storytelling inspires them to give. If you want to make your branding relatable, engaging, and inspiring, consider using real stories and photos from those you've helped to drive the point home. 
Take your nonprofit storytelling to the next level with our dedicated article. 
Nonprofit Logo, Colors, & Fonts
When you think of nonprofit branding, the first thing you'll probably think of is what makes your organization stand out visually. There's a reason why we instantly recognize the panda World Wildlife Fund logo— this is due to good branding!
When deciding visual components, it's critical that you remember your nonprofit overview and messaging strategies. Ultimately, your brand should represent and support your organization and its engagement efforts. Plus, while you don't have to be too literal in choosing your visual branding, it's important that they still relate to your nonprofit's core values.
The visual components to keep in mind include:
Logo — Your logo is the center of your brand. It's the image that people remember most and will recognize the easiest. Using your logo consistently helps create the association to your brand and builds the relationship supporters have with your nonprofit's content. Ensure your logo is simple, memorable, and communicative of your mission. 
Colors

— The colors you choose for your nonprofit branding can greatly influence how your audience feels when they see your organization out and about online or in person. When determining the best colors to represent your brand, try to think of the emotions that colors evoke. For instance, green is often associated with nature while yellow is associated with optimism or children. 

Font

— Considering the typography of your nonprofit brand might not seem like a high priority, but it is important that you remain consistent throughout your marketing materials. For more help picking the best font for your brand, check out this

resource

. 
As you're considering the visual look of your nonprofit, it can be helpful to look at the branding of other similar organizations. This is a good way to get inspiration as well as make sure that your branding isn't accidentally imitating another. Organizations with logos that are too similar can confuse your audience and even cause them to mix up your nonprofit with another. 

6 Nonprofit Branding Strategy Best Practices
Now that you know why nonprofit branding is important and the essential components to a comprehensive and successful branding strategy, it's time to take it to the next level. 
Consider these best practices to catapult your nonprofit branding forward, better connect to your audience, and deliver your messaging in ways that inspire support:
Make your branding stand out

— These days, there are now

more than 1.5 million nonprofit organizations

registered just in the U.S. alone. Finding ways to make your nonprofit stand out amongst the crowd is critical if you want to garner the necessary support. This is especially important with nonprofits with similar missions. It's important to make sure your branding stands out and is memorable.

Craft a compelling story

— As you now know, nonprofit branding is more than just what your website and social media posts look like. It involves how you connect and communicate your stories. To take your branding to the next level, consider employing nonprofit storytelling methods. This is one of the most powerful ways to build your brand, build trust with your audience, and promote your mission. 

Create a branding guide

— To ensure that your entire marketing team is on the same page, it's recommended to create a dedicated branding guide. This should outline your main branding components like logo, font, color scheme, as well as other elements that we discussed above. The branding guide should also include some guidelines on how to use the branding elements and when they should be implemented when it comes to your digital and print marketing materials. 

Use branding on multiple channels

— Branding should represent your organization consistently no matter where someone is encountering it. The marketing channels you use are incredibly important especially if you want to build relationships with donors and reach new prospects. Make sure the branding you use is consistent throughout all channels so that supporters can recognize it immediately and build their relationship with your brand. 

Update branding as needed

— No good branding strategy is developed once and then never looked at again. As with any marketing effort, it's important to collect data and track its success to learn if there's anything that needs to be improved or optimized. To ensure your branding stays on track and helps you meet goals, we recommend compiling regular reports and following metrics like messages responded to and email open rate.

Apply for the Google Grant — One of the best ways to build your branding strategy and connect with supporters is to apply for the Google Ad Grant! With this grant, nonprofit organizations receive $10,000 in Google ad credits each month. Plus, all eligible nonprofits who apply can receive this grant, not just a lucky few. Use your Google ads to build your brand and offer valuable online content to current supporters and potential prospects.
Your nonprofit branding strategy impacts many aspects of your marketing efforts and donor relationships. Make sure you leverage these best practices to ensure that your branding not only represents your organization and mission effectively, but that you're able to incorporate it into key messaging and connect with supporters in valuable ways.
Additional Resources
If you want to reach your supporters where they are and spread awareness of your mission, having an effective branding strategy is essential. It's important to make sure that your own branding efforts reflect your nonprofit accurately and you're not missing out on any essential elements. To continue your research in learning how to push your nonprofit forward, we encourage you to explore our additional resources for fundraisers:

https://gettingattention.org/wp-content/uploads/2021/09/Nonprofit-Branding_Feature.jpg
350
725
Getting Attention
https://gettingattention.org/wp-content/uploads/2021/08/getting-attention-logo.svg
Getting Attention
2021-09-22 16:42:53
2022-08-29 20:14:49
Take Your Nonprofit Branding Strategy To The Next Level