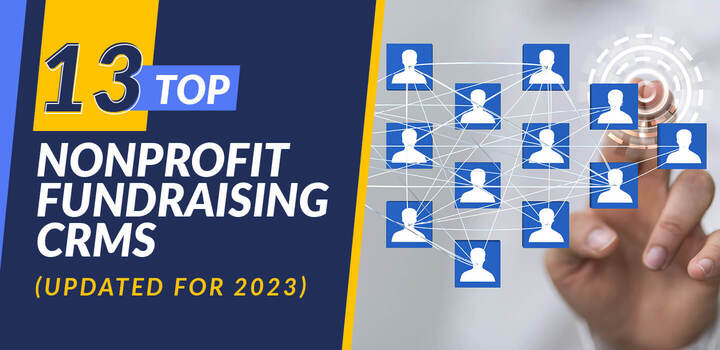 Fundraising CRMs, or constituent relationship management systems for nonprofits, are vital for effective revenue generation and donor management efforts⁠. This is especially true as organizations continue to grow.
If your nonprofit is seeking a CRM solution (whether for the first time or to upgrade an existing system), you've come to the right place! This list of top nonprofit CRMs has been crafted with organizations like yours in mind, and we'll highlight key features, benefits, and more for each provider.
At Getting Attention, our favorite fundraising CRMs (in alphabetical order) are:
One key function to consider as you browse this list of suggested fundraising CRMs is matching gift abilities. Research shows that between $4 and $7 billion in available matching gift funding is left on the table each year⁠—largely because nonprofits lack the tools to secure those corporate dollars effectively.
Luckily, more and more nonprofit CRMs are beginning to incorporate matching gift functionality into their toolkit through seamless integrations with matching gift software (the most common by far being 360MatchPro by Double the Donation).
Ready to dive in and discover the perfect donor management system for your organization? Let's get started.


CharityEngine offers a number of fundraising solutions, including an online donation platform and fundraising CRM. Their CRM system enables teams to quickly and easily automate fundraising, marketing, and data collection to provide nonprofits with more time to spend on mission-related projects.
Top CharityEngine features:
Built-out donor profiles
Donation pages
Payment processing
Reporting and analytics
Automated workflows.
Not to mention, CharityEngine donation forms drive matching gift revenue by simplifying the matching process for both donors (through personalized reminders and company-specific instructions) and nonprofits (by automating communications, collecting data, and tracking revenue growth). Since the #1 hindrance for matching gifts is a lack of awareness among supporters, CharityEngine leverage matching git software from Double the Donation to ensure each donor is exposed to matching gift information at multiple touchpoints.
Why We Love This CRM
CharityEngine's major gifts and planned giving software capabilities allow organizations to maximize their impact and streamline their management. As major gifts make up to 80% of an organization's total revenue, this feature offers a huge advantage.
With CharityEngine, your organization can track applications and opportunities and manage projects with just a few clicks. Its robust analytics features also provide telling insights to measure your major gift progress.

Classy is an all-in-one fundraising platform with solutions for donor management, online donations, and peer-to-peer campaigns. This fundraising CRM is designed to provide users with a central hub for campaign and supporter management called Classy Manager. With these tools, nonprofit fundraisers are able to launch and manage campaigns, track performance and donor interactions, and gain a better understanding of their fundraising overall.
Top Classy features:
Online donation processing
Event management
Robust reporting and analytics
And Classy doesn't want you to forget about matching gift opportunities, either! This platform integrates with Double the Donation's comprehensive matching gift tool to enable a searchable matching gift database, automated donor follow-ups and match reminders, and more. They even offer a two-way data sync that allows matching gift information collected in 360MatchPro to flow into Classy's platform! When donors are encouraged to participate in their employers' matching gift programs on multiple occasions, they'll be more likely to request a match and secure more dollars for your cause.
Why We Love This CRM
Classy provides a 360-degree supporter interaction view, so you can observe and manage your donor interactions from every angle. You can look into individual donor histories to enhance your engagement efforts. This is especially helpful to re-engage donors and increase your donor retention rate.
For reference, the average donor retention rate across nonprofits is between 40 and 45% which can feel like you're constantly fighting an uphill battle. However, donor management tools like the 360 supporter interaction view can help your nonprofit make every interaction count.

Click & Pledge offers powerful donor management tools built on the Salesforce platform. This innovative fundraising CRM can even help users sort and rank donors based on an algorithm that considers personal donations, amounts fundraised, and gifts within an individual's network in order to identify their highest-value supporters.
Top Click & Pledge features:
Automated communications
Data analytics
Manual donation processing
Seamless Salesforce integration
Plus, Click & Pledge integrates with the top matching gift solution, 360MatchPro, to promote matching gift opportunities to supporters, drive more company match requests with automated communications, and boost fundraising revenue overall.
Why We Love This CRM
Click & Pledge offers effective video fundraising options to capture your donor's hearts. You can simply embed donation forms directly into your videos for viewers to donate without having to exit the video experience.
This solution doesn't allow viewers to get distracted, so they can give to your cause at the best time—right after viewing your mission. And, recent studies have shown that 57% of people who watch nonprofit videos go on to make a donation. With Click & Pledge, you can make this process as easy as possible.

DonorPerfect is a comprehensive fundraising solution that specializes in strategic donor management through targeted communications, multichannel outreach, easy donation processing, and customizable reports. Plus, it can save fundraisers tons of time and resources when they employ DonorPerfect's extensive automated workflows!
Top DonorPerfect features:
Payment processing
Fundraising event management
Online donation forms
Insightful data analytics
This platform also incorporates matching gift tools and strategies with a Double the Donation integration. This way, organizations can easily communicate the importance of matching gifts to donors and provide targeted next steps depending on the individual's employer. The easier it is for donors to participate in matching gift programs, the more likely they are to follow through with their request, and the more dollars that go toward your mission!
Why We Love This CRM
DonorPerfect has a wide variety of integrations, enabling your team to choose the ones that will best complement your goals. From volunteer management to website and event management, DonorPerfect will have your team covered.

Engaging Networks is a multi-faceted fundraising platform with tools for online donations, nonprofit marketing, peer-to-peer campaigns, donor and data management, and more. This eCRM is dedicated to providing users with cutting-edge technology with constantly developing upgrades, newly released features, and a web of seamless integrations.
Top Engaging Networks features:
Advanced visual reporting
Target audience query builders
Fundraising performance analysis
Donor profiling and geotargeting
One of their most impactful integrations is with Double the Donation's matching gift software, 360MatchPro. Thanks to the Engaging Networks and Double the Donation integration, organizations can quickly boost matching gift revenue by promoting these program opportunities at multiple donor touchpoints. This includes, but is not limited to, during the donation process itself and within a number of automated and customizable email follow-ups.
Why We Love This CRM
Engaging Networks is currently the only platform that offers artificial intelligence fundraising capabilities. This future-forward option leverages machine learning to help organizations reach fundraising goals and transform one-time donors into recurring supporters. As your data changes, artificial intelligence fundraising can continue to predict patterns and give an in-depth glimpse into supporter behavior. 

Formerly SimplyFundraisingCRM, GiveSmart is a fantastic solution that equips nonprofits with innovative donor management tools. The top benefits of GiveSmart include saving time through strategic automation, raising more with effective fundraising solutions, and receiving guided assistance from a panel of expert fundraising advisors.
Top GiveSmart features:
Automated donor acknowledgments
One-click donor reports
Artificial intelligence
Data analysis
Not to mention, the platform integrates with Double the Donation's most comprehensive matching gift solution to help drive additional revenue from company matches! Through donor screening practices and automated communications, organizations can easily promote matching gifts and encourage supporters to participate.
Why We Love This CRM
GiveSmart's ticketing and guest management features work great for any type of event—in-person, online, or hybrid that can keep up with changing preferences. In addition, GiveSmart has scheduled text messaging that engages supporters at the most opportune time.

Kindful CRM is a product of Bloomerang that is designed to build seamless connections between various nonprofit processes to streamline backend efforts and provide improved donor experiences. This platform emphasizes the power of technical integrations with a number of other fundraising platforms to provide an interconnected network of fundraising software that drives success.
Top Kindful features:
Tracking and reporting
Donor lifecycle dashboards
Detailed donor and contact records
Donation tracking
Wealth insights
And for many Kindful clients, this network incorporates matching gift software and practices as well. Their matching gift integration with Double the Donation's comprehensive automation tool allows organizations to promote company matches through personalized outreach and match reminders. Plus, users can configure automated follow-ups to include matching gift instructions, next steps, and guidelines for each individual's employer, which ultimately results in increased matches and revenue.
Why We Love This CRM
Kindful's library of integration features is vast, but there is one specifically worth highlighting—Kindful's email capabilities. Kindful enables your organization to send timely, personalized donation receipts and campaign emails to establish a personalized cadence with donors. According to TruConversion Reports, an email marketing campaign can deliver a return of $40 for every $1 spent. This places email in the highest marketing ROI category.

Neon CRM is a donor management solution created by the fundraising platform Neon One and designed to scale up alongside organizations of any size. This versatile solution is able to help manage nonprofit fundraising, memberships, events, websites, and more.
Top Neon CRM features:
Online web forms
Grant management
Constituent login portals
Automated receipting
Accounts and relationship tracking
Donation processing
Plus, their matching gift integration with 360MatchPro by Double the Donation enables organizations to significantly increase matching gift awareness through strategic follow-ups and personalized guidelines⁠—and boost matching gift revenue as a result.
Why We Love This CRM
Neon One includes website design solutions that can help you build and manage web pages with confidence. With its web design tools, you can generate responsive, SEO-optimized web pages with no coding needed. This way, you can promote your mission through an engaging online presence.


NonProfitEasy is a product of the Lumaverse technology company that was built to provide organizations with simple, scalable solutions. Previously known as Fundly CRM, NonProfitEasy makes its goal to "turn one-time donors into lifetime supporters."
Top NonProfitEasy features:
 Donor communication
Event management
Pledge and grant tracking
Customizable and predefined data reports
Membership management
And with a seamless integration with the industry-leading matching gift tool, 360MatchPro, NonProfitEasy users are able to double supporter donations while saving time and effort through automation. This includes donor information screening to identify match-eligible transactions, customized outreach triggered to remind eligible individuals of matching gifts, and powerful tracking and reporting capabilities with forecasting tools.
Why We Love This CRM
TheNonprofitEasy includes enhanced member engagement features, so you can create member levels and pricing that reflect your nonprofit's needs. Additionally, its embeddable member forms make it easy for you to create compelling member marketing campaigns. Member-specific email blasts also let you personalize your communications.

Raiser's Edge NXT is a nonprofit fundraising CRM built by Blackbaud that provides organizations of all sizes with donor management tools. The Raiser's Edge NXT is their newest version of the product, which is a cloud-based software that aims to provide the social good community with an easy and effective fundraising solution.
Top Raiser's Edge NXT features:
Growth opportunity identification
Dynamic email campaigns
Integrated multichannel techniques
Automated workflows
Accessibility from any device
Donor data analytics
To incorporate matching gift fundraising efforts as well, Raiser's Edge NXT integrates seamlessly with Double the Donation's matching gift software. This enables nonprofits to leverage the most effective matching gift strategies with little to no time and effort required of their fundraising teams. With automated donor follow-ups and match reminders, organizations see significant increases in match revenue!
Why We Love This CRM
Raiser's Edge NXT has extensive donor data tools that offer automated checkups to ensure your data is up to date. With clean and correct data, you'll be able to foster more meaningful interactions and track your entire constituent community.

Salesforce is a popular CRM solution for businesses and nonprofits alike⁠. Salesforce.com caters to the for-profit side of the sector, while Salesforce.org targets nonprofits, schools, and other mission-driven organizations.
Top Salesforce features:
Donor-centric relationship-planning
Digital-first fundraising experiences
Program management, reporting, and grantmaking
This comprehensive platform also allows Salesforce clients to extend their CRM functionality through a number of technical integrations with partners listed in the Salesforce AppExchange⁠ marketplace—one of which is Double the Donation. When users leverage Double the Donation's matching gift automation tools, nonprofits can collect two gifts for every one donation solicited by driving matching gift participation.
Why We Love This CRM
Salesforce's digital marketing tools can help you make the initial ask and retain them long-term. With Salesforce, you can launch a series of emails or a full-blown, multi-channel campaign. The best part? Salesforce's personalizing email features let you catch each individual supporter's attention.

SalsaCRM from SalsaLabs is a powerful and effective donor management system. This software works well alongside Salsa's other fundraising products in addition to a range of other top fundraising solutions⁠—including Double the Donation's matching gift tools!
Top Salsa features:
Rich donor profiles
Extensive relationship-tracking
Automated suggested gift calculations
Unified online and offline gift management
The Double the Donation integration allows Salsa clients to utilize Double the Donation's matching gift software, 360MatchPro, alongside their fundraising CRMs and donation forms to automate matching gift communications with donors. This boosts awareness of these programs and their availability while encouraging eligible donors to request matching donations from their employers. Ultimately, these tools result in increased corporate donations and better donor relations.
Why We Love This CRM
SalsaLab's donor profiles are overflowing with usable information for you to access unlimited custom fields and activity timelines. The platform's automated "next suggested gift" calculations determine the optimal amounts for you to ask each donor. This way, you'll engage with donors on a personal level and make an ask that aligns with their donation history.

Virtuous offers a nonprofit CRM that is designed to help fundraisers streamline donor management efforts, improve supporter relationships, and leverage data-rich insights for improved practices.
Top Virtuous features:
Omnichannel marketing strategies
Donor analysis with highlighted opportunities
Personalized cultivation and retention plans
Reporting dashboards
With Virtuous, nonprofit clients can configure their fundraising CRMs to incorporate Double the Donation's matching gift functionality. This integration allows organizations to increase matching gifts and improve their strategies through automated email follow-ups that contain employer-specific program information and instructions. When more donors request company matches from their employers, the nonprofit receives additional gifts for free!
Why We Love This CRM
Virtuous CRM's social insights can give your organization the opportunity to make informed donor decisions. Using these insights, you can track givers based on their interests, persona, affiliations, and social media profiles. From there, you can suggest a relevant next action based on individual donor preferences and passions.
Tips for Selecting a Fundraising CRM
There are several CRMs out there and it can be easy to get overwhelmed with so many options. To assess your CRM needs, ask these questions:
What are my organization's goals? Refer to your mission statement and accompanying objectives to decipher your goals based on your organization's purpose and size.
How big is my organization? Take a look at your contact list, how many emails you send, and your revenue baseline metrics. Then, consider your revenue goals for the coming years to get an idea of how much growth you're likely to achieve.
How much data needs to be migrated? Migration determines CRM cost. If you have to collect data from multiple disparate sources, you will have a higher end cost.
Asking these questions ahead of time can help you narrow your search and decide on a scalable solution that best suits your specific needs. You might also decide to request a demo for multiple platforms to compare their capabilities.
---
Did any of these fundraising CRMs catch your eye? The providers listed above are some of our favorite solutions for nonprofit data management, donor relationships, automated communications, and more.
The more efficient your software, the more efficient your organization's practices will be and the more you can do for your mission as a result. Good luck!
Check out these other educational resources to learn more about effective nonprofit fundraising and engagement strategies: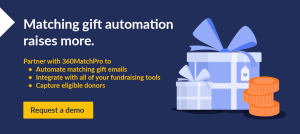 https://gettingattention.org/wp-content/uploads/2023/07/13-Top-Fundraising-CRMs_Feature_Resized.jpg
350
720
Getting Attention
https://gettingattention.org/wp-content/uploads/2021/08/getting-attention-logo.svg
Getting Attention
2023-07-20 20:26:51
2023-08-11 12:06:30
13 Top Fundraising CRMs for Nonprofit Organizations (Updated for 2023)