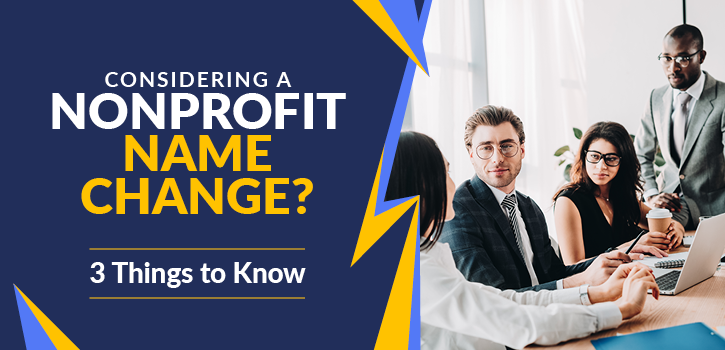 Is it time for a name change? There are many reasons why a nonprofit might change its name. Sometimes organizations undergo rebrands to improve their nonprofit marketing strategy. For others, they may have outgrown the previous name and need to update it to fit with a changing mission statement. 
Whatever the reason, name changes can be a benefit to nonprofits dealing with issues like stagnant marketing, confusion from supporters, or generic names.
While a rename is certainly a big change, it follows a logical structure. There are about six steps in the name-changing process, and it's easy to break each one into bite-sized pieces. This guide will review the three top things to know about a name change:
Whether you want a full rebrand or just a simple name change, the impact of updating your nonprofit's name could be huge. Ready to learn more? Let's get started.

1. Can a nonprofit change its name?
Yes, nonprofits can change their names. There are no formal requirements needed to start the name change process, but there are set procedures to follow.
First, check your internal requirements. Most nonprofits have a standard procedure for name changes laid out in their bylaws. 
Beyond that, every U.S.-based nonprofit must report the name change to both the state in which the nonprofit operates and the IRS. Reporting procedures are different depending on what type of organization your nonprofit is. Incorporated organizations, trusts, and unincorporated associations all have different requirements. 
While most nonprofits are incorporated, we'll cover the requirements for each organization type later in this guide just in case you fall under a different classification.
2. Why would a nonprofit change its name?
Changing your nonprofit's name requires time and energy, so think through your reasoning carefully before starting the process. 
Here are a few instances where a name change may be right for your nonprofit:

Total Rebranding
Rebrands are often used to revamp an organization's personality or voice. These typically involve changing the overall branding by introducing a new color scheme, logo, slogan, brand voice, and of course, name. 
Rebrands happen for several reasons. Your current branding may appear clumsy or outdated, and a rebrand can bring its branding strategy up-to-date. Rebranding can be an opportunity to make your public image more cohesive and strengthen marketing efforts.
Disconnect Between Name and Mission
Your nonprofit's name should convey your mission in a short, memorable way. Names that are disconnected from your mission can make marketing more challenging as you need to educate new supporters to associate your name with your mission rather than having the connection be automatic.
Let's say your nonprofit's mission focuses on reducing car accidents caused by cell phone use. While this goal may be inspired by a specific person impacted by distracted driving, naming the organization something like "The Hannah Foundation" doesn't make the connection to the mission clear. Instead, choose a name that ties into the mission such as "Drive Safe for Hannah."
The Name Was Generic or Vague
Sometimes nonprofits use names that apply to their mission but are too broad. The name you choose should connect to your mission and be specific enough to set your nonprofit apart. 
When you think about great names, a few nonprofits probably come to mind. Organizations like the World Wildlife Fund state exactly what their mission is while staying short and memorable. On the other hand, something like "Nature Fund" doesn't stand out in the same way. 
The Name Is Difficult to Remember
Your nonprofit's name should be easy for people to remember after hearing or reading it just once or twice.
Long or complicated names are less memorable. If your nonprofit's name looks more like a phrase than a name, supporters may have trouble remembering it. 
Organizations may also have names that are confusing or difficult to spell either on paper or aloud. Names that use overly complex words or long acronyms often result in misspellings.
3. How do you change your nonprofit's name?
There are six steps involved in changing your nonprofit's name. 
Keep in mind that some aspects of this process will differ depending on what state your organization is located in. Check your state's guidelines before beginning the process on your own.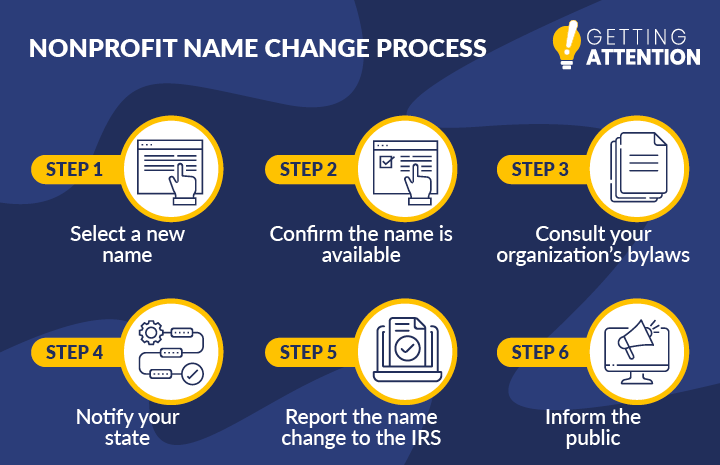 Step 1: Select a new name.
Often it is easy to know when you need a new name. However, it can be much more difficult to actually pick one out.
The best way to get started is to agree on what you want the new name to accomplish. Select a goal that stems from issues with prior names or future marketing goals or aspirations for your nonprofit.
The new name should be descriptive and connect to your mission. Your nonprofit's name greatly impacts supporters' first impressions of an organization. Your name should be true to your mission, memorable, and easy to say or spell.
There are many ways to craft the perfect name. For example, consider:
Highlighting your nonprofit's location in its name to appeal to local donors. 

Using a relevant last name, like your founder's or someone impacted by your target issue, in your name to add specificity and a personal touch. 

Brainstorming a clever turn-of-phrase that supporters will remember. 
Try creating a word cloud to help with brainstorming and narrowing down words and phrases you'd like to include. For example, an environment-focused nonprofit might have a word cloud that looks something like this: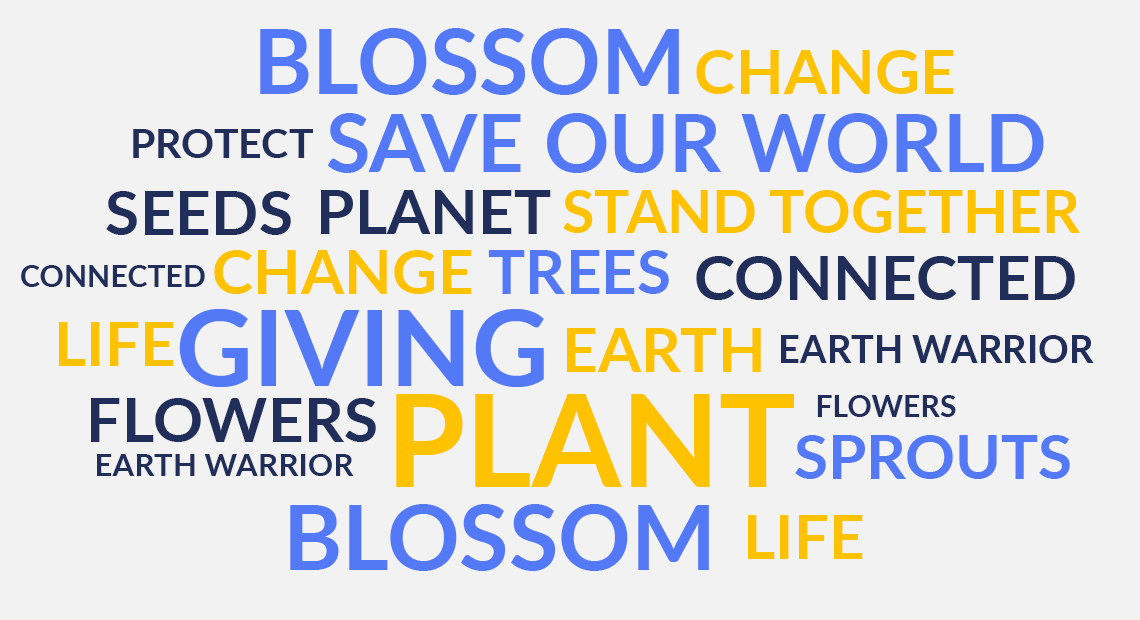 Meet with members of your staff to get name suggestions and gather feedback about your top choices. A variety of perspectives can help you better understand how different audiences are likely to react to your name.
Step 2: Confirm the name is available and permitted to be used.
Before moving forward with any other steps in this process, make sure the name you want is available in your state. Guidestar's Directory of Charities and Nonprofit Organizations is a good place to start. Avoid any names that are too similar or the same as names that are already in use. 
Consider your state's requirements for nonprofit names. These requirements exist to prevent any confusion about what your organization is. The rules are different for each state, but here are the most common ones:
The name cannot be the same as another in that division.

Check for any organizations that have the name you are considering. If there are any names that are too similar, you should choose a different name to avoid confusion.

The name must end with a corporate designator.

Corporate designators include terms like "Inc." or "Corp." that follow the name of your organization. These designators serve to indicate that your nonprofit is incorporated.

The name is not allowed to include certain words.

Certain words are banned from use in a nonprofit's name. This includes words like "bank," "reserve," "United States," and "federal." Words like this are usually banned to avoid any confusion with government agencies.

This step is important, and skipping it can halt your progress down the road.
Step 3: Consult your organization's bylaws.
Most incorporated nonprofits have articles or bylaws that outline the renaming process. In many cases, these articles officially reference the name change.
Typical rules and procedures vary across organizations, but in most situations, you will need to hold a vote. Votes may involve all members of the nonprofit or just board members, but in either case, a majority vote is required. After a successful vote, amend your organization's bylaws as needed to reflect the name change with the official support of your organization's members.
So, what is the best way to get started? Inform your board about the potential name change and put it on the agenda for your next meeting. Letting members know about the name change ahead of time ensures it isn't a surprise and gives them time to weigh the pros and cons of a new name. If the meeting is too far away, holding a meeting specifically about the name change is an acceptable way to take a vote.
Step 4: Notify your state.
After securing a majority vote and amending your nonprofit's bylaws, the next step is to report the name change to your state. This must be the same state that your organization is incorporated in.
Each state has different notification procedures. Some require that any changes in your nonprofit's articles of incorporation or bylaws mean these documents must be resubmitted. You can find more specific directions and resources on your state's Secretary of State website.
You must have proof that the state accepted your name change before you can report the name change to the IRS.
Step 5: Report name change to the IRS.
The IRS website features detailed guidelines on how to report name changes, but we'll provide a quick overview here. For most nonprofits, the steps for reporting your name change to the IRS are:
File a tax return.

Nonprofits are required to file an

annual tax return

. On that return, there is a space to indicate a name change. However, nonprofits that do not wish to wait until tax season may report the change by letter or fax.

Include amended articles of incorporation and/or bylaws.

Submit any amendments made to your organization's articles of incorporation or bylaws. You should include proof that your state accepted these amendments, so notify your state before the IRS.

Request an affirmation letter that indicates the new name.

After reporting your name change to the IRS, request an affirmation letter. This letter confirms the name change and shows the new name in place of the old one.
These steps apply to most nonprofit organizations, but not all. Certain types of nonprofits, including incorporated organizations, trusts, and unincorporated associations, may have different renaming processes depending on their state.
Here's an overview of the requirements for these types of nonprofits: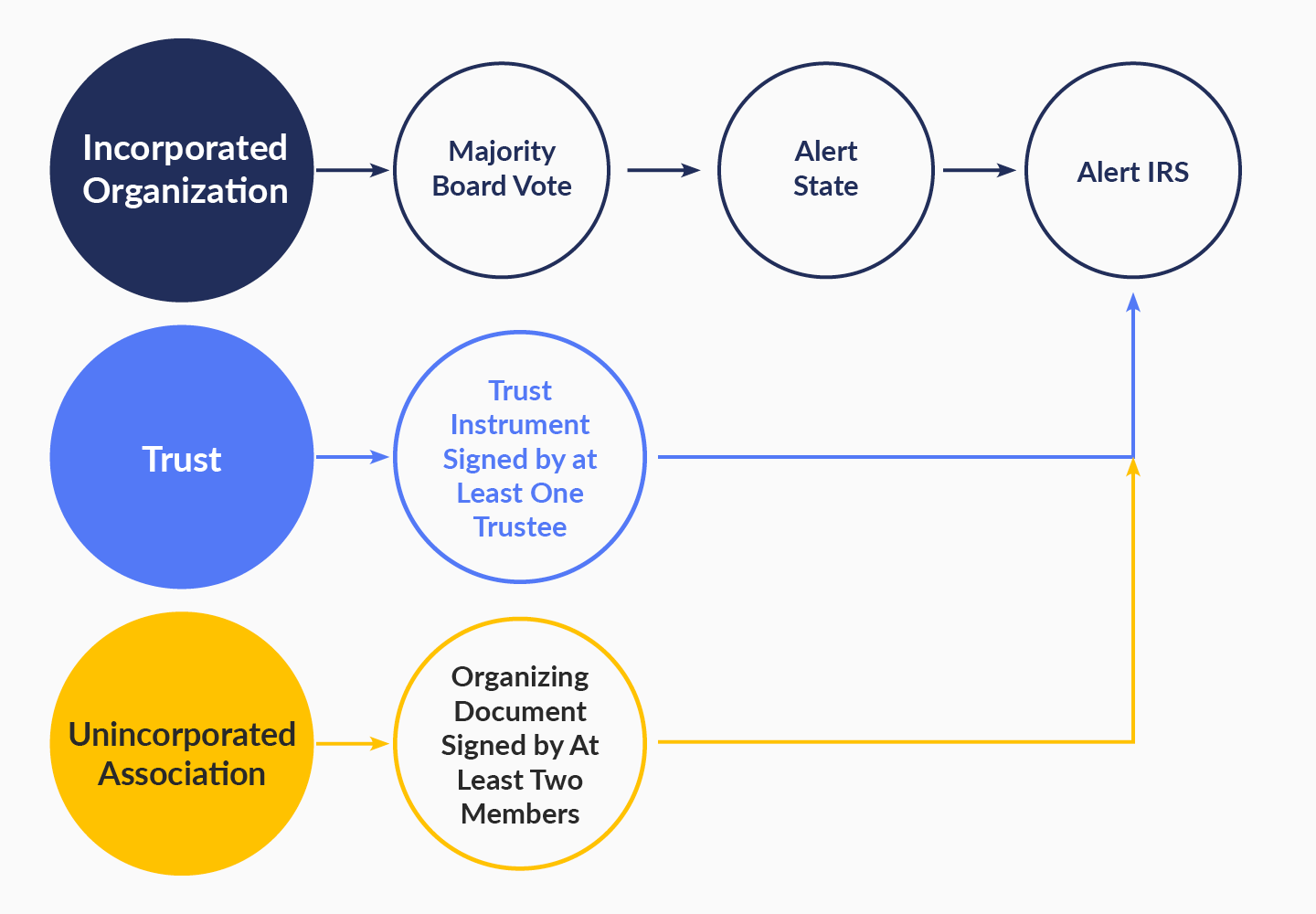 Incorporated Organization
Incorporated organizations are legal business structures that are separate from the individuals that founded them. This is the most common type of nonprofit.
If your nonprofit is an incorporated organization, the IRS requires two submissions to report a name change. First, you must report a copy of any amendments made to the articles of incorporation. These articles are essentially your organization's rules. Next, you need proof that your state approved your organization's name change.
A Trust
Trusts operate slightly differently than standard nonprofits. Trusts involve trustees as administrators of the trust and are not necessarily separate from the owners of the trust.
The IRS requires trusts to report a copy of the amendment or a resolution to amend the trust instrument. The trust instrument is similar to an incorporated organization's articles of incorporation. The amendments must show an effective date of the name change and be signed by one or more trustees.
Unincorporated Association
Unincorporated associations are partnerships of at least two people who are working to better the public but have not established a formal legal structure. These groups are common, and many people form them without realizing it. They can include groups as simple as a few friends joining together to raise money for a school event.
The requirements for unincorporated associations are similar to incorporated organizations and trusts. The IRS requires a copy of amendments made to your organizing document. This document should show the date the name change goes into effect and must be signed by at least two members.
Step 6: Inform the public.
While not required by law, letting your donors know about your name change is essential for maintaining their support. 
Start by letting supporters know about the name change and when it will be implemented in advance. Send out an email to supporters on your emailing lists. For those not subscribed, make a blog post or post on social media, depending on which is likely to get more traffic. 
Then, update any place your new name will show. This includes websites, social media accounts, email lists, and bank accounts. 
Your nonprofit should update and inform the nonprofit sphere about its name change, too. Perform a quick Google search using your organization's old name, noting any groups that may use that name to advertise or increase awareness about your nonprofit. Contact these groups to update them about your new name. Additionally, update any nonprofit databases your old name may be listed in, such as a matching gift database. 
Last, the Google Ad Grant tool can be a useful tool for spreading the word about your name change. Update all of your ad campaigns to reflect your new name. Then, whenever someone searches for keywords relevant to your nonprofit, they'll learn to associate those ideas and topics with your new name.
---
If your nonprofit is looking to elevate its branding strategy, consider partnering with Getting Attention's team of nonprofit marketing experts. At Getting Attention, we specialize in enhancing digital marketing for nonprofits with Google Grants. To learn more about our nonprofit marketing services, explore how the Google Ad Grant can be the first step to getting your new name in front of supporters.
Want to learn more about nonprofit marketing and branding strategy? Check out these resources:

https://gettingattention.org/wp-content/uploads/2021/11/Nonprofit-Name-Change_Feature.png
350
725
BCauthen
https://gettingattention.org/wp-content/uploads/2021/08/getting-attention-logo.svg
BCauthen
2021-11-19 17:13:29
2023-08-21 14:59:42
Considering a Nonprofit Name Change? 3 Things to Know