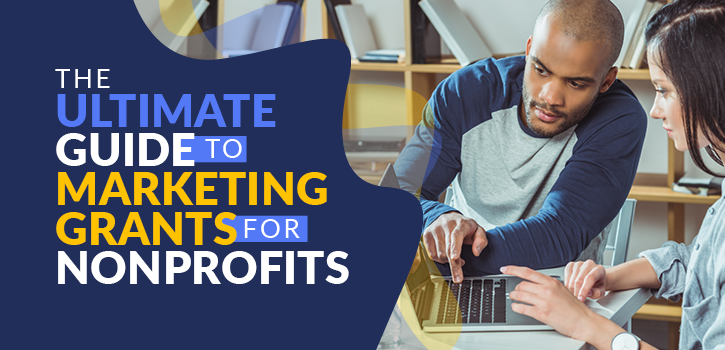 When it comes to accomplishing your nonprofit mission and making a genuine impact in the world, you need an effective and successful marketing strategy. 
However, getting the funds to drive your nonprofit marketing plan is no easy task. Often, it's recommended to use around 5-15% of your operating budget primarily for marketing efforts. If more money is needed, some nonprofits will also look to pull from their overhead fund.
If you find that your budget is tighter than usual, your organization's need has increased tenfold, or if you simply want to expand your outreach efforts, consider exploring the world of marketing grants for nonprofits.
There are tons of different marketing grants available, some specific to a certain cause or sector, while others are geared towards only smaller or larger organizations. If you want to learn more about which grant you should apply for, you're in the right place. This guide will answer the following: 
Nonprofit marketing grants can provide the right push for your organization to build a solid communication strategy with supporters. But this can't be done without finding the right grant for your needs and following the necessary steps to apply. Ready to learn more? Let's dive in. 


Nonprofit Marketing Grants | The Basics
A nonprofit grant is a fund awarded to an eligible organization that does not need to be repaid. Marketing grants are often rewarded based on nonprofit values, the industry it's in, and other eligibility requirements. 
Who is awarding these grants? Well, nonprofit grants can come from various sources, typically split up between these categories:
Government grants

— These are funded by the government or with taxpayer money. Government grants can be given on the federal level, state level, and local level.

Foundation grants

— These are funded by organizations dedicated to providing money to the nonprofit sector and are often started by individuals.

Corporate grants

— These are funded by corporate companies, like Google or Walmart, that want to use some of their money to support philanthropic causes.
Nonprofit grants can be further divided by what exactly they are funding. This will depend on the grant awarding institution, as some only will give grants for specific projects and others leave nonprofits to use the funds at their own discretion. In general, grant funds are often directed to:
Unrestricted funds

— Grant will be used to cover day-to-day operating costs and support the general work of an organization. This is not limited to one purpose.

Capital support

— Grant will be used to support specific capital campaigns. This might include funding a construction project, renovation, or other large program.

Restricted funds

— Grant will fund a particular purpose, project, or program. This is the most common type of grant funding.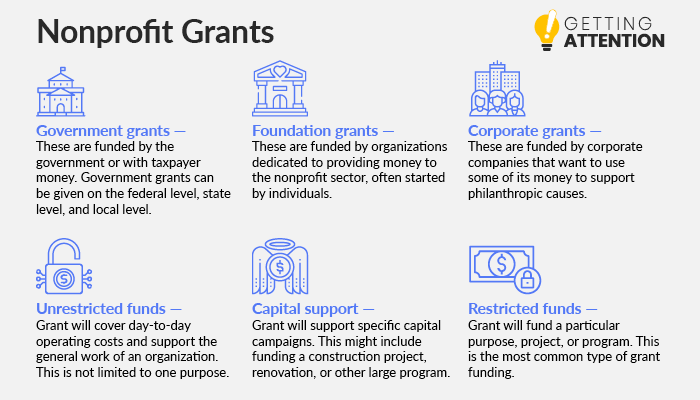 As you're browsing through the different types of nonprofit grants available, it's important that you have a comprehensive understanding of the institutions that award them and how exactly the funds should be used. Make sure you are familiar with each distinction to determine the most viable grant for your mission.

The Benefits of Nonprofit Marketing Grants
You already know that the right grant can take your nonprofit marketing effort to new heights. But what does that exactly mean? Let's walk through the following benefits of marketing grants for nonprofits:
Carry out charitable initiatives

— Ultimately, marketing grants will be used to help carry out your various charitable initiatives. Any marketing or promotion you do for your online giving page, exciting fundraising events, and other initiatives can be taken to the next level with the right marketing grant. Sometimes grants will be awarded for a specific initiative, like to fund a particular program within your nonprofit services.

Pay for donor outreach

— One of the primary components of nonprofit marketing is your donor outreach efforts. From email newsletters, to direct mail, to sending out canvassers to meet supporters in person, your donor outreach efforts need effective funding to ensure its success.

Help more people with your organization

— When your marketing strategy is well-developed and targeting the right audience, you not only attract more supporters, but might even catch the eye of those who might need help

from

your organization. Sometimes people don't realize that there are organizations out there dedicated to aiding those in their exact situation. Effective marketing ensures that people are aware of your nonprofit and its services. 

Educate and spread awareness of your mission

— In the end, a marketing grant is there to help you educate and spread awareness about your mission. The more people that are aware of the issues your organization is fighting for, the more likely that you'll gain valuable support for your cause. Besides just your regular supporters, you might capture the attention of major donors, business sponsors, and more!
The value of grants to nonprofits is immeasurable, especially once you think about the impact that your organization can have on your mission if your marketing plan and fundraising efforts reach and exceed goals. 

Finding and Applying to Nonprofit Marketing Grants
The next step is to begin thinking about marketing grants that your nonprofit is eligible for and how to begin the application process. 
It's important to remember that the process for finding and applying to marketing grants will look unique depending on your mission, the project you're trying to fund, and the grant you choose. 
That's why before you start looking for the best marketing grant for your nonprofit, make sure you:
Know your mission

— You already know what your mission is, but it's important that you're able to effectively communicate it to anyone, especially if you're trying to get a grant from them. They need to resonate with your mission as much as you do, as well as entirely understand what your goals are and how a grant will help you reach them.

Do the necessary research

— Each grant has its own application process and requirements. It's important that you do the research to check eligibility, make sure you fit the applicant profile, understand any deadlines or other important dates, and more. 
From there, we recommend you start off the search process with grant databases. There are a wide array of resources that you could check, but we recommend these:
Along with dedicated grant databases, you can also do a simple online search. To narrow down results, look up popular keywords relating to your mission to ensure you find the perfect grant. 
For example, let's say you run a nonprofit organization that focuses on providing clean water. If you search with keywords like "sustainability" or "environment," you are more likely to find grants that will support your mission. These keywords can save you time in looking for the perfect grant, ensuring you can work harder on your application and grant proposal!

Nonprofit Grant Application Process
Each application process will be unique to the grant, so make sure you know exactly what you need to be eligible and apply. 
For instance, one popular option is the Google Ad Grant because it is awarded to anyone who is eligible and isn't limited to the number of funds it has. However, there are still some lengthy steps, as the Google Ad Grant application process requires:
TechSoup.org registration and Validation token

A Google for Nonprofits account

Google Analytics on your website

Current and valid charity 501(c)(3) status

Compliance with Google Grant guidelines

An SSL certificate

A valuable and promotable website
While these individual steps may not seem hard to complete, you can't forgo any of them if you want to gain the benefits of the Google Ad Grant.
Can the Google Ad Grant help your organization? Read our dedicated article to learn more. 
It's important to note that the application process above is not a common example. More often than not, grant-awarding institutions will require applicants to send in a proposal to advocate for their cause and explain how their organization will use the grant.
A grant proposal is a formal request from a nonprofit to a funder to help them achieve specific results. The best proposals are concise, persuasive, and communicate the mission flawlessly to grant awarders.
To ensure that your application process doesn't fall short during the grant proposal, here are some quick tips:
Don't be generic

— Be extremely specific about what your mission is trying to accomplish and how exactly the grant will help. 

Refer to data

— To persuade grant awarders that your nonprofit is worth it, pull from past data and fundraising efforts to show that you've already made an impact in the past. Or, you can show that with a little more funding (like from a grant) you would have been able to multiply that impact.

Be clear and concise

— You don't want to bore the person reading your proposal. Delete any fluff and get right to the point.

Reference direct impact

— We have already touched on this, but it's an important point to emphasize. As you explain your mission and how you'll use the grant money, reference the direct impact that it should make. Plus, if you have data to back this up, grant awarders will be

much

more likely to invest in your cause. 
During this process, it's not unlikely that you found more than one grant that appeals to your mission and that you are eligible for. If you've applied to more than one grant at a time, make sure that you're effectively keeping track of all your applications. Create a calendar to remind you of important dates and conditions that each grant may have. 

Top Marketing Grants For Nonprofits To Explore
There are tons of grants that you might be able to explore, so bunkering down to sift through databases might seem a little daunting. If so, you're in the right place!
Below, we've compiled a list of some of our favorite nonprofit marketing grants— who knows, maybe you'll find the perfect one for your nonprofit.
Google Ad Grants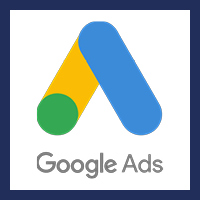 The Google Ad Grant is a program hosted by Google that gives $10,000 in ad credits to eligible nonprofits each month. This grant is only to be used on Google Ads and to promote the nonprofit's digital content. If you comply with the program's rules and guidelines, your organization can continue to receive this $10,000 grant in ad credits each month for as long as you need! 
With the Google Ad Grant program for nonprofits, organizations can:
Increase online conversions.

Reach out to new donors.

Market multiple ad campaigns.

Analyze and track performance.
The Google Grant isn't your traditional grant where there is only a limited amount of money to allocate. In fact, any nonprofit that meets Google's eligibility requirements and complies with the ongoing guidelines can use this grant! 

Google for Nonprofits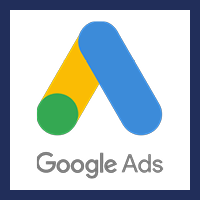 Along with the Google Ad Grant, Google has a dedicated account for nonprofits based in the US. While this isn't exactly a marketing grant, the Google for Nonprofits account does provide access to the Google Ad Grant, as well as other services that can take your nonprofit marketing to the next level.
You'll be able to use the Google Workspace for Nonprofits, Youtube Nonprofit Program, and Google Earth and Maps. 
Bill & Melinda Gates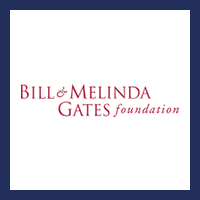 The Bill & Melinda Gates Foundation has been committed to fighting inequities for the past 20 years. They work with businesses, the government, and nonprofit organizations to improve equality gaps in the world. In particular, they have tons of grants they award to nonprofits with missions they believe in. 
All you need to do is send in a grant application and then a grant proposal will be drafted to gain a complete and accurate understanding of how to execute the project effectively.
3M Foundation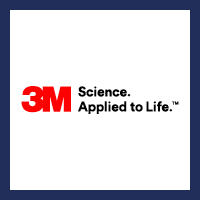 3M Foundation offers grants for nonprofits to help advancements in the STEM fields, climate change, and other global humanitarian relief efforts. 
However, at this time the 3M Foundation is an invitation-only funder. Along with aligning with 3M's focus areas and strategies, you'll need to meet certain criteria and serve a 3M Community. To learn more about how you can become eligible for their grants, visiting their website is recommended. 
The Carnegie Corporation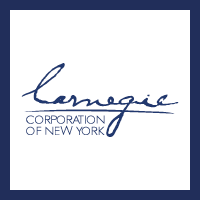 The Carnegie Corporation is a grant awarding institution that aims to invest in nonprofits that want to make a meaningful change in the world. 
The majority of the organizations that grants are given to are usually contacted by the Carnegie corporation themselves, and spans from education grants to peace building grants to equality grants.
The Coca-Cola Foundation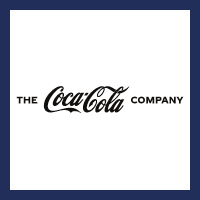 The Coca-Cola Foundation has awarded more than $1 billion in grants since 1984 to support community initiatives around the world.​ In fact, Coca Cola is committed to giving back 1% of its prior year's operating income annually. In 2020 alone, $139 million was granted from The Coca-Cola Foundation to eligible organizations and missions.
Walmart Foundation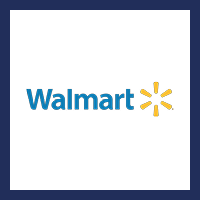 Walmart and the Walmart Foundation provide more than $1 billion in cash and in-kind to support nonprofit organizations whose missions align with their philanthropic priorities. Their grantees are usually split between the priority areas of opportunity creation, sustainability, community building, and racial equity. 
Ford Foundation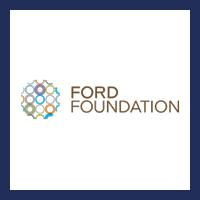 The Ford Foundation was founded 85 years ago and awards grants to nonprofits that are dedicated to civic engagement, fighting inequality, and promoting environmental sustainability. They do have a limited number of programs and projects, so it's recommended to explore all of their grant opportunities to see which ones are available for funding. 
Amazon Web Services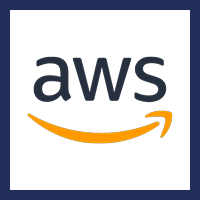 Amazon Web Services is a grant awarder dedicated to empowering nonprofit organizations to leverage technology to advance their goals. The AWS has two grant programs that nonprofits can apply to, both aiming to help fundraisers move their research and marketing to the cloud so that they can innovate quickly and at a lower cost. 
Bank of America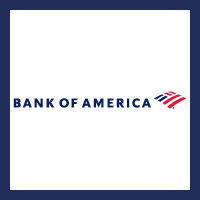 The Bank of America is a longstanding grant awarder for nonprofits that aims to advance economic mobility and social progress in low- and moderate-income communities all across the country. Their grants are focused on helping missions that serve basic needs like food and housing, workforce development and education, and community development. 
Additional Resources
Marketing grants for nonprofits are invaluable resources and can catapult your mission and fundraising efforts farther than you've ever thought possible. And, this journey can all start by finding the right grant for your nonprofit needs. Hopefully, you found some viable options in the list above, or through the grant databases that we recommended.
If you want to continue your research on the best nonprofit grant and how you can expand your marketing, explore the following additional resources:
Not sure which grant is best for you? Remember, the Google Ad Grant can be awarded to anyone who is eligible!

https://gettingattention.org/wp-content/uploads/2021/09/Marketing-Grants-for-Nonprofit_Feature-1.png
350
725
Getting Attention
https://gettingattention.org/wp-content/uploads/2021/08/getting-attention-logo.svg
Getting Attention
2021-09-02 15:55:00
2022-04-05 19:04:10
The Ultimate Guide to Marketing Grants for Nonprofits