Corporate giving comes in a variety of forms, from sponsorships and direct monetary donations to scholarships and grant programs. One unique corporate giving program is the Google Ad Grant, which provides nonprofits with the resources to market their cause online. 
Few corporate giving programs are similar to the Google Ad Grant. Nonprofits interested in tapping into the resources provided through corporate giving initiatives may be curious about how the Google Ad Grant fits into their strategy. 
To help kick off your nonprofit's research, this guide will answer a few essential questions about corporate giving and that Google Ad Grant, including:
Navigating the Google Ad Grant and corporate giving relationships in general can be a challenge. If your nonprofit needs additional guidance or assistance choosing which corporate philanthropy programs to pursue, consider working with a consultant.

What is corporate giving? 
Corporate giving is a form of corporate philanthropy wherein for-profit organizations give resources to nonprofits. These resources are usually monetary donations, but they can take other forms, such as:
Volunteer grants. When employees volunteer with nonprofits regularly, companies that offer volunteer grants will contribute to those organizations based on the number of hours their employees volunteer. For example, a company may vow to donate $15 per volunteer hour. Alternatively, businesses may opt to contribute a flat fee for volunteer time, such as a $250 grant for 15 volunteer hours and above.
In-kind donations. Some companies offer goods and services to nonprofits in need. These in-kind donations help nonprofits obtain the supplies and equipment they need to help their beneficiaries. A company that has partnered with a soup kitchen may collect non-perishable food items to contribute.
Pro bono work. Businesses can also offer their specific expertise to nonprofits at a free or discounted rate. From legal consulting to event planning, charitable organizations can benefit from access to professional services that they might not otherwise have room in the budget to invest in.
Scholarships. To help students in need, companies can offer scholarships. Typically, these scholarships are open to college and university students to cover costs such as tuition, living expenses, and educational materials. Education-related nonprofits can promote these opportunities to their beneficiaries and encourage them to apply.
Event sponsorships. Sponsorship agreements are a win-win situation for nonprofits and businesses. Nonprofits receive the funding they need to cover costs like venue fees, security personnel, and refreshments. The businesses, on the other hand, obtain positive publicity and marketing.
To get a sense of how widespread corporate giving is, check out these statistics: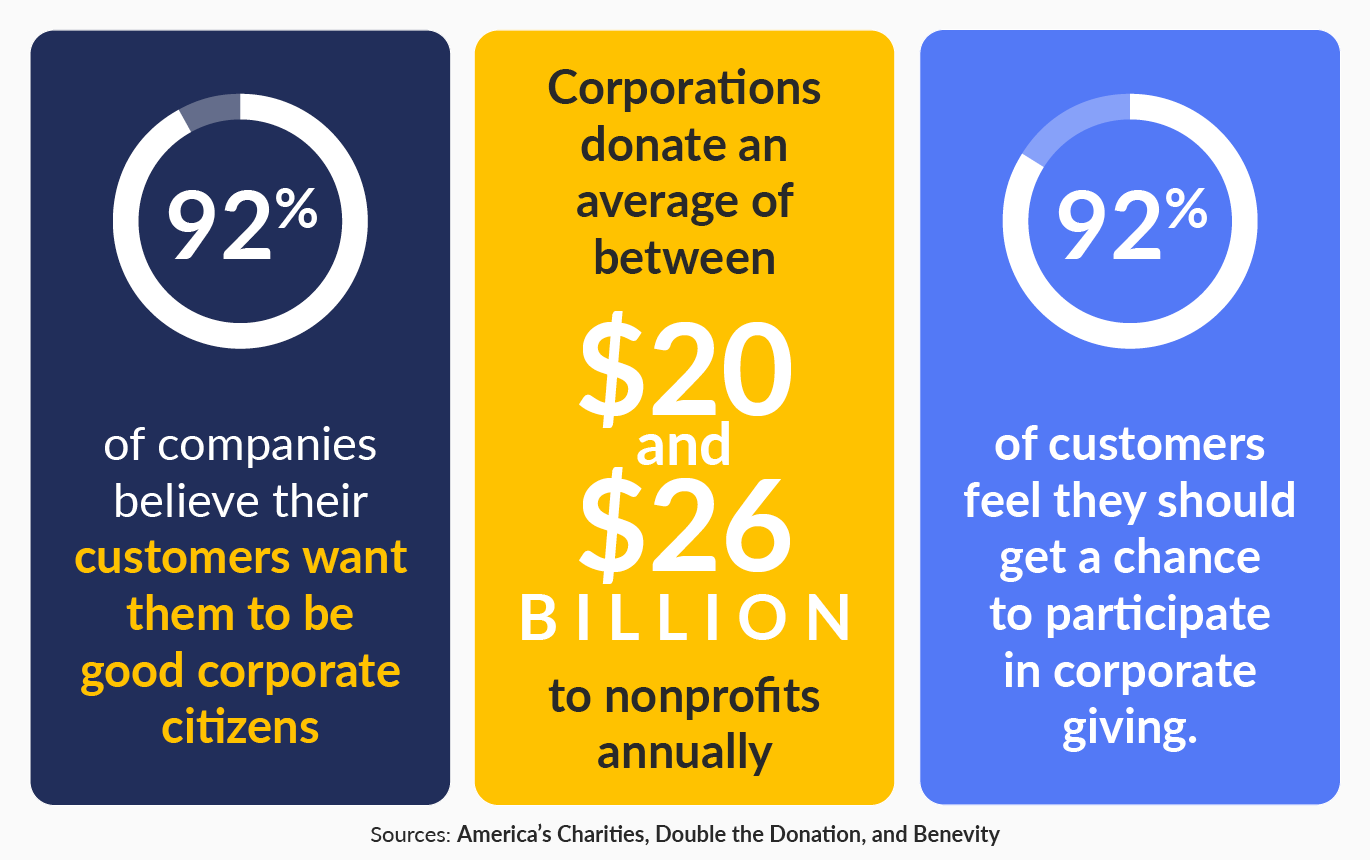 Essentially, these numbers show that consumers and corporations agree: the more corporations participate in corporate giving, the better. 
How does the Google Ad Grant relate to corporate giving?
The Google Ad Grant provides marketing resources to nonprofits. While these resources may not directly benefit nonprofits' programming, they take pressure off of nonprofits' budgets, allowing them to allocate more resources to their initiatives. 
Plus, by giving nonprofits the resources they need to reach more supporters, Google can help them increase donations and spread awareness to a wider audience. Strategic nonprofits can use the $10,000 in ad credits Google provides and receive tens of thousands in donations from supporters they connected with through the grant program.
Why does Google partake in corporate giving?
Many corporations use corporate giving as an opportunity to promote their products and services. However, Google is a globally known company that controls over 85% of the search engine market. That means it likely won't benefit from a few nonprofits telling their supporters to use Google. 
Regardless, Google still hosts multiple corporate giving programs. While few companies' leadership will outright state why they give to charitable causes, there are several common reasons most companies, including Google, participate in corporate giving. These include:

Improved reputation.

Most consumers want to make

ethical purchasing choices

, even when it comes to free services like Google Search. Businesses can stand out in consumers' minds by publicizing their corporate philanthropy efforts. Ultimately, this helps them associate their brand with charitableness, sustainability, and ethics. 

Tax deductions.

Corporations that make major charitable contributions receive tax deductions in return. These deductions help offset the amount spent on corporate giving, making corporate philanthropy a strategic business decision just as much as an act of good. 

Employee satisfaction.

Consumers want to buy from ethical corporations, and employees want to work at ethical corporations. In fact,

71% of employees

state that it's very important to work at an organization that participates in philanthropy. Providing employees with matching gift programs, corporate volunteer days, and charitable funds can increase employee satisfaction and retention.
Outside of these general reasons, most businesses attempt to be more specific with why they give and what causes they support. Many businesses have stated philanthropic values that focus on a specific issue related to their products or services, such as supporting the arts, helping low-income schools, or fighting food insecurity. 
As a worldwide company, Google supports an array of nonprofits through the Google Ad Grant, exempting only government organizations and establishing a separate ad grant program for educational institutions. 
Outside of the Google Ad Grant, Google focuses its philanthropic efforts on causes related to technology, skill development, and education, which makes logical sense from a technology-based company.
What corporate giving programs from Google can my nonprofit benefit from?
Google offers multiple corporate giving programs with which different types of nonprofits can engage. Determine your nonprofit's needs, whether they are related to marketing, finances, or finding skilled volunteers. When you know what your nonprofit hopes to gain from corporate giving programs, finding organizations that provide the services you need will be much easier. 
Nonprofits looking to Google for assistance can take advantage of the following corporate philanthropy programs: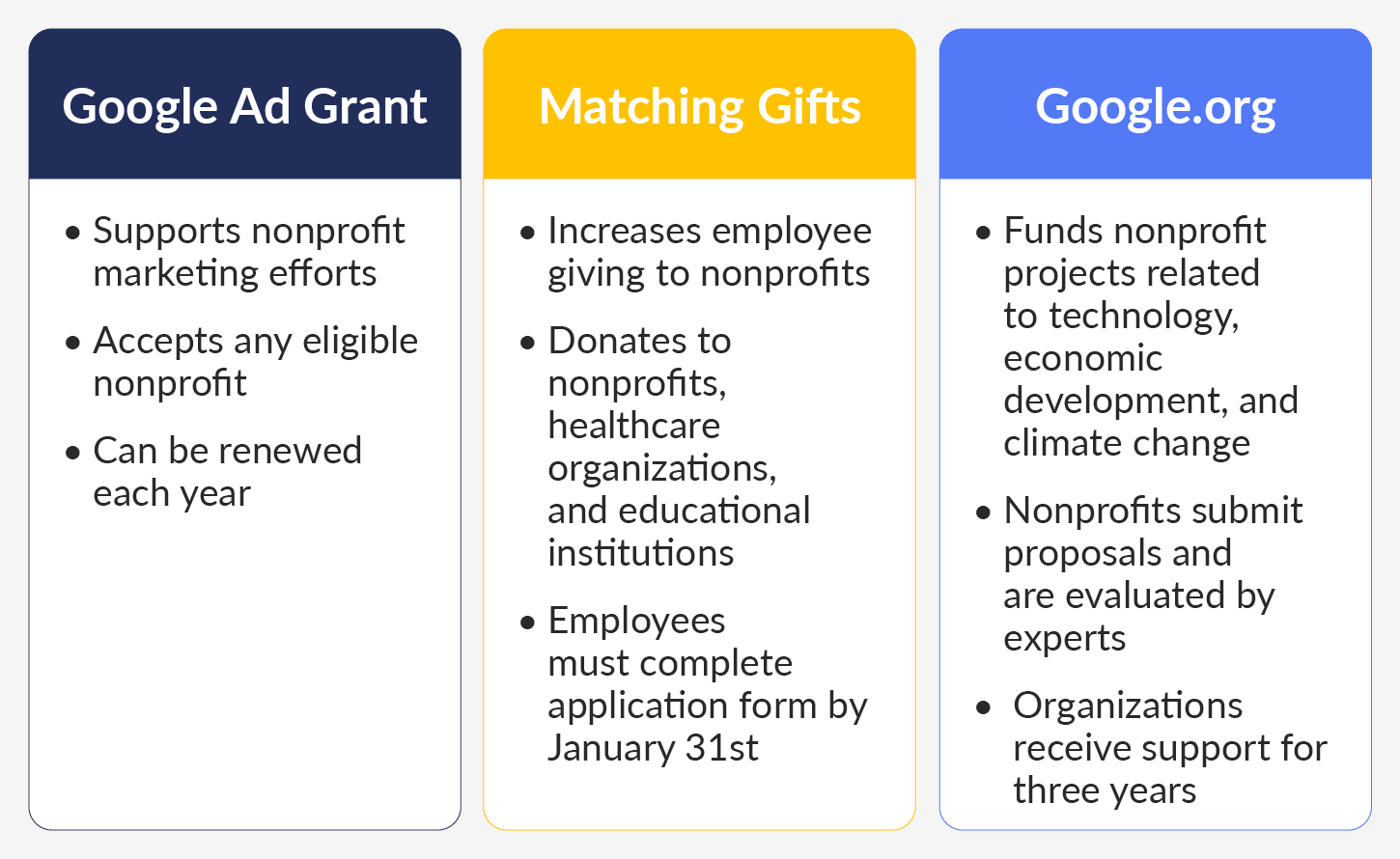 Google Ad Grant
What is the Google Ad Grant?
The Google Ad Grant is an advertising grant Google provides nonprofits, allowing them to market their websites on Google Search for free. Essentially, Google provides nonprofits with monthly ad credits they can use to bid on keywords related to their cause. When the nonprofit wins a bid, its ad will be shown to users searching their target keywords.  
Nonprofits can use the Google Ad Grant to promote a variety of projects, including:
Donation drives

Volunteer recruitment 

Awareness campaigns 

Current programs and resources for constituents 

Upcoming events and fundraisers 
The Google Ad Grant also allows nonprofits to market multiple projects in an organized manner. For each project, nonprofits create an ad campaign. For example, a nonprofit might create an ad campaign to recruit volunteers in their area. 
In the ad campaign "volunteer recruitment," there are multiple ad groups that focus on different keywords related to the main topic. In this example, these might be "volunteer opportunities near me," "X [nonprofit type] volunteer opportunities," and "group volunteer opportunities."
For each of these groups, the nonprofit then creates multiple ads. In the "volunteer opportunities near me" group, the nonprofit might create one ad about how its volunteer positions can make a difference in their community and a second ad focusing on how the opportunity benefits the volunteer to attract as wide an audience as possible.
How can my nonprofit access the Google Ad Grant?
Nonprofits can apply for the Google Ad Grant by following these five steps: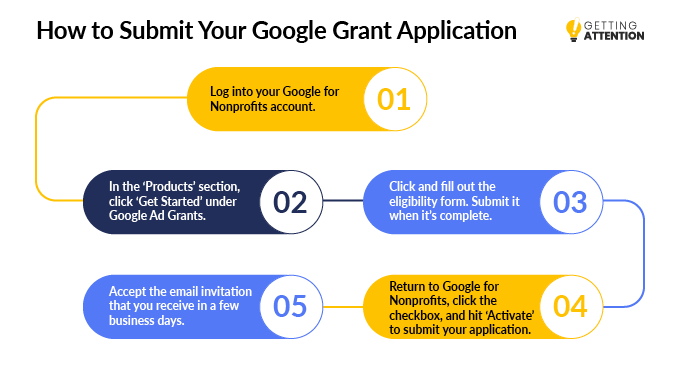 Check eligibility.

Ensure your nonprofit is eligible for the Google Ad Grant or take steps to become eligible otherwise. The qualifications include being a registered nonprofit in your country and having a secure website with valuable content related to your mission. Additionally, the nonprofits must not be a government, healthcare, or educational organization. Educational institutions can instead apply for

Google for Education

. 

Register with TechSoup.

Google requires nonprofits to validate their nonprofit status with

TechSoup

. TechSoup provides nonprofits with a variety of technology-related services, and after filling out a short registration form, nonprofits can receive free or discounted technical services from a variety of companies, including Zoom, Microsoft, and Adobe. 

Create a Google for Nonprofits account.

Once nonprofits are verified by TechSoup, they can complete the short Google for Nonprofits registration process. In addition to being able to apply for the Google Ad Grant, nonprofits that register for Google for Nonprofits will also have access to services like

Google Workspace

and

YouTube for Nonprofits

, both of which provide additional free organizational and marketing tools. 

Prepare their website.

Nonprofits must have websites Google feels are valuable to searches before they will promote them. High-quality websites have a clear mission statement, landing pages with relevant information about the nonprofit's programs, short load times, consistent branding, intuitive navigation, and an SSL certificate. 

Submit their application.

Once your nonprofit has completed the above steps, you can apply for the Google Ad Grant. Simply log into your Google for Nonprofits account, click "Get Started" under the Google Ad Grant label in the "Products" section, complete the eligibility form, and return to Google for Nonprofits to finally hit the "Activate" button to submit your application. From there, you will receive an email inviting you to join the Google Ad Grant program in a few days if accepted. 
If you need assistance at any step of the application process or help later on managing your Google Ad Grant account, consider partnering with a Google Ad Grant agency. Google Ad Grant agencies have up-to-date knowledge of Google's latest policies as well as experience with the types of ad campaign strategies that tend to find success.

Matching Gifts
What are matching gifts?
Matching gifts are a corporate giving program wherein corporations make donations to the same nonprofit organizations their employees support. Essentially, if an employee gives $50 to a nonprofit, they can fill out a matching gift application form with their employer, and then the employer will also donate $50. 
Most organizations with matching gift programs, like Google, match donations at a 1:1 ratio, but some at a 2:1 or even 3:1 rate.
How can my nonprofit access the Google matching gifts?
Your donors who work at Google can fill out matching gift requests to double the donations they make to your nonprofit. In addition to their matching rate, Google has a few other restrictions employees should consider as well, such as:
The minimum and maximum donation match amounts.

Google has no minimum requirement and will match all gift amounts up to $10,000 annually per employee.

Whether full-time, part-time, and retired employees' gifts are matched.

Full-time and part-time Google employees are eligible for matching gifts, but retired employees' gifts will not be matched. 

The types of nonprofit organizations are eligible for matching.

Google matches gifts to educational institutions (including K-12 schools), health and human services, arts and cultural organizations, civic and community organizations, and environmental organizations. 

When matching gift applications must be submitted by.

Matching gift applications must be submitted by January 31st of the year after the donation was made to be considered. 
Each organization has its own rules and regulations for matching gifts. You can help your supporters learn more about their employers' specific matching requirements by using a matching gift database. Matching gift databases allow users to search their employers' name and be paired with their matching gift application form.
Google.org
What is Google.org?
Google.org is Google's grant program for nonprofits. In contrast to the Google Ad Grant, Google.org operates similarly to other grant foundations. Google.org provides nonprofits with funds to advance projects related to their core areas, which include:
Economic empowerment

Technology and innovation

Learning
Additionally, while Google funds causes around the globe, they focus on U.S.-based initiatives, given their operations as a company located in the United States.
How can my nonprofit get involved with Google.org?
Google.org has the following four-phase process for nonprofits and other groups interested in applying for the grant:
Applications open.

Google announces when applications are open, and potential grant recipients have a set timeframe to submit their proposals. 

Ideas are selected.

Google assembles a team of experts on the subject matter they receive proposals for to assess their merits, feasibility, and potential impact. 

Announcements and celebrations.

Google selects their grant recipients and announces them. 

Ongoing support.

Selected grantees receive their awarded funds for up to three years, allowing them to turn their proposals into a reality. 
Essentially, the key to winning the Google.org grant is the same as for any other grant: writing an effective grant proposal that differentiates your organization, aligns with the funders' philanthropic goals, and demonstrates the potential to significantly impact social good.
Are there corporate giving programs similar to the Google Ad Grant?
The Google Ad Grant is fairly unique in that few other organizations own major search engines they can provide nonprofits advertising space on. The only other organization to offer a similar corporate giving program is Microsoft with the Microsoft Ad Grant.
While the Microsoft Ad Grant is currently paused following the launch of its pilot program, it functions similarly to the Google Ad Grant, and interested nonprofits will follow roughly the same application process. The details of this process are subject to change when the program is relaunched, however, so be sure to follow updates closely.
Outside of grants provided directly by Google and Microsoft, nonprofits can also look to marketing grant opportunities. Few grant programs offer funding specifically for marketing, but nonprofits can look for grants that provide unrestricted grant awards.
While most grant awards must be spent on specific proposed projects, unrestricted grants provide funding that can be spent on operating expenses like marketing. Regularly check top grant databases like GuideStar and Grants.gov for new grant opportunities that might align with your nonprofit's cause and goals.
Additional Resources
Corporate giving is an underutilized resource for nonprofits, and the Google Ad Grant is an effective and unique way nonprofits can take advantage of corporate philanthropy programs. 
Of course, before jumping into the Google Ad Grant application process, nonprofits still need to familiarize themselves with a few essentials. Get started with these resources before taping into this corporate giving opportunity:

https://gettingattention.org/wp-content/uploads/2023/09/corporate-giving_feature.png
850
2420
Getting Attention
https://gettingattention.org/wp-content/uploads/2021/08/getting-attention-logo.svg
Getting Attention
2023-10-03 13:10:38
2023-11-06 13:20:03
What to Know About Corporate Giving and the Google Ad Grant