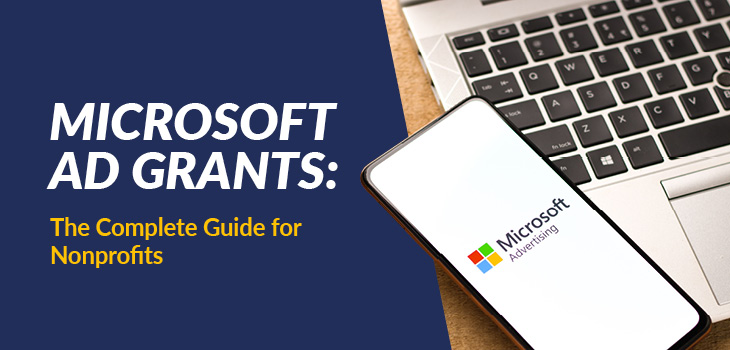 Microsoft Advertising is empowering nonprofits to enhance their digital marketing presence with its new Ad Grant program. Similar to Google Grants, Microsoft Ad Grants offers approved organizations a monthly grant to advertise their web content across their network.
With an additional $3,000 in their advertising budget, participating nonprofits can create ads that target mission-relevant keywords that supporters are searching for online. The ultimate goal is to inspire prospects to take meaningful actions like donating or volunteering.
While the $3,000 Microsoft Grant might look small compared to Google's mighty $10,000 grant, it presents an incredibly valuable opportunity to nonprofits. The program's minimal restrictions mean organizations can easily reach a whole new audience they're likely not targeting through Google Ads.
To help you create a foolproof Microsoft Grant management strategy, we'll explore these core topics:
Here at Getting Attention, we specialize in Google Ad Grant and Microsoft Grant management. As this new program develops, we're staying on top of its growth and striving to help nonprofits fulfill their digital marketing potential. We help nonprofits make the most of the program, including everything from applying to creating powerful ads for your cause.
If you're ready to learn more, let's dive in!
What are Microsoft Ad Grants?
Through the Microsoft Ad Grant program, Microsoft offers approved nonprofits $3,000 a month to spend on ads on its owned and operated digital search and native advertising platform. This includes all platforms within its network, including Bing, Yahoo, AOL, outlook.com, MSN, and Microsoft Edge.
Nonprofits must undergo an application process to participate. Any organization that's approved can then create ads that target mission-centric keywords and drive users to get involved in their cause, like this example:
Unlike the Google Ad Grant program, Microsoft provides real money rather than ad credits through its corporate giving program. The monthly grant allocation is applied to your existing paid account. This puts nonprofit advertisers on the same playing field as traditional, paid Microsoft Ad accounts.
The program empowers nonprofits to effectively drive meaningful conversions through search ads, like:
Donations, ticket sales, and other fundraising activities
While only available to U.S.-based nonprofits, Microsoft is planning to extend the program to other areas like Australia, Canada, France, Israel, the Netherlands, and the United Kingdom in the future.



How Do Microsoft Grants Differ from Google Grants?
While similar to Google Grants, there are key differences between Google's program and Microsoft Ad Grants. Your end goals may be the same (e.g. you want to increase donations, secure more sponsors, or boost event registrations). However, the two programs can help you achieve these goals in different ways.
Before getting started, make sure you understand these core differences between the two programs: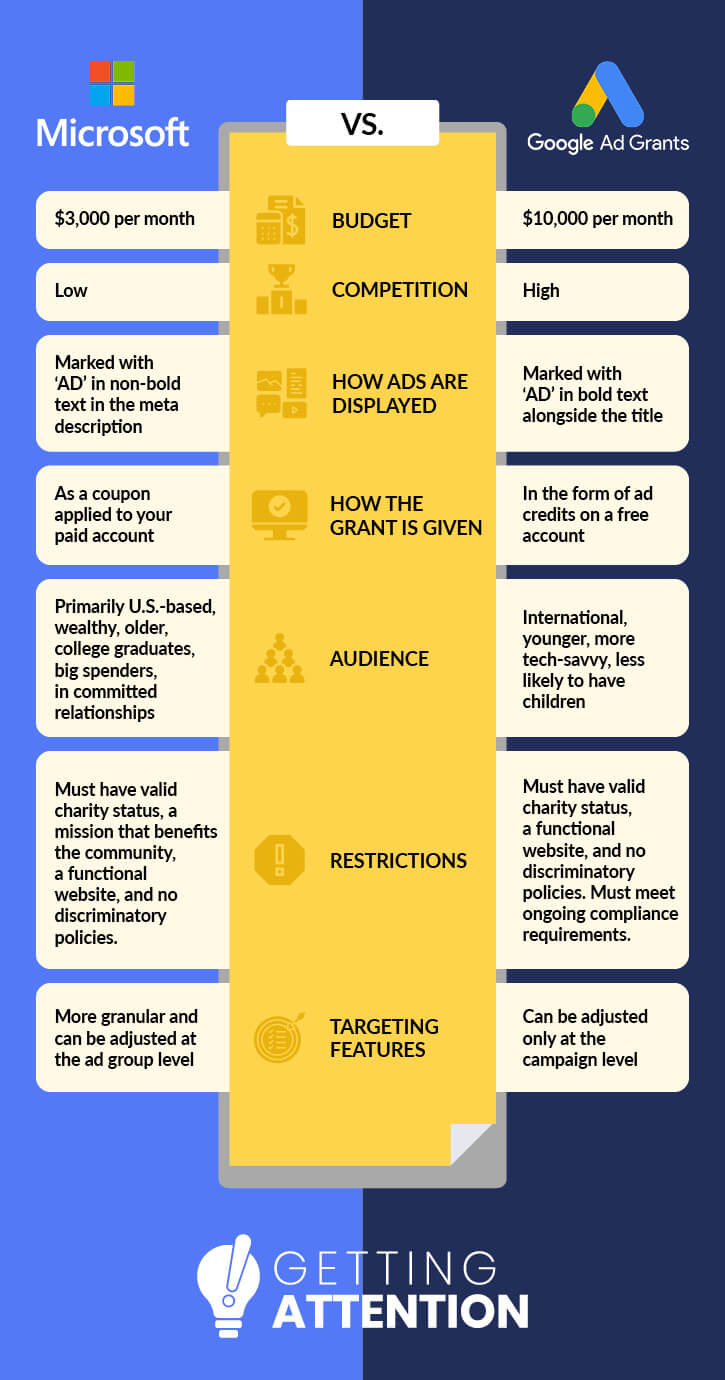 Budget and competition
The Microsoft Ad Grant is $3,000 per month, while the Google Ad Grant is $10,000.
While notably lower, competition for Microsoft's search engines is much lower, which makes $3,000 just as valuable when you craft your campaigns carefully.
How ads are displayed
Google marks ads with bold text that say 'Ad' alongside the title, while Microsoft marks ads with non-bold text in the meta description. Ads on Microsoft's search engines are less apparent, which can lead to a better search experience for users that prefer interacting with organic results rather than paid ones.
Ad credits
While Google provides its grant in the form of ad credits, Microsoft provides advertisers with real money.
This means that advertisers in the Microsoft Grant network won't have their ads pushed down lower in search results by paid accounts. This puts everyone on a level playing field and makes it easier for nonprofits in the Ad Grant program to actually compete for valuable keywords.
Audience
Users within Google and Microsoft's search networks tend to vary slightly. For starters, Microsoft can help you connect with 44 million searchers who aren't on Google. Beyond this, there are a few key differences between the two networks.
According to research on Microsoft's network, people in their U.S. search network tend to be:
Wealthier. 41% of Microsoft users have a household income in the top 25%.
Older. 71% of users are 35 years or older, skewing the average age higher than Google's users.
Bigger spenders. People within the Microsoft Search Network spend more online than the average searcher by 32%. What that means for nonprofits is that they have more generous spending habits than Google's users, making them more like to give to charity.
College graduates. 48% of users in the Microsoft Search Network have a college degree.
In committed relationships. Half of Microsoft's users are married.
Ultimately, knowing the relevant audience for each platform will allow you to choose which one will connect you with the right prospects. Then, you can develop ads that target those different audience segments.
Restrictions
Google restricts Ad Grant accounts by placing their ads below paid ads and requires them to meet ongoing eligibility requirements.
Microsoft differs in that it has very few restrictions and no limitations on impression share since it's on the same level as paid ads. This makes it easier for nonprofit advertisers to reach more users and target bottom-of-the-funnel search terms.
Targeting features
Microsoft allows advertisers to target specific audiences with more granular targeting strategies. For instance, you can target users based on device type and also opt not to display campaign ads on desktops.
Takeaway: Both programs can be incredibly beneficial to your cause. As we'll explore later, your best bet for maximizing your marketing potential is to participate in both programs. How you leverage the two programs should differ though, so you can take advantage of each platform's unique quirks.

The Benefits of Microsoft Ad Grants
If your nonprofit is active online and would benefit from improving its digital marketing, applying for the Microsoft Ad Grant should be a no-brainer!
Free funding is certainly one of the main perks of the program, but the benefits run deeper than that. For instance, participating will allow you to: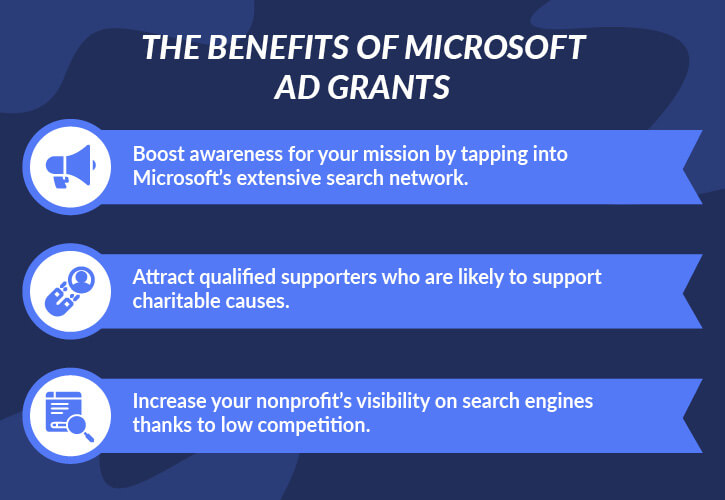 Boost awareness for your mission. Tap into Microsoft's network of 653 million PC users and even more mobile users. Microsoft Ads also reach up to 40% of the U.S. search market, making it easy to tap into audiences you might not already reach.
Attract qualified supporters. When conducting research on its search network, Microsoft found that its users tend to be older, wealthier, and more likely to spend money online. In fact, 34% of its users have a household income in the top 25%, leaving them with income to spend on worthwhile causes. With in-depth targeting features, you can connect with different supporter personas.
Increase visibility on search engines. The Microsoft Ad Grant program makes it easy to create high-performing campaigns. Considering that the Microsoft Grant provides real dollars rather than unused search inventory, nonprofit ads won't be pushed down by paying advertisers. And with a higher impression share than Google Ad Grants, nonprofit advertisers can actually show up for high-quality keywords that will drive more support for their work.
Backed by the Microsoft Grant, you can ultimately create ads that will help you push your mission forward. After all, plenty of your current and prospective supporters are likely searching for topics related to your mission online. Leveraging your Microsoft Ad Grant funds effectively will help you connect with those individuals more efficiently and maximize your support base.



How to Apply for the Microsoft Ad Grant Program
To get started with Microsoft Ad Grants, nonprofits must undergo a vetting process that gives them access to the program and an arsenal of other Microsoft products. The process is simple and will look familiar to people who have previously applied for the Google Grant.
To apply for the program, you'll need to follow these basic steps: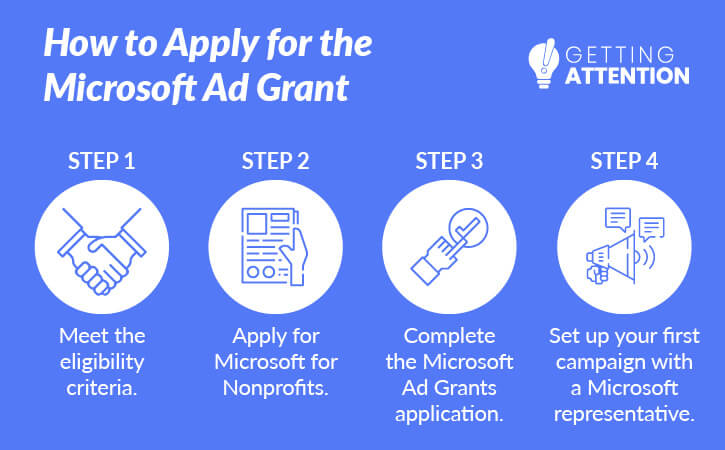 1. Meet the eligibility criteria.
Microsoft limits which organizations are eligible for the program. The reason behind this isn't to make it difficult to join by any means. Rather, it's intended to ensure anyone who participates will actually benefit from the program.
For now, the program is only available to U.S. organizations. However, Microsoft is looking to open up the program to Australia, Canada, France, Israel, Netherlands, and United Kingdom in the future.
Beyond location, here are the criteria they require all participating organizations to meet:
Type of organization: Organizations must be nonprofit or non-governmental organizations with recognized legal status in their country. For instance, U.S. organizations must be registered as 501(c)(3) organizations with the IRS. Microsoft also allows public libraries that don't charge residents within a given community and public museums that conserve and exhibit tangible objects to participate.
Mission: Organizations must operate on a not-for-profit basis and have a mission to benefit the local community. For example, they might work to provide social welfare, preserve culture, or promote human rights.
Non-discrimination: Any participating organizations must not have a discriminatory mission or policies. This is intended to uphold Microsoft's commitment to diversity and inclusivity. Examples of discriminatory policies could include discrimination in hiring, compensation, training, promotion, termination, retirement, programs, activities, or services.
Website content: Applicants must have a functional nonprofit website that provides adequate details about the organization and its mission. In the case of Microsoft Ad Grants, this helps them determine whether there's content that's valuable enough to be promoted through the program.
Considering that Microsoft is offering $3,000 in free funding, it only makes sense that they'd want to make sure grantees will drive value from participating.
Not to mention, any nonprofits participating in the program reflect on Microsoft as well, as with any corporate giving initiative. For instance, allowing an organization that has a reputation for discrimination could easily fall back on Microsoft for allowing its ads to be run.
One of the main benefits of the program is its lack of restrictions when compared to Google Ad Grants. Once they meet these initial eligibility requirements, there's not much more they need to do to stay compliant with the program.
2. Apply for Microsoft for Nonprofits.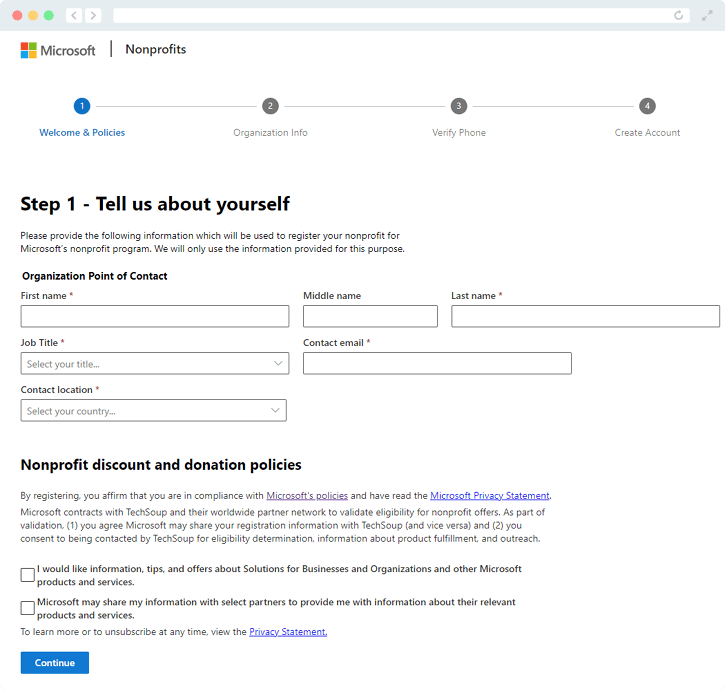 Once you determine your organization's eligibility, you can sign up for Microsoft for Nonprofits. Note that the individual completing registration must be an employee or strategic volunteer of the nonprofit.
You'll provide details about your role and organization, agree to the nonprofit discount and donation policies, and verify your contact information.
Completing this step should only take around 10 minutes. Plus, Microsoft moves through applications rather quickly. While they say registration review may take up to 7 days, Microsoft For Nonprofits typically gets back to applicants via email within about 24 hours.
3. Complete the Microsoft Ad Grants application.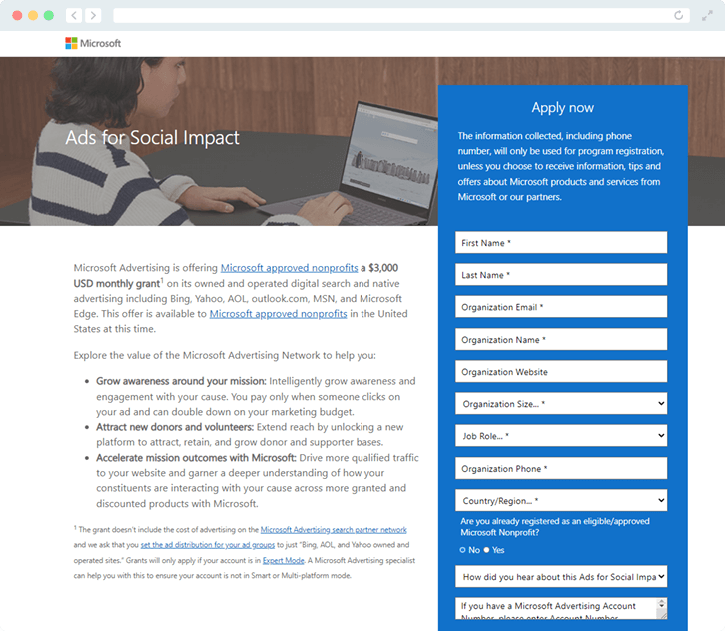 Once approved for the Microsoft for Nonprofits program, you'll gain access to a variety of free and discounted Microsoft products and programs, including the Ad Grants application.
Applying for Microsoft Ad Grants is incredibly straightforward. Visit the Microsoft Nonprofit Hub to access the application. Then, fill out some additional information about your organization and role.
After submitting your application, you should receive an email confirming acceptance into the program within 10 business days. This timeframe can vary based on your nonprofit's responsiveness to requests for additional documentation.
4. Set up your first campaign with a Microsoft representative.
Considering this is a fairly new program, Microsoft has a few ground rules for getting started to make sure nonprofits start off on the right foot. Instead of leaving you to fend for yourself, they require you to set up a time with one of their representatives to get started.
They'll work with you to set up your first campaign and ensure your ads and keywords are set up correctly. From here, you're free to start creating ads on your own, using your initial campaign as a reference point.



Tips for Effective Microsoft Grant Management
While the program is fairly new, there are some emerging best practices you can already follow to make the most of the program. Some of these will take a bit of practice to leverage effectively, but once you get the hang of things, you'll start to see better results for your campaigns.
Leverage action-based conversion extensions.
Similar to ad extensions for Google Ads, Microsoft Ads allows you to expand your ads with extensions. You can combine ad extensions, giving readers multiple options to choose from.
For instance, callout extensions allow you to add a snippet of non-clickable text that highlights key points about your organization. Sitelink extensions enable you to link to additional pages on your site, giving readers additional ways to engage with your cause.
Another valuable extension is Action Extensions. Action Extensions act as CTAs for your ads. Essentially, they tell the readers exactly what next steps to take to get involved. That way, you can encourage prospects to take the next step in their support journey.
Any Action Extensions you use will be clickable and appear next to your ad's description. As of today, you can choose from a list of 62 different options, including (but not limited to):
Donate
Apply now
Learn more
Subscribe
Take a look at how the Salvation Army leverages multiple ad extensions to stand out among other search results: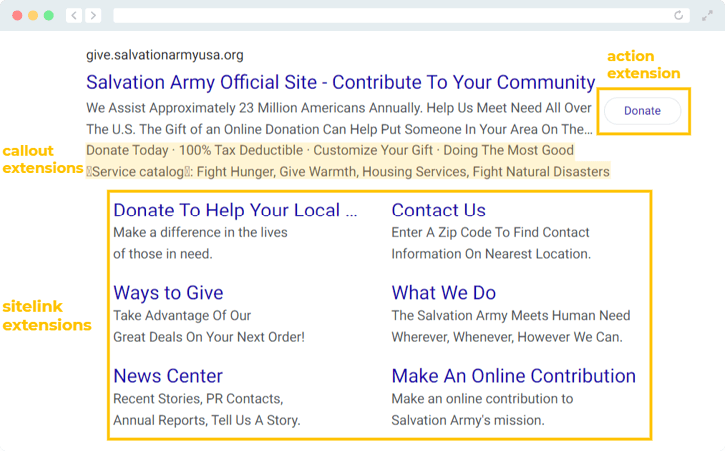 Using extensions can drastically increase your CTR and conversion rates. They tell readers exactly what to do next once they're inspired by your ad!
Set up Universal Event Tracking.
Universal Event Tracking (UET) is a powerful tool that monitors what your customers do on your website. You simply create your UET tag, place it on your website, and let Microsoft Advertising do the rest when it comes to tracking actions on your site.
By setting up UET, you can unlock features that will help you better understand your audience and what drives them to interact with your cause. In turn, you can level up your ads and make them more targeted. For instance, you can enable:
Conversion tracking. Track a variety of custom conversion goals, such as donations, event registrations, the number of people that visit a specific section on your site, and plenty more. By closely monitoring the effectiveness of your ads, you can make tweaks and determine what drives more conversions over time.
Audience targeting. Set up criteria for who can and can't see your ad. This makes it so your ad will only be shown to users you've determined are likely to get involved. For instance, use in-market audiences to target curated lists of customers who have shown purchase intent signals within a particular category, or use remarketing lists to target users who have previously interacted with your site. You can also combine multiple targeting strategies to reach the most qualified customers.
Automated bidding strategies. Tap into Microsoft's automated bidding strategies to ease the manual labor required to maintain your account and maximize your ad spend. Choose from bidding options for different keywords. For instance, the maximize conversions bidding strategy will adjust your bids to help you get as many clicks as possible. The maximize clicks bidding strategy will help you increase ad clicks. You can also use target ROAS, which sets your bids to achieve your target return on ad spend (ROAS).
UET unlocks a ton of additional tools for your ads that you won't want to overlook. While they may seem complicated at first glance, you can always turn to a Microsoft Grants professional to manage your account and leverage these features for you!
Create separate strategies for Microsoft Grants and Google Grants.
While very similar, Microsoft Ad Grants and Google Grants do have their differences. It can be tempting to target the same keywords and replicate the same ads. However, you'll likely see better results by varying the campaigns you create on the two platforms.
Remember, you have different audiences across search engines and different capabilities across these advertising platforms. Optimizing a Google Grant account looks a bit different from optimizing a Microsoft Ad Grant account. Here are a couple of ways you can vary your campaigns:
Target high-volume, top-of-the-sales-funnel keywords with Google. Microsoft has a higher impression share and cheaper costs per clicks (CPCs), so this makes it easier to target more specific buying terms that are lower in the sales funnel.
Create ads targeted toward different audiences. Based on your mission, you might take different angles to appeal to different groups through your ads. Determine how your cause would appeal to the audiences within the Microsoft Search Network compared to Google. Remember, users within the Microsoft Search Network tend to be young, big spenders, wealthy, college graduates, and in committed relationships.
Both programs are incredibly valuable, and your organization should take advantage of free funding. Create strategies that play to each advertising platform's strengths, and you'll drive more value through your ads!



How to Work with a Microsoft Grants Expert
There's no doubt that Microsoft Ad Grants are an incredible asset to your nonprofit's marketing strategy. However, learning the intricacies of the Microsoft Advertising platform can take time. Many nonprofits simply don't have the time to spare for conducting keyword research, crafting well-written ads, or monitoring campaign success.
That's why we recommend outsourcing the work to a dedicated Microsoft Grant agency, like Getting Attention. Professionals can guide you through everything from your application to ongoing account maintenance, reducing the manual labor required by your team.
Some of our core services include: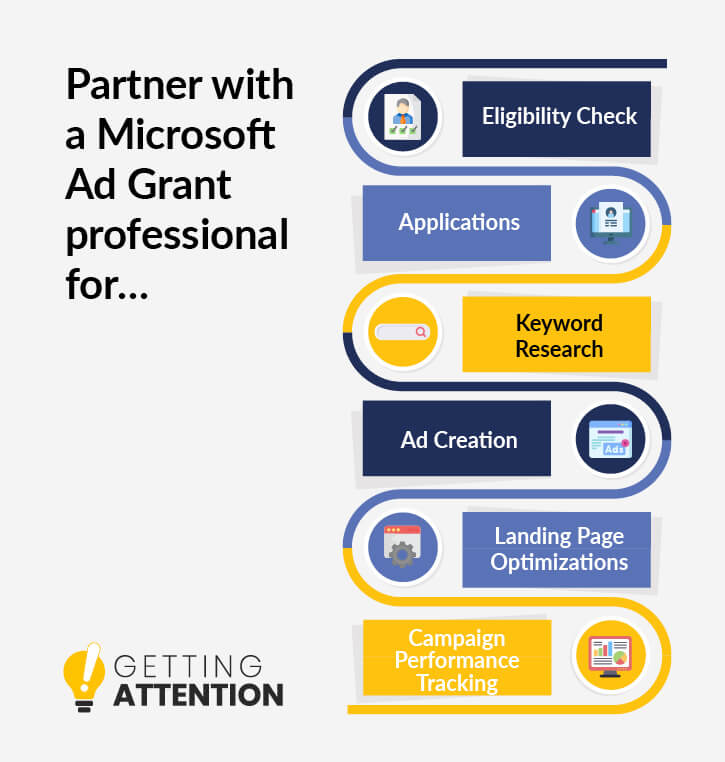 Eligibility Check: We'll compare your organization against Microsoft's eligibility requirements. That way, you can get approved for the program the first time.
Application: Upon eligibility verification, we'll walk you through the application process. Note that Microsoft currently requires nonprofit staff and volunteers to apply on behalf of the nonprofit, but we'll make sure you have everything you need to breeze through the process.
Keyword Research: We'll conduct thorough keyword research, ensuring that you're targeting the most valuable search terms for your cause.
Landing Page Optimizations: High-quality content is one of the primary components of your ads. We'll relaunch the landing pages you want to promote using your Microsoft Ad Grant and even handle the design work!
Ad Creation: We'll write compelling ad copy and enable action extensions that drive more users to get involved.
Campaign Performance Tracking: We'll monitor the results of your campaigns and continue tweaking your ads to generate better results based on your goals.
While we've historically worked with the Google Ad Grant program, the new Microsoft Ads for Social Impact program is emerging as a strong force in the digital marketing world. We're committed to staying on top of the program, so our nonprofit clients can push their missions forward using some of the world's most popular search engines.
Even if you need support in areas not mentioned on our website, we're happy to chat about our experience with any additional services you need. Reach out to learn how Getting Attention's Microsoft Ad Grant services can help take your digital marketing to the next level!

Additional Resources
The Microsoft Ads for Social Impact program is a powerful opportunity for any organization that's looking to strengthen its digital marketing strategy. While fairly new, the program is already gaining quite a bit of traction, so get ahead of the competition by applying as soon as possible.
Between finding mission-centric keywords and crafting high-performing landing pages, there's a lot of work that goes into maintaining your Microsoft Ad Grant account.
We highly recommend devoting one of your team member's time to managing your account. Alternatively, turn to a trusted Microsoft Grants expert to minimize the amount of time your team needs to spend and maximize the success of your campaigns. Our experts here at Getting Attention are prepared to help you get the most out of your monthly $3,000.
With plenty of research and a well-thought-out strategy, you're well on your way to crafting inspiring ads through Microsoft Advertising. If you want to continue research or you're curious about how to market your mission more effectively online, check out these additional resources:

https://gettingattention.org/wp-content/uploads/2022/10/Microsoft-Ad-Grants_Feature.jpg
350
730
Erin Toland
https://gettingattention.org/wp-content/uploads/2021/08/getting-attention-logo.svg
Erin Toland
2022-10-21 15:29:20
2023-02-13 20:19:11
Microsoft Ad Grants: The Complete Guide for Nonprofits