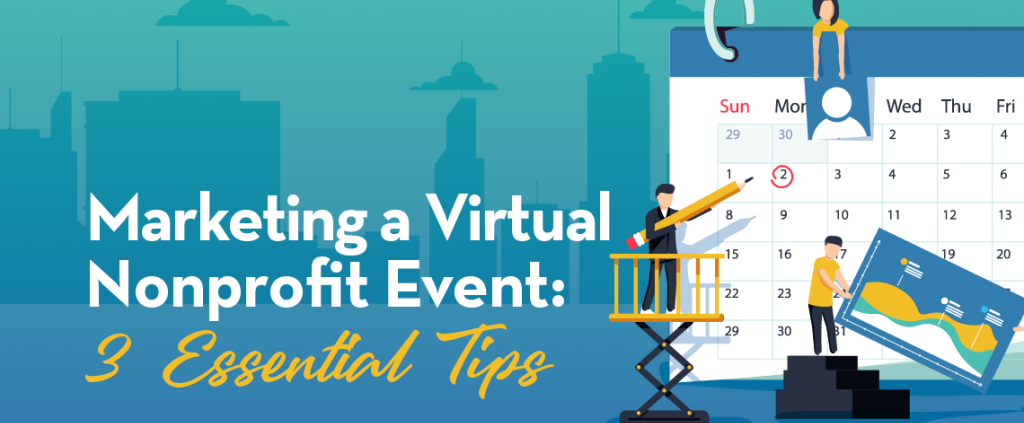 2020 proved what we've known for a long time – nonprofits are resilient. Virtual events have been an effective option for nonprofits of all sizes for a year that looked very different from others. As we hit the ground running in 2021, virtual events can and should play central roles in your engagement strategies.
Unlike the lesson from "Field of Dreams," just because a virtual event is built, doesn't mean that contributors will come or that donations will flood in. To get the word out in today's virtual world, you have to invest as much into your marketing efforts as you do to your fundraising!
To get the most from your fundraising, your virtual event needs to be marketed effectively before, during, and even after. 
There are a few reasons why this is true. Marketing provides you with an excellent chance to engage with the larger community and your supporters. Also, marketing informs people about what you do, your mission story, and over time, it helps to build your brand awareness. Let's get started on 3 amazing marketing tips essential to planning and promoting your next virtual event:
Recruit ambassadors to help spread the word.
Centralize the virtual event experience.
Target your messages to particular donor segments.

1. Recruit ambassadors to help spread the word.
If you're looking for a creative way to generate excitement for your event and reach new donors, we've got the perfect strategy for your nonprofit: Ambassador Fundraising.
This new trend harnesses ambassadors, or your most loyal supporters, to spread the word about your virtual event and fundraise before, during, and sometimes after.
Think of it as creating a fundraising army, whose built-in social and professional networks allow you to engage and funnel new volunteers, donors, and activists to your cause. But for it to be successful, you need to choose the right ambassadors for your cause.
Good places to look for ambassadors include:
 Board members: Board members are natural ambassadors. They are already committed and dedicated to the success of your nonprofit. They often have large professional networks, making them perfect social fundraisers. Engage them at a new level and watch their contacts turn into participants for your event.
Event committee: The people working on the event itself are passionate about the outcome! Tap the most dedicated committee members to become your ambassadors.
Volunteers: Volunteers are another reliable source for ambassadors, since they are deeply involved with your cause. They are used to giving their time and talent to your efforts. Target your most active and generous volunteers and ask them to join your ambassador campaign.
Micro-Influencers on social media: This is a great place to look if you're just starting your ambassador program. Look for local personalities with a large network and an active social media presence.
Sponsor connections: Ask your sponsors and long-times community partners if they know of potential ambassadors. Call in those favors you have stored up to get great ambassadors working for your team.
Honorees at your signature event: Honorees are well-respected members of the community, which makes them the perfect supporters to raise donations before the gala.
Once you find the right ambassadors, the next step is to set them up for success! Outline clear goals, provide the right marketing assets, and let your ambassadors loose. Watch as their new network brings new attendees and donations to your virtual event.

2. Centralize the virtual event experience.
The world of fundraising has changed. Virtual events mean trading ballrooms for family rooms, stages for screens, and in-person entertainment for a new level of online engagement.
Successfully marketing your virtual event depends on your ability to reach and engage donors through a seamless donor experience. That's why it's essential to centralize the virtual event experience for your attendees – a one stop shop for them to support your mission virtually.
Tapping into the power of a tool like the OneCause Virtual Event Center takes the virtual experience to the next level. For your nonprofit, it means a centralized destination to point supporters towards with your marketing efforts. For your supporters, it means the ability to:
Engage with the event using a single device (mobile, tablet or desktop)
Register to effortlessly gain access to the virtual event
Consume content before, during, and after the virtual event
Explore why supporting the mission of the Nonprofit matters
Donate through traditional means (e.g. fund-a-need, live appeal)
Bid effortlessly in silent and live auctions without leaving the broadcast (i.e. live stream)
Purchase raffle tickets and other fixed price options
Centralizing your attendee's virtual event experience means a more intuitive user experience during the event, resulting in boosted engagement and revenue.
Creating that sense of a giving community before, during, and after the virtual event – and delivering a delightful, online experience anytime, anywhere – is critical to fundraising success in this new virtual world. By centralizing these efforts, marketing your event is as easy as ever.

3. Target your messages to particular donor segments.
Data is the key to unlocking your virtual event marketing potential! It allows you to engage better with donors and grow at scale (while still being personalized). By targeting your marketing messages to specific donor segments, you can boost engagement and registrations for your virtual event.
How you decide to segment your donors depends on the needs of your organization. Let's take a look at a few ways that you can segment your donors to help make sure you are connecting with donors where they are.
How your donors were acquired
Size of gift
First time versus returning donor
One-time gift versus recurring donations
Age/demographics
Donor interest
You can even target the way your donors have engaged with your events. For example:
New donors who haven't attended an event before
Loyal donors who used to attend events but haven't virtually yet
Lapsed donors who haven't donated in a while but need to be re-engaged
Figure out what will help you scale your virtual event fundraising while also keeping a personal touch to your efforts and roll with it!
After figuring out how you're going to segment your donors, the next step is to create marketing messages tailored to their particular motivators. For example, donors who haven't yet attended virtual events should be clearly shown how your virtual event will work and that your past virtual events have been enjoyable experiences for attendees and impactful for your cause.
Think about taking a multi-channel marketing approach to reaching these segments. Multi-channel marketing refers to using a variety of mediums to spread the word about your event in advance. Reaching a wide audience can be a difficult task. The best way to do so is to diversify your communications!
Use marketing channels such as:
Email newsletters
Social media networks
Text messages
Video marketing
Direct mail
Print handouts
Bulletin boards
A tactful multi-channel strategy is key to attaining maximum engagement with your event. But don't try to do it all at once! Choose 2-3 tactics that work best for your team and your mission and focus your attention there.
Conclusion
In order to cultivate better relationships with your supporters, your organization should be consistent in its outreach, communications, and engagement. A strong marketing strategy for your virtual event will give you what you need to grab and maintain donors' attention from a distance.
https://gettingattention.org/wp-content/uploads/2021/08/Marketing-a-Nonprofit-Event-Tips-web-1024x536-1.png
536
1024
Getting Attention
https://gettingattention.org/wp-content/uploads/2021/08/getting-attention-logo.svg
Getting Attention
2021-08-23 16:05:44
2021-09-01 01:48:02
Marketing a Virtual Nonprofit Event: 3 Essential Tips