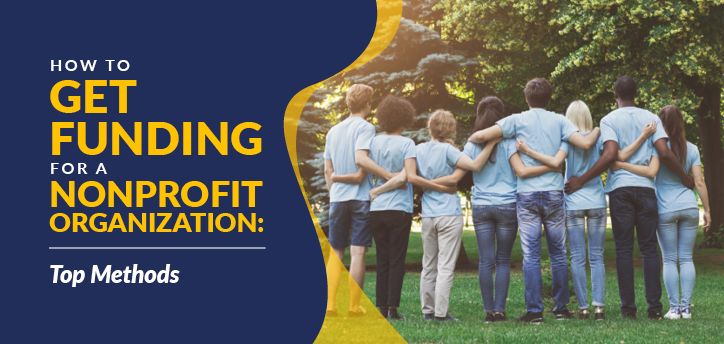 By definition, nonprofits don't exist to make money— instead, they exist to make a positive impact in communities large and small. However, nonprofits rely on funding to operate and pursue their mission. 
In a perfect world, all money a nonprofit raises would go toward its cause; however, nonprofits are organizations with expenses, so some will inevitably go toward overhead. Quickbooks suggests a nonprofit's overhead rate should not exceed 35%. Spend time developing the perfect fundraising techniques to raise the most money for your organization, and in turn devote less of your revenue to expenses and more to your cause. 
Since funding is so important to nonprofit organizations, we've compiled tips, tricks, and ideas for you to achieve even your loftiest fundraising goals. Here's what we'll cover:  
Are you looking for ways to raise money for your mission-driven organization? There are many viable options available for you to choose from. Read on to see what's out there.
How to Select the Right Funding Sources for Your Nonprofit 
There is no one-size-fits-all approach on how to get funding for a nonprofit organization— each organization will have its own unique funding model composed of various sources of revenue. A funding model is an organized approach that a nonprofit uses to create and maintain a reliable revenue stream for its operations.
Consider the size, mission, and other defining characteristics of your nonprofit when thinking about how you want your funding model to look. One example could be 50% from grants, 20% from a membership program, and the remaining 30% from an annual event. It all depends on what works best for your organization's goals.  
Another thing to keep in mind is variety. No one wants to be in a situation where they lose the majority of their revenue simply because one source disappears.
Now, let's dive into the sources themselves. 



How to Get Funding for Your Nonprofit Organization: 6 Sources
When it comes to getting funding for your nonprofit, there are a number of opportunities that can compose your organization's unique funding model. We've organized these sources into six main categories worthy of your consideration.

1)
Individual donations
Of all charitable giving in 2020, 69% came from individual donors for a grand total of $324.1 billion, according to National Philanthropic Trust. What's more, individual donations have risen in five of the last six years. 
Here are five types of individual donations your nonprofit could pursue as part of your funding model: 
Major donations:

These consist of large, one-time donations from a wealthy individual.  These gifts often make up 80% or more of a nonprofit's total revenue.  If you need help identifying prospective major donors, consider using prospect research

wealth screening tools

to assess your donors' affinity and capacity to give.

Mid-sized donations:

Mid-sized donations come in a higher quantity than their major counterparts, but are smaller in size. They can be made on a one-time or recurring basis (monthly, annually, etc). Many nonprofits seek out recurring gifts, in particular, as they add financial stability to an organization's funding model.

Fees for products/services:

If your nonprofit provides goods or services, you can charge people fees in order to keep up your operation. This is a common practice for hospitals and other public health clinics. To account for lower-income individuals, consider incorporating a sliding scale for your fees based on annual income. 

Alumni:

If you serve a large community with a high turnover rate (think universities, hospitals, etc), then consider reaching out to your alumni network. They've benefited from your services in the past, and chances are, they would love to help you continue supporting your mission. 

Volunteering:

Donations don't have to just be in the form of money— time is another valuable resource people can donate. In fact, according to

Nonprofits Source

, 63 million American adults volunteered with nonprofits in 2016. When converted to money, those hours equate to

$193 billion.

 
Take advantage of one or more of these funding avenues to achieve optimal fundraising results for your mission-driven organization. 
2)
Corporate philanthropy 
Corporate philanthropy refers to the ways that corporations give back to nonprofits and other mission-driven organizations. According to Crowd101, the top 10 corporations give over $2 billion annually to nonprofits; so this is another excellent funding resource for your nonprofit to look into.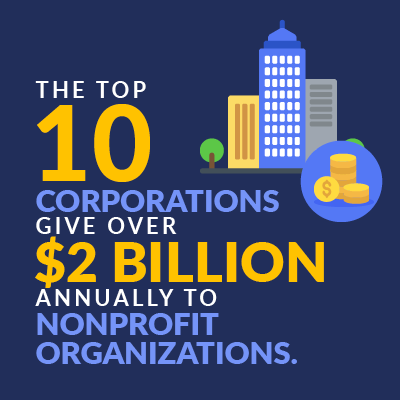 There are five predominant ways in which corporations could contribute to your nonprofit: 
Matching gifts:

Corporate matching gifts

are a form of corporate philanthropy in which corporations match the donations of their employees. To put it simply, you get

double the money

of a typical donation amount. For help getting started with this fundraising method, consider investing in an automated matching gift tool such as

360MatchPro

. This tool will help you identify which gifts made to your organization are match-eligible, and even share educational information to the supporters who make such gifts.

Volunteer benefits:

Corporations will often incentivize their employees to volunteer and give back to nonprofits. For instance, some offer paid volunteer days in which an employee can take paid time off to volunteer.

Another volunteer benefit option is a volunteer grant. If an employee at a corporation volunteers a lot with a specific nonprofit, their employer could offer a grant based on their volunteer hours. Of all Fortune 500 companies, 40% offer a program like this; so do some research and reach out to people who work at those companies.
Pro bono services:

In lieu of monetary donations, many corporate professionals will offer their services and expertise to mission-driven organizations free of charge. If you ever need a doctor, lawyer, or any other kind of specialist, be on the lookout for professionals who could potentially help you for free. 

In-kind gifts:

While pro bono refers to services, in-kind gifts refer to products donated at no cost. Some examples include computers, furniture, and office supplies. Again, not a monetary donation, but these gifts could save you a lot of money on products you would otherwise have to purchase. 

Checkout campaigns:

Finally, checkout campaigns are fundraising campaigns in which a business donates a specific amount of its profits to a nonprofit organization. 
It could be a restaurant percentage night event like at Chipotle, where a restaurant donates a percentage of that day's profits. It could also be a store like Publix asking customers to round their bill to the nearest dollar with the change going to a nonprofit. All are creative ways to generate funding for your nonprofit organization.
3) Events
Events are a great way to both spread the word about your nonprofit and raise money for your cause. They give you the opportunity to engage face to face with current supporters, as well as reach new audiences by way of an exciting activity. 
For some inspiration, here's a (definitely not exhaustive) list of five event ideas for your nonprofit: 

Host a concert.

Bring together some local musicians for a great cause, and sell tickets to bring in donation revenue. Throughout the event, have performers share educational information about your cause and what you're raising funds for – chances are, you'll continue bringing in revenue well beyond the cost of entry!

 
Throw a gala.

Invite current and potential donors out to enjoy a fancy evening of dinner and dressing to the nines in support of your nonprofit. Just because it's a gala doesn't mean it necessarily has to be expensive – this event could be as deluxe or as economical as you see fit, all while maintaining a vibe of luxury. 

Run an auction.

Auctions are a great option for an event that will get your audience involved and engaged. Get in touch with local businesses like restaurants, retail stores, service providers, among others to ask if they will donate gift cards or products to your auction and get ready to take bids – with fundraising for your nonprofit, and advertising for their business, it's a win-win! Plus, auctions can be in person or

online

according to what works best for your organization. 

Coordinate a 5K race.

This event is a classic nonprofit fundraising tactic, and for good reason! Bring people out for a fun morning of running and supporting a good cause. Running isn't everyone's favorite activity, though, so consider offering a fun run in addition to the traditional 5K.

Partner with a restaurant/bar/etc. for a night.

Many restaurants offer percentage nights to nonprofit organizations in which they'll donate a certain amount of their profits for a specific amount of time. This is another win-win, as you'll be raising valuable money for your cause, and they'll earn more money and receive free promotion with your supporters and donor base.

 
When choosing event fundraisers for your nonprofit, it's important to keep the pandemic in mind and evaluate what you and your supporters are most comfortable with in terms of in-person activities. For best results, incorporate virtual, hybrid, and safe in-person events in outdoor spaces to accommodate everyone's preferences and comfort levels.  
4) Online fundraising 
It's no secret we live in a digital world. And with the onset of the COVID-19 pandemic in March 2020, we saw many activities previously in person moving online: work, school, entertainment activities. Nonprofit fundraising is no exception. 
Meet people conveniently where they are through one of these three online fundraising tactics: 
Crowdfunding:

Crowdfunding

refers to the collection of many small donations from a large public group of people. Platforms like GoFundMe are prime examples of crowdfunding efforts. 

Monthly giving program:

Nonprofit websites easily facilitate the setup of recurring donations. Add a section to your site where people can easily register to give a certain amount per month, year, or another set time frame. 

Social media fundraising:

Direct communication with your supporters has never been easier thanks to social media platforms. With Instagram, Twitter, Facebook, and more, fundraising is as simple as drafting and uploading a post. Make sure you use eye-catching images and memorable captions for best results. 
On the whole, online fundraising tactics are a great way to reach a lot of people without spending a lot of cash. 
5) Offline efforts
Just because online funding strategies are increasingly popular doesn't mean you should overlook offline methods. They're a great way to incorporate a personal touch to your fundraising. 
Here are three different offline fundraising ideas your nonprofit should consider: 
Direct mail:

Send letters to current and potential donors. These letters could inform people about your nonprofit,  thank current donors for their contributions, or even solicit donations. Check out the

Fundraising Letters

website for templates to get started.

Direct mail can be pricey and take a significant amount of time. Yet, it's still worth considering if your nonprofit wants to maintain a sincere connection with all donors— including those who are technology-averse.
Door-to-door fundraising:

Door-to-door fundraising is just as it sounds— nonprofit representatives go door to door talking to people about their cause and asking for their support in the form of signing a petition, donating money, or attending an event, among other activities.

This also uses more resources than online fundraising tactics. However, it proves to be particularly useful for missions that directly impact the people you talk to, like political organizations campaigning for elections.
Phone calls:

Nonprofits can call people directly to ask for donations. Whether in the form of cold calling or reaching out to people your organization has interacted with, this is a viable way to raise money for your cause. However, be aware that many people avoid answering numbers they don't recognize.
Offline methods do require more time and financing, but they can be worthwhile if you're looking to connect with your donors in a more attentive way. 
6) Grants
Our final recommended method to get funding for your nonprofit organization is grants. A grant consists of funds given to a nonprofit organization based on its industry, mission, size, and other eligibility considerations. 
Grants come in all shapes and sizes, but there are three main categories: 
Unrestricted funds:

This type of grant is not restricted to one specific purpose. Organizations can use the money wherever it will make the biggest difference. 

Capital support:

This grant is designated for a specific campaign, such as a construction project, renovation, or another big program. 

Restricted funds:

As the name implies, this type of grant is restricted to one particular purpose. Restricted funds are the most common type of grant. 
Think your nonprofit could benefit from some grant money? Begin your research with the following two grant sources.
Government grants come from federal, state, and local governments. The federal government spends over $500 billion annually on grants to state and local governments, making grants the third largest portion of the U.S. government's budget.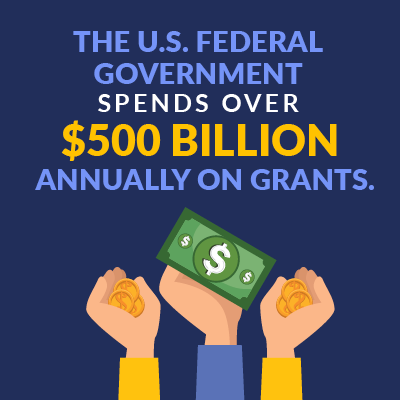 These grants cover a variety of industries, such as: 
Health

Education 

Transportation

Natural resources and the environment

Community development
Private foundation/business grants come from private entities such as companies, foundations, and even individuals. In 2015, private foundations and corporations gave $62.8 billion in grants to nonprofits in the U.S. 
A prime private grant example is the Google Ad Grants program. The Google Ad Grant is an advertising grant that gives eligible nonprofits $10,000 a month in ad credits to boost their organization to the top of Google's search results. 
To receive the Google Ad Grant, your nonprofit must submit an application and remain active on its account. If you're interested in this program, reach out to Getting Attention for a free consultation today.  
Wrapping Up: Top Tips for Funding Your Nonprofit Organization
We've covered a lot about how to get funding for your nonprofit organization, and we sincerely hope it's been helpful. As a final piece of guidance, here are five tips for creating your organization's funding model: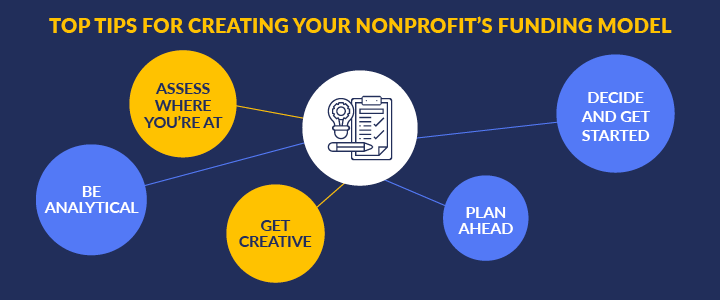 Plan ahead.

When it comes to fundraising, it's much better to be proactive than reactive. After all, you want to have reliable funding sources lined up well before you actually need them. Take time to consider your nonprofit's characteristics, do your research, and lay the groundwork before diving in. 

Assess where you're at.

Look at your current funding model. What's working? What isn't working? Is each funding source reflective of your mission and organizational values? Based on what you come up with here, make decisions on which fundraising methods to keep and which you can be done with.

 
Get creative.

There are so many fundraising options out there for your nonprofit to choose from. Don't fall into the trap of missing opportunities because you didn't think outside the box. Get together with your team and brainstorm ways your nonprofit funding model could stand out. 

Be analytical.

Be creative and have fun, but also keep in mind what will give you the best return on investment. Focus your time and energy on what will be most reliable, profitable, and feasible. 

Decide and get started.

After the planning, researching, and brainstorming, it's time to get started. Commit to a few of your best ideas and begin fundraising.

 
For more useful information on everything nonprofit funding, read more from the blog at Getting Attention:  
Take Your Nonprofit Branding to the Next Level.

Branding is just as important for nonprofits as it is for for-profit businesses. A strong brand will help set your nonprofit apart and get it more attention, leading to more audience engagement and donations. Check out this guide for how to create and sustain an outstanding brand for your mission-driven organization. 
Nonprofit Storytelling: Best Practices for Fundraisers.

Research from Stanford University shows that people are much more likely to remember a story than a statistic. This article provides you with the necessary info to give your nonprofit a compelling storyline, and in turn draw more people to your cause. 

A Guide to Finding the Right Nonprofit Marketing Consultant.

You're passionate about your nonprofit's mission, and you want others to care about it, too. But, spreading the word is not always easy. Find the right marketing consultant to facilitate your nonprofit's promotional efforts with the help of this Getting Attention article. 

https://gettingattention.org/wp-content/uploads/2021/11/How-to-get-funding-for-a-nonprofit-organization_Feature-1.png
344
724
Getting Attention
https://gettingattention.org/wp-content/uploads/2021/08/getting-attention-logo.svg
Getting Attention
2021-11-05 02:21:07
2022-04-05 19:04:10
How to Get Funding for a Nonprofit Organization: Top Methods